This article has been updated with quotes from McLain Ward, Harry Charles and Jack Whitaker.
McLain Ward has taken the lead in the Longines FEI Show Jumping World Cup Final after posting two blazing rounds aboard Contagious in Friday's second day of competition in Leipzig, Germany. Should Ward hold the lead through Sunday's final day of competition, he will earn his second World Cup Final title, having taken the honor in 2017 with HH Azur.
Today's two rounds were filled with drama. Defending series champion Steve Guerdat producing the first clear with Victorio Des Frotards over Frank Rothenberger's testing first-round track. But all of the leading four after yesterday's class returned with penalties this time out, and two of them faulted on the snaking line between fences 6 and 8 that proved highly influential.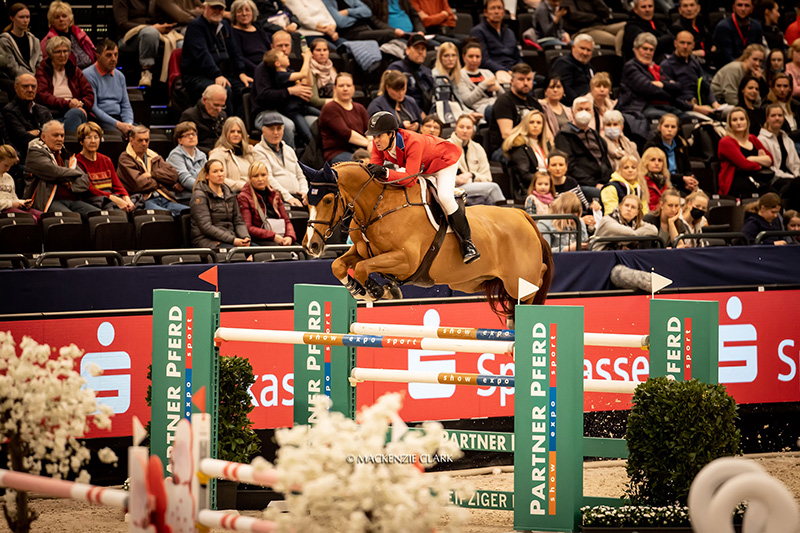 "I thought when we walked the course that [line] was the hardest part," Ward said. "It didn't line up very well—when you jumped the vertical at 6 it was a very awkward line to those big, spooky standards [at fence 7] and then you threw in the liverpool, and it was on a half-stride, five-and-a-half. So if you let your horse cut in you got there deep and slow, and they were backing up so the back rail was a problem. It was five [strides] and a bit to the vertical at 8 and a few did six—it was just quite uncomfortable."
It was that tricky water-tray oxer at 7 that snatched the lead from yesterday's winner, Martin Fuchs, when The Sinner put in a spooky jump and crashed through it, although the Swiss rider recovered quickly enough to clear the following vertical. Lying overnight second, Austrians Max Kühner and Elektric Blue P skewed over the fence but left it up only to bring down the final vertical. U.S.-based Irishman Conor Swail, who had been in third, looked en route to a clear with Count Me In only to hit the big oxer at 11 on the 13-fence track while Germany's David Will, lying fourth as the action began with C Vier 2, dropped fence 6 and the penultimate oxer at 12.
Seven riders qualified for the jump-off. Two fences down left Steve Guerdat out of the running, while the vertical at fence 8, now the second-last obstacle, proved the undoing of three of the remaining six riders. British veteran John Whitaker was first to fall victim there with Equine America Unick du Francport, but his nephew Jack, who is a full 46 years younger, then posted the first clear with the brilliant little gray Equine America Valmy de la Lande in 48.66 seconds.
Frenchman Gregory Cottard and Bibici also hit fence 8 before Harry Charles overtook his young British rival to take the lead in 47.14 seconds with Romeo 88. Dutchman Harrie Smolders put in by far the quickest round with Monaco, stopping the clock in 41.37 seconds but dropping a rail at fence 8.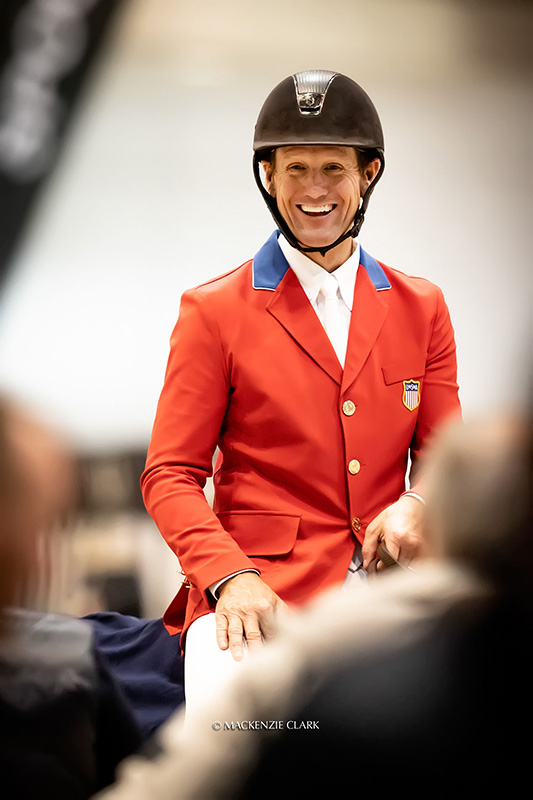 When Ward set off, last to go, he looked dangerous. The leaderboard was now at his mercy with those ahead of him all out of contention, and he capitalized on that with a superb tour of the track that snatched the win without hardly turning a hair, leaving Charles in second and Jack Whitaker in third while Smolders lined up in fourth place.
As he said afterward, he knew exactly what he needed to do.
"I was able to see enough of the jump-off to know it wasn't actually very fast, and when Harry had the fence down, that really opened the door. So our game plan was to do just enough but not take too much out of the horse, not only for Sunday but also risking having a fence down," he said.
The pair posted the winning time of 44.03 seconds.
He said a fence down Thursday that moved him back into fifth place was entirely his own fault. "The horse was in brilliant form, I added a stride in a bending line and I put him in not a great spot. It was a mistake on me, the horse wanted to win both rounds!" he said of Contagious, his Tokyo Olympics team silver-medal partner, a 13-year-old German Sporthorse gelding (Contagio—For Mary, For Keeps) owned by Beechwood Stables LLC.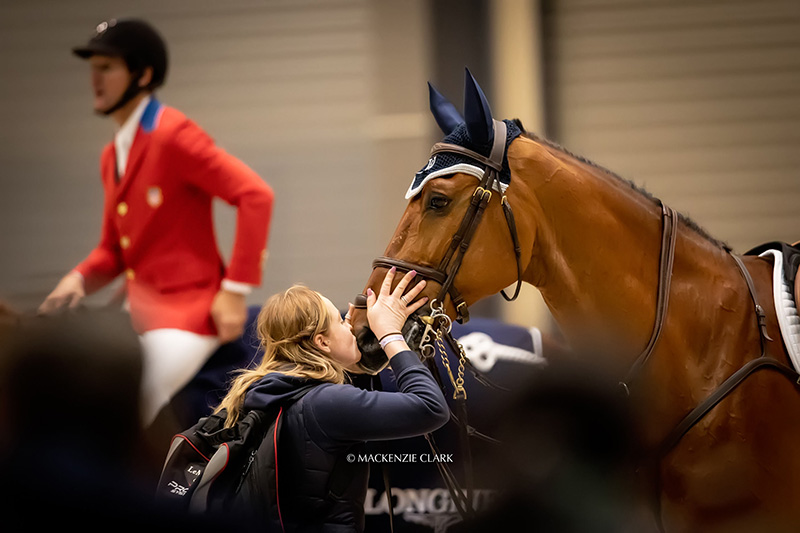 Comparing the courses Thursday and Friday, Ward said, "in the sport nowadays at the top level there are no easy days; there are extremely hard days but I'd say yesterday was a friendly speed leg. Today [course designer Rothenberger] ratcheted it up a couple of notches—a bunch of big verticals, the triple combination was big off the corner with two oxers—and we had a great result.
"Frank has a lot of experience and he knows how to build a competition that brings out the best. And he also challenges riders without making it too hard on the newer, less experienced ones, and people from different regions of the world where the sport isn't strong. He's very good at that," Ward added.
With the cumulative results from two days of competition, Ward heads the leaderboard, and Smolders lies second going into Sunday's third and deciding class,  followed by Charles and Thursday's winner Fuchs in joint-third place. Fuchs rode his second horse, The Sinner, in Friday's class and has said this was to allow his Thursday winner, Chaplin, chance to rest before returning for Sunday's final round.
Ward's title win in 2017 came after many years of trying and was very special, particularly because it was in front of a U.S. crowd in Omaha, Nebraska. Asked Friday if he now felt under pressure having the advantage going into Sunday's last class, he recalled previous instances of being in the same position.
"I sat at this venue 20 years ago in the lead going into the last day with Victor and blew it on the last line—I remember it very clearly. I sat in this position in 2017 and won, so you take those experiences and you try to use them to help you focus and keep your head right," he said. "You need to do your job, your horse has to be in form and you need a little good fortune to win one of these championships, and I've been on both sides of that coin. I think understanding that helps keep your head in the right place but it's a challenge. As I told Harry [Charles] earlier, don't think this gets any easier in 20 years. My team will do a great job and I'm proud of my horse no matter how it comes out."
Of Contagious, Ward said "he's an incredible tryer. I would have said at the beginning when we first got him that he was a very careful, nice, level grand prix horse. I never thought of him as a championship horse, but he kept developing and he kept building scope. I would ride the scope into him a bit and give him energy, and he ended up jumping the Olympics last year and performing brilliantly, and he's a different horse since then, or maybe I look at him differently now.
"He came out of that a bigger, stronger horse … so he outshines what his natural ability was at the beginning, because he's a fighter with great quality and he's a bit of a character—a bit spooky and a bit jumpy, but a winner."
Charles was delighted when he checked the leaderboard after Day 2.
"I would definitely have taken that at the start of the day considering my position yesterday [13th]. I'm in pretty good company up there, more than a fence off McLain but it's all to play for on Sunday, and I'm pretty happy with that! Even if it wasn't exactly the day I wanted yesterday, I was very happy with my mare Stardust, and I'm so happy to have made up for it today. It was always my plan to ride Romeo today and Sunday, he's a big jumper and has Olympic experience behind him," the 22-year-old rider said.
For 20-year-old Jack Whitaker, today's result was also something special. He described his handsome little gray horse as "not so big but he has a big heart, he's a fighter."
"We bought him from France when he was 6 and my dad [Michael Whitaker] rode him until he was about 10 and I've only been riding him for a few years," he said. "He's a nightmare to deal with—in the collecting ring he doesn't like the big screen, he's really sharp, he see and hears everything and he gets silly, like a big kid! But when you go in the ring he just goes, most of the time. When he gets a bit sharp it can go a bit wrong but he's unbelievably careful and as long as I'm getting it right he's normally clear."
Other U.S. riders finishing in the money on Friday were Katherine Dinan, in eighth with Brego R'N B, who notched a single time penalty in the first round to just miss the jump-off; Aaron Vale, in 12th with Elusive; and Alessandra Volpi, in 16th with Berlinda, both of whom missed the jump-off but had fast, 4-fault rounds to place well.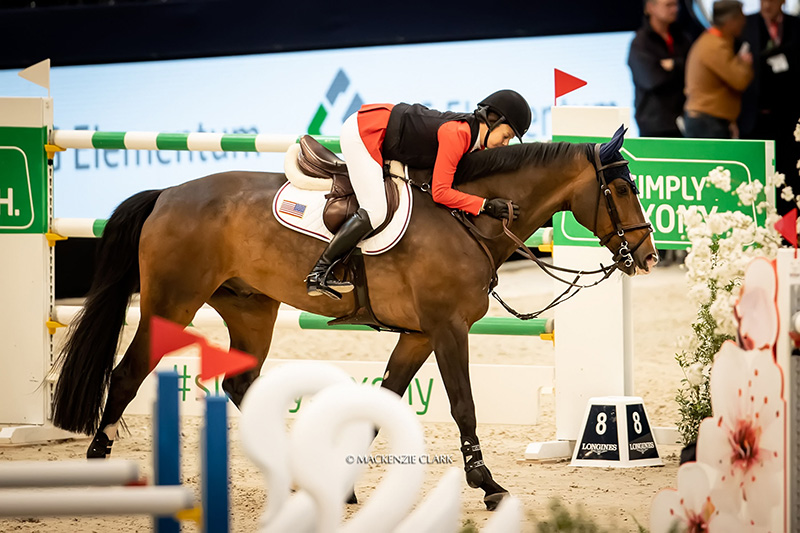 Today's competition was a Table A jump-off class set at 1.50- to 1.60-meters. Like a typical grand prix class, all the riders who jumped clear over the first round returned for a jump-off.
After the first two legs of competition, the scoring gets interesting. The riders are assigned points depending on their placings in each class. For each leg, the winner gets 1 more point than the number of starters in that leg. Second place gets 2 points less than that, and each placing down the line gets 1 less.
Once each rider has been assigned their combined points from the first two classes, the points are converted to faults. The rider with the most total points is assigned 0 faults. All other riders' faults are calculated by giving them half the difference between their points and that of the leader.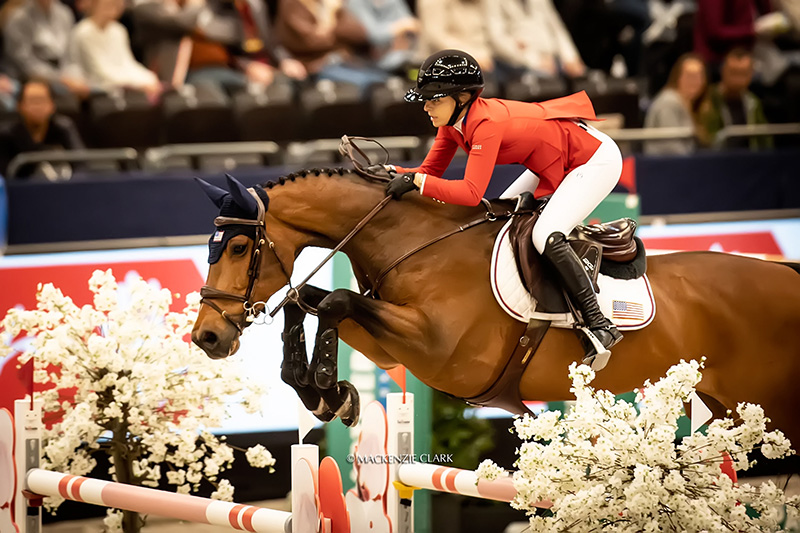 After a rest day tomorrow, the top 30 riders and horses (see the standings after two rounds here) will return for the final day on April 10 and will jump two rounds. All U.S. riders made the top-30 cutoff.
The Sunday rounds will be over 1.50- to 1.60-meter courses, and "approximately equal in the number of obstacles and length of the course, with the second round having an increased level of difficulty," according to the FEI rules. There is no jump-off for either round, and only the top 20 (plus any ties for 20th) will return for the second round.
Any faults in these two rounds are added to the rider's total, and the rider with the fewest faults at the end of the day wins. In rare instances, there have been ties for first place, which are broken with a jump-off. (This occurred in both 2012 and 2013.) Ties further down the placing remain as ties.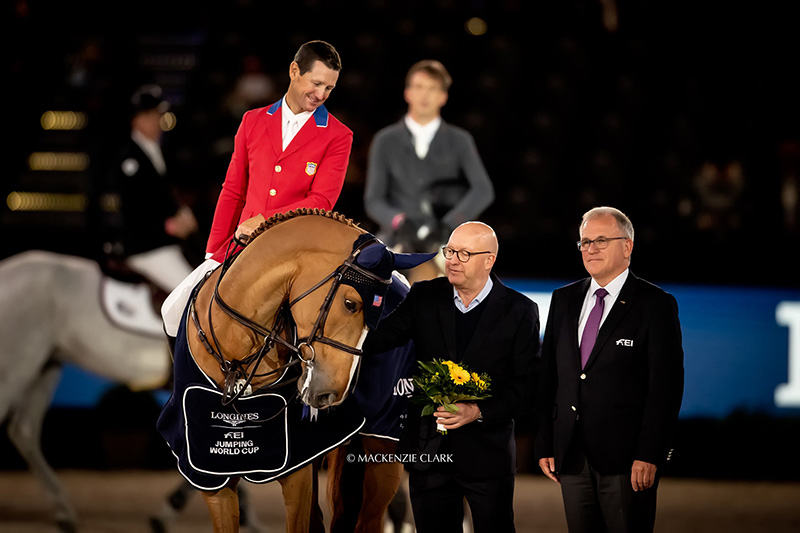 Click here for today's results.
Important Links: Schedule and results / All of the Chronicle's coverage / live stream (paid subscription)