With the U.S. Hunter Jumper Association's International Hunter Derby program now well over a decade old, the USHJA International Hunter Derby Task Force is continuing to tweak the program specifications.
New for the 2021 season? Regional championships and a mandatory enrollment fee for every horse entering a derby. The fee will help fund the new regional championships. For the past few years, owners hoping to send their horses to the national championship in Kentucky had to pay an enrollment fee, but any horse could show in a regular class without being enrolled.
The earlier you enroll, the cheaper it is. Enroll before Feb. 1, and it's $350; from Feb. 2-June 1 it's $550; from June 2 to Nov. 30 it's $750.
Additionally, owners may enroll at the current rate and name a horse to that slot at a later date. So one could pay a $350 enrollment fee today if you're in the market for a potential derby horse or if you're not sure which of your horses is going to do a derby later in the season.
The specifications for the program were developed under the leadership of program co-founders Ron Danta and Colleen McQuay. Danta and McQuay are no longer on the task force; they and the majority of the task force resigned in early November as the task force was being re-seated. The new chair, Britt McCormick, who was on the task force under chair Danta and vice chair McQuay, brought up the topic for discussion at the U.S. Hunter Jumper Association's virtual annual meeting so that the membership could weigh in, and the new task force could discuss the topic.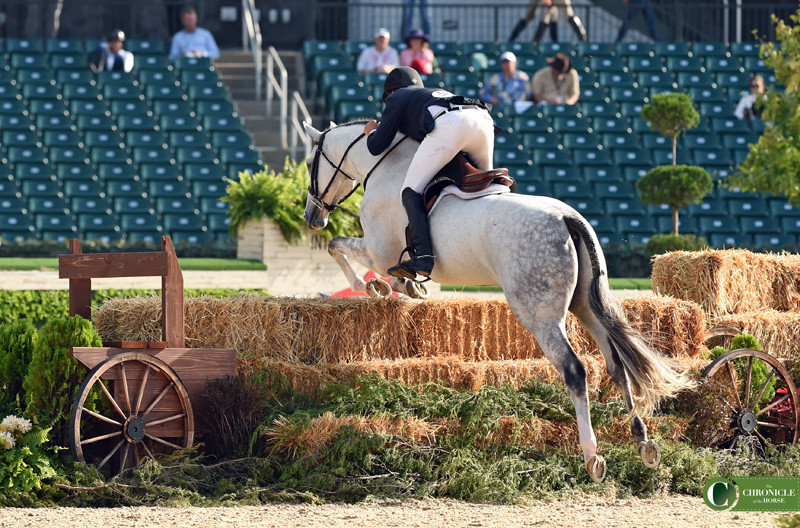 As of Dec. 11, 43 horses had enrolled for the 2021 season, as compared to last year, when 53 horses had enrolled by early December. The first derby of the 2021 season took place on the day of the International Hunter Derby Task Force meeting, Dec. 11.
"In 2019 we had 639 unique horses competing [in international hunter derbies], and of those, 250 were enrolled in the program," said McCormick. "Of those, 10 only did one class. Out of the entire 639 horses, 58 only did one class; 50 did two classes. Most of the people participate at least three times or more. In 2020, we had 466 unique horses compete in derby classes. Of those, 204 were enrolled in the program. One horse that was enrolled only did one class. Out of 466, 70 only did one class, and 43 only did two classes.
"What I want to hear is how do we balance getting a high-end program to fund itself yet still allow as many people to participate as possible," he added.
Task force member and derby competitor Bob Brawley urged the task force to proceed with the mandatory enrollment fee, pointing out that the international hunter derby is supposed to be the pinnacle of the sport.
"We've taken three years to make this happen, with good reason and good logic," said Brawley. "The people who can speak to this the best are Ron and Colleen. Nobody does just one grand prix to do it for fun, [and if they do] they're not a serious contender. This is a serious game when it comes to the hunter derby. I think [allowing people not to enroll] cheapens it a little bit. I think it's unfair to the people who do pay."
But many meeting attendees had competing in a single derby on their bucket list, and they felt that a mandatory enrollment fee was a major hurdle for participation.
"Mandatory enrollment prohibits people from doing one or two derbies to test the waters or just for fun, not for points or accolades," wrote one anonymous attendee. "Since the derbies started, they continue to get more and more complicated and expensive."
Another added, "The optics also should be considered. This is not the time to reinforce the idea that USEF shows are only geared to the top 1%."
Brawley pointed out that the Green Hunter Incentive Program has always required enrollment, and the numbers have continued to grow from year to year.
"I feel the international hunter group is going to do the same," he said. "I think you are always going to have those people who want to pay as you go. I don't think it is elitist [to require enrollment]."
Chris Collman, who manages horse shows in Arizona, Colorado and New Mexico, cautioned task force members to consider potential ramifications. He pointed out that the green incentive isn't entirely analogous because, even if you don't want to do the incentive, there's a full green division available, while international hunter derbies are the only 3'6" and higher derby option.
"The sport is accused of being elitist and catering to the upper 2% and ignoring the 98%," he said. "Being a greedy horse show manager, I see an unaffiliated 3'6" derby coming up for people. When you get too big or too high, there's a huge gap beneath you that someone's going to fill in, and once it does there's no going back."
Derby competitor and task force member Rachel Kennedy proposed a COVID-19 exception for 2021, which would allow a horse to compete in a maximum of two international hunter derbies this season without enrolling in the program. Unenrolled horses would not be eligible to compete in the regional or national championships, would not appear on any ranking lists, and would not receive points toward any year-end awards. If they were to enroll later in the year, previous classes would not count towards rankings or qualification retroactively.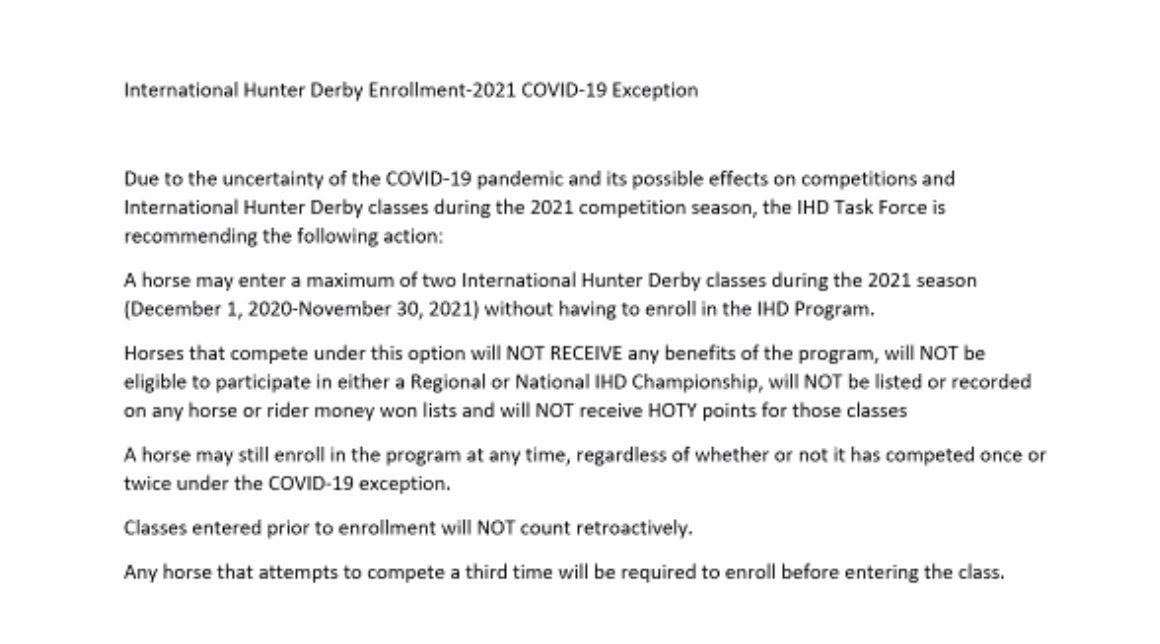 USHJA President Mary Babick pointed out that as the season has already started, it would be unfair to change the 2021 specs, possibly excluding those who would have competed in the international hunter derby if it hadn't been for the enrollment fee.
Task force member Rick Cram manages shows through his Progressive Show Jumping and has a daughter who will be showing in an international hunter derby in December. He saw the pros and cons for requiring an enrollment fee, but in the end, he supported it.
"If you want this program to stay at the top and grow better and bigger, you need to make the investment into it," he said. "That involves, as we decided, an enrollment fee. I'm willing to take the gamble [that it will discourage competitors from entering the derbies]. If I get less horses, I get less horses. We can revisit [for 2022]. If it flies, and regionals become somewhere people want to compete because they won't go to the finals, even better. I think we should leave it alone and let it unfold."