When you hear the name Chris Wynne, you probably think of the renowned "R" judge's serious, no-nonsense demeanor at horse shows. Over the years, Wynne has judged many of the country's largest and most prestigious horse shows—Devon (Pennsylvania), the USHJA International Hunter Derby Championships (Kentucky), the Washington International Horse Show (District of Columbia)—you name it, and he's probably judged it.
But when December rolls around, Wynne is full of surprises. Ever since his sons were little, Wynne and his family have decorated their house to the nines for Christmas, and the spectacle seems to grow larger every year.
"My mother has always decorated the inside of her house, and it has always looked like Colonial Williamsburg [Virginia]," said Wynne. "I mean, it's just beautiful: white lights, pine and Santa Clauses all over the place. It looks like you walked into a Christmas shop in Williamsburg. So I grew up with that all my life, and we never really put up colored lights, so I just started putting up colored lights, and I kind of got carried away."
Wynne begins decorating the Friday after Thanksgiving, and the process takes the entire day.
"My oldest son [Justin Wynne] is pretty mechanical, and he's able to take all the cords and make it light up and blink and make sounds," Chris said. "We're sort of the jump crew, and he puts it all together and makes it work."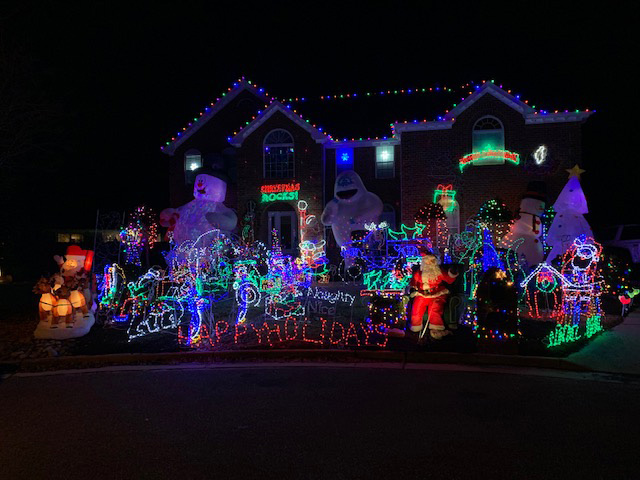 If the massive amounts of blinking lights and blow-up decorations weren't enough to draw your attention, Chris says he's the only house on his street that decorates with such enthusiasm. He seems to draw inspiration from Clark Griswold in "National Lampoon's Christmas Vacation." Anything that can have a light on it, will have a light on it.
"I live in a court, but when you pull up into the neighborhood you can see this, almost like this blinking strobe light. You sort of follow yourself to the strobe, and you come around the turn, and there it is," he said.
Chris said that in addition to the neighborhood children, his yard will sometimes draw small buses of people coming to see the light show.
"It's very much done like a Griswold Christmas. Everything blinks, lights, sings, talks, shakes. It's as tacky as you can possibly imagine," he continued. "In the daytime, it looks like a war zone. There are extension cords everywhere, and it just looks a mess. But at nighttime, it's just the lights, and it's cool."
Anyone who has ever put Christmas lights on the outside of a house surely knows that it's not always fun and games—one of Chris' biggest issues is when the rain shorts out some of the extension cords, making it difficult for his hard work to shine in all its glory.
"I've had blow-ups that are tied to a string that I tie to my house. The wind blows so hard; I've looked outside, and I've got these 20-foot snowmen that just look like kites. They're just blowing at the end of this rope!
"We have to be careful because we've had some strange things happen," continued Chris. "I have a Santa that sits and waves in the front yard, and if you get close to it, he talks. One year, I came home, and someone had decapitated Santa. Santa had no head, but he was still waving. The little kids were coming up, and I couldn't figure out why we were getting such strange looks, but it was because Santa's head was in the front yard, but he was still waving to the kids. We had to protect Santa a little bit more."
You won't find a theme in the Wynne family's yard either. Anything goes, from hippos jumping out of boxes, inflatable snowmen and the country-rendition of grandma getting run over by a reindeer (grandma getting chased down by a four-wheel drive truck). Out of all the decorations, he says his favorite has to be the waving Santa, even though he's had to replace it before. What it all comes down to for Chris is bringing his family together for something that makes them all happy—even to the disbelief of his horse show colleagues.
"People are always shocked at horse shows. One of my son's girlfriends put it up on her Facebook, and people can never believe that I do that," Chris said. "My personality at the horse shows is to be sort of the Grinch, I guess. People, in a joking way, are always like, 'Oh, why are you in a bad mood? Why are you cranky?' and I'm always like, 'I'm not! I'm fine,' so when they see [my yard], they're like, 'That's your yard?!' and I'm like, 'Yeah that's my yard! I told you I wasn't the Grinch!' "