Doktor's traveled across the ocean multiple times and represented the United States with Shelly Francis at dozens of CDIs over his career, but now he's got a new job as a teacher.
Francis' assistant Rebecca Waite cantered down centerline this weekend with Patricia Stempel's 16-year-old Oldenburg gelding (Diamond Hit—Gurena, Renoir I) in the CDI3* at the Adequan Global Dressage Festival in Wellington, Florida, and she's relishing the opportunity after caring for him from the ground for six years.
"I've taken care of him; I've traveled with him; we've been to Europe together," said Waite. "I really knew the horse quite well from taking care of him on the ground, and he's a little quirky, so that was nice going into it knowing the horse. I've ridden most of her horses, but I'd never sat on Doktor until the day she said, 'OK, you're going to ride him!'"
Francis wanted to find a rider to lease Doktor this season, but she wanted to keep him in her program. After trying a few riders who wanted to use their own trainers, Francis decided Waite, 27, would be the most natural fit.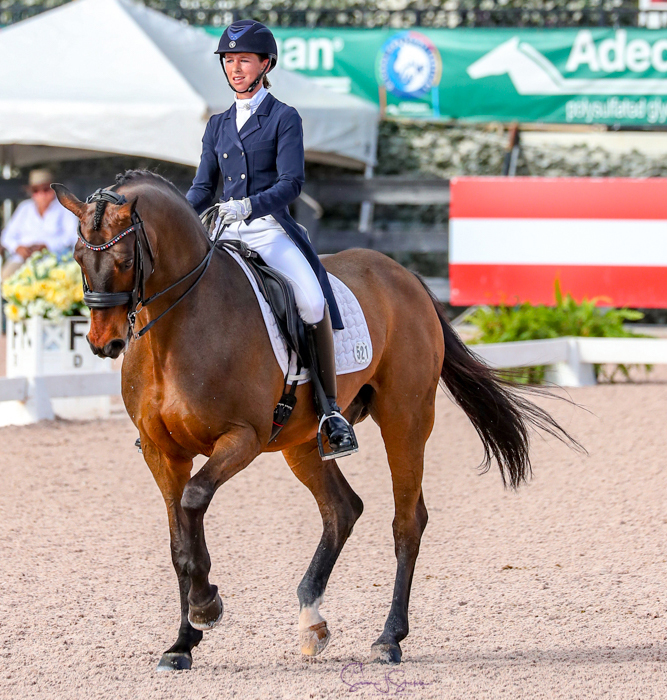 "She's my right- and left-hand girl," Francis said. "She's spent all of these past years riding all my horses and taking care of the stable for me when I go to Europe. She's been holding down the fort at home. She's a very good rider, very dedicated and wants to learn the business and be a part of my team. I said, 'You just go ahead. See if you can try out for the Pan Am Games.' He's got a good year or so left of Grand Prix because he's so sound for his age."
Waite grew up in northern Maine and competed in eventing before switching to dressage. She worked for a month in Florida with Francis during high school after clinicing with her several times and reached out to her after she graduated from the University of Maine with a business management degree. She started cleaning stalls and worked her way up.
She's been with Francis for six years and had ridden one of Francis' other horses, Le Roi, a 15-year-old U.S.-bred Oldenburg gelding (L'Andiamo—Donnerpearl, Donnerhall) on the small tour and in her first CDI Grand Prix last year.
Waite had about eight weeks to get to know Doktor before they competed in two national Grand Prix classes at AGDF.
"She knows my method of madness with training, so it wasn't such a hard adjustment for him," said Francis. "He's a little sensitive about a new rider. For a couple of weeks he was a little bit nervous, but then he settled down."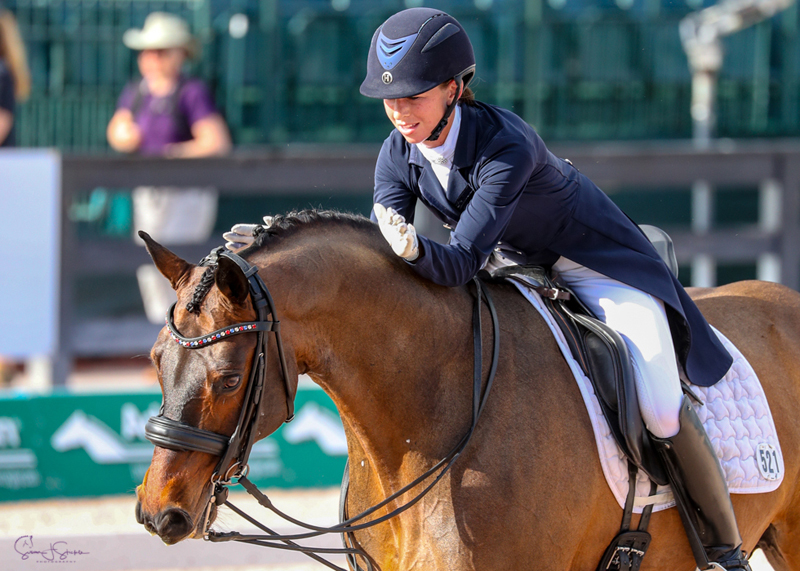 "I really had no idea," Waite said of the opportunity to ride Doktor. "I just didn't ever really think that would be an option for me. I don't know why! I was very surprised and really happy. I was excited and nervous but overall just really happy to have such a cool horse to show and ride.
"I know Shelly's training system, and I've watched her school and train for years, and she's taught me on Le Roi," she continued. "It was a relatively easy transition in that way, but he still had to get to know me, and I had to get to know him in that aspect of it."
The pair finished third last weekend in the CDI3* Grand Prix for the Special (68.39%) and fifth in the Grand Prix Special (68.63%).
"Doktor knows his job, so it was more like seeing how it would be with me piloting him around out there," said Waite. "It went really well for us. He's a really special horse.
"Shelly wanted us to do well, but there was no outside pressure," she added. "I really wanted to do well with him because he's a good horse, and he's done well in the past. I didn't want to make him look bad! Giving a good first impression for the first time, I really wanted to have a good show. I was really happy with how it went. Leading up to it, I had a lot of pressure on myself. I was riding each step. I would go to sleep thinking about the test and wake up thinking about the test. I really wanted to ride every step out there."
Francis has enjoyed watching Doktor and Waite and added that the gelding owes her nothing for the many years she's spent competing and enjoying him.
"[Stempel] agreed for Rebecca to show and learn and have some success on him and get her name out there and be appreciated for her elegant riding," she said. "It was a good thing for the horse instead of flat-out retiring him. He loves it. He loves her. It's really cute. For me, it's really gratifying to watch after training the horse for so many years and knowing what a super little horse he is."
Waite is planning to compete in a couple more AGDF CDIs before the season ends.
"It was all a little bit of a blur," she said. "It was very surreal to me. It was just a really fun and exciting weekend. It's a really good opportunity that Pat and Shelly have allowed me and trusted me in this horse because I know he means a lot to [them]."