Del Mar, Calif.—Feb. 1
Throughout his professional career, Nick Wagman's dreamed of cantering down centerline at a Grand Prix CDI, but it's always eluded him—whether the horse was sold or injured, it never quite happened.
But with the advent of the Adequan West Coast Dressage Festival CDI circuit this year and the right horse in the barn, Wagman made his dream come true today and brought home a blue aboard Beverly Gepfer's Don John in the CDI*** Grand Prix for the Special with a score of 67.73 percent.
To top it off, he also won the Weltino's Magic Prix St. Georges CDI* with Elizabeth Keadle's Ferano, who's been nearly unbeatable on the AWCDF circuit.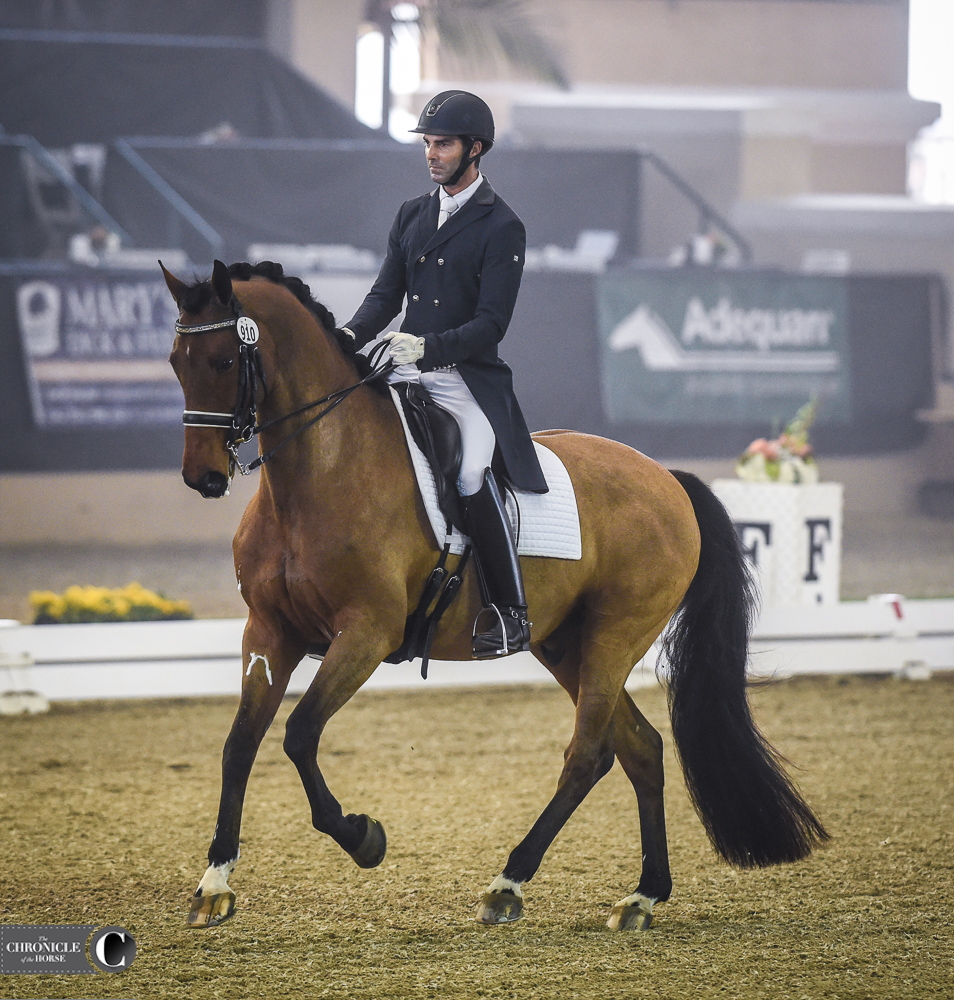 "It's really exciting to have two horses I brought up the levels competing," said Wagman, who started riding both "DJ" and "F" as 5-year-olds. "It's really rewarding. This is one of those days where you're like, OK, this is why you do it. This is really exciting, and tomorrow brings something different. They can spook, you can have an off day. Today was one of those great days where all the hard work and dedication pays off—the great owners and the grooms and my coach—all that hard work comes together and you get a good result like this."
DJ, a 10-year-old Dutch Warmblood gelding (Johnson—Lindalie, Goodtimes), only began competing at Grand Prix this year.
"We're kind of jumping in the deep end, so this was beyond my expectation today," said Wagman, San Diego, California. "For where he's at in his training, I thought he did really well. There's still tons of room for improvement, but the quality is there. I think our canter tour was pretty clean. The piaffe/passage we had really excellent moments, it's just not consistent enough yet where all three compnentns of the piaffe/passage are equally as strong. I know there's a lot of room for improvement there. He's a very hot horse and can be very reactive, so for him to hold it together and allow me to push it each Grand Prix I ride, I'm really pleased."
Gerard Hogervorst found both DJ and F, and Wagman credits new coach Marie Meyers for his success today.
F, an 8-year-old Dutch Warmblood gelding (Scandic—Zara D, Parcival), was meant for Keadle, but Wagman ended up keeping the ride.
"In the ring as a young horse he was pretty spooky, hot and wimpy, but he's just surprising us all as he's coming into his own and getting confidence," he said. "The first [AWCDF] show in Temecula was at night with big generators, and he handled that, and the last show was here at night with the video cameras and camera crew, and he handled that, so we're really excited about his development and his confidence."
The pair scored a 69.35 percent in the Prix St. Georges, their highest yet in four CDI starts.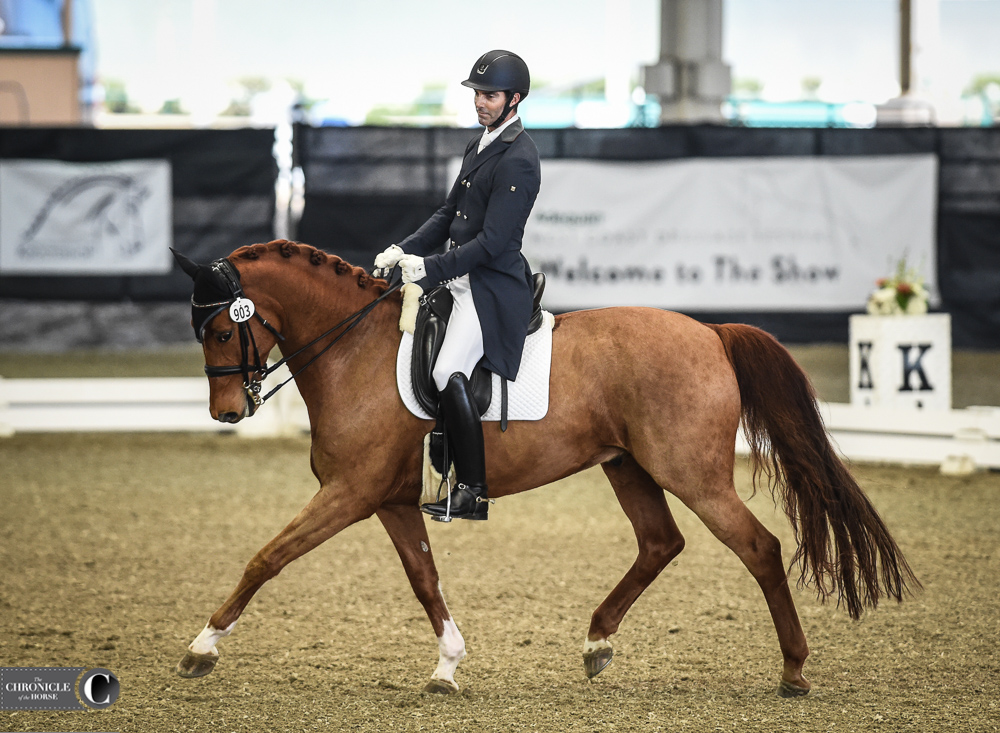 "Today I was happy with my ride. My goal was to go clean, and I did," said Wagman. "My coach, Marie Myers, said, 'You can go for more,' and I said, 'I know, I know. But I don't want to make mistakes.' I thought it was a good, quality, safe ride, so tomorrow we'll go for a little bit more."
F is "super chill" in the barn and loves to cuddle, but he turns it on in the ring according to Wagman.
"He's like this really gentle soul, and then you come to a horse show, and he livens up. He's a good combination of both, being really sensible and sensitive," he said.
Wagman is thrilled to have the AWCDF to help get more CDI experience without having to travel to Florida.
"I think it's tremendous. The West Coast is really strong. I don't know why we're losing so many shows, but for Scott [Hayes] and his team to come along and offer us this series of shows, is just fantastic," he said. "For most of us, the idea of having to travel to Florida to qualify for something is daunting because most of us have a business at home, and to walk away from that for several months is hard. If that's what it takes, you do it, but of course the opportunity to do it all here is really fantastic. I'm glad it's happening."
Wagman, 44, is looking ahead to the USEF Festival Of Champions (Illinois) for both horses, and he'd love to ride for the U.S. team someday.
"This is my first real shot of having horses of this caliber at this level with such good owners that are giving me the opportunity to do this. I've been doing this a long time, but everybody takes their own time getting there. Maybe this is my time to have fun and try to make a team or something like that," he said.
"Today was just a really special day. I think every dressage rider knows how many hours and frustration and tears and joys and all that goes into it for a five-minute ride where anything can happen," he continued. "It's just one of those days where I'm going to enjoy a glass of wine and celebrate and do it all again tomorrow and see what we can do."
Click here for full results.
2018 AWCDF - Thursday
Lindsay Berreth / Feb 2, 2018 12:09 am