Toronto, Ontario—Nov. 8  
That red ribbon fluttering through Voyeur's smoky tail? It means you'd better step back. It means Voyeur is a bit of a rum customer.
Voyeur and his accomplice, Kent Farrington, dominated the $150,000 Longines FEI Toronto World Cup qualifier (alias, the Hickstead Trophy) at the Royal Agricultural Winter Fair in front of 4,638 witnesses, a 10 percent increase from last year's event.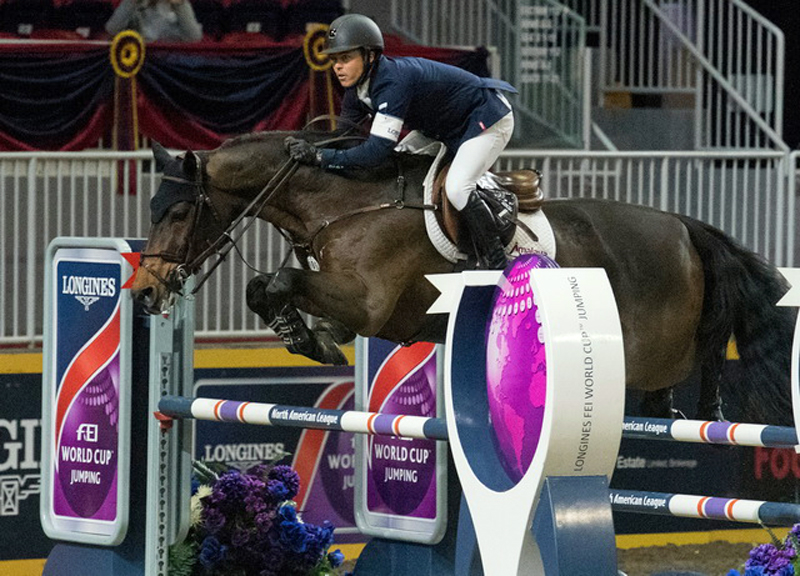 The two of them showed such power and finesse that Farrington had, in a way, opened the parachute to the last fence. He cruised to that last vertical and still won with a clear jump-off round in 35.51 seconds, only 0.27 seconds faster than Shane Sweetnam on his  9-year-old gelding, Main Road. Farrington knew he could go faster. He knew he didn't have to.
Sharn Wordley of New Zealand finished third with a clever ride on Barnetta, going clear early as the second jump-off rider in 43.48 seconds.
But that Voyeur? Feisty and able, Voyeur took Farrington on a magic carpet ride in the first round, answering all of the technical traps that Brazilian course designer Guilherme Jorge had set. And then as he won, Farrington took him back into the ring for the prizegiving, and oops, realized that the gelding was a little too much on his toes. As Farrington went to shake the hand of the Longines representative, Voyeur kicked up his heels, narrowly missing the Longines representative.
"He's really a bull," Farrington said afterwards. "He has a ton of energy. He's really aggressive and quite a handful. I normally don't do the prizegiving with him. I thought he was actually going to be a little calmer. I think he's taking himself out of that job again. He almost killed one sponsor."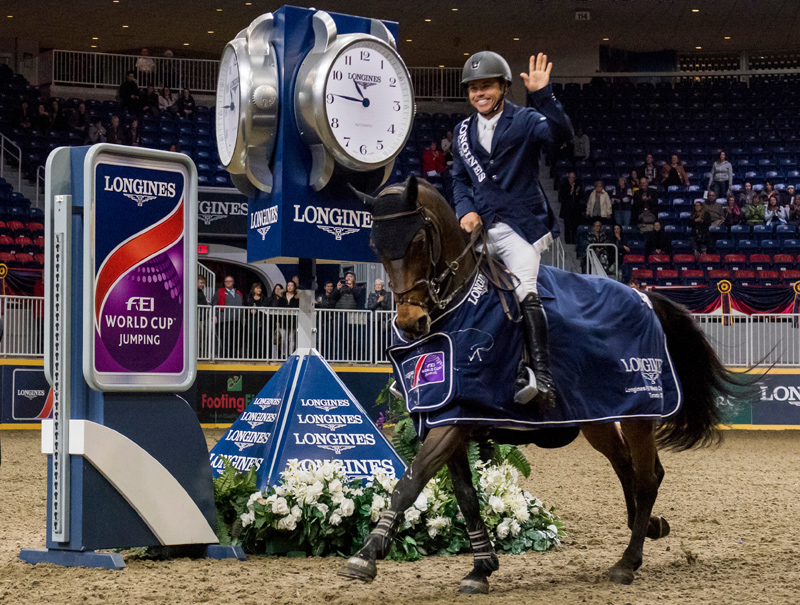 Voyeur has been like that from Day 1. Never mind that he'll turn 16 soon. "Obviously he still has a lot left in him, so I'm excited for the future," Farrington said. Voyeur was Farrington's mount for the team silver with the U.S. team at the 2016 Rio Olympic Games.
Farrington has been able to channel Voyeur's ebullience. He knows him well. He knows his foibles and his wondrous strengths. Between the two of them, there are few quicker. In the jump-off, Voyeur spun on a dime, made tight turns look easy, and was so far ahead of the game, Farrington didn't have to push him for more to the last fence.
"I'm very confident in what he can do," Farrington said.
Farrington and 20 other riders faced a course that Jorge whipped up to deal with a smallish field of talented horses, some of them a little green, some veterans of the show jumping wars. He had to deal with the fact that this grand prix class took place on the second day of the international show. Most grand prix classes happen a couple of days after a course designer can figure out what kind of horse/rider capabilities he has to work with. Jorge had to guess. So he tried to create a technical course with some size to the obstacles. "But the way some horses were jumping, they showed that I could have built bigger. But overall, the result, I'm very happy with it," Jorge said.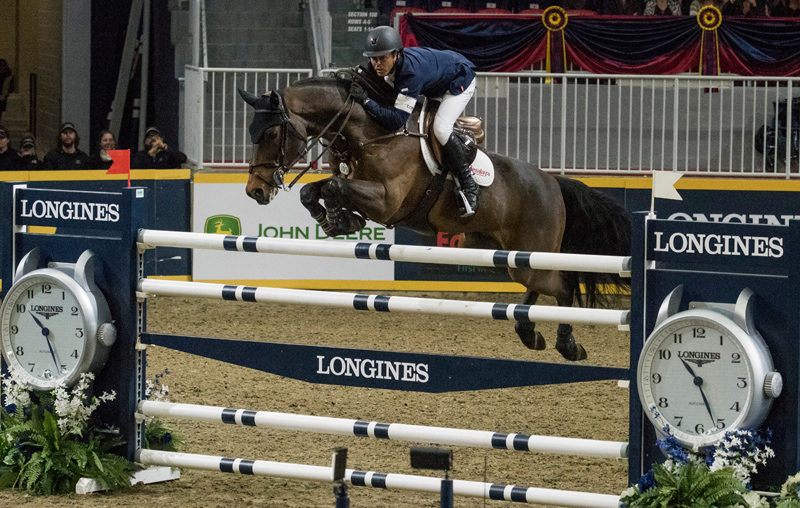 Farrington figured there would be five clear rounds. There were six: Conor Swail on GK Coco Chanel; Wordley on Barnetta; Ian Millar on Dixson; Farrington; Beezie Madden on Breitling LS and Sweetnam.
Falling victim to Jorge's wizardry in Round 1 were: World No. 2, McLain Ward, whose brilliant HH Azur elicited a groan from the crowd when she knocked down the back rail of the final fence, a liverpool; Leslie Howard, who fell afoul of the last part of the triple combination with her Donna Speciale; Tiffany Foster, who followed Ward's example and knocked down the final fence after a stellar round with her imposing Tripple X III; Daniel Coyle who got hung up on the middle part of the triple with Cita; and Hardin Towell, who knocked down the first fence.
In the jump-off, Swail was first to go, but it proved a nightmare when Coco Chanel refused what had been the first part of the triple combo in the first round, and then knocked another rail down. Add all the time faults in, and he dropped to the bottom of the jump-off leaderboard with 15 faults.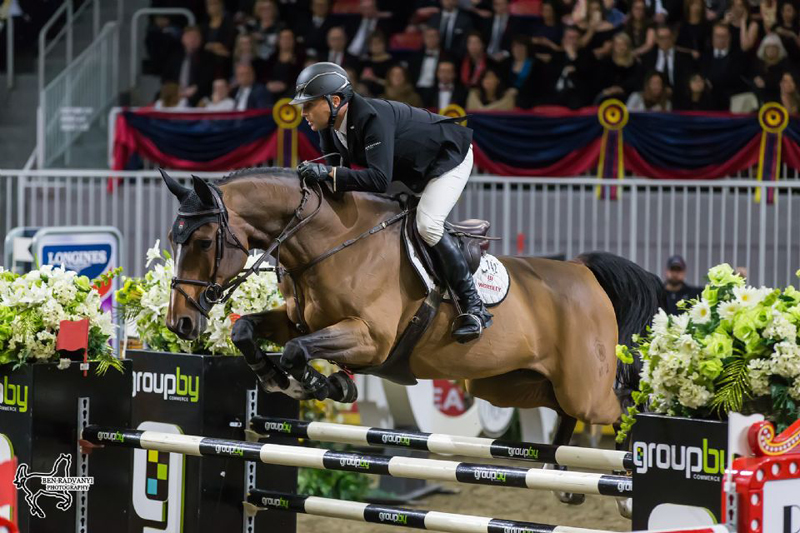 Wordley did the only thing he could do: go clean and not necessarily fast. Had he been later in the go, he wouldn't have changed his mind. "My horse has a pace that he likes," Wordley said. "In that pace, he's very capable of jumping any grand prix [class] clear. You get him one notch out of that pace, and he doesn't take to it well. So my strategy is generally to get double clear. That theory has proven good for the horse. He was second [at the Rolex Central Park Horse Show (N.Y.)] twice, and he was second in the [Saugerties $1 Million Grand Prix (N.Y.)], and second and third at grand prix [classes at the Winter Equestrian Festival (Fla.). Steady Eddie."
Millar was about 3 seconds faster than Wordley, but Dixson knocked down the second rail in the jump-off. (There was such a long way to run to that second jump, almost end to end in the arena.) He had been the only Canadian to advance, after his daughter, Amy Millar, newly minted Canadian champion, knocked down the troublesome final fence.
Farrington sizzled. Beezie Madden's Breitling LS, with his long stride and enviable balance, knocked down the third fence. And Sweetnam went for broke—as much as he dared.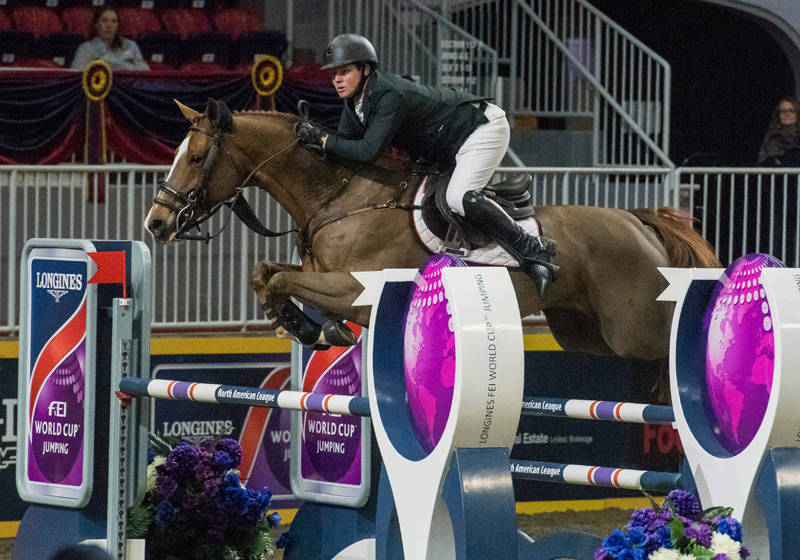 "Kent's horse is very experienced, and I know he's very quick," Sweetnam said. "My guy is only 9 and did his first indoor grand prix two weeks ago in [at the Washington International (D.C.)]. And he was good. He's blown a few jump-offs this year by being too quick, and he's naturally very quick. So I had a plan going in and I said, if that's fast enough [36.84 seconds] to get it, that's good enough. If it's not…
"I think in a year's time, yes, I can catch [Farrington], but I have to be realistic with a 9-year-old," he said.
The Royal's World Cup qualifier was the ninth of 16 in the North American league, leading up to the Longines FEI World Cup Final in Paris in April. Although Farrington qualified for the Final last year, he did not go. It could be the same this season if logistics work against him being a contender. "My plan is the same every year, and that is to wait and see if I have a horse that is ready at the time—and what else is going on," he said. "I really don't want to go unless I'm a serious contender for the title. "
But the Royal has become a destination of choice for Farrington.  "I always remember that it felt like going back in time, because you would come in, and the stadium would be packed, and everybody was wearing tuxedos," he said. "It reminded me of something you'd see out of a movie.
"And since then, it's always been a regular stop on my calendar and one of my favorite shows."
Wordley finally has good memories. This one. Fifteen years ago, when he moved to the Eastern United States from New Zealand, Wordley asked other riders which was the best horse show to go to in the fall. They said: Toronto.
So Wordley called up the Royal, and was quickly told: "You're not coming to our show."
"I sort of figured you had to earn your way," Wordley said.
It took him 10 years to get to the Royal. He's been showing here the past three years.
Farrington won a Longines watch for the win, but he says he gives away all of his watches to owners and staff and supporters, all of the people around him who are "allowing me to live my dream and compete at these events."
"I've never won a watch," Wordley interjected.
"I'm going to let these guys fight over it," Farrington joked.
See full results of the Longines FEI Toronto World Cup qualifier.