This story has been updated.
There's nothing like a big win on home ground, but there's also nothing like retiring a superstar horse in front of a wildly enthusiastic crowd, so tonight's Freestyle finale had it all when Jessica von Bredow-Werndl steered TSF Dalera BB to victory at the FEI World Cup Dressage Final, and the sport said a rousing farewell to Isabell Werth's great mare, Weihegold OLD.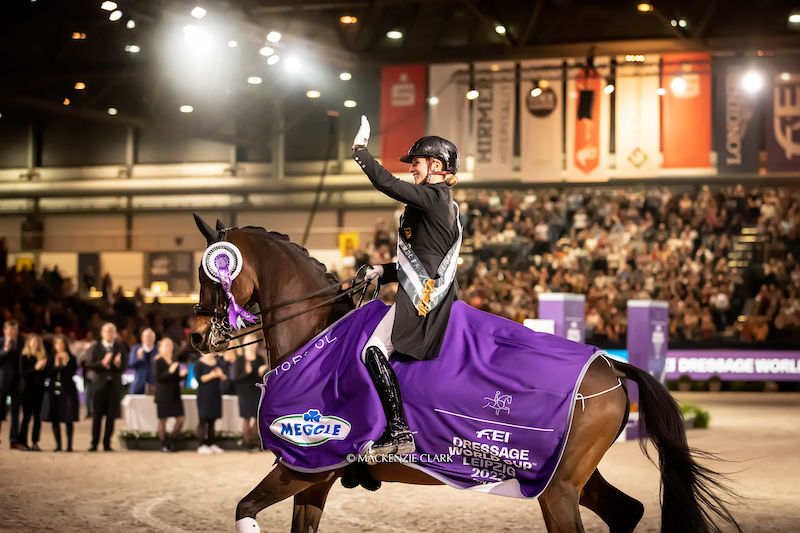 The Leipzig (Germany) Messe was electric with excitement all night, and some of the equine stars shrank under the intensity of the noisy atmosphere during the first half of the competition.
But when it came down to the wire the big names really rose to the occasion, and it was Denmark's Cathrine Dufour who lined up second with her new young star Vamos Amigos while Werth and Weihegold finished third.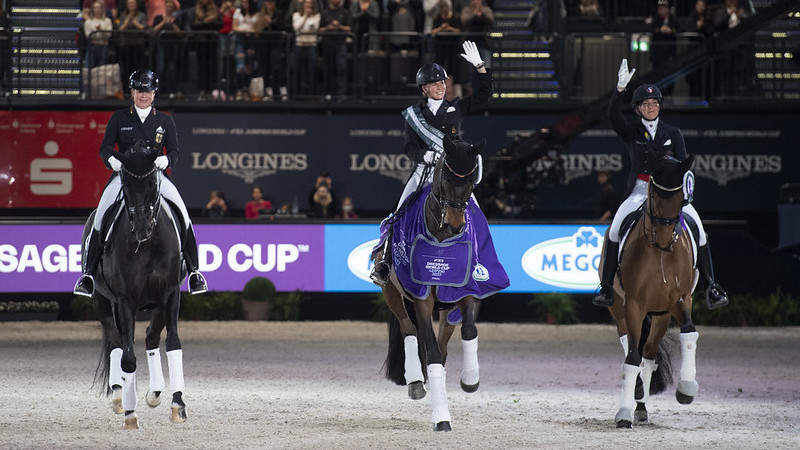 Werth raised the bar when putting a score of 85.92% on the board when fifth-last to go in the field of 17. Weihegold produced a stunning test that was full of energy and beautifully ridden by the lady long known as "The Queen" of dressage. The knowledgeable crowd was with them every step of the way, knowing that this was their last performance together as the mare was to be retired. And when they came to a halt, the crowd rose to their feet with an enormous roar to acknowledge them.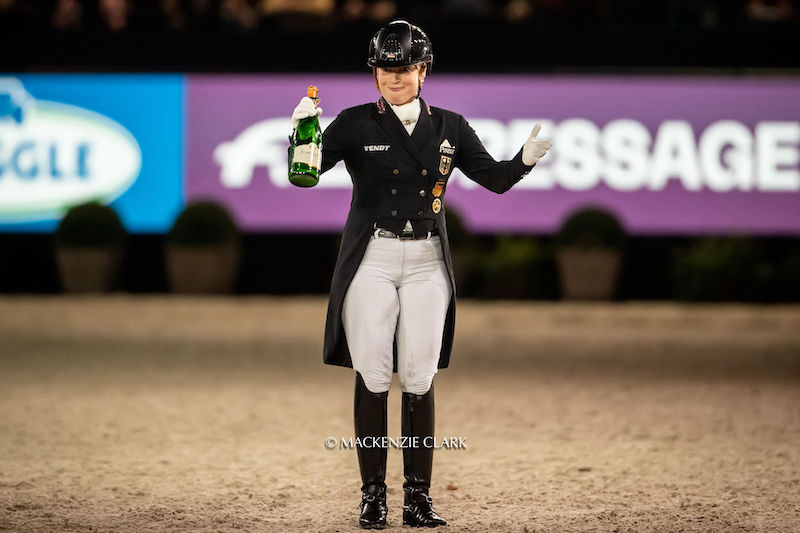 Team gold and individual silver at the 2016 Rio Olympic Games (Brazil), European team gold in 2017, three FEI Dressage World Cup titles in a row including the last one in 2019 and team gold at last year's European Championships in Hagen (Germany) are amongst their many achievements—their record has been extraordinary.
Denmark's Nanna Skodborg Merrald followed with an impressive performance from the big-moving Atterupgaards Orthilia, who posted 81.23% for second place temporarily. Next in was her compatriot, Carina Cassøe Krüth, whose ride on the light-footed, loose-limbed Heiline's Danciera included fearlessly forward one-tempi changes. The crowd held their breath until the scoreboard showed 84.97%—Werth was still out in front.
However the last of the Danes had yet to come, and Cathrine Dufour always looked threatening when steering Vamos Amigo through a brilliant test, although clearly she wasn't pushing the 10-year-old to the limit in extended canter. It was no wonder because, as she said afterwards, "he was a bomb today for sure!" He certainly looked explosive but contained himself to the very end and, once his rider relaxed the reins, wandered out the arena as if he'd heard a crowd like today's a million times.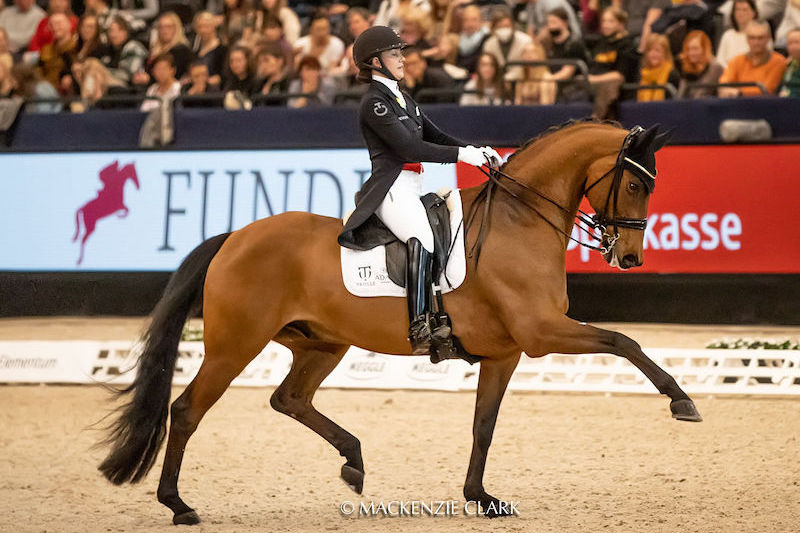 "He's never been in a ring as full as this before, he was really brave today!" Dufour said with delight.
But the story certainly wasn't over yet because the lady who has dominated the podiums at both the 2020 Tokyo Olympic Games and the European Championships last summer was yet to take her turn.
Von Bredow-Werndl arrived in Leipzig for this week's Final on the crest of a wave, but as she pointed out tonight, a little "rounder" than usual because she is expecting her second baby to arrive in a few months' time.
The balance, rhythm, accuracy and lightness, and the drama of their tempi changes all came together to present the loveliest picture, and as they pranced up the final centerline it was clear the result was done and dusted. When their score of 90.83% was announced, the crowd erupted yet again.
"I just wanted to come here and of course it was my goal to show what we have shown the last couple of months, but it couldn't have been better to take a little break now and come back soon!" von Bredow-Werndl said.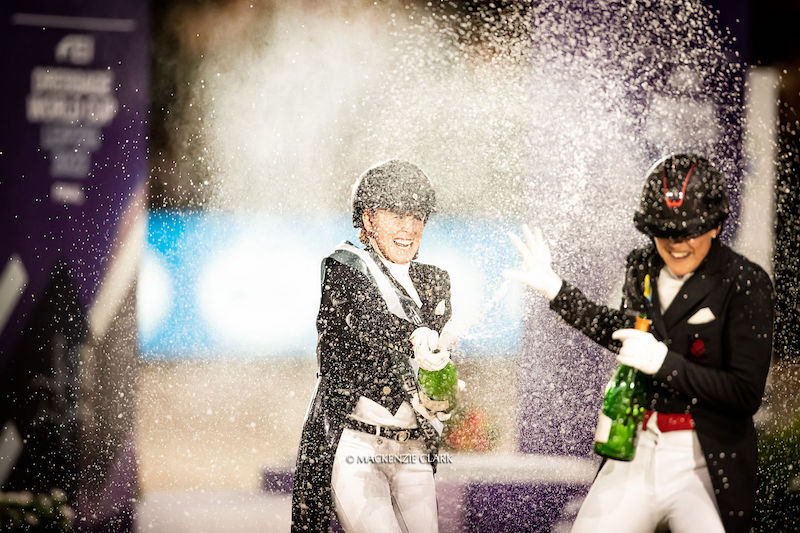 Dufour joked that she shouldn't rush returning to the sport after her baby arrives. "Just stay away for a while!" she suggested with an enormous laugh.
The Danes had every reason to be on a high tonight, with Dufour filling second spot, Krüth finishing fourth and Merrald lining up in fifth place, while Germany's Helen Langehanenberg had to settle for sixth. It was a show of mighty strength from Denmark, and it's a real shot-in-the-arm ahead of this summer's World Dressage Championships on their home ground in Herning in four months' time.
"It's really fantastic to see how the system in Denmark has gone so well over last four or five years, and you clearly see what has been produced—riders bringing young horses to the top. The two girls that are here are really cool and they can perform under pressure, myself included, and of course we love to put pressure on the girls sitting here!" Dufour said, looking at Werth and von Bredow-Werndl.
"But there is still some way to go, we saw that in 2020 suddenly things change, so for now we are going to keep the horses sharp, try to make a good plan and then really just enjoy that the championship is going to be on Danish soil," she said. "That is quite fantastic in itself, and we are looking forward to inviting everyone for a great battle and great sport."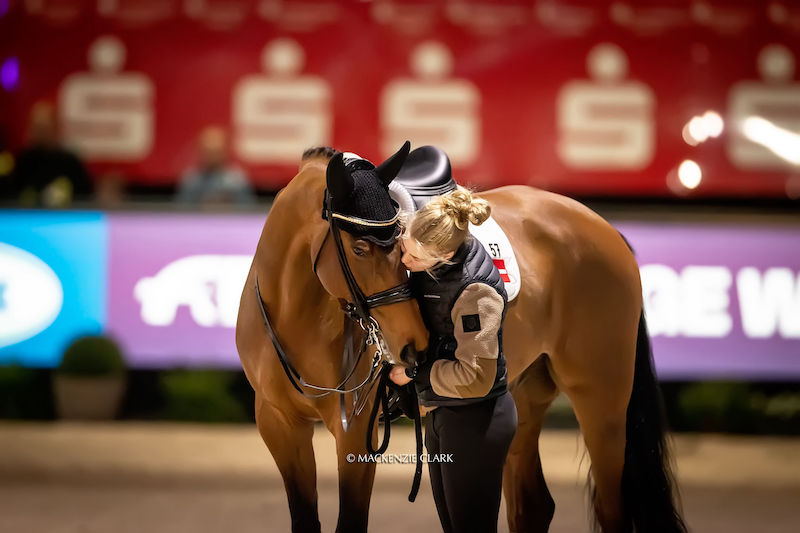 Asked this evening about the Ukrainian flag she had pinned to her tailcoat, she explained, "There is an awful situation going on right now, so I'm wearing it to show support to the people affected by this crazy war."
Newly-crowned champion von Bredow-Werndl leaned forward in agreement and added, "We all carry that flag in our hearts."
American Ashley Holzer placed ninth in the freestyle with Havanna 145, scoring 75.53%, while her teammate Anna Buffini was 12th with FRH Davinia la Douce, scoring 74.01%.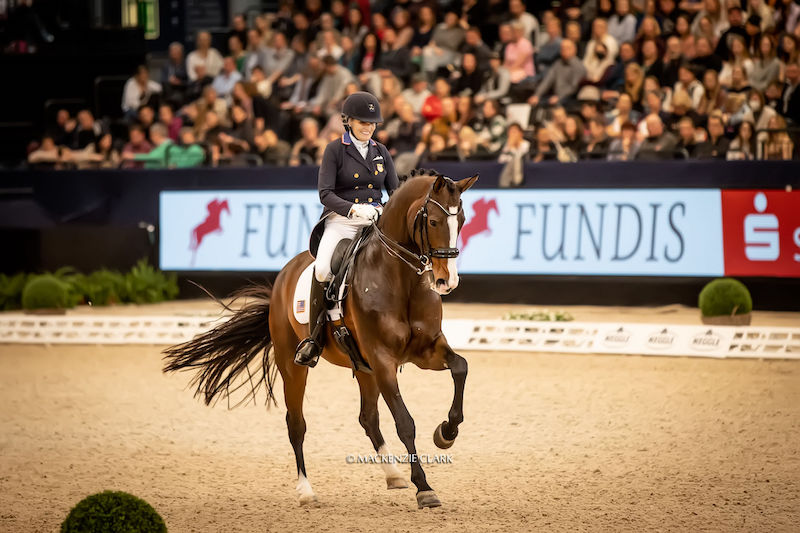 The Finals marked Holzer and Havannah 145's first international championship appearance together, with the pair producing a solid, mistake-free test in their Freestyle to follow up on their personal best in the Short Grand Prix on Thursday.
"Honestly, I'm thrilled with this mare. She doesn't owe me anything and to go into this big crowd and do what she did, I'm just so proud of her," said Holzer. "I feel so lucky at this stage in my life to come out here and compete with these other athletes and have a horse who has never seen anything like this and work like that for me."
 Holzer finished in the top 10  amongst a tremendously talented start list and acknowledged the atmosphere in Leipzig Messe was intense for both her and Havanna, with a sold-out crowd cheering on each combination throughout their ride.
"To have a horse that is a bit fearful of the atmosphere to choose trusting you over going with their instinct of fear is very special, so I think that was the highlight for me tonight. It's really touching, and I'm really blessed and lucky. She's an incredible horse and I have a great team. It's a great way to end an amazing week," she concluded. The 15-year-old Hanoverian mare (Hochadel—Riviera) is owned by Diane Fellows.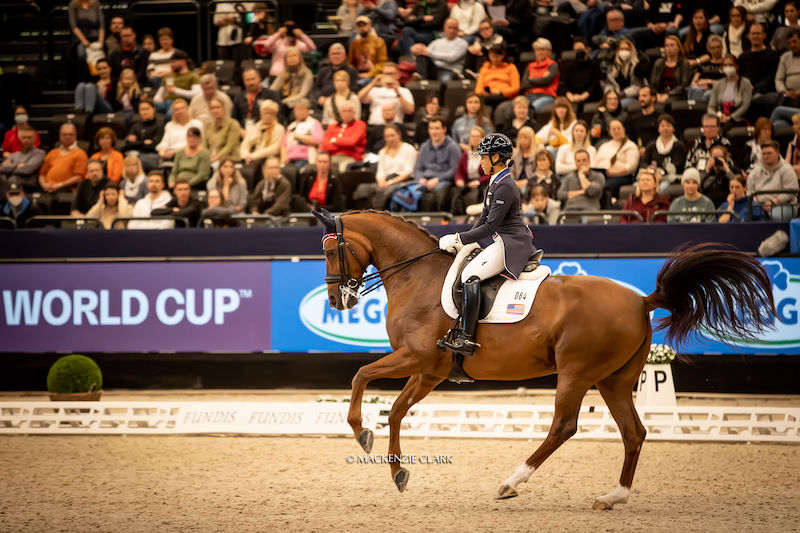 Buffini was the trailblazer, kicking off the evening's event with her lively freestyle set to a selection of BTS pop music. Buffini has been competing "Diva" since late 2020, and this year marks her first appearance at an FEI World Cup Final.
"I was so happy with her today. The atmosphere was massive and it's the biggest stage we've ever been on together and she was definitely feeling it, but for her to go in there and trust me shows the hard work we've put in and the harmony we have, and I couldn't have asked anything more from her today," said Buffini of her 15-year-old Hanoverian mare (Don Frederico—Anneliese R).
After the awards ceremony, the emotions were flowing again when Werth and Weihegold entered the arena for the mare's retirement ceremony.
"When you are in a competition you are focused on that, and of course the last line [of the Freestyle] was also quite emotional and when they gave Weihe the standing ovation that was very great," Werth said. "But to go in with the team of people who have been around for the last seven or eight years, that was really emotional, to feel the atmosphere."
However she felt it was the perfect send-off in the end. "It was what you wish for a horse like her, to give her the last honor—it was just super!" she added.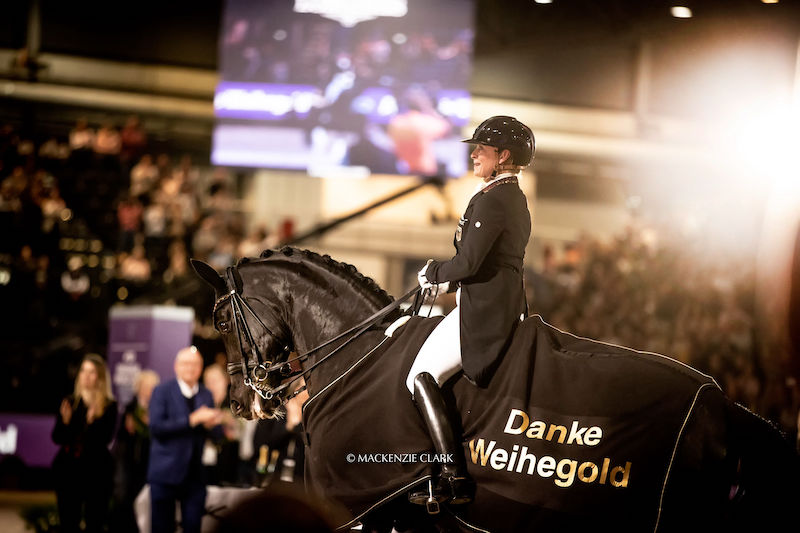 Meanwhile von Bredow-Werndl reflected on today's success and the performance from Dalera that made it possible. "There are no words! She was phenomenal—she always leaves her heart for me in that [arena] and it is not natural at all, and at the same time she does it again and again. I have the feeling even now that we are not yet at the end of our journey together!" she said.
Von Bredow-Werndl became the sixth German athlete to win the coveted FEI Dressage World Cup trophy since the first Final took place back in 1986.
Click here for today's full results.
Important Links: Schedule and results / All of the Chronicle's coverage / live stream (paid subscription)