Bromont, Quebec—June 8
Swiss rider Felix Vogg decided to come to the United States this winter in hopes of getting an early qualification for the FEI World Equestrian Games (North Carolina) and to check out the site at the Tryon International Equestrian Center, but as with horses, things don't always go to plan.
Vogg won his first event in the country at Rocking Horse (Florida) in February and had a good run at the Cloud 11-Gavilan North LLC Carolina International CIC*** (North Carolina), but the week before the WEG Test Event at Tryon, his horse Colero had sore feet, so he decided to stay a bit longer, likely through the WEG and the fall season.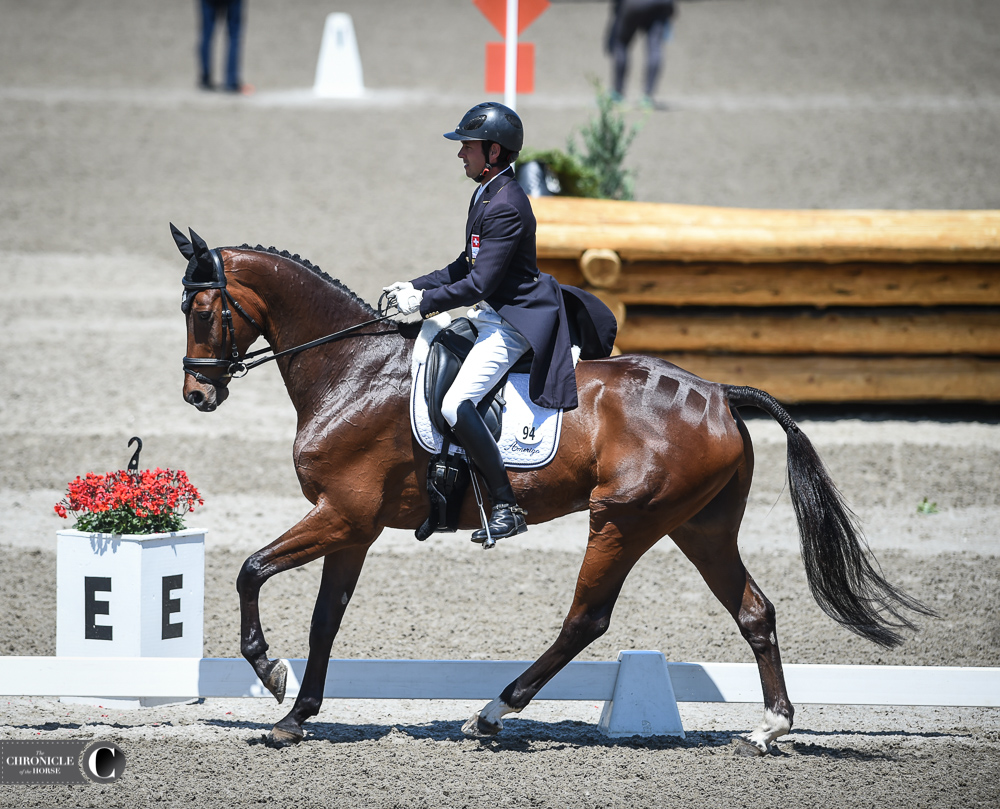 Now he's come to the Mars Incorporated Bromont CCI*** with the 10-year-old Westphalian gelding (Captain Fire—Bonita, Bormio xx) for the horse's first three-star and is leading after dressage on 30.2.
"He's still a little bit a green horse," said Vogg, 27. "When things come together in a test or in the big ring, he gets a bit shy. In the three-star test they have to want to do it—a little like the cross-country—you have to attack it a little bit more."
"I liked the trot and walk," he continued. "The canter he got a bit weak, but the lead is the lead, and I was happy that he was quiet. He was quite fresh outside [the ring] but in a good way fresh."
Vogg, who comes from a long line of horsemen, has never been to the Bromont Olympic Park, but he's impressed.
"I think the cross-country is one of the most beautiful places in the world," he said. "It's perfect for eventing. Everything around is very organized. You feel welcome. They do a lot for you."
Vogg thinks Derek di Grazia's cross-country course will be a challenge, especially when it comes to fitness. He's been swimming Colero and making good use of the hills of Chester County, Pennsylvania, where he's based with Boyd Martin.
"I think it's not a dressage competition," he said. "It's more about what is tomorrow and Sunday. It's really, really hilly. The best tomorrow will be the leader. The questions they've built are really nice, but you have to ride it, and it's a little bit tricky. I think the hardest thing will be the fitness. The fittest horse tomorrow will be quite happy."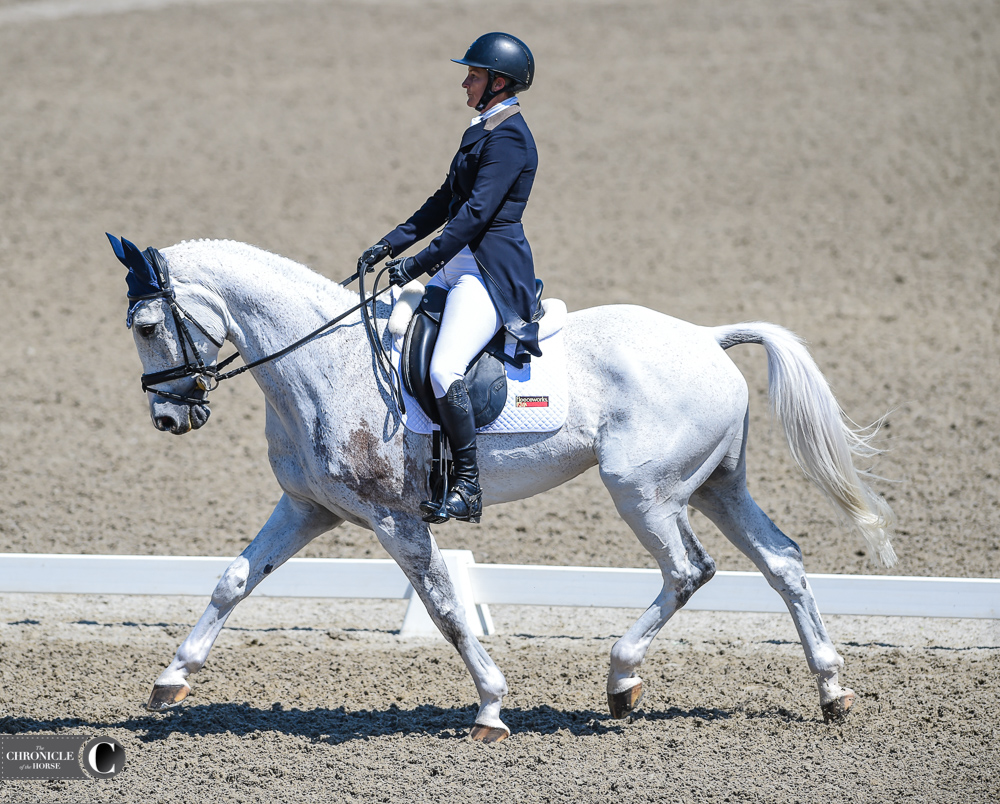 Sara Kozumplik Murphy slotted into a tie for second on Rubens D'Ysieux  (31.2) a 13-year-old Selle Francais gelding (Balougran—Davidoff Silver Shadow, Mr. Blue) owned by the Rubens D'Ysieux Syndicate.
"I felt like I left a lot of things on the table," she said. "I did my normal warm-up, but I got on the second time, and he was a bit [on edge]. He was super, but it's that fine line too. You don't want to not push to try to be more interesting. He's got a great walk and canter, but he's got kind of a pony trot. You have to push to be a little more exciting but not push too much. I went cantering down centerline and was like, he's not going to halt! I felt it was all a little rushed. I just wanted to be a little better."
Kozumplik attributed "Rubens" exuberance to being fitter, which she said is definitely not a bad thing heading out on course tomorrow.
"I've always loved Derek di Grazia's courses," she said. "I think Bromont gets better every year. That is a seriously beautifully built course with super footing. It could not be any better. Last year I had way more time faults than I wanted. He got tired at 8 ½ minutes, so I had to go slower on my way home. I changed my fitness plan. It will be interesting to go out there and feel the difference between this year and last year."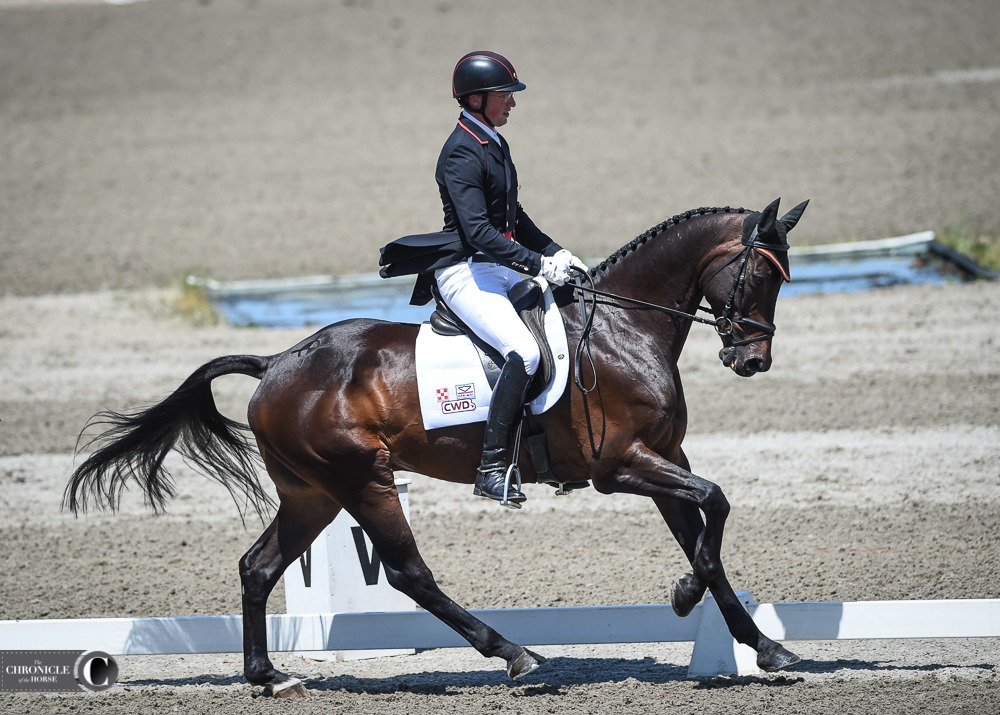 Doug Payne hasn't been to Bromont since 2012, but he decided to bring Getaway, an 11-year-old Oldenburg by Contendro, for his first CCI***, and the pair are off to a great start with a tie for second after dressage. Payne's declared the gelding, owned by Lisa and Bob Wall, for the WEG, and he thought Bromont would be a good test.
"He's an exciting horse to have, and I'm really happy that Lisa and Bob are along for the journey," he said.
He thought his test was one of the best "Flynn's" done. "It just clicked," he said. "This spring he's become more and more relaxed every outing. I think he's just starting to fully understand what the game is. As he gets more comfortable he just becomes more and more rideable."
Payne said di Grazia's course features a lot of open, airy logs to accuracy questions, but he thinks it's still a fair test.
"It's a pretty challenging course," he said. "It will be great for Flynn. I think the hardest thing for him will be the first water. It's no joke, but it's very fair."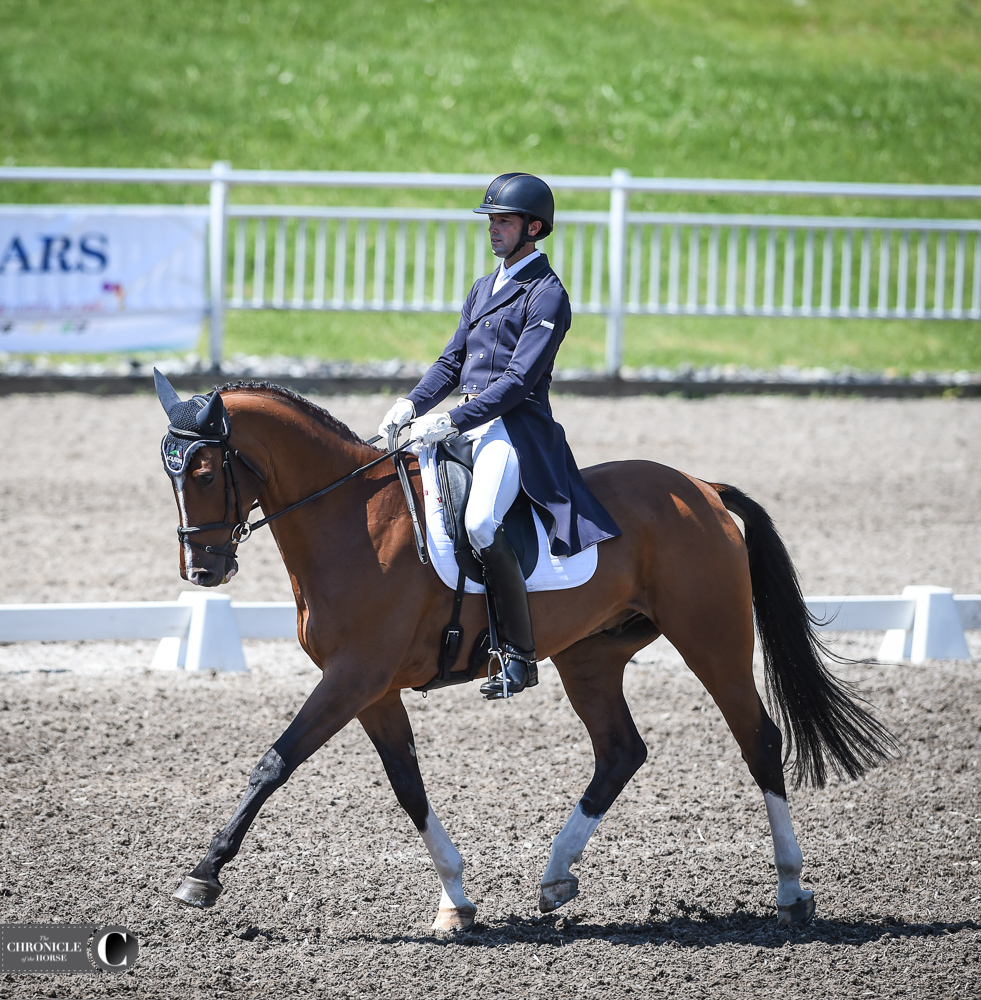 Will Coleman is leading both the CCI** and CIC** at Bromont on up-and-coming young horses. Today he scored a 26.1 in the CIC** on Off The Record, a 9-year-old Irish Sport Horse gelding (VDL Arkansas—Drumagoland Bay, Ard Ohio) owned by the Off The Record Syndicate.
Yesterday TKS Cooley, an 8-year-old Irish Sport Horse gelding (Vivaldo Van Het Costersveld—Badgerhill Cruise, Cruising) owned by the TKS Cooley Syndicate, scored a 31.7 in the CCI**.
Off The Record, or "Timmy," has done a handful of advanced events this spring, but Coleman thought the Bromont CIC** course would suit him as he ramps up for a fall CCI***.
Coleman's been traveling back and forth to Ireland where his top horse OBOS O'Reilly has been staying at Cooley Farm in preparation for the Tattersalls CCI***, where they finished fifth.
He admits that being busy is a good problem to have, but he hasn't been able to ride all of his horses as much as he would have liked.
"It's been pretty hectic," he said. It's been a busy spring. That's kind of a blessing, but it's also a challenge. I'm very lucky that I have a really good team. My wife [Katie] particularly spearheads that.
"He's slowly becoming more professional in his attitude and work ethic," he said of Timmy's test today. "He's coming along. I'm really pleased with the horse's progress, particularly over this spring. He's had a pretty consistent year. I hope it can continue. Timmy kind of shines when it's the most tense. A little bit of atmosphere, in a way, is the most helpful with him. He's still getting better and improving in his body and his training. I thought he handled it great."
Coleman brought four horses here knowing the ground and the courses would be good.
"Even though it's only a CIC** I still think it will be a good run for the horse," he said. "I'm in a little bit of the same boat with Soupçon [du Brunet, fifth in the CIC**], who's a three-star horse coming off an injury. He's starting his build towards something in the fall. I think it will be a good run for them. There's still plenty to do out there. It's not a cupcake course. Hopefully I'll give them a good positive start."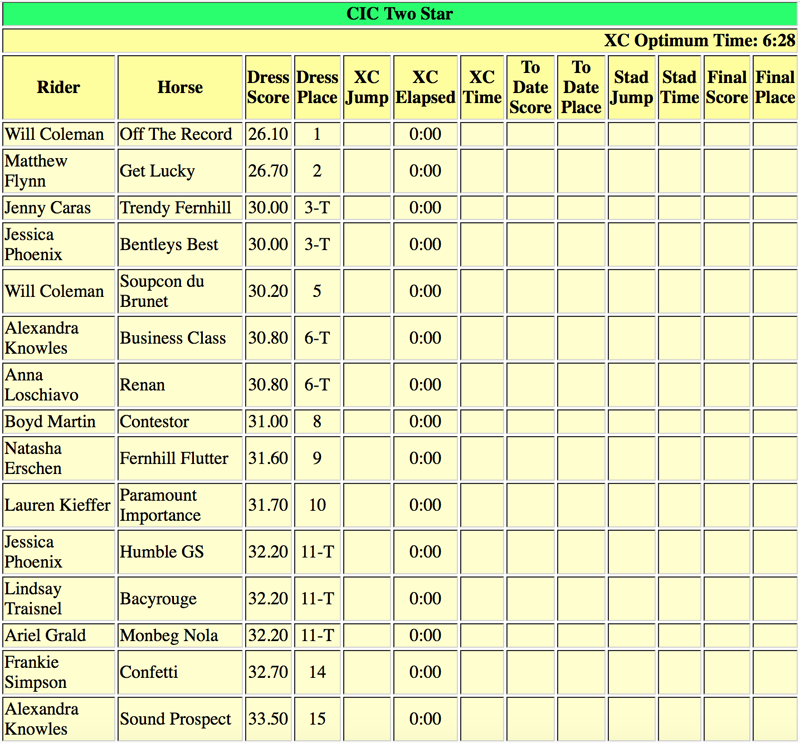 Cross-country gets underway tomorrow with the CCI* first at 8:30 a.m., followed by the CCI**.
Want more from Bromont? Click here for our coverage and check out the July 2 print edition of the Chronicle for more.
2018 Mars Incorporated Bromont International - Dressage
Lindsay Berreth / Jun 8, 2018 9:20 pm