The atmosphere was charged in the main hunter ring at Desert International Horse Park as a large crowd gathered to watch the top four riders switch horses after two competitive rounds. But in this special class, the $10,000 Valencia Saddlery Desert International Horse Park Pro Equitation Challenge, the tables were turned: It was the trainers competing while their students cheered from the sidelines.
"I think it's really good for the kids to see us in this position," said Tasha Visokay, who won the class. "It's also good for us to put ourselves in the position we ask our kids to be in every day and remember what that pressure is like. I try to work through one thing that makes me scared every day, and today this was it."
The class consisted of a hunter-style round, a jumper-style round and a work off. Visokay, who runs Ingenium Farm in Moorpark, California, took an early lead in round one and held it to win the class aboard Bruce Wayne, an 8-year-old Danish Warmblood owned by Jenn Serek who is being leased by one of Visokay's clients.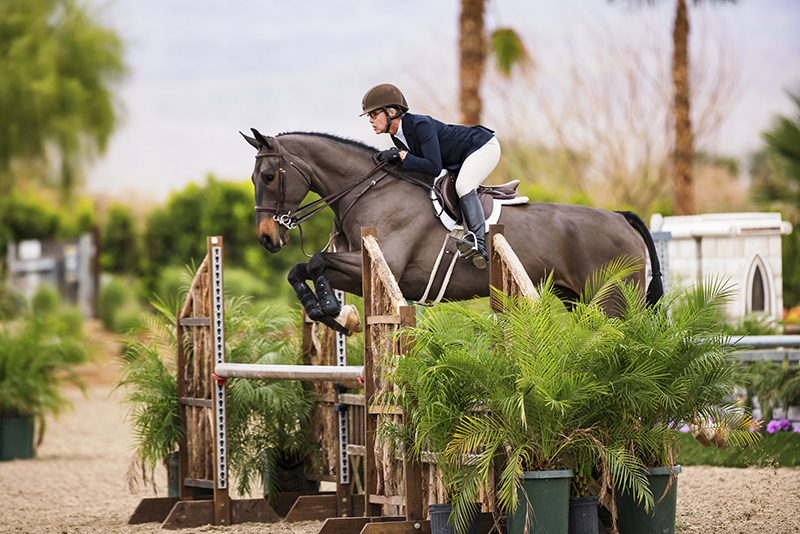 "It was a fun class, and we all complimented each other," Visokay said. "You want everyone to do well. But we don't usually get judged on form and position, and the kids were all watching, so I know everyone put pressure on themselves. We all acted more nervous than our kids!"
When it was Visokay herself in the saddle striving for that perfect ride in the Pro Equitation Challenge, held Dec. 10, she kept the advice she gives her clients in mind: "I just kept reminding myself, if I was telling my kid how to ride this class, what would I say? Generally, I'd tell them to ride what they feel, and I'd tell them go big or go home."
Visokay said she appreciates the equitation for its emphasis on correct basics that make riders better in any ring. "Equitation is just proper training," she said. "No matter what discipline you want to end up in, the equitation teaches track and management of stride and good basics that will transfer over to jumpers or hunters."
She empathizes with her junior clients who regularly compete in national equitation championships. "The equitation division is tough. If it's possible financially, I like for every kid to have a jumper to back up their equitation horse to learn how to have fun, loosen up, and go fast without all the pressure of counting points and winning," she said.
Despite the pressure, Visokay believes that involvement in equestrian sport is ultimately positive for most juniors.
"It's hard navigating as a kid through life these days," she said. "I think horses help them navigate. It can teach them management, responsibility, compassion, so many things… and also can help keep them out of trouble a little bit."
She credited horses with keeping her grounded not only as a junior but throughout her life.
Horses have been Visokay's passion since watching "The Black Stallion" at 5 years old. Shortly thereafter, she became the first equestrian in her family thanks in no small part to her mother.
"My mom was a huge supporter," said Visokay, who grew up in the Bronx borough of New York City. "She took out home equity loans to pay for my riding, though she always said she wanted to send the bills to ["The Black Stallion" producer] Francis Ford Coppola."
After a successful junior career, Visokay worked as an assistant trainer for over 20 years for top barns including Heritage Farms and Karen Healey Stables. After Karen Healey closed her barn at the end of 2015, Visokay opened Ingenium Farm, which is now home to nearly 30 show horses and their riders.
"That number is nice," she said. "I don't want it larger than that because I want to be there for each and every one of my clients."
Jenny Karazissis took second place aboard Picnic, a 6-year-old Dutch Warmblood gelding owned by Lisa Hankin, and Mitch Endicott placed third on Class Act, an 11-year-old Dutch Warmblood gelding owned by Ashland Farms.