The Virginia Tech Helmet Lab has released its much-anticipated equestrian helmet ratings. Taking the top spot in the rankings is the $460 Champion Revolve X-Air MIPS helmet, but in good news for riders who are both frugal and safety conscious, the rest of the top three slots were filled by sub-$60 helmets, the Tuffrider Carbon Fiber ($58) and the IRH Equi-Lite ($50).
The ratings are the culmination of a research project that began in 2019 to add horseback riding helmets to the roster of sport helmets the lab evaluates. It was helped along by grants from the U.S. Equestrian Federation, U.S. Hunter Jumper Association, U.S. Eventing Association and Jacqueline Mars.
For a decade, the lab has been translating its independent research into what it calls a STAR ("Summation of Tests for Analysis of Risk") rating system for consumers. Equestrian helmets are the most recent addition to a testing lineup that started with football helmets and now includes models for cycling, snow sports, hockey and more. Helmets are given both a STAR rating—on a one-to-five scale, the higher the better, just like at the movies—and a score, representative of the average number of concussions a user would sustain, where lower is better. The rating and score indicate how effective a helmet model is in reducing concussion risk for its designed sport.
In the newly released equestrian ratings, the helmet lab tested and ranked 40 helmets from manufacturers including Charles Owen, Samshield, Troxel, One K, Trauma Void and more.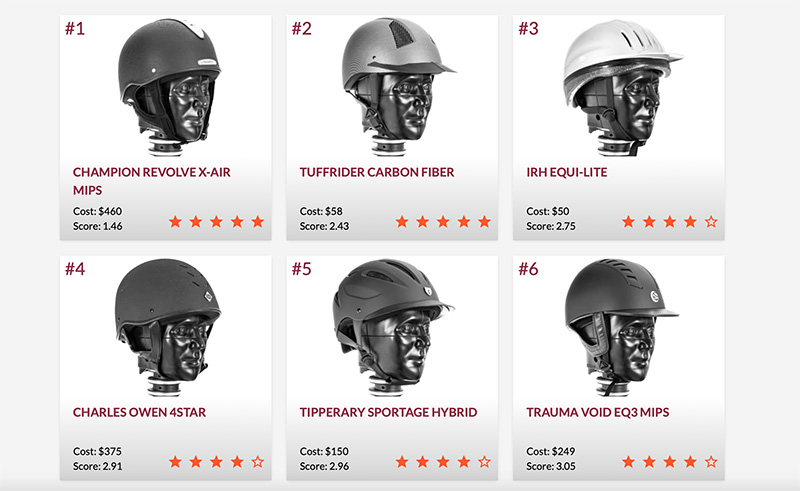 Click here to see the complete ratings, and here for a detailed story on the helmet testing behind the scores.