Wellington, Fla.—Jan. 16
The first Grand Prix Freestyle of the 2016 Adequan Global Dressage Festival season was as much of a cheering contest as it was a dressage competition.
Severe weather forced the event's rescheduling from its traditional slot on Friday night to Saturday, but that didn't stop more than 2,000 spectators from packing the stands at the Palm Beach International Equestrian Center's Stadium. As the competitors upped the standard with each ride—there were three changes at the top in the final five tests—the crowd similarly amplified its volume.
Receiving an eye-opening score of 80.45 percent, Tinne Vilhelmson-Silfven of Sweden captured her second win of the week with Lovsta Stuteri's Don Auriello (Don Davidoff—Wey o mey, White Star) after winning Thursday's CDI-W Grand Prix. The top two from that class remained the same, as Laura Graves and Verdades again finished second (78.25%), despite turning in an electric freestyle that caused the crowd to erupt in deafening cheers. Charlotte Jorst and Kastels Nintendo finished third (74.37%).
"I'm so happy," Vilhelmson-Silfven said. "To have this success here in this atmosphere and this feeling that this show has was just so fun. I just love to ride this horse as well. It's just great fun for me the whole time."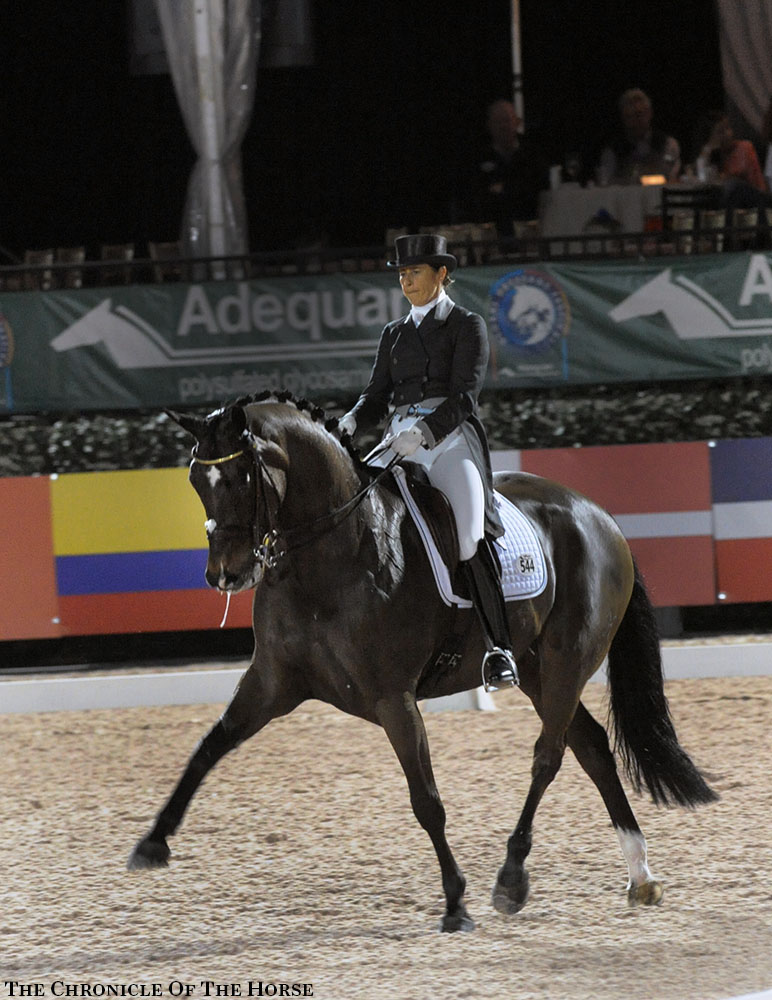 Tinne Vilhelmson-Silfven and Don Auriello
It was Don Auriello's first freestyle in more than six months after returning from injury, but Vilhelmson-Silfven said she believes the time off may have benefitted him, as the experienced gelding's mental maturity is now being complemented by freshness and physical strength.
"He's getting more and more mature, more and more balanced in his body, and he can handle the work better and better," she said. "Now he has so much more of a sense of the routine and he's not as surprised at the environment. He's learning, but it's also about him getting mature in his body and strong enough.
"You're always humble when you show a horse," she continued. "You never know what's going to happen. But of course you wish for something, and I wished for this feeling, and that was all I could wish for, I must say."
Last to go in the 15-horse field, Graves and Verdades performed a freestyle that completely rocked the house. Upon the completion of her test, Graves, grinning ear to ear, thrust her entire body forward and gave her horse countless pats at the crest of his neck. When the hometown American was not rewarded with a winning score, the spectators voiced their displeasure.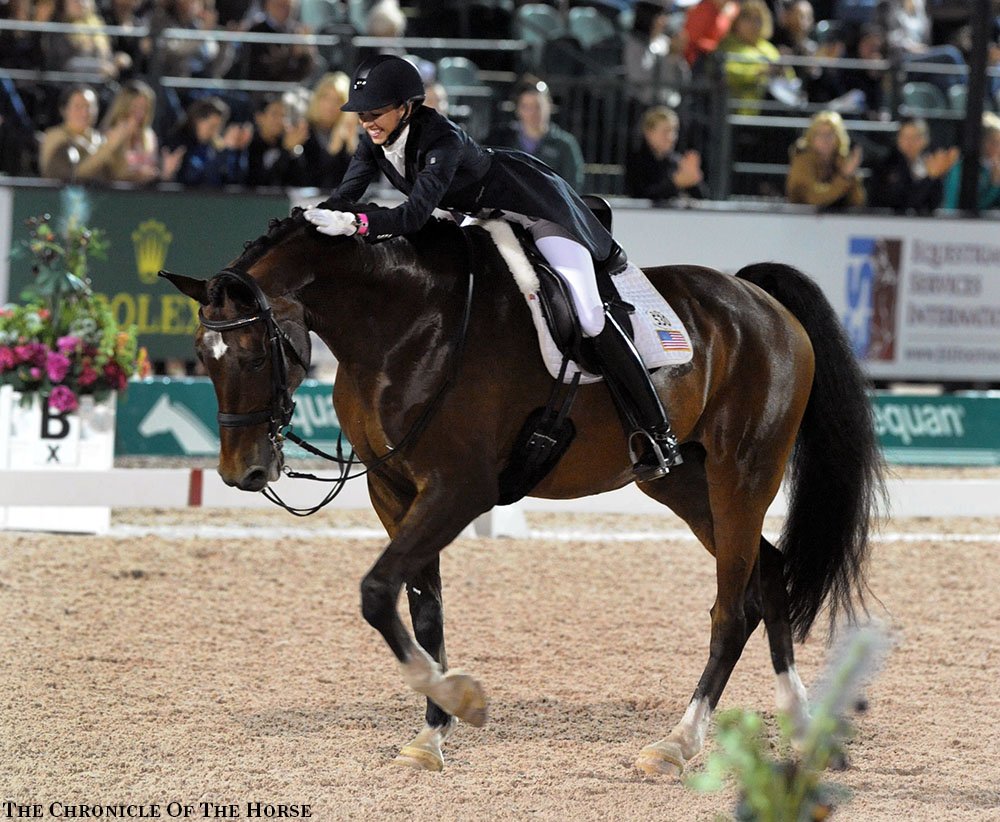 Laura Graves and Verdades
"Tonight felt like a big step for us," she said. "I'm learning to ride such a hot horse in a hot atmosphere. We were more on with music than we've been, which has been a struggle. I just like to go fast, and that doesn't go so well when you're so ahead of your music all the time. It was mostly mistake-free, with a couple of missed footfalls, but I couldn't be more pleased with my horse.
"Rather than diffusing the bomb that's underneath me, I'm learning to keep it lit the entire way through the test and to not be afraid it," she added. "It's proving to give my horse confidence too, and this is what our plan is going into World Cup, that I can really learn to master this."
"I thought there were a lot of positive good things with both rides," said Natalie Lamping, the judge at C. "Laura's ride had a little bit of tension in places and her piaffe at all times wasn't the best that she can do, and Tinne's horse was more relaxed in it. It just takes a little bit to make a difference. It's who's at the top of their game at that moment. I thought both riders did a fabulous job, and so did Charlotte."
Jorst and Kastels Nintendo took the lead after their test and were only surpassed by two riders in the top 15 of the FEI World Dressage Rankings. Vilhelmson, who is aiming for her seventh Olympics, is ranked eighth, while Graves is currently No. 15 on the list.
"I look forward all day to getting in the ring and showing everyone what I've learned," Jorst said, "and I think I did that tonight. It was wonderful. There are lots of points to be made up for me, and I made a lot of mistakes tonight, but I'm thrilled to go back and correct them and come back and do an even better job in a couple weeks.
"I try to focus on Nintendo's strengths, because when you ride, you want the horse to gain confidence, and I think that's what we're seeing in Nintendo now," she continued. "When you see me ride, I always praise him, and I never focus on anything he can't do, because I don't think that really works for him. For me, this freestyle was great, because it confirmed all of that. I'm using what learned in business for all of those years, because I always focused on people's strengths, and I do the same with the horses."

Charlotte Jorst and Kastels Nintendo
Graves also did not focus on her score, and she exhibited great grace and sportsmanship in the post-event press conference.
"This is sport. That's all you can say," she said. "I try not to get emotional about the scores. We're all out here to win, but you can really only be happy with the feeling that you had, whether you won or not. I feel like this was the best freestyle we've ever ridden. Okay, so we placed second. I'm still super excited that we're learning so much, and hopefully I can figure out how to get those points back. I know before we even review anything of a couple spots."
"I absolutely think it's fair," she added. "What are you going to do if you don't think it's fair? This is our sport, right? You have to get along with it, and it's all we can do to study and find out how to please the judges as much as we were pleased."
You can also read about the amazing victory of Canadian Leah Wilson Wilkins, who triumphed in the Grand Prix Special while seven months pregnant, and about Wilhelmson-Silfven's victory in the Grand Prix.