Wellington, Fla.—March 18
Laura Graves and Verdades might have had a few bobbles this winter, but they performed one of their best Grand Prix freestyle tests so far this season at the Adequan® Global Dressage Festival, earning a 79.47 percent to take a commanding win in the FEI Grand Prix freestyle CDI 4*, presented by Havensafe Farm.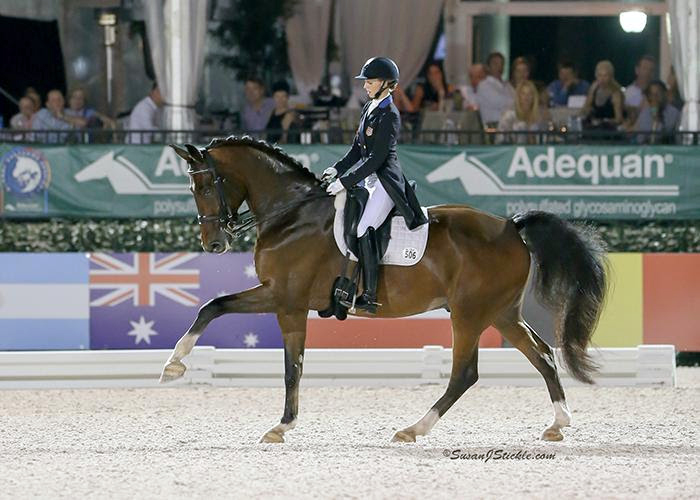 Laura Graves and Verdades. Photo by SusanJStickle.com
Kasey Perry-Glass and Goerklintgaards Dublet followed Graves to the winner's circle, finishing in second place in their first FEI Grand Prix freestyle test together (75.75%). Juan Matute, Jr. (ESP) and Don Diego Ymas captured a well-deserved third place finish (73.22%).
Graves and Verdades entered the Global International Arena at The Stadium with new freestyle choreography and music, but the same consistency and fluidity for which they're now known. Graves has worked hard to find the right gear for "Diddy" this season, and it seems the pair is right on the mark moving into an important part of this year's season.
"You know, with as much experience as this horse has now globally, he's recently become very sensitive to the atmosphere. We do for him what we can in relaxation, but like I was saying after the Grand Prix on Wednesday, his confidence has to come from me," explained Graves. "I have to give him the cues, and he needs to be certain of what I'm asking him. For tonight, I thought it was a big accomplishment personally, riding through that tension and having him step up to the plate."
The pair now has a mutual understanding of what the expectations are in the ring, and their partnership has continued to flourish. Graves and her own 14-year-old Dutch Warmblood gelding (Florett AS x Liwilarda) have become one of the most consistent Grand Prix pairs for Team USA over the past two years since their debut at the Alltech FEI World Equestrian Games in Caen, France, in 2014.
Both Graves and Perry-Glass have been in consistent training with U.S. dressage legend Debbie McDonald, with both riders referencing their strong relationship with her as a major factor in their performances so far this season.
"Debbie's gift is that as a trainer, she can feel what you're feeling as a rider. It takes a weight off of you that you don't realize exists. She just gives you that feeling that you're never alone and what you're feeling is normal. You're going to train through it and you're going to, like she said to me tonight, come out on the other side. She just gives you this confidence to ride well," explained Graves, regarding her time with McDonald.
Perry-Glass exited the ring in tears after completing her first FEI Grand Prix Freestyle aboard Goerklintgaards Dublet, a 13-year-old Danish Warmblood gelding (Diamond Hit x La Costa), that she has campaigned to the top of the large tour leaderboards all season long.
"I came out crying," she acknowledged. "He's just so awesome, and I'm so lucky to have him. We're growing up together and respecting each other more and more. We're learning from each other, and I couldn't ask for any more."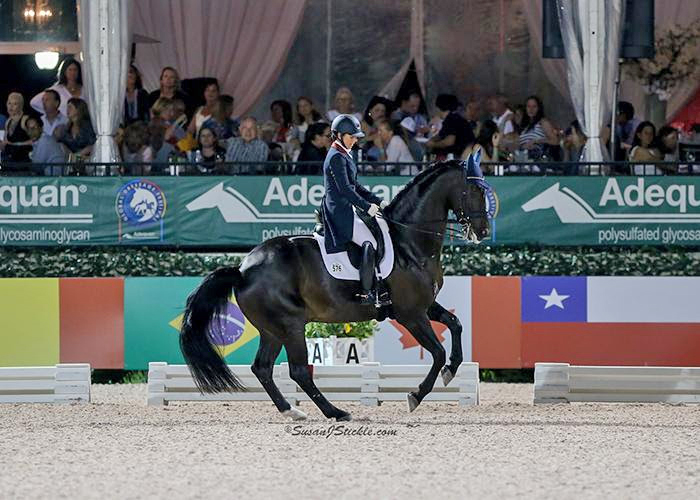 Kasey Perry-Glass on Goerklintgaards Dublet. Photo by SusanJStickle.com
"I wasn't really sure what to expect with him. Last year in the Intermediaire I freestyle, he would get really hot and I pretty much had no control. I knew that once the music started, that was the horse I was going to have," she said. "The consistent training with Debbie [McDonald] and the support from her has really helped his confidence and my confidence. He stayed with me the whole time and there are small places that we can clean up, but this is our first time out there and I'm so proud of him."
As for their first freestyle beneath the lights, Perry-Glass felt their ride went just as planned and she's motivated to continue their progress.
"Adrienne Lyle did the choreography. She's been such a great friend and a great supporter of us. I worked with Tom Hunt, who does Charlotte Dujardin's music. I've been working with him for a while, and we have a good relationship. I wasn't sure what type of music I wanted for Dublet and I was like 'Yes, this works!' There are obviously some things that we will have to tweak and enhance, but I'll start with a 75 percent," she laughed.
The young Juan Matute, Jr. performed a brilliant and nearly mistake-free test about Don Diego Ymas, a 13-year-old Hanoverian gelding owned by Matute's father, Juan Matute. In their best freestyle test to date this season, Matute was very pleased with their ride and felt the progress they have made this season has been defining in their career together.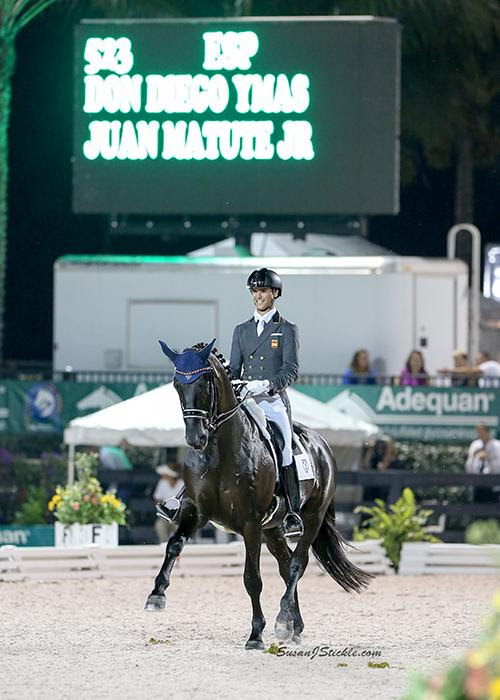 Juan Matute Jr. on Don Diego Ymas. Photo by SusanJStickle.com
"Little by little we've been building the confidence in the Grand Prix together and this is our second season at this level. It was a very exciting start to the season, but I think tonight is really the highlight so far," commented Matute. "I'm very happy, and I'm very excited."
"I enjoyed the test a lot. It was pretty much mistake-free, which is a big deal for us right now in our second year at Grand Prix," continued Matute. "Being dynamic and being able to adapt to every situation is very important. What can I say, I'm sitting here next to these two beautiful riders, and it was just a great night."
Judge at C, Hans-Christian Matthiesen of Denmark, was impressed with the top three rides and spoke candidly about the importance of AGDF to the global scale of dressage and its success in reaching young riders around the world.
"What we see tonight sitting at the press conference with these three very good young riders, this is what it is all about. This is dressage when it is at its best, in a super atmosphere that you've managed to create here at the Global show grounds. It's so important to the sport," he explained. "We can't have enough of that. I'm so proud of you [three riders]. You all did so well and have super nice horses. It's good for the future of the sport when you have young ones coming up and just great combinations. It's great fun and just a privilege to be here and judge."
Katherine Bateson-Chandler and Alcazar Take FEI Grand Prix Freestyle CDI 3*
Katherine Bateson-Chandler and Alcazar, an 11-year-old Dutch Warmblood gelding owned by Jane Forbes Clark, found themselves atop the leaderboard in the FEI Grand Prix freestyle CDI 3*, presented by The Dutta Corporation, with a score of 72.42 percent.
Bateson-Chandler and Alcazar have been hard at work this season, also training with Debbie McDonald, to improve their presence in the arena before heading back to England to compete in Europe this summer.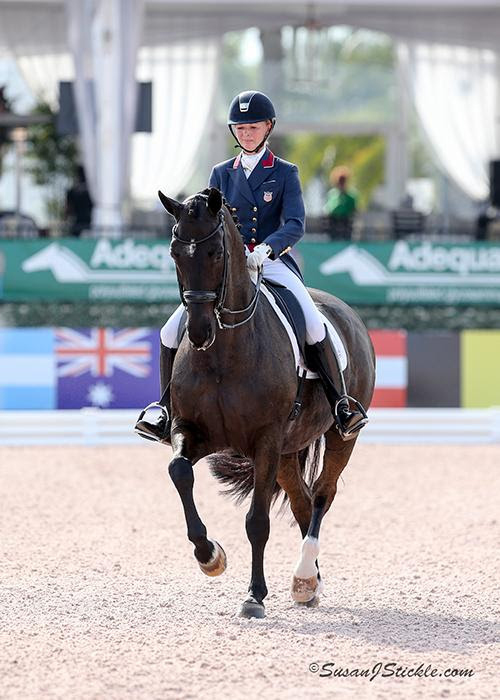 Katherine Bateson-Chandler on Alaczar. Photo by SusanJStickle.com
P.J. Rizvi and Breaking Dawn followed in second place (70.60%), while Anna Marek and Unico G collected third place honors (67.27%).
"In my last couple of freestyles I've had mistakes in my flying changes. I was bound and determined today, even if I had to turn myself inside out, to not have mistakes in my changes, which I managed to pull off," laughed Bateson-Chandler. "I was really happy with that."
"He's going to have a couple of nice easy days before the next CDI. To be honest, when I'm not here at the show I don't really ride him in the ring that much. I'm lucky to have a farm with a big track and a grand prix field," explained Bateson-Chandler, on how she keeps Alcazar fresh and ready to compete. "We'll have a little break after the next show here and then we'll head back to England."
P.J. Rizvi and Breaking Dawn earned their highest FEI CDI score this afternoon with their 70.60 percent, which Rizvi noted is a huge accomplishment for the pair, as this is their first competitive CDI season together.
"This is so far our biggest accomplishment together. For me, the heat is brutal, but for Edward, my horse, it's the most amazing thing because my usual struggle with him is that he's extremely forward and we have mistakes in the changes because he gets a little bit ahead of me," she said. "Today I felt like he was a bit more backed off, and he was really attentive to me. I was super thrilled today."
Rizvi rides to the same music that her trainer, Ashley Holzer, used with Breaking Dawn at the 2012 Olympic Games in London, England. It is very sentimental for Rizvi. She said, "What we did, because Edward had a long rest period after the Olympics, is we changed the choreography to be more difficult, but used the same music. I love really funky music, but I tend to dance too much during the test, so I need very stable music. I think it suits him, and the bagpipes really accent his piaffe and passage."
Traveling down from Ocala, Fla., to compete at AGDF, Marek and Unico G are finding a rhythm, which has left Marek feeling very positive about their progress and direction for the rest of the season.
"We come down about four hours to show here for the weekend and then go home. We definitely struggled with the heat a bit this week, but today I was really proud of him because I felt like I had more horse than yesterday," she commented. "I swear though, the music always pumps him up and he's ready to go. We had fun riding today's freestyle, and we just made it a little bit more difficult so there were a few little bobbles.
"I rode my first freestyle on Unico. Over the last year, we got comfortable with that choreography while I learned to ride the freestyle. We just started to change it a bit more difficult. I wanted something a bit dramatic for him. We've had a long road and to me it tells a great story," she continued.
Final Scores: FEI Grand Prix Freestyle CDI 4*, presented by Havensafe Farm
Place, Rider, Nationality, Horse, Horse Information: Judge E%, Judge H%, Judge C%, Judge M%, Judge B%, Total %
1. Laura Graves (USA), Verdades, 2002 Dutch Warmblood gelding by Florett AS x Liwilarda x Goya owned by Laura Graves: 79.375%, 76.625%, 81.125%, 82.125%, 78.125%, 79.475%
2. Kasey Perry-Glass (USA), Goerklintgaards Dublet, 2003 Danish Warmblood gelding by Diamond Hit x La Costa x Olympic Ferro owned by Diane Perry: 74.750%, 73.625%, 78.000%, 77.750%, 74.625%, 75.750%
3. Juan Matute, Jr. (ESP), Don Diego Ymas, 2003 Hanoverian gelding by Don Frederico x Wie Platine x Wolkenstein II owned by Juan Matute: 72.875%, 71.750%, 74.750%, 73.250%, 73.500%, 73.225%
4. Shelly Francis (USA), Danilo, 2004 Hanoverian gelding by De Niro x Annabella x Andiamo owned by Patricia Stempel: 73.125%, 71.250%, 72.875%, 71.500%, 73.000%, 72.350%
5. Brittany Fraser (CAN), All In, 2005 Dutch Warmblood gelding by Tango x Leotine x Damiro owned by Brittany Fraser: 72.625%, 70.125%, 71.875%, 70.625%, 71.875%, 71.425%
6. Karen Pavicic (CAN), Don Daiquiri, 2002 Oldenburg gelding by Don Cardinale x Nedstatte III x Rubinstein I owned by Jayne Essig: 71.750%, 70.125%, 71.875%, 69.250%, 72.500%, 71.100%,
7. Ricardo Wallenstein (POR), Bem Me Quer, 2006 Luistano stallion by Malmequer x N-Rola x Urco owned by Lusitano Academy: 67.250%, 69.000%, 67.125%, 66.875%, 67.625%, 67.575%
8. Evi Strasser (CAN), Renaissance Tyme, 2003 Oldenburg gelding by Royal Diamant x Valencia x Dream of Heidelberg owned by Evi Strasser: 67.500%, 68.375%, 67.625%, 65.875%, 67.750%, 67.425%
Final Results: FEI Grand Prix Freestyle CDI 3*, presented by The Dutta Corporation
Place, Rider, Nationality, Horse, Horse Information: Judge E%, Judge H%, Judge C%, Judge M%, Judge B%, Total %
1. Katherine Bateson-Chandler (USA), Alcazar, 2005 Dutch Warmblood gelding by Contango x Polina x Ferro owned by Jane Forbes Clark: 72.875%, 72.000%, 73.000%, 72.250%, 72.000%, 72.425%
2. P.J. Rizvi (USA), Breaking Dawn, 2001 Dutch Warmblood gelding by Akribori x Eveline x L.Ronald owned by P.J. Rizvi: 69.375%, 70.750%, 71.125%, 69.875%, 71.875%, 70.600%
3. Anna Marek (USA), Unico G, 2001 Dutch Warmblood gelding by Negro x Kleora x Animo owned by Anna Marek: 66.625%, 67.750%, 66.000%, 67.750% 68.250%, 67.275%
4. Micaela Mabragana (ARG), Tyara, 2000 Dutch Warmblood mare by Farrington x Jolimba x Bazuin owned by Cesar Lopardo-Grana: 67.250%, 66.375%, 66.625%, 66.500%, 67.250%, 66.800%
5. Louisa-Marcelle Eadie (GER), Welt Cup, 2001 Hanoverian gelding by Weltmeyer x Hauptstutbuch Graefin x Gambler's Cup owned by Louisa-Marcelle Eadie: 67.375%, 65.250%, 65.500%, 65.750%, 67.125%, 66.200%
6. Lauren Sprieser (USA), Ellegria, 2001 Westphalian mare by Ehrentanz I x Patriza x Philip owned by Lauren Sprieser: 68.00%, 67.125%, 67.250%, 59.875%, 65.375%, 65.525%
7. Nora Batchelder (USA), Bahai, 2004 Hanoverian mare by Baroncelli x SPS Rose x Rotspon owned by Nora Batchelder: 66.250%, 63.375%, 66.500%, 61.375%, 67.500%, 65.000%
8. Franziska Seidl (SUI), Sigalia, 1999 Dutch Warmblood gelding by Kigali x Foske x Animo owned by Franziska Seidl: 65.375%, 67.500%, 64.000%, 64.250%, 63.875%, 65.000%