As Callan Solem rode through the in-gate for the $50,000 HITS Grand Prix in Ocala, Florida, she knew she had good shot at the win with VDL Wizard.
"He really wanted to win that class," Solem said. "He was whinnying at the in-gate. When he whinnies at the in-gate that's his sign that he's ready to win. It's basically just hand me his ribbon at that point."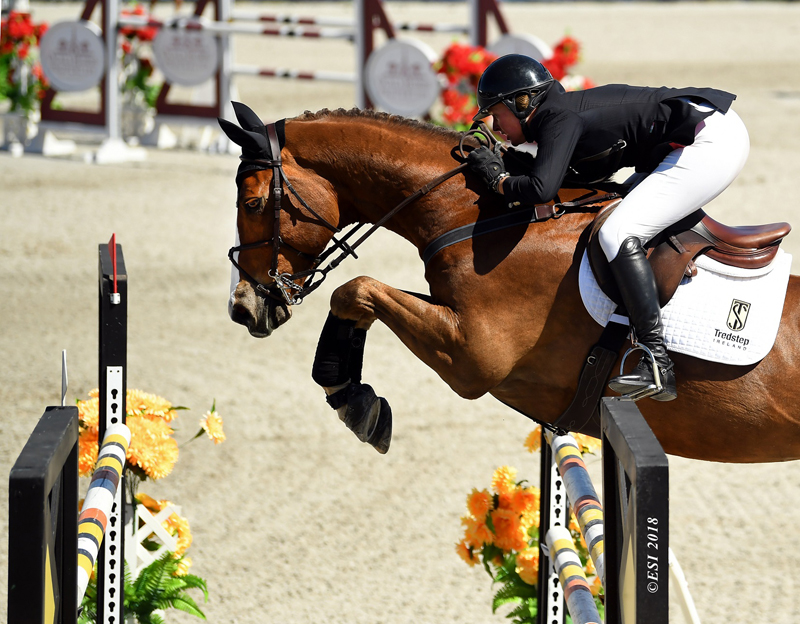 "Wizard" got his ribbon—and the top check—when he turned in the fastest jump-off time of 40.81 seconds. Emmanuel Andrade was a close second with Bon Jovi and a jump-off time of 42.03 seconds. Third place went to Andre Thieme and Cupertino, and Ocala local Aaron Vale once again found success aboard Cassevel for fourth. Fernando Cardenas rounded out the top five with Quincy Car.
"I was definitely trying to win," said Solem. "I jumped off first with Davidson and had one down, but he was really good. It was sort of an interesting jump-off track. There weren't really any numbers; it was just a lot of galloping, and where I think I won it was in the one-stride. It was a short one-stride, and people were really setting up for it. Wizard is so quick with his legs I was able to fly in there a little more than other people did."
Solem showed the 15-year-old Dutch Warmblood (Gentlemen—Pretty, Ahorn) at the Palm Beach Masters in Wellington, Florida, in early February and since then has been gearing the gelding up to compete in the Great American $1 Million Grand Prix at HITS Ocala in late March.
"We had such a good time—I really just love him," said Solem. "He loves it up there [in Ocala], and it's nice and cool. Wizard did the Palm Beach Masters, and he was so good. We had one down, but I thought he jumped great, and after that we're sort of working our way backwards from the Million."
Andrade has seen plenty of success at HITS Ocala this winter, and Week 7 was no different. In addition to second in the $50,000 HITS Grand Prix, he topped the $25,000 SmartPak Grand Prix with Gran Mamut and the $10,000 1.35-meter classic with Dipssy. Tracy Magness and Intenz Van HD took second in the SmartPak Grand Prix, and third went to Lisa Goldman and Sovereign.
On the other side of the showgrounds, Alex Stevens took the win in the $5,000 Devoucoux Hunter Prix with Sky Pilot on a two-round score of 171. Katlynn Butler and MTM Bazinga took home top honors in the $1,500 Platinum Performance Hunter Prix.