Tryon, N.C.—July 2  
Kristen Vanderveen and Bull Run's Faustino De Tili topped another grand prix at Tryon International Equestrian Center, this time laying claim to the $86,000 Adequan® Grand Prix CSI**.
Vanderveen and Bull Run's Faustino De Tili stopped the jump-off timers in 38.34 seconds to take the win ahead of Darragh Kerins of Ireland and Silteplait De Circee who earned second place with a time of 41.38 seconds. Todd Minikus and Incitatus collected third place, finishing just behind Kerins in 41.94 seconds.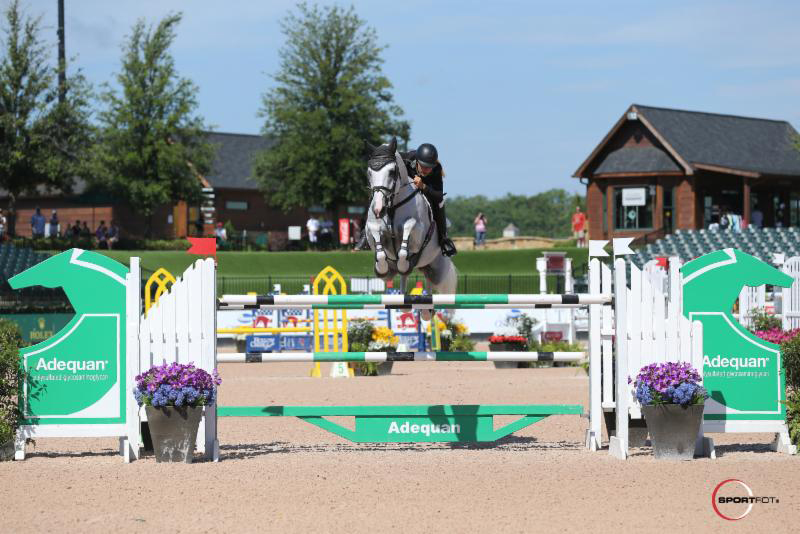 The main event of the week was rescheduled to take place Sunday morning after severe weather moved through the region on Saturday night. Vanderveen and Bull Run's Faustino De Tili went toward the end of the class order, which saw 45 entries test the first track set by Ken Krome. Ten combinations ultimately moved forward to the short track in which six pairs finished the morning with a double clear effort on the day.
"He felt ready to go last night and I knew that he would do well, so I was a little disappointed in the way the weather rolled in, but he gave me that same feeling today and we just went for it," said Vanderveen. "He stays about the same for classes during the day and at night because he just loves to compete."
After walking the course, Vanderveen thought that it was tricky enough to catch some riders off guard, which ended up being the case.
"I thought that it walked a little tough to be honest, which it should though. It was tricky and it needed to be. I think that Ken knew he needed to build a bit technical since there are so many top horses here for the two-star," she explained. "The lines came up quite fast and there were a lot of turns and half steps where you could make your own decisions, making it a bit more challenging."
Vanderveen and Bull Run's Faustino De Tili, a 12-year-old Belgian Warmblood stallion (Berlin x Darco) owned by Bull Run Jumpers Five LLC, also proved their handiness in the jump-off round. "He felt super. That was just one of those jump-offs where everything shows up out of the turn like you plan on and there was just enough running and turning to make it tight. It was really smooth for him," Vanderveen said.
With top performances coming in international competition at TIEC throughout the duration of their partnership, Vanderveen has sights set on expanding her growing business, as well as potentially representing the United States in FEI Nations Cup competition if the opportunity arises.
"I have a really strong client base right now and we just imported some talented young horses that arrived here last week," she elaborated. "If we get the chance to do a Nations Cup competition, it would be a dream come true."
Speaking to her growing confidence, Vanderveen explained that her success with Bull Run's Faustino De Tili has in turn helped her riding on each of her other mounts, as she now feels consistently competitive on a major international stage.
"He's really helped me with the other horses too. I go into the ring now with the mindset and idea that I can do this and I can win," she said. "He's given me that extra confidence that we belong here and have every reason to believe that we can win against the best in the world."
See full results from the $86,000 Adequan Grand Prix.