Oct. 1—Devon, Pa.
Judy Reynolds capped off her short stint in the United States with her fourth CDI win on a misty, cold night under the lights of the Dixon Oval.
With her 2016 Olympic Games partner Vancouver K, the Irish rider topped the Grand Prix freestyle at Dressage at Devon in front of a packed grandstand with a 77.55 percent.
"I'm really happy with how the test went tonight—one little blip, but there's always something that can be better. It was a great atmosphere out there with loads of people watching. It was nice to ride," she said.
Reynolds took up an invitation to compete at the Rolex Central Park Horse Show (N.Y.) CDI last weekend where she won the Grand Prix and Grand Prix freestyle, and she repeated that performance at Devon.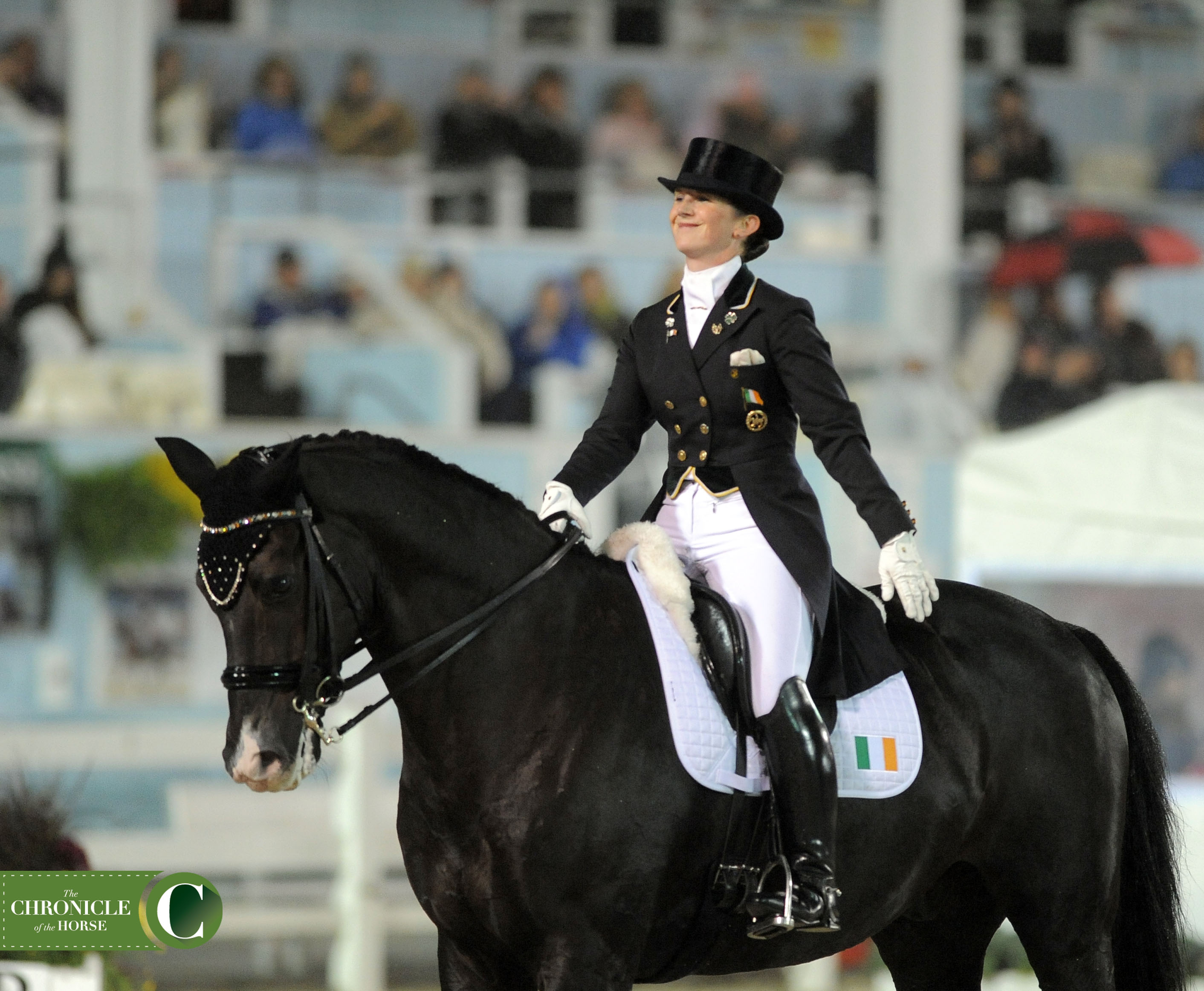 Judy Reynolds and Vancouver K. Photo by Lindsay Berreth.
"I really like this show. I think it has a great atmosphere. The permanent stands give a great feeling to it. It's different—hard to compare, but equally great shows," she said. "He was a bit fresher tonight, so it was nicer feeling wise to ride it. I felt better on the music than I was at Central Park."
Reynolds music was borrowed from Coby van Baalen a few years ago, and it fit "JP" well, so she stuck with it.
"What I can tell you is all the music is older than me!" she said with a laugh. "The youngest piece in it is from the late 70s. For Rio, when Patrick [my husband] and I had to fill in these forms to declare all the different music, we actually had to use Shazam to figure out what all the different music was because we didn't actually know all of it. Basically it Beatles, it's 'Nights In White Satin,' it's 'King of the Road.' It's pieces that a lot of people know, and I think that's important. The judges kind of feel comfortable with it, and they seem to like it."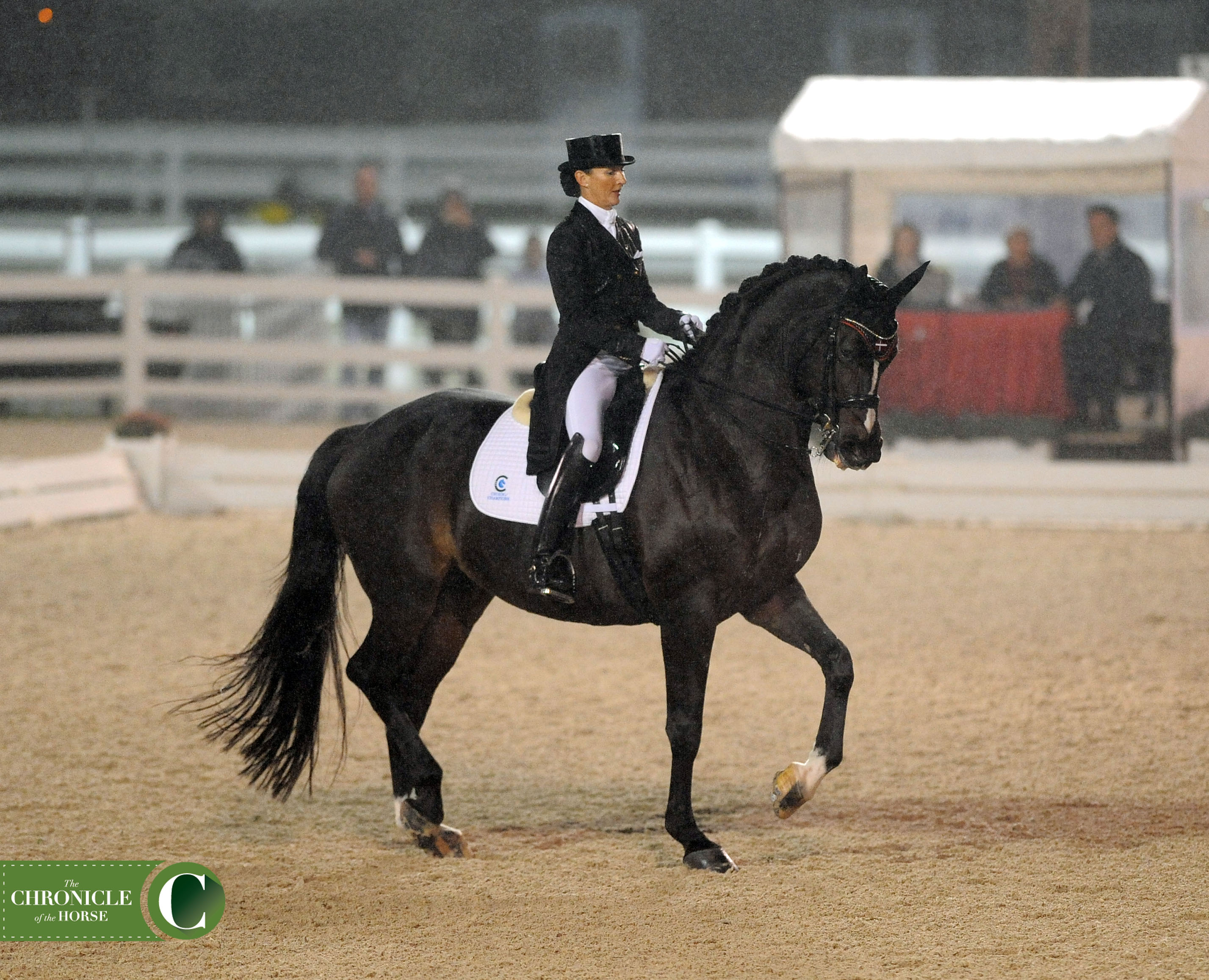 Mikala Gundersen and My Lady. Photo by Lindsay Berreth.
Mikala Gundersen and her longtime partner My Lady placed second with a 74.75 percent.
The 16-year-old mare has been going strong and shows no signs of slowing down, so Gundersen plans to work towards the CDI circuit in Florida in January.
"As long as she's happy and healthy and wants to go, she's going to keep going. We'll decide later on—she'll let us know when the time is to retire. Right now it looks like she still wants to go," she said.
Gundersen said My Lady was a little nervous with the umbrellas in the crowd tonight but once she got in the ring she was ready to show off.
"I was a little nervous when I had to do the turns to the outside where the umbrellas were, but once the music is on she's so focused she forgets about what's going on around," she said. "She loves her music. I just have to follow her because she's following the music. She was on tonight. In Central Park she was definitely a little sucked back in both classes. I didn't have what I normally have. Today was how she normally is."
Full results can be found here.
Want more from Devon? We'll have much more in our Oct. 17 print issue!