New York City—Sept. 23
A few years ago, Judy Reynolds made a commitment to helping Vancouver K get used to big environments and crowds. It worked—so much so that when Reynolds was offered an invitation to compete him at the Rolex Central Park Horse Show CDI**** this year, she happily accepted. After making their trip from Ireland, the pair topped the Grand Prix today with a score of 73.80 percent.
"He's quite a hot horse, and he went to [the Alltech FEI World Equestrian Games] in 2014, and it just didn't work at all. He couldn't deal with the atmosphere and the tension," she said. "I'm glad we took the time time to expose him to bigger atmospheres because otherwise this would not have worked. They're walking through the park, and they have to be able to focus on you still through all of that. But yeah, I wouldn't have missed this for the world!"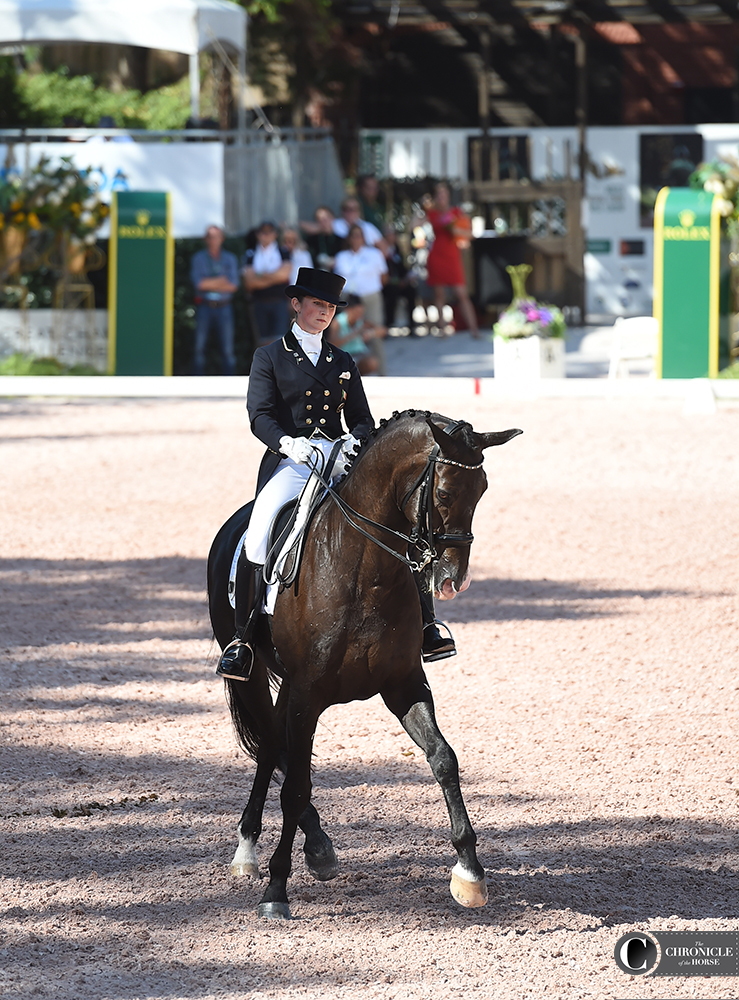 Judy Reynolds and Vancouver K. Photo by Lisa Slade.
It's been a bit of a banner year for Vancouver and Reynolds; just last month in Rio de Janeiro Reynolds became the first Irish rider to make the final of an Olympics Games in 24 years. An Irish rider, Daniel Coyle, won last night's $25,000 Hollow Creek Farms Under-25 Grand Prix here in Central Park as well.
"I'm just glad to hear the Irish national anthem," said Reynolds. "You don't usually hear that at a dressage show! I'm glad the [show jumping] boys were here to warm it up."
She'd originally planned a longer vacation for "JP" after Rio, but then she received a text message from Central Park show organizer Thomas Baur.
"[He was] asking me what I was doing on these dates, and I said, 'Nothing at the moment. What do you have in mind?' " said Reynolds. "He said, 'Well, why don't you come to New York to Central Park?' I had seen pictures from the last couple years, and it was one of these competitions where I thought, 'It's something I really want to do at some point, so why not?'
"So we put JP back into work a little earlier than planned, but he's fine. Yeah it's just an amazing location, and I think it's definitely one you can't miss," she continued.
Tinne Vilhelmson-Silfven also had quite a trip to this competition from Sweden with Paridon Magi, and she earned second today (73.41%), while Canada's Brittany Fraser-Beaulieu finished third (71.06%). Vilhelmson-Silfven also rode here the past two years of the Central Park Horse Show, though those rides were only exhibition classes and not an actual CDI.
"I think that's really important, of course [that the show is a CDI], and I hope that's going to make more riders come," she said. "The feeling you get to ride into this arena with this atmosphere is just amazing."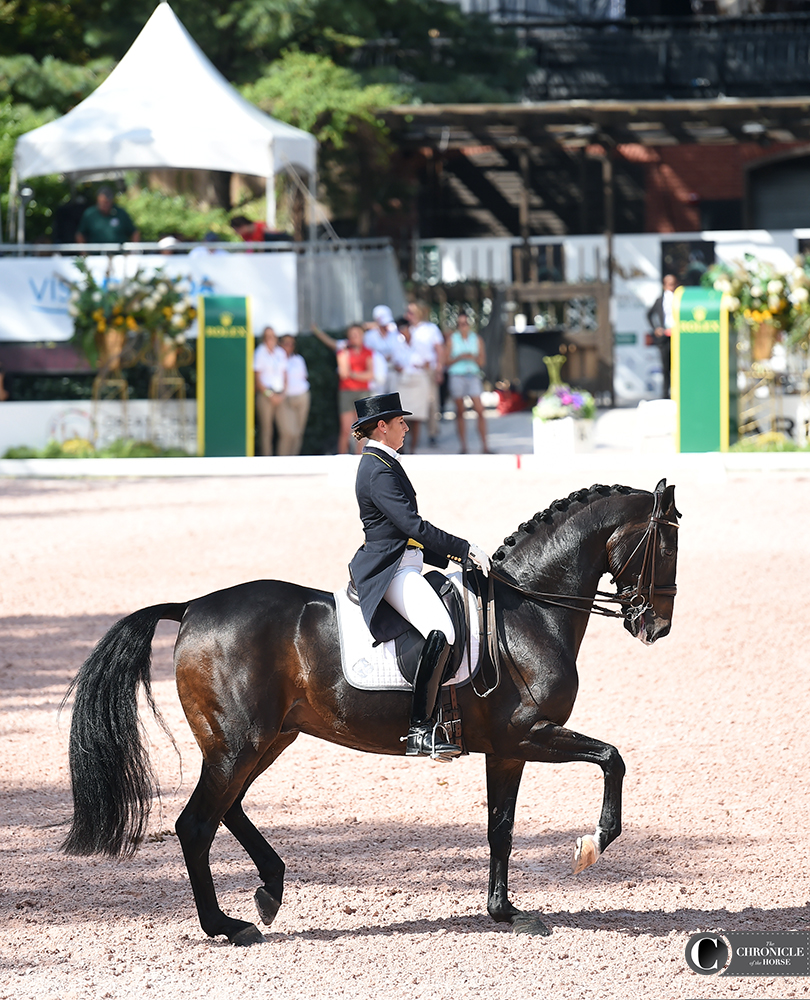 Tinne Vilhelmson-Silfven and Paridon Magi. Photo by Lisa Slade.
While Fraser-Beaulieu trains with Ashley Holzer out of a barn in the Bronx, only about a 30-minute drive from the show, they first had to commute about an hour-and-a-half to Gladstone, N.J., for the jog and for transport into Central Park.
"There is really nothing that compares to a show like this," said Fraser-Beaulieu, who's riding here for the first time. "I wasn't exactly sure how he was going to handle the atmosphere; there are people playing ball, and kids were screaming, but he came down to the ring and was totally settled in. I took the summer off from competing, and I just took time to train, and I think it really showed."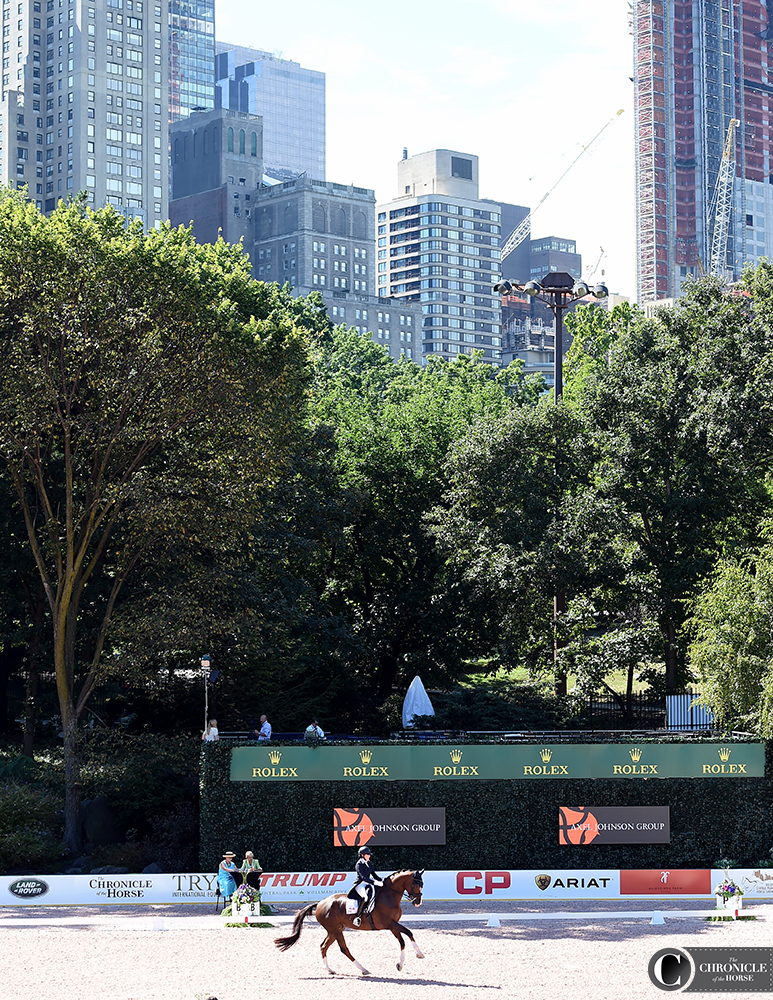 Brittany Fraser-Beaulieu and All In. Photo by Lisa Slade.
Seven horses contested today's Grand Prix, with Charlotte Jorst being eliminated before the test with Kastel's Nintendo.
"This [elimination] is due to a veterinary treatment given to her horse, Kastel's Nintendo, by a non-FEI veterinarian following the FEI horse inspection," said Christof Umbach, a representative from the ground jury. "These are unfortunate circumstances, but we must follow the rules set forth by the international governing body for equestrian sport and uphold the welfare of the horse at the highest level."
The seven remaining riders will all compete in the freestyle tomorrow evening, and Charlotte Dujardin will also do a freestyle exhibition aboard her gold medalist Valegro.
Check out more photos from the class, or see full results from the class below: