Coldblow Honeysuckle went from neglect and abandonment to FEI dressage pony.
Coldblow Honeysuckle didn't receive the best start in life. The pony mare was found abandoned in a cavern below the Thames River in England as a 5-year-old and spent the following year in police custody before finding an adoptive home.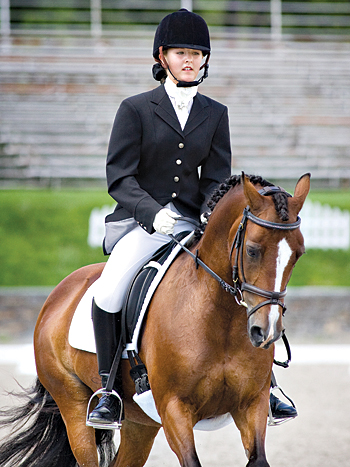 She's come a long way in the past seven years and made her successful CDI debut at the Centerline Events At HITS-On-The-Hudson dressage show in Saugerties, N.Y., Aug. 15-17, with Madeleine Van Vleet.
The pair nabbed four blue ribbons over the course of the weekend, winning the CDI Pony Team test (64.03%), the CDI Pony Individual test (63.66%) and two open show FEI pony classes.
Van Vleet's family didn't know about her difficult past when they purchased "Honey." Emmanuelle Van Vleet, Madeleine's mother, said they bought the pony to do Pony Club mounted games.
"We got her Honey as a sort of handy pony," she said. "She was lovely, but we didn't realize she had been a rescue pony until we were talking to the previous owners. The police had found her and the others, and she was kept for a year to make sure she wasn't stolen. And then these people adopted her and couldn't keep her, so they sold her, and we bought her."
The Van Vleet family spent 10 years living in England and returned to the United States five months ago.
"Because of the rough youth she had, we made her a promise that she would never be moved on," said Emmanuelle. "We wouldn't ever want her in that position again, and we wouldn't ever not want to know that she's OK. She is a bit of a diva, so she's not the easiest pony to be around, but we love her for it."
Madeleine, 15, has trained Honey up through the levels and believes the pony is a Welsh cross. The pair did a variety of competitions in England, including show jumping and eventing. Her mother said competing in their first CDI "has been the culmination of all these years that we've had her."
Madeleine's CDI wins came on the heels of her success at Lendon Gray's Youth Dressage Festival, held the month before at the HITS show grounds. At that event, Madeleine, Wilton, Conn., and Honey won the FEI Pony class and earned the Fakir Rouge Perpetual Trophy for the show's highest FEI score. Madeleine said of the many competitions in which she's competed, the CDI was one of the best.
"It was great being with all the CDI horses and being able to be around them and warm up with them," she said.
She's hoping the move to CDI doesn't go to her partner's head, though, as Honey can already be a challenge.
"It's sometimes difficult getting around her mood swings and her personality. You have to be really careful in how you train her, but once she's got it, she's amazing and will try really hard for you," said Madeleine.
It's Like They Were Never Apart
One of the impressive CDI horses was Paige Finnegan's Karola 1, a 13-year-old Holsteiner mare (Leandro—Fascination). Finnegan, Chelmsford, Mass., was thrilled and slightly stunned by her Grand Prix freestyle win. She had loaned out Karola to Luis Denizard for eight months so that he could try for an Olympic spot representing Puerto Rico.
"I just got her back with me in June and tried to breed her. I was trying to do an embryo transfer, and it didn't take. So, I thought, 'I have to do something with her because she's so good, and she's just 13.' Mostly, I just want to have fun with her," Finnegan said.
Saugerties Tidbits
• Jane Hannigan, Harvard, Mass., wasn't sure she was going to enter the Saugerties CDI with Maksymilian because she was in Colorado coaching the Region 8 young riders team a few weeks before at the North American Junior and Young Riders Championship. She didn't know if "Mak" would be ready for a show so quickly after a week off, but when she got home and got on him, he felt great. Hannigan went on to win the Grand Prix and the Special in the CDI. Mak is for sale, but Hannigan plans to continue showing him until he's sold. "Every day that I get to ride him is another good day," said Hannigan. "It's like a 20-minute high because we only ride for about 20 minutes, but it's very, very fun."
• Canadian Lee Tubman took home the blue in the CDI Intermediaire freestyle aboard De La Rosa (69.08%). It was only the fourth CDI for De La Rosa and Tubman, Dunnville, Ont. "I'm really impressed with how she handled everything," he said. "The scores are in the range that I wanted. It's starting to come together. I'd say that this season, this class was her biggest win." The mare won the Canadian FEI 5-Year-Old Championship and the following year took the FEI 6-Year-Old Championship. This year, Ducat Developments' 7-year-old Hanoverian by De Niro started competing in the small tour.
• Tom Noone earned an Intermediaire I win in the open show (64.62%) aboard Fred Astaire, a 10-year-old Hanoverian stallion. "This was only the fifth or sixth show of his career," Noone said. "I took him out twice at first level about three years ago just to see how he would show. He was so calm and so relaxed that I decided to keep him home and work with him slowly and wait until he reached Prix St. Georges/I-1 before bringing him back out. I wanted to take my time because he's a big mover and very elastic, and I didn't want to ruin his gaits by trying to collect him too much." The Saugerties show was Fred Astaire's second Intermediaire test, and now Noone hopes to show him at Dressage At Devon (Pa.).
• Erin Adams earned the show's high score after scoring an 87.00 percent in the dressage seat equitation class riding Surprise.
"I hadn't ridden her for over a year. I trained her, so that wasn't such a big deal, but someone else had been riding her, and our aids are different," she explained. "But Lou did wonderful with the horse. It's exciting that she came back to me after all these months, and we were able to go into the ring and do so well with only a month of training."
Finnegan and Karola performed to Celtic music played by the Boston Pops. She and the mare have been together since Karola was 4, and Finnegan brought her to Grand Prix. "She's just a wonderful horse with the biggest heart you could ever find," said Finnegan.
When asked how she could pass off her horse to another rider, Finnegan said, "When someone has an opportunity, it's a shame if he can't pursue it just because he doesn't have the horse. I knew I wouldn't make it to the Olympics, and I didn't have the aspirations to do the Olympics anyway. And I believe that we riders need to be supportive of one another. I would hope that if I were ever in such a situation, someone would help me out."
Now that she has Karola back, Finnegan realized how much she's missed showing the mare and will return to Saugerties in September for the New England Dressage Association's Fall Dressage Festival.
"I don't want to put too much pressure on her, but she loves doing her job," Finnegan said. "There are things I need to fix, but that's just getting her back on my aids. She was a trouper at this show and really took care of me in that ring."
More Improvement
In the open show, longtime partners Chris Hickey and Regent won blue in the Grand Prix with a 66.35 percent and also in the FEI freestyle test of choice (67.87%).
Hickey and Regent moved up to Grand Prix this winter after winning team and individual gold at the 2007 Pan American Games. Brenna Kucinski's Dutch Warmblood gelding (Flemmingh—Jenny) has been training well and building strength all summer.
"We're very pleased with his progress," Hickey said. "The piaffe is still a bit weak, and the transitions as well, and sometimes the passage is too big for his own good. I'm trying to get him ahead of the aids, but what happens is the passage gets bigger and bigger, and it makes it hard for him to come into a decent piaffe. But he's only 10, and he just needs more confidence in the ring."
Hickey, Colora, Md., also arrived at Saugerties with Cabana Boy, who had a rough start but recovered as the show went on. Cabana Boy, a 6-year-old Hanoverian owned by Hilltop Farm and sired by Contucci, earned some of the show's highest scores with 79.80 percent in one FEI Test of Choice for Young Horses and 82.00 percent in a second class of FEI Test of Choice for Young Horses.
"We had some trouble the first day because he was in the ring, and he didn't realize there was a berm, and there were horses on the far side of it," Hickey said. "All of a sudden he just saw horses' heads and necks and people's heads, and he just freaked. He was very naughty, and I've never had that happen before.
He's not a spooky horse, and I've taken him all over the world. It just took him by surprise. But after that ride, it got much better."
Lynndee Kemmet