It was a long road to Butheeb (United Arab Emirates) for the 2022 FEI World Endurance Championship, in more ways than one.
The biennial event originally was scheduled to take place in Verona, Italy, in late October 2022, but was cancelled about six weeks beforehand due to concerns about track readiness and athlete safety at the venue. The Fédération Équestre Internationale reopened the bid process, and on Nov. 10, announced that the Butheeb International Endurance Village, about an hour from Abu Dhabi, had been chosen from five countries who submitted bids to host a rescheduled championship on Feb. 25.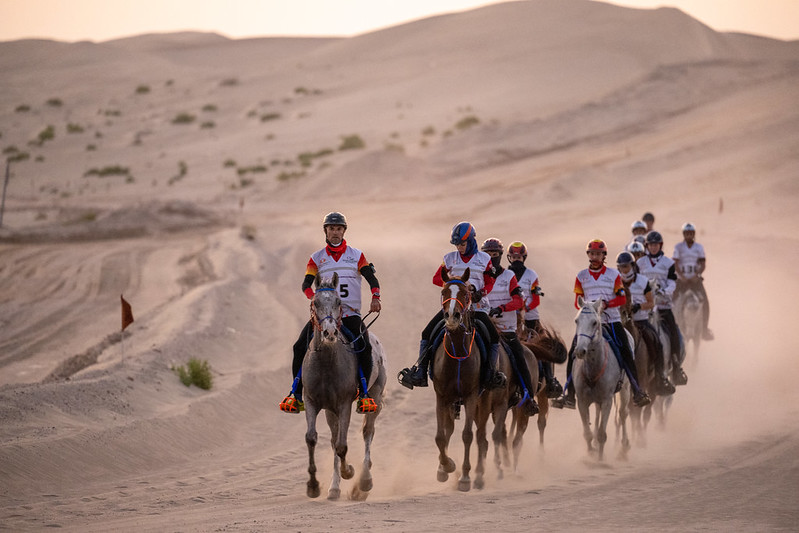 "We didn't think it was going to be in UAE, out of the five possibilities [for host countries]," said Cheryl Van Deusen, a member of the U.S. teams at the 2018 FEI World Equestrian Games at Tryon (North Carolina) and the 2021 Longines FEI Endurance World Championship (Italy), who had been preparing to compete in Verona. "We were expecting [to compete in] March or April, we didn't think that they would take us to Abu Dhabi."
Considering the recent history of the sport in the UAE, whose national federation has been suspended twice in recent years (in 2015 and again in 2020) for major horse welfare concerns and running afoul of FEI rules, the idea of the country hosting an FEI championship initially met with considerable concern and skepticism. (In fact, the FEI removed the 2016 World Endurance Championship from Dubai because of horse welfare concerns; it was held in Samorin, Slovakia, instead.)
But Van Deusen, the sole member of the American team to finish at Butheeb, had high praise for the competition.
"We talked to the course designers a lot," she said. "One of them had officiated here at a U.S. competition, and he said that they intentionally made the last two loops hilly, because typically over there [in the UAE], it's a race—you know, a race for 12 miles. They really wanted to avoid that, and I think they did a good job of slowing them down and taking care of the horses."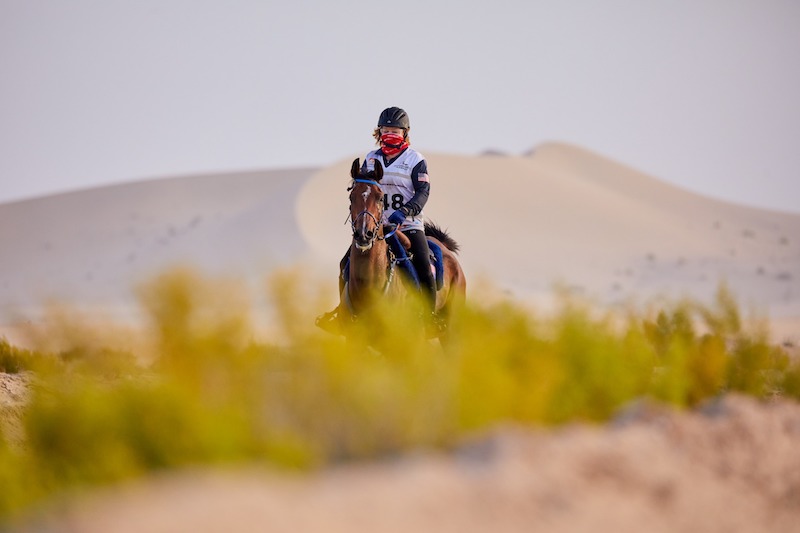 "I've ridden in eight countries at this point, and some Pan American championships and this was my third worlds. And I have actually never seen a better organized ride," she continued. "Usually I am chewing on FEI, because, you know, I was at Tryon, and so embarrassed like everyone else [when the endurance had to be cancelled]. They knew that there would be a lot of eyes on this competition, and the organizers stepped up and did everything that the FEI officials asked them to do. It was pretty refreshing to see."
Van Deusen, of New Smyrna Beach, Florida, finished 40th out of 44 competitors to complete the event, out of 117 starters. The change of venue meant a change in training as well, as riders had been preparing for European terrain and not a desert race. Van Deusen went over to the UAE to ride in a race on a borrowed horse in December just to be sure she wanted to attend.
"We ended up doing an about-face and doing a lot more sand training. And I'm lucky that I do live in Florida and we've got all this wonderful sugar sand, but you have to be careful, you can't do too much speed too quick," she said. "This time of year in Florida, we do have a lot of competitions. So I was able to go to a couple of 50-mile [American Endurance Ride Conference] rides in December and early January that were nice tune-ups.
"I had enough time to prepare for completion," she continued. "Obviously, we would like to have done well as a team. I felt I could be a solid team member, but I knew going over that it was all about completion. Any FEI competition, you're looking at, at best, a 40% completion rate, and when you start talking about the championships, it is often lower than that."
Van Deusen also noted the long trip to UAE was a big stress on the horses, and commended the U.S. Equestrian Federation—particularly chef d'equipe Lisanne Dorion, and team veterinarians Dr. Olivia Rudolphi and Dr. Ann Stuart—for their support and coordination of logistics.
The other members of the U.S. team did not finish. Marissa Bartmann (La Plata, New Mexico) and RGS Rollo Ze Monarch completed two loops of the six-loop, 160-kilometer track before being eliminated for metabolic issues. Karen Binns-DiCamillo (Las Cruces, New Mexico) and Just Believe were also eliminated after two loops (for an irregular gait) and Jessica DiCamillo (also of Las Cruces) and I Remember September retired on the fourth loop.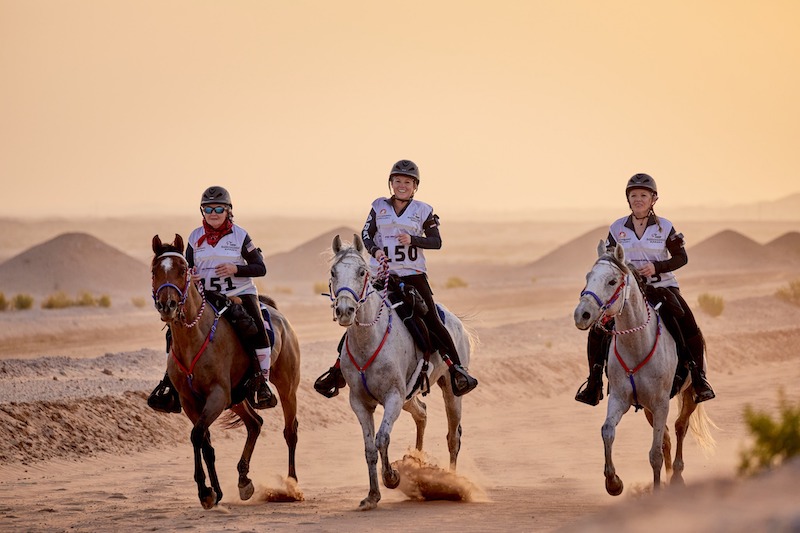 Van Deusen's mount was JG General, a 10-year-old Arabian gelding bred by Jan Worthington and Grace Ramsey at their JG Ranch in Scales Mount, Illinois. Van Deusen purchased him about two and a half years ago, but had to take her time restarting him because he'd had a bad experience when first being backed.
"He was just really, really a challenge," she said. "It took us six months to get him under saddle, and at that point, he had just turned 8 years old. He's come along really, really well, and now he trusts people and he's turned into a pocket pony. So it's been a lot of fun. You know, when you raise them, they're part of the family, but when you get a horse that maybe had some issues, and you can work through them, it's just like, wow, you know, they become your heart horse."
Van Deusen hopes to point "General" next toward the Pan American Games in Santiago, Chile, in November.
 Bahrain Takes Individual And Team Gold
The team from Bahrain captured its first endurance world championship title, ending Spain's reign of three successive titles since the World Championship in Caen (France) in 2014. Neither Spain nor the other favorite, host country UAE, finished teams, with horses and riders being eliminated throughout the day.
France finished second, improving on its bronze medal performance at the World Championship in Italy in 2021. Portugal captured team bronze. Both teams took a more tactical approach to the track.
Bahrain also took individual honors, with HH Sheikh Nasser Bin Hamad Al Khalifa earning his first world title aboard Darco La Majorie, a 9-year-old Arabian gelding, after having competed in 19 championships since 2004, successfully qualifying in 14 of them.  Khalifa was actually third over the finish line, but the two competitors ahead of him were disqualified when their horses didn't recover sufficiently in the time allowed.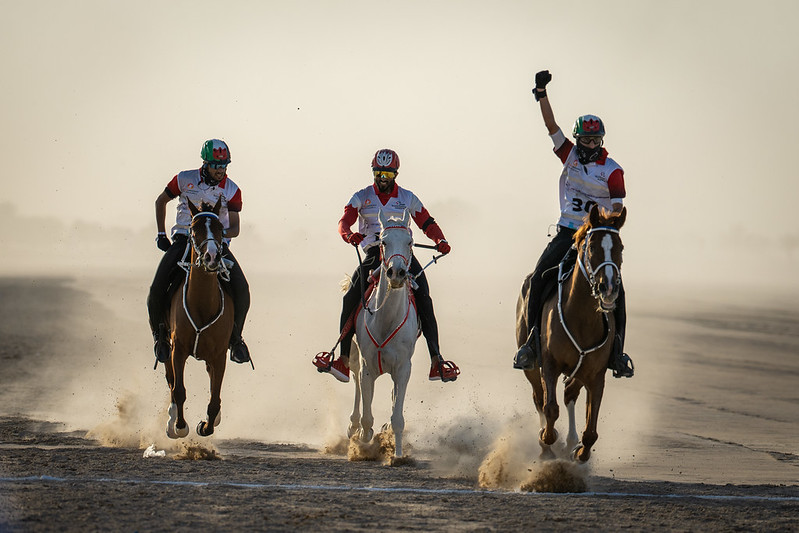 The reigning world champion, Salem Hamad Saeed Malhoof Al Kitbi from host nation UAE, was second on Haleh, an 11-year-old Arabian mare. In third place was Jaume Punti Dachs of Spain with Echo Falls, a 17-year-old gelding.
The top 10 individual athletes represented eight separate countries: Bahrain , UAE, Spain, Australia, Portugal, Lithuania, Oman and Kuwait.
 Welfare Concerns Persist With Two Post-Competition Fatalities
The advocacy group Clean Endurance said in a press release that the group  "is relieved that the 2022 FEI World Endurance Championships … did not result in as many welfare issues as feared. The 160 km long course was ridden at lower average loop speeds (around 21 kmph for the leaders) than recent major events at the same venue."
But in the days immediately following the event, the FEI confirmed that two horses died after successfully completing the competition and passing the final vet check.
Soraya Peu, a 10-year-old mare ridden by Omar Blanco Rodrigo of Spain, finished sixth in the competition.  According to a statement from the FEI, following the ride, the horse had returned to the stables and was given elective fluids by the team veterinarians, as permitted under FEI rules. The horse's condition deteriorated, and she was being transferred to a veterinary hospital in the early morning hours after the competition when she died en route.
A second horse, Sahwat al Wahhab AH, a 9-year-old mare ridden by Ali Subhi Abed Aburabie of Jordan, finished 32nd. The mare also received post ride elective fluids, according to the FEI, and the FEI Veterinary Treatment Team ran routine blood tests, which gave rise to some initial concerns. As the mare's clinical condition deteriorated, the decision was made for referral to the Dubai Equine Hospital on the evening of Feb. 25.
Some initial progress was made but the mare's condition deteriorated, and she was euthanized on the evening of Feb. 28.
In line with the FEI veterinary regulations, a full post mortem is being conducted and further samples will be taken from each horse. An FEI spokesperson said that once results are received, the FEI will evaluate if any follow-up action is required.
Clean Endurance, in a press release, said the group had asked the FEI if the official results will be amended to show the two horses suffered catastrophic injuries, and whether the rider and trainer will receive the associated penalty points. (The outcome of all vet checks for all horses are available online via the official results.) A spokesperson for the group noted that both horses passed their veterinary inspections but died after the event, indicating that welfare protections were insufficient.
"Clean Endurance believes the high percentage of Metabolic eliminations (27 horses, a third of all eliminations) remains a source of concern: although it evidences the particular care taken by the officials while examining the horses, it also suggests many horses were overridden," the group said in its press release. "Metabolic eliminations should be largely avoidable with careful management and the results of the 2022 FEI World Endurance Championships indicate there is still progress to be made in that domain.
"The disparity between the first combinations across the finish line and the rest of the field illustrates the 'racing' versus 'to finish is to win' mentality which continues to divide Endurance. More than two hours separate the first combination across the finish line from the 11th, and the last combination to successfully complete the course arrived 4.5 hours after the winner. Clean Endurance applauds those athletes who ride according to the conditions of the day while making horsemanship and horse welfare a priority.
"Clean Endurance also commends the ride strategy of those nations which opt for a concerted team effort rather than aiming for individual medals at the potential cost of injuring their horses and shortening their careers due to high speeds. France and Portugal were rewarded for their team strategies with silver and bronze team medals respectively, whereas the UAE lost their gold individual and team medals when their horses failed to recover enough to pass the final veterinary inspection after sprinting on the last loop at over 27 kph."