At the first in-person U.S. Hunter Jumper Association Meeting in three years, held Dec. 12-15 in Bellevue, Washington, members debated a number of rule proposals designed to help protect horse welfare at competitions.
One of those (EQ104, HU100 and JP102), a rule on unsafe or abusive longeing practices, garnered plenty of discussion—and required the writing of a few new drafts—before eventually passing the organization's board. (All rules will go to the U.S. Equestrian Federation mid-year board meeting for final approval, and if approved will go into effect Dec. 1, 2023, unless otherwise noted.)
The new rule adds language to an already established horse welfare rule, stating that "lungeing a visibly exhausted horse," "lungeing an obviously lame horse," "chasing a horse with a whip" and "excessive and/or disruptive cracking of the whip" are all prohibited. In addition, "Lunge whips may not have any appendages attached, including but not limited to bags and flags." A provision about longeing on safe footing was deleted after some noted that competitors, grooms and trainers have no control over the footing at competition facilities.
Those opposed noted that much abusive or incorrect longeing takes place either the day before the competition begins or before 5 a.m., before stewards are on the grounds. But those in favor hope it can help protect horses by increasing reporting of bad longeing situations, giving stewards a way to step in and stop the behavior.
"Something needs to be done about dangerous and cruel longeing," said Sue Lyman, who serves on the USHJA Horse And Rider Advocate Committee that proposed the rule. "Education has not worked."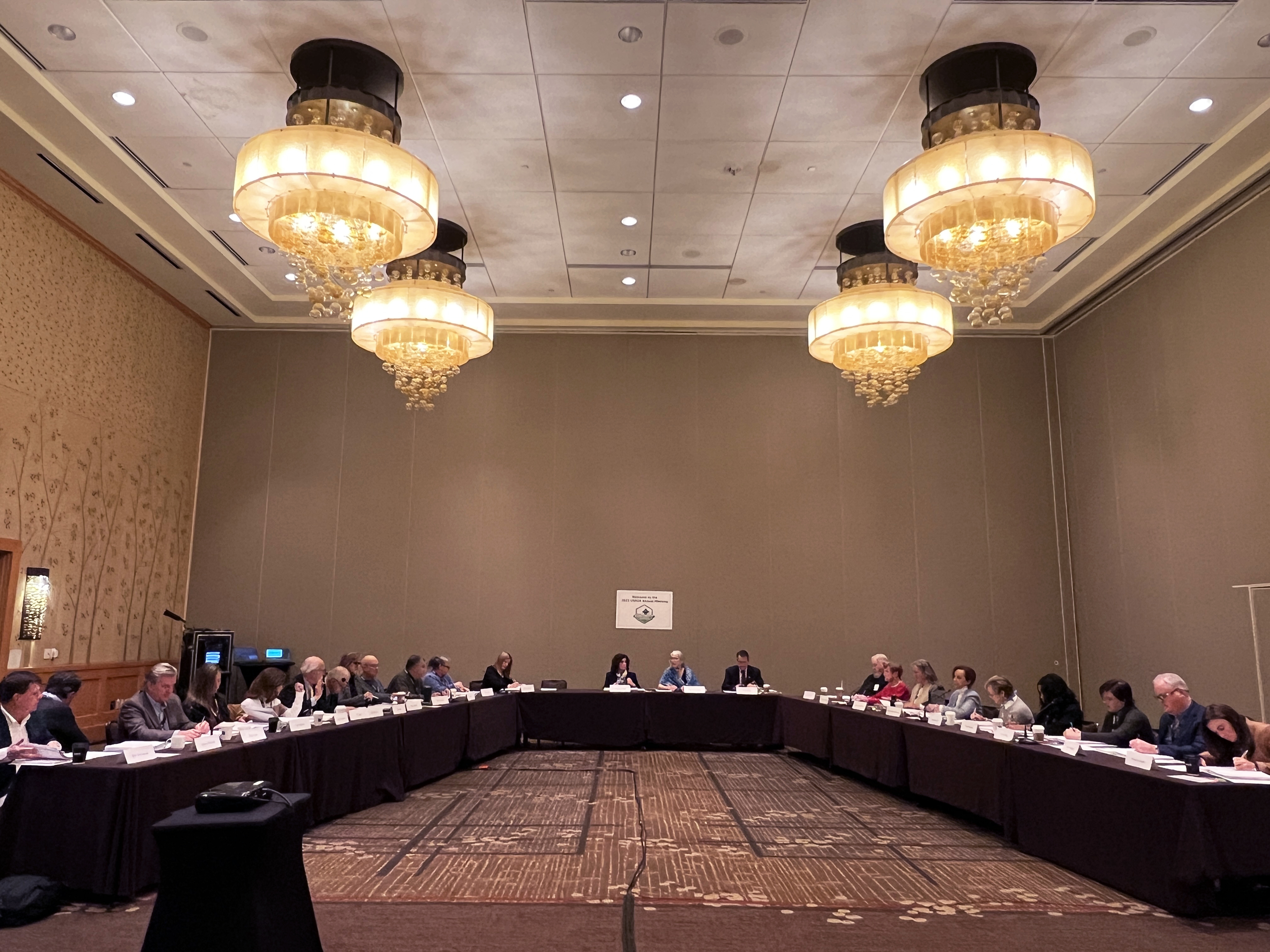 Another rule, HJ106, which would require all horses in schooling, longeing and warm-up areas to have a number on them, passed and was cited as necessary for the enforcement of the longeing rule. But it garnered plenty of debate as well, with some saying it was impractical or unenforceable. Others argued that grooms or trainers might grab the wrong number for a horse, or forget to change numbers in between horses if wearing the number on their backs. But those in favor said another number from the same barn at least gets the stewards close enough to be able to ID the correct horse and person.
"We've already discussed improper longeing and stewards helping out and stepping in if we're called to the longeing area and someone's said, 'There's a gray horse being longed inappropriately.' I don't know who that is," said Cricket Stone, who serves on the USHJA Stewards Committee. "If it's the incorrect number, that at least gives me the barn and the trainer. If we're searching barns for a gray horse longeing, we can't help. The only way we know is if we have a number, and we can track that down."
"I had two horse fatalities from shows I stewarded this year, and both were from the longeing rings," added steward Cindy Reid, who also serves on the Stewards Committee. "We're saying, 'Yes, we want them to have the correct number, but if it's not, we can figure it out.' The bulk of our complaints are from longeing issues, and we need some way to identify them."
Proponents of the rule noted that having each horse on the showgrounds registered with the office and assigned a number lessens liability issues and also provides a record in case of disease outbreaks.
"I do already require non-competing horses to register and wear numbers," said Rick Cram, owner/manager of Progressive Show Jumping Inc. and a USHJA board member. "It keeps me up at night to think of the liability downside we have with 500 horses on a showgrounds, or 300 or whatever [who aren't registered with the office]. If exhibitors aren't forced to have correct credentials of their animals—health certificates, Coggins, signing an entry blank and release form—why? I just don't understand why management would accept that as OK. This rule helps enforce that they have to do that."
In the end, the rule passed the board unanimously.
"The thing that sticks out to me is that the people responsible for keeping competitions safe, the stewards, they're asking you guys for this because they desperately need it, because there are safety issues," said USHJA President Mary Knowlton. "I think we have to support equine safety and welfare."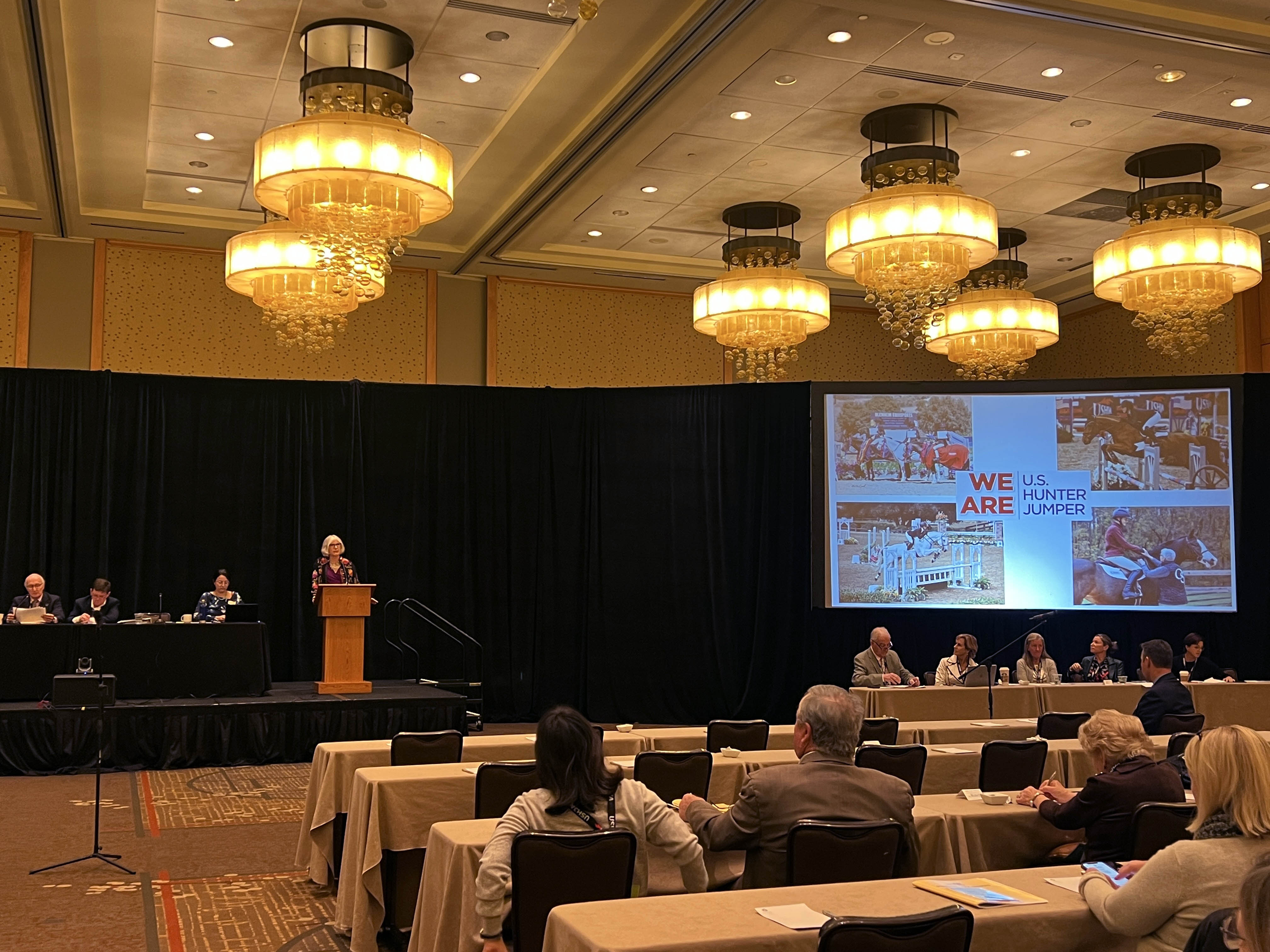 Other notable rule changes that passed the USHJA:
– GR846, which would require an accident or injury to be reported to a steward or technical delegate within an hour.
– GR1214, which would require reporting of which licensed official judged which class to the USEF.
-EQ111, which would remove USHJA Zone and Regional Medal Finals as qualifiers for the USEF Hunter Seat Medal Final.
-A rule, JP Schooling Appendix A, which would require flagging of jumps in the schooling ring.
-GR848, which would allow physician assistants or nurse practitioners to provide medical clearance for return to competition following a suspected head injury or concussion.
Rules changes that were postponed for further discussion or amendment:
-HU143, which would change the height of small junior hunters to 16.1 hands and under. (Currently small juniors are 16 hands and under.) Though most board members are in favor of the change—citing a shrinking small junior hunter division as horses overall become larger—after much discussion, the board elected to broach the topic again at its January meeting, citing a need to examine the language more closely and also determine how points will follow horses that change divisions.
-GR107, a controversial conflict of interest rule. USHJA board members cited numerous issues with this rule, including that it would likely lead to a much smaller pool of judges and other officials.
"I think the most egregious part are the words 'permanently terminated.' That's way over the top," said Wickes. "I understand the intent is for people not to pull the sham, which has gone on forever, of not riding with someone for 30 days before a competition then on Sunday night/Monday morning having a lesson with the person again. I understand the spirit of it, but I don't think as written it's enforceable, and I think it's too restrictive."
The board elected to postpone voting on the rule to discuss it again at a January meeting then meet with the USEF at its meeting in January.
"I think for us to postpone is to make sure that all of us have read through this rule change really thoroughly, picked through every piece we think needs to be fixed, or if we don't feel that way, we can just disapprove it and fight really hard for it to not go through at all," said Knowlton. "It's always nice to try and work with [the USEF] to find common ground, but we might be so far apart there is no common ground with this."
-EQ113, a rule addressing where riders can face during testing in an equitation class. The new text of the rule states: "If riders are asked to be in the ring during the testing, riders must be able to watch the other competitors test." All were in favor of the spirit of the rule change, but board members noted inconsistencies with the way the new language fits into the current rule, and it will be rewritten before the group votes in January.
Rules changes that didn't pass the USHJA:
-JP119, which would have changed the naming of children's and adult jumper classes from those titles to junior and amateur, with the height of the fences included in the titles.
"Currently, riders will go from high children to low junior or high adult amateur to low amateur jumper, which sounds confusing and disjointed. Juniors and children are the exact same age, but many teens would prefer to be referred to as juniors rather than children. Adult amateurs and amateurs are not only the exact same age, but both are adults," stated the rule change intent for the proposal. After much discussion, board members noted they would approve this rule with slightly re-written language, and they will readdress this at the next meeting.
"In the joint [Hunter and Jumper Working Groups] meeting we all agreed that it was a positive, and the only reason the jumper working group has marked it for disapproval is because we want to strike the words high, medium and low, so they're uniform all the way through, described just by height," said Charlotte Skinner-Robson, chair of the JWG. "That's our only reason for disapproval, but I feel like during the joint meeting, we all realized how important and what a good thing this would be. The hunters also enjoyed it and might even be visiting it for them."
Not all were in favor of the rule, however.
"The thought process was that the Zone Council felt very strongly the system was not broken; they were very adamant about rejecting this change and felt it was unnecessary," said Andrew Philbrick. "The Zone Council felt strongly it was an incentive to competitors; if you don't want to be known as an adult, you have the opportunity to take more lessons, show more and move up. There was also element of confusion.
"I know there was a kumbaya moment [in the working group meeting], but [this rule] was overwhelmingly rejected by so many people and members; I think it's an un-needed change, and I'd like to support rejecting this rule."
-GR801, which would have added SNELL-approved helmets as permitted safety gear. "Our community felt it's not good timing," said Joe Dotoli. "With Virginia Tech's Helmet Lab research being released this week, we just didn't want to take action on this right now. Maybe down the road, we can take a better look at it. It involves very few, if any, helmets we use."
-A rule (GR1215.3) that stated, "Between the hours of 11:00 p.m. and 5:00 a.m., of the time zone in which the competition is taking place, stabling must be dark and quiet to allow stabled horses a quiet period of rest daily," did not pass, with several citing safety issues with darkened barns, as well as lack of control over the lighting systems at some facilities.
"Walking around at night at Thermal [California], I can tell you every horse laid down and slept and snored at night. Most horses are used to sleeping at shows," said steward Janet Fall.
-GR307, which would have changed qualifying criteria for Heritage Competitions.
-A rule, part of JP Schooling Appendix A, which would have limited the height riders could jump in the schooling ring based on their class height.
See the full list of proposed rule changes here.
Other Notable News
-Anne Kursinski and Margie Engle were given USHJA Lifetime Achievement Awards during the Evening of Equestrians on Dec. 13. While Engle could not attend, Kursinski spoke briefly after receiving the honor. "I'm so thankful for all the horses I've had in my career," she said. "And that's why we're all here. If it wasn't for the horses, we wouldn't be here. So thank you, thank you, thank you to all the great horses, the famous horses, the not-so-great horses, the bad horses, you've all taught me so much."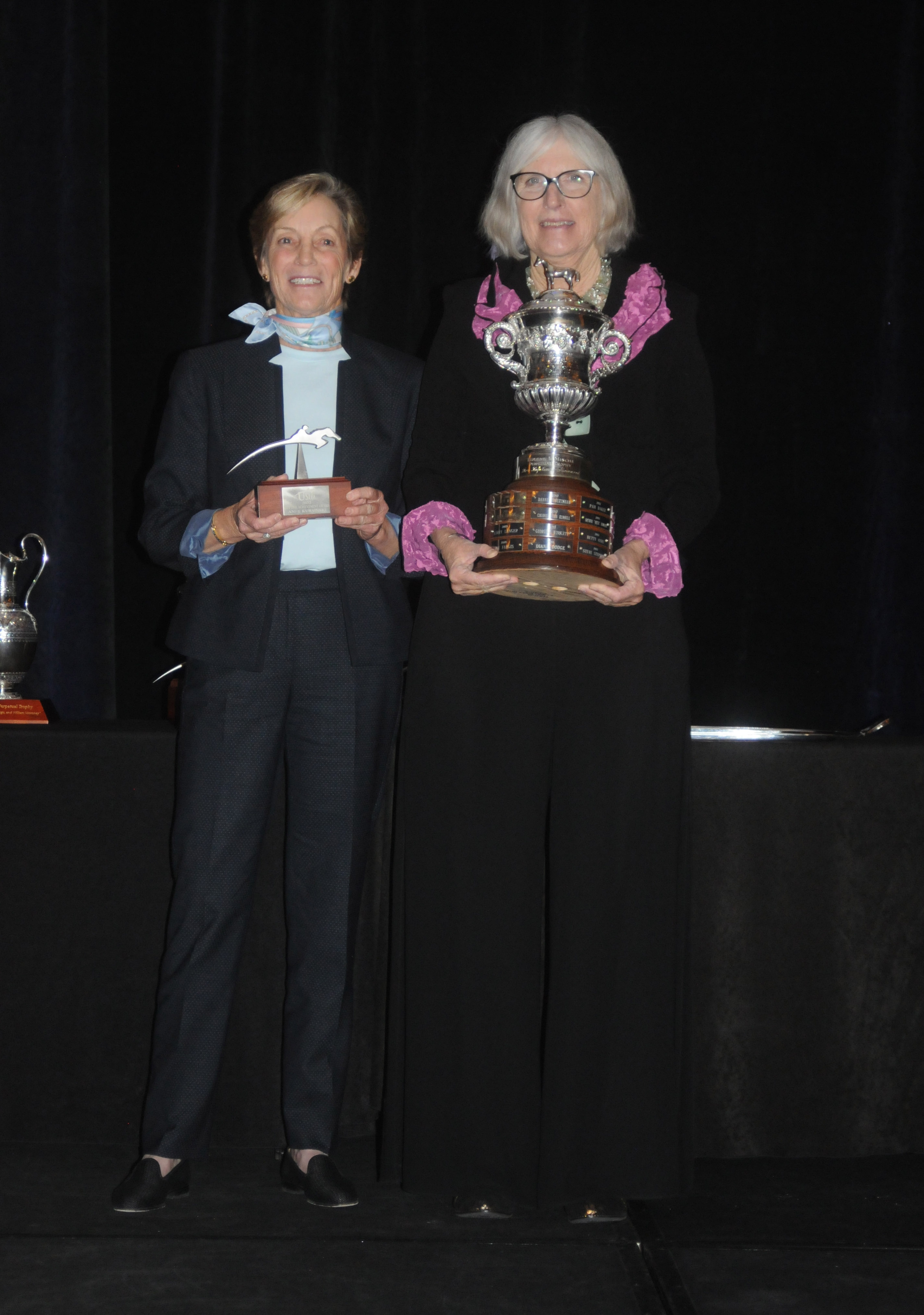 -The four-year USHJA board of directors restructuring process—taking it from 22 members to 17—was completed at this meeting. At the board election, four at-large directors were chosen: Leea Bridgeman, Britt McCormick, Cheryl Rubenstein and James Urban. John Bahret, the only candidate on the ballot for his position, was elected as joint secretary/treasurer. All will serve four-year terms and started their positions Dec. 15. The election for president will take place in September 2023.
-During the USHJA State of the Organization presentation, Knowlton highlighted the strength of the organization's Outreach Program, with seven new states (New Mexico, South Carolina, Virginia, Vermont, Utah, Kentucky and Colorado) hosting shows in 2022. The program has gone from 93 competitions (with 318 riders) in 2014 to 654 competitions (with an estimated 7,500 riders) in 2022.
-The much-debated channel system, which divides competitions into two tiers, begins with the 2023 show season. "I understand there is still much confusion about it," said Sissy Wickes, who served on the USEF Competition Task Force that helped create the system. "Please feel free to ask any of us here or anyone at USHJA. The system is not punitive or meant to confuse, befuddle or harm anyone, rather it was born from the desire to provide opportunity and accessibility. Here, we endeavor to open the competition calendar to more horse shows and to provide a robust program of awards for the regional levels—an awards program equal to the program that exists now for the top of sport."
-Knowlton bridged the topic of future annual meetings potentially going online instead of in-person, and she said she's seeking feedback from the membership. "Annual meetings are a really large expense to the organization, and for the number of members we get [in person] it's a hard ask for the board. But here we can see you, meet you in the hallway, have a debate in a meeting, talk in the rules forums. That's great. We love that. We don't want to lose that," she said.
"People are pressuring us to go to an online format. At the end if the membership says, 'You're spending a quarter of a million, minimum, on a meeting, and we're OK with that'—if the members are happy to do that, we're happy. We are here for you."