The U.S. Equestrian Federation on Tuesday unveiled a proposal to create two different sets of hunter and jumper National and Zone Horse of the Year awards.
USEF President Tom O'Mara and CEO Bill Moroney laid out that proposal, along with a series of other suggestions addressing hunter/jumper competitions, during a July 20 USEF Competition Task Force Hunter/Jumper Competition Structure webinar.
O'Mara, who also sits on the Competition Task Force, said the suggested changes are in response to member feedback that identified five tenets important to them: safety; fairness and enjoyment; accessibility; quality competitions; meaningful recognition for horses and athletes of all levels; and simplifying the sport.
In an effort to simplify the sport, Moroney and O'Mara suggested simplifying the ratings of horse shows. Jumper ratings (i.e. level 1-6) would remain the same, as would premier (AA) and national (A) shows. However, regional I and II (B and C) and local shows would all be combined to be known as "regional" shows.
The USEF then proposed creating two "channels" for separate sets of HOTY awards. In hunter divisions, Channel I would be for credit earned at premier- and national-level shows, and Channel II for credit earned at regional shows. In jumper divisions, HOTY awards for Channel I would be based on placings at all ratings of jumper shows held in conjunction with premier- or national-rated hunter competition or at standalone jumper competition at levels 4-6, and Channel II would be based on placings at jumper levels 1-3 held at standalone competitions or in conjunction with regional-rated hunter shows.
The USEF's HOTY standings are used for more than just year-end awards. They're also used as qualifiers for major competitions, so having two sets of standings will change qualification. The owners of major events, like Devon (Pennsylvania) or the fall indoor circuit, will be able to determine how competitors will qualify for their specific events. So, for example, the USEF will determine qualification for its properties, including USEF Pony Finals and USEF Junior Hunter Finals.
Revamping HOTY awards is part of a series of rule changes that will be proposed.
Updating The Increment System
The system by which hunters earn USEF points in classes, the so-called "increment system," also has a proposed update. Right now, the increment system is weighted based on the rating of the horse show and the placing one receives plus one point for every horse competing. But the Competition Task Force heard from many competitors who didn't like the way the system worked.
"Throughout these discussions it became clear that not all parts of the country are the same, and not all competitors have the same opportunities," said O'Mara.
The new proposed point chart doesn't take the show rating into consideration but solely the number of competitors in each class. Those who compete in premier or national shows will have their results go toward Channel I HOTY awards, and those who compete in all other competitions will have their points go toward Channel II HOTY awards.
"I like points based on number of exhibitors, regardless of competition rating," O'Mara said. "That came through loud and clear from many, many of our exhibitors. The boost for points, under the previous point chart, for competition rating is not necessary."
Making Premier Horse Shows 'Premier'
The task force also proposed updating the prize money requirements in rated hunter sections at each show (see below). Most notably, premier shows would have to pay out at least $75,000 in rated sections and classes, compared to the current $24,000 minimum.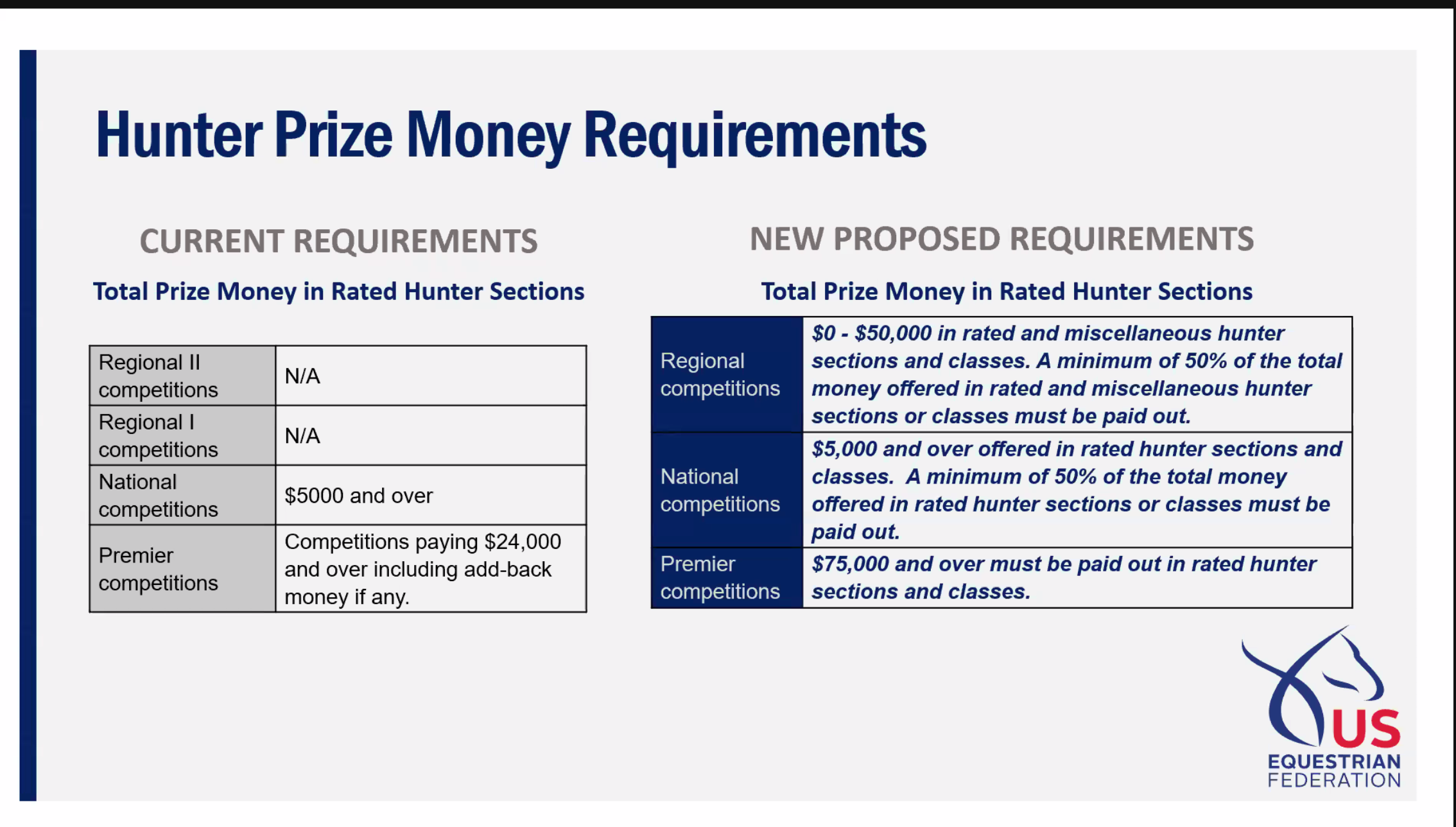 The expectation is that increasing minimum prize money will dramatically reduce the number of premier horse shows on the calendar.
"For many, many years there's been a lot of talk about 'Is premier really premier?' " Moroney said. "Do the standards really make that horse show stand out, and how many of them should there be? For the past decade, you've probably seen rules that have made slight changes to prize money back and forth to standards back and forth trying to figure out a way to really make those premier competitions stand out to match what the belief is that they were meant to be, which is a number of competitions that really are truly offering something amazing in the sport."
In 2019, there were 582 premier and national shows nationwide, approximately 240 of which were premier, he said.
"Looking at data, we expect that to go down to the neighborhood of 35 to 50 [in the] premier category. The balance will find new homes in the national competition environment."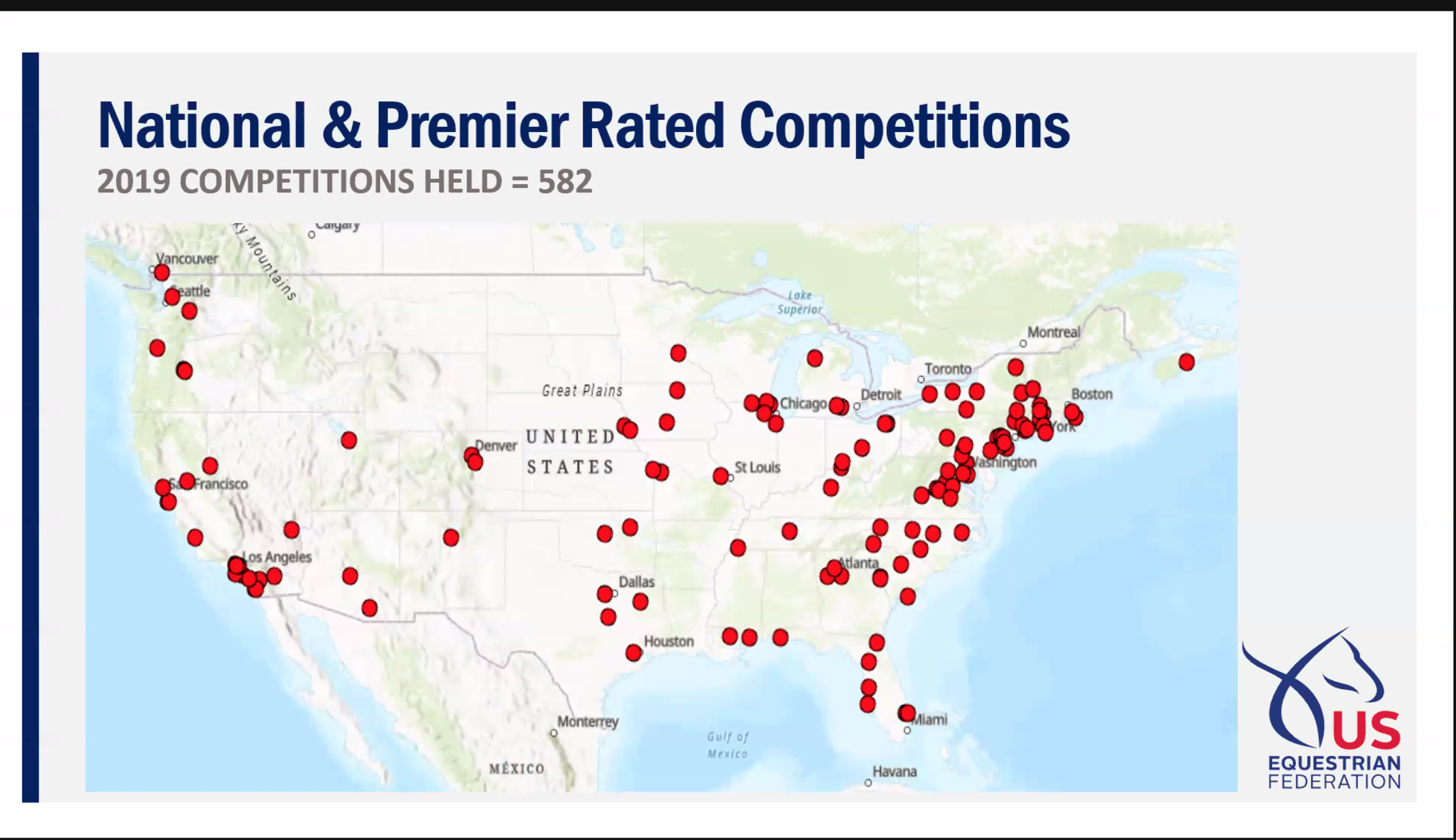 More Mileage Updates
In keeping with the concept of two separate channels of competition—regional and national/premier—the task force proposed updating the charts that dictate the mileage protection around each horse show. According to the new plan, mileage restrictions between premier/national competitions and regional competitions would be eliminated, and mileage between regional competitions has been set at 50 miles. The jumper mileage charts remain unchanged.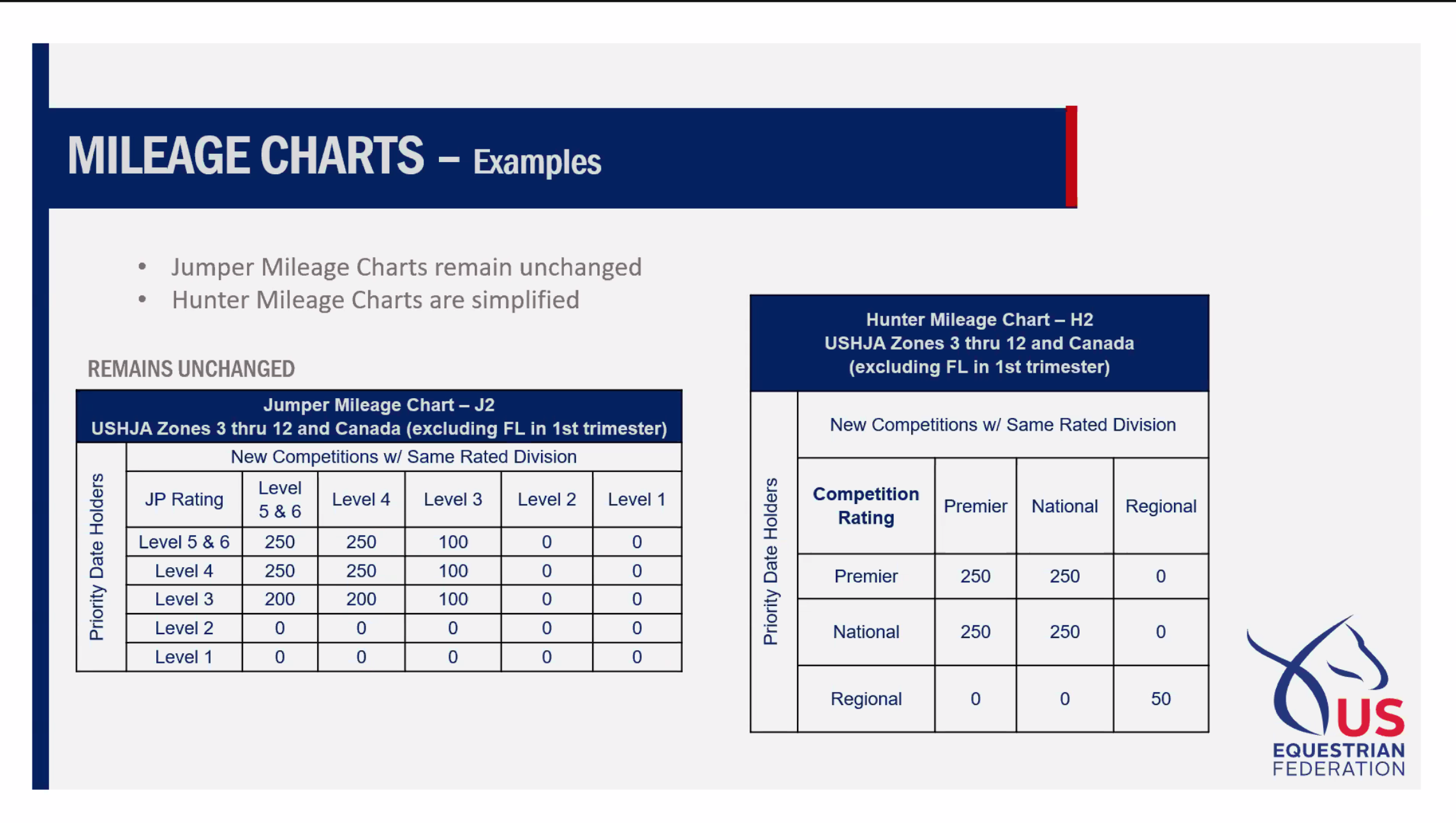 Moroney and O'Mara said that this will allow for more regional shows to be created, helping to give greener horses and riders a chance to compete more economically.
The mileage charts are part of an extraordinary rule change proposal that would take effect in the 2023 competition year.