With David O'Connor at the helm, the USEF strategic plan is showing concrete results.
Last January, U.S. Equestrian Federation President David O'Connor stood at the podium and said the Federation would work diligently on a strategic plan called the "Roadmap To 2010."
Now, a year later, at the USEF Annual Meeting, Jan. 9-13, Louisville, Ky., the strategic plan is showing concrete results. And O'Connor, who had once vowed that he wouldn't stand for a second term, changed his mind and will remain to continue mapping the future to 2010 and beyond.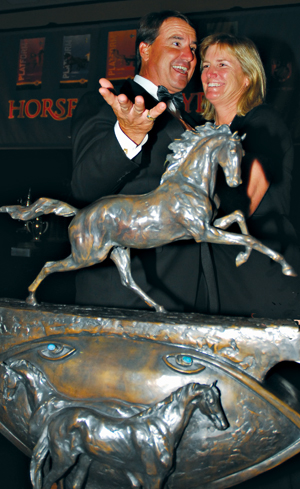 O'Connor's leadership abilities, and the prestige he brings to his job as an Olympic eventing gold medalist, have proven invaluable in pursuing the USEF's mission, nationally and internationally. He assumed the presidency after playing an instrumental role in the formation of the USEF, helping craft a new organization to make peace in 2003 between the warring U.S. Equestrian Team and the old American Horse Shows Association/USA Equestrian.
After evaluating what's been accomplished (see sidebar) and the goals yet to be reached, as well as assessing who is available to take over from him, O'Connor agreed to stay on through the 2012 Olympics.
"The job's not done," he explained, adding, "I believe our succession plan hasn't been as strong as it could be; we're behind the curve."
Most important, in his view, is having "a consistent process going to the 2010 Alltech FEI World Equestrian Games.
"I'm passionate about having that go off like it should," he said.
He also pointed out that "the team we have together is really working well," noting USEF CEO John Long has just signed on to remain through the WEG.
Sentiment seems to be that four more years of O'Connor's leadership is most welcome.
"It's a very good idea," said U.S. Hunter Jumper Association President Bill Moroney. "I think there are things he planned on having finished at this point that for various unseen reasons just haven't come to fruition but are in the pipeline."
Moroney said O'Connor merits the opportunity to see them through. "He's been a great leader. He's well accepted and embraced by every discipline of this sport. He's a professional horseman; that lends you a different scope and vision for what you're doing."
Moroney, who has been mentioned as a possible successor to O'Connor, said that finding someone to take over the presidency requires cultivating their skills and contacts, rather than just naming them to the position.
By The Numbers In 2007
• 90,000—USEF membership exceeded this number.
• 6,090—USEF Awards presented at the national, zone and regional levels.
• 59—USEF National Champions crowned.
• 2—Number of Pegasus Awards For Media collected by equestrian journalist Nancy Jaffer (single article and photography)
• 12,648—Number of samples collected and tested in connection with 664 USEF competitions over 767 days tested.
° 19—Number of USEF B-rated shows tested.
° 87—Number of USEF C-rated shows tested.
• 38—Number of USEF Licensed Official Clinics held, an increase of nine from 2006.
• 3,000—Number of USEF-sanctioned competitions.
° 1,087—Number of serious accidents.
° 6—Number of human fatalities (4 hunter/jumper competitions and 2 eventing)
"In that kind of situation, you have to nurture someone and expose him to Fédération Equestre Internationale meetings and parts of governance that in this environment we don't see," he said.
O'Connor, who will officially stand for re-election at the board's mid-year meeting, has quite a to-do list going forward.
"The federation is unbelievably stable financially, but we haven't been able to increase the high performance budget like we should," said O'Connor. "We're spending the same amount of money as we did eight years ago, but with inflation, we're actually spending less."
Part of the problem, he believes, is that "we don't use our athletes well enough to create the buy-in. We don't send them out enough; we don't have them as personalities. Face time and personality is what creates interest—there's a disconnect from the athlete side to the rest of the world. It's partly our fault, but the athletes need to step up to the plate."
He was upset that only one open jumper rider, Robert Ridland (who is primarily a show manager), came to Louisville. "They're at the trough taking," he said. "Why is anybody going to give to them when they don't even show up at the board meetings?"

Addressing Show Standards
One of the most debated rule-change proposals during the final BOD meeting was GR1120, a proposal for the USEF to assign stewards to officiate at all AA-rated hunter/ jumper competitions. After a lengthy discussion the rule change was withdrawn, but proponent Andrew Ellis, chairman of the USEF Safety Committee, got his wish—to prompt discussion at the highest levels.
Currently, horse show managers hire USEF-licensed stewards to officiate at their shows. The situation came to a head last year after footing problems during the winter circuits and other top-level shows prompted a call for improvements in enforcing show standards and more USEF involvement in the process.
Rules And More Rules
This year breed, discipline and administrative committees considered more than 500 rule-change proposals.
Among the rules the USEF Board of Directors passed were:
GR1032.30, ensures that USEF member reports and judge evaluation forms are
available "and publicly displayed" to encourage members to fill out evaluation forms and return them to the USEF. The forms are available at the competition and on the USEF website. Forms are confidential.
GR137.1, establishing Opportunity Classes for grassroots-level competitors. These unrated, lower level classes, in various disciplines, will be held at USEF-recognized shows but exhibitors will be exempt from the fees, including non-member and
drug-testing fees.
HU127, for judging hunters, which establishes a list of faults and identifies major and minor faults, including those that could be considered by the judge, depending on severity or division, as major or minor. This change brings more objectivity into hunter judging.
Among the rules the USEF Board of Directors disapproved or postponed:
GR146, the "Undisclosed Dual Agent" that would establish a rule requiring an agent to be loyal and to fully disclose all relevant facts to his or her client. Many committee members supported the concept but believe the language should be improved;
others feel this falls outside the Federation's governance. This rule change proposal will be referred to the mid-year BOD meeting.
GR204.3, International High Performance fees, removes all exemptions from this rule so that all disciplines pay the same amount. Proponent S. Tucker Johnson intended to bring this rule-change proposal to generate discussion.
"I'm a [USEF] life member, and I'm saying I should have to pay more," said Johnson, who's currently exempt from these fees as a life member. "This is part of a bigger picture of restructuring fees and membership levels," said John Long, USEF CEO.
C. Mike Tomlinson, vice-president of the FEI Affiliates Working Group, intends to develop a plan for the mid-year BOD meeting.
"We are not dealing with the perception of conflict of interest. It is absolutely a conflict of interest," said Ridland, member of the BOD. "Riders at competitions, in huge numbers, supported the implementation of a TD [technical delegate], something similar in eventing. If anyone believes this isn't a problem, he has his head in the sand."
It's proposed that the TD be contracted by the USEF to uphold the standards and ensure that Fédération Equestre Internationale rules are being followed in the event that the competition includes FEI-sanctioned classes. The show managers would continue to hire stewards of their choice.
"The USEF staff supports your position," said Long during the meeting. "The next logical step is to go in the direction you suggest. The next step would be to identify what these show standards are. Without demonstrative show standards it's like putting the cart before the horse."
At the end of the discussion O'Connor promised to appoint a task force, of different breeds and disciplines, staff and volunteers, to set up a system. "Let's get this done. I know this has been coming. It's been a problem for 30 years," said O'Connor.
The Great Dressage Debate
"We had great input from members about this proposal," said Gil Merrick, USEF Director of Dressage Sport Programs, in an understatement.
After the U.S. Dressage Federation Convention concluded on Dec. 2, an avalanche of e-mails inundated the inboxes of dressage officials, committee members and USDF and USEF staff regarding the rule-change proposal (DR119.3) to develop qualifying criteria for riders to show at third level and above.
"Janet Brown Foy [USEF Dressage Committee member] replied to hundreds and hundreds of e-mails," noted Merrick.
After extensive discussion during the final BOD meeting, the Board voted to table the proposal until the next USEF Annual Meeting in January 2009. In their motion, however, they officially support the concept and charged the Dressage Committee to bring back a detailed proposal for final approval.
"There was overwhelming support from the USEF Board for this concept of performance standards for dressage," said O'Connor. "This was an important first step. We look forward to seeing the specific proposals as they are further developed."
The impetus behind the rule change is horse welfare. When a novice or uneducated rider moves into the upper levels, the riding can become abusive. "Using the double bridle and kicking the horse through the test with spurs is something we want to avoid," said Merrick.
"We really want riders' input," added Merrick. "So far the membership has made great recommendations, and we want to encourage them to continue."
The Dressage Committee will create a timeline and develop the specifics of the "performance standards" proposal. Current plans are to have the proposal ready for distribution to the membership in the summer of 2008.
"We are pleased to have the support of the USEF Board of Directors for the concept of qualification standards for certain levels of dressage competition," said Marianne Ludwig, chairman of the USEF Dressage Committee. "The Committee appreciates all of the feedback received from members, and we welcome the opportunity to bring a detailed proposal back to the Board for next year's annual meeting."
---

Award Winners
• The Marty Simensen Memorial Trophy—Dr. John Lengel
• Honor Roll of Distinguished Officials—Peter Lert
• Grand Prix Course Designer of the Year—Richard Jeffery
• Sportsmanship Award—Elizabeth Searle
• The Sallie Busch Wheeler Trophy—Matt Fine
• The Richard E. McDevitt Award of Merit
° Frank Lloyd
° Jay Stream
° Betty Weldon
• Pegasus Medal of Honor
° C. Marvin Harwood Jr. and
Marjorie R. Harwood
° Holly Pulsifer
° Marcia Lee Williams
• Equestrians Of Honor:
Driver Miranda Cadwell (Becky Grand Hart Trophy)
Hunter rider Scott Stewart (Emerson Burr Trophy)
---
O'Connor – The First Term
David O'Connor's first term as president is winding down, and among the achievements of which he's proudest is creation of the U.S. Hunter Jumper Association.
"Getting that done was such a big deal," said O'Connor, whose persistence made sure the initiative, stalled for years, finally moved forward.
He's also pleased by the creation of the Youth Council, from which future USEF leaders undoubtedly will come.
Looking ahead, he wants to see the Kentucky Horse Park have an area set aside for training everything from riders and drivers to judges.
"I would like to create a Warendorf or Saumur," said O'Connor, referring to the German and French training centers. He envisions the horse park as "the emotional center of the horse world."
Toward that end, he's interested in seeing all of the offices of the USEF, including Drugs & Medications and High Performance, under the same roof in Kentucky sometime after 2010.
The high performance functions are for the most part based in Gladstone, N.J., at the USET Foundation headquarters, which he pointed out is little-used as a training facility, though it did host the USEF's National Dressage Championships last year and is the site annually of the USEF Show Jumping Talent Search Finals—East Coast.
Improved Safety Is "Halfway Around The Course"
Andrew Ellis, the aggressive chairman of the USEF Safety Committee, has had to walk a tightrope between the best interests of the exhibitors and budget constraints that often cause show management to drag its feet in this area.
"We're dealing with a high-risk activity. There's a low fatal accident rate, but when accidents happen, they can be catastrophic," he said.
"When the average member goes to a competition…they probably assume we're up to snuff on the national [medical standard], but we're really not," said Ellis. "There's a lot of room for improvement. We're definitely behind the times."
A new rule providing for a second medical staffer at shows that had 250 horses the previous year, or for the first year of an A- or AA-rated show, is just one step toward improving medical coverage.
Some show managers were unhappy about being required to hire a second medical staffer, even though it could be a First Responder, who is less expensive than an Emergency Medical Technician.
"I've never had a death at my show," they told Ellis.
But he noted that various medical groups, including the American Medical Association and the Red Cross, state that one person can't do cardio-pulmonary resuscitation or advanced life support for more than two minutes by themselves. Prior to the rule change, only shows with more than four rings were required to have extra medical staff.
Although Ellis originally wanted "two EMTs on the grounds, period," he noted that wasn't well-received.
Some people believed the number of horses involved in the equation should be 300. The USEF Board of Directors kept it at 250, but for shows that do not involve jumping, the second person can have an additional job on staff, which keeps costs down.
Ellis called the compromise "a little bit of a Band-Aid approach for us, but a step in the right direction."
There's definitely more to come.
"What we want to move toward is having automated external defibrillators at all shows, probably a year or two down the road," he said. He notes it might be possible for affiliate groups or the USEF to purchase the machines that are used to re-start a stopped heart or correct an irregular beat, so they then can be used regionally.
Another major concern is making sure stewards "do a better job of checking the credentials of medical personnel at shows, making sure that they have beyond basic equipment."
There's been a push to have stewards appointed by the USEF for major shows (see article), rather than having the stewards paid by the show management. In some instances, the USEF isn't getting a real picture of what goes on at the show or conditions that are substandard because the steward is loyal to management.
Other safety measures in the offing include development of a manual for horse shows to use that will "talk them through" medical coverage and veterinary care at a competition. It also will include fatality response protocols.
The USEF has signed a contract with the Crisis Care Network. When a fatality occurs at a competition, the organization will send in a person skilled at dealing with such accidents and a grief counselor to handle the situation.
Instructor certification and more stringent qualifications to move up the levels in eventing are also steps in the right direction.
"More knowledgeable trainers that understand the system will help place riders and horses at the true levels they belong," said Ellis, noting someone who should be in children's jumpers won't be overfaced in the junior jumpers, which is just asking for trouble.
"It makes a safer playing field all over. As a parent, I want to know if my kid has an accident…that the show is able to deal with it rapidly, responsibly and professionally, and that our members are getting the best care available. That's the responsibility of an NGB.
"We're making strides, but we're not there yet," added Ellis. "We're halfway around the course in getting ourselves to where the federation needs to be from a safety viewpoint."
On another front, it's been a long-time goal of the USEF to bring grassroots riders and unrecognized shows into the fold.
At the lower end of the scale, David said, "It has to be easier for them to show. I want that by next year—we've been talking about it forever."
At a certain level, he envisions "almost what we call Federation Light." Fees would be less, but so would services, likely on a buffet basis. Someone might want insurance, but not the magazine, for instance, or vice versa, and they will have the ability to pick and choose, rather than buying the whole membership package.
O'Connor noted drug testing may not be done at the lowest levels, since people there are not qualifying for regional or national championships.
"For someone just going to a local show and having fun, we need to make that easier," he said.
It could be a lesser fee because the administrative needs are not as intensive, but encouragement could come from grant programs, such as providing money to pay Emergency Medical Technicians or insurance, something that already is available.
O'Connor still rides and would like to bring along horses up through the three-star level, though he doesn't see himself riding in any four-stars. He's also competed in show jumping and wouldn't mind taking part in a grand prix.
But these days, he's more identified with the USEF than with the arena. Looking back on his term, which ends next January, O'Connor mused, "I enjoy the creative thought process, the part about looking at something from a new way and actually getting something done. Putting new ideas out and having everyone jump onto it is extremely rewarding. That's been a fun part of it."
---
Moving Toward Safer Eventing
Stricter qualifications for eventers who want to move up past training level will go into effect Dec. 1 in an effort to prevent accidents that have called the sport's safety into question.
"It's definitely necessary," said Bobby Costello, the USEF's athlete representative for the discipline. "There's a ton of dangerous riding."
The biggest change for most riders is going from training level to preliminary, which is a huge jump both in terms of fence heights and speed, according to Malcolm Hook, chairman of the USEF National Eventing Committee.
"We're seeking some solution to that problem at the moment," he said.
Rider responsibility is also a key to moving up at the right time, however. "If we can't get them to understand a responsible decision, how can we feel more confident about them moving up?" he asked.
But Hook noted ground juries are getting more confident about stopping people for dangerous riding. At the FEI level this season, he noted, yellow flag warnings along the course will tell the riders that the ground jury is concerned that they're riding dangerously.
He said USEF President David O'Connor has asked the USEF Eventing Committee to come up with a proposal along those lines.
The committee put a proposal that included setting a speed of at least 470 meters per minute at training level as a qualification for preliminary on the back burner.
Currently, riders going from training to preliminary need only complete four horse trials, with no more than one stop on cross-country each, at the training level or higher. As of Dec. 1, however, a rider going from training to preliminary must have four "National Qualifying Results" that call for no more than 50 penalty points in the dressage test, no jumping penalties cross-country (and only 36 time penalties) and not more than 16 penalties in show jumping.
While only the rider needs to qualify to move up from training to preliminary—and it has to be done on a one-time basis only—more stringent requirements for going from preliminary to intermediate and beyond must be completed by both horse and rider, though not necessarily as a combination.
---
Bits And Pieces
• PONY POWER
Theodore O'Connor and his rider Karen O'Connor ("no relation" joked USEF President David O'Connor) received multiple standing ovations during the annual meeting as they collected two of the most prestigious awards—the Farnam/Platform USEF Horse of the Year and the USEF Equestrian of the Year titles. The pair won individual and team gold medals in eventing at the Pan American Games, among other major accomplishments.

"This has been an incredible year," said Karen O'Connor. "Teddy has displayed such confidence and belief in himself. He's an amazing athlete with an incredible heart, work ethic and intelligence."
USEF members, media and the USEF Board of Directors voted for these two award winners. "I have no speech, and I'm really surprised and humbled," said a tearful Karen O'Connor. "What I will say is what it takes to be Equestrian of the Year is that you have to raise your game and give the best you've got."
• RIDERS OF TOMORROW
Kirsten Kimbler, 18, Aberdeen, S.D., was named the Junior Equestrian of the Year and was awarded the Ruth O'Keefe Meredith Memorial Trophy. Kimbler, an endurance and Arabian rider, also won the Youth Sportsman's Award.
In its first year, the USEF Youth Convention drew more than 100 participants from the 18 breeds and disciplines who attended educational seminars, shared ideas and networked. Last year, the USEF developed a Youth Council to expand the base of young people contributing to the leadership and promotion of equestrian sports.
Monica Christian, co-chairman of the Youth Council, addressed the USEF Board of Directors on Sunday and expressed the Council's interest in obtaining the BOD seat vacated when the National Reining Horse Association withdrew as a USEF affiliate.
In a surprise announcement during the Youth Convention, the U.S. Hunter Jumper Association presented the Youth Council with a $1,500 donation with a challenge to the other affiliate organizations to follow suit.
• GRADES
For the first time in 2007, David O'Connor asked the Working Groups Vice Presidents to present reports and grades for the accomplishments of the various departments within their groups.

Here are a few grades:
1. Drugs And Medications Testing—A+ concept/A implementation.
2. Marketing And Sponsorship—A concept/D implementation.
3. Licensed Officials Clinics—A+ concept/A- implementation.
4. Eventing Course Designer Program—C cost vs. benefit/A management.
5. Pam American Games—A
6. Samsung Super League Show Jumping—C
7. Pairs Driving World Championships—D
8. Pony Driving World Championships—A
9. Breed Promotions—B+
10. Youth Council—A
• A LIVING LEGEND
Don Burt, who earned the USEF Lifetime Achievement Award at the Pegasus Dinner, summed up his life: "I've never worked a day. I've just played cowboy all my life."

While Burt, Portuguese Bend, Calif., is best known for his time spent with American Quarter Horses (he's a past president of the AQHA), he's trained and shown top horses in a variety of disciplines for many decades.
"Rarely am I speechless. This is one of the highlights of my life," said Burt, who received a well-earned standing ovation. "And it's truly an honor to be named with such a list of dignitaries."
His involvement in horse sports began in the early 1930s at his family's stables in Burbank, Calif. There, he trained and competed champion American Saddlebreds, fine harness horses, ponies, jumpers and stock horses. Burt was also instrumental in the process of admitting the sport of reining into the Fédération Equestre Internationale fold. In addition to holding a judge's card in eight disciplines, he earned national championships in all divisions.
"I want to say how truly blessed I am, and I have an angel on each shoulder," he said.
• NSAID USE
The days in which two non-steroidal anti-inflammatory drugs may be administered to show horses are coming to a close. As part of an overhaul of the USEF's drug rules—that's estimated to take two years—the USEF Drugs & Medications and Veterinary committees are looking to make things safer for horses and less complicated for exhibitors, assuring them "peace of mind so they will not be tested positive," said Dr. Kent Allen, the chairman of both panels.
He noted that research funded through the USA Equestrian Trust showed "stacking," or administering multiple NSAIDs to a horse is "dangerous and unnecessary."
"They're not meant to be used in combination," Allen said, noting the American Quarter Horse Association only allows one NSAID, and the American Association of Equine Practitioners recommends only a single NSAID, which is effective enough on its own.
"We're the only organization that flies in the face of that," he pointed out.
Tricia Booker and Nancy Jaffer