Following the recent furor over the U.S. Equestrian Federation's "Mileage Rule" and its effect on the World Equestrian Center in Ocala, Florida, USEF CEO Bill Moroney and President-Elect Tom O'Mara held a town hall on Dec. 8 to explain how USEF officials develop the competition calendar and answer member questions. The following day, USEF members received a survey asking them to share what aspects of the competition environment matter most to them and to send additional feedback to the USEF Competitions Task Force, which will be repopulated by Jan. 25. Nearly 4,000 members filled out the survey, with 53 percent of the respondents identifying as hunter/jumper participants.
As part of the 2021 virtual USEF Annual Meeting, Moroney and O'Mara hosted a webinar, Competitions: Member Feedback, Survey Results and Next Steps, on Jan. 13 where they presented the feedback they'd received.
The presentation was broken into five categories: licensing, standards and compliance, cost and opportunities, recognition, and other considerations. The Competitions Task Force will be made up of 10-12 people, none of whom will be show managers. They'll evaluate the feedback and how it affects the various breeds and disciplines under the USEF umbrella and provide recommendations to the USEF board of directors.
Here are the top requests from members:
1. Revamp the mileage requirements and the exemption process.
There's no doubt that the majority of participants would like to see a change to the so-called "Mileage Rule," which places limits on how close competitions can run to one another on the same dates. While the different breeds and disciplines have their own mileage requirements, hunter/jumper shows have by far the most complicated rules, with specifications for different zones and competition ratings. (South Florida has a separate chart just for December-March..
Members suggested that a variety of factors should be weighed when it comes to mileage and possible exemptions:
"How should consecutive dates affect the licensing process?" Moroney asked. "Should there be a limit of dates or a limit of mileage or total number of licenses an organizing group can have? There are always advantages or disadvantages to what we can do. We have to be cognizant in some areas there may be a dominance of calendar dates under one or more organizing groups, but they may be the only ones to come forward that want to have events in certain areas. If we put limits there is going to be a much smaller calendar of events or none at all. The balance of aggregation is when a mileage exemption is warranted. I think it's a section of the rule that the task force will look at on the limitations of aggregated dates."
2. Improve standards and compliance at all levels of competition.
Participants want to know that if they go to a premier show in Texas, it's going to be held to the same standard as one in Oregon.
The USEF has a standards and compliance team, but they're not able to attend all of the 2,300 horse shows USEF licenses in a year. Often, reporting compliance violations comes down to licensed officials and competitors. Any member can fill out a competition evaluation, and 94% of survey respondents said they'd be willing to fill one out. However, only 56% were even aware the form was currently available. (USEF has made this easier to locate with a new Feedback section on the website, located under the Compete tab.)
USEF officials are exploring a member-driven report card system that would allow competitors to evaluate standards at shows they attend. Those report cards would be used to help determine whether to renew a competition license at the same level or at all.
"Standards should be such that on Day 1 of a show it should have the same level of compliance as on Day 5," said Moroney. "Or if it's a multiple week show, the first week on Day 1 to the last day on the last week of that competition should be meeting the criteria to meet that level. That takes a significant investment."
3. Reduce the barriers for entry into the sport.
Good footing, good courses and nice amenities come at a cost, and while there's no argument that any level of participation is expensive, members want to see more options for those who aren't point chasing or participating at an elite level.
Suggestions included:
Tiered membership and horse recording that could include a minimal or no-cost entry into the USEF competition environment. Right now, two USEF memberships exist: competing or fan. Members are looking for an additional option that allows them to compete at a cheaper rate beyond the USEF show pass, which non-members must pay for at each show.
Evolve the show pass so that it covers 30 days of competition. Should you decide to become a full member in that 30-day period, there should be a cost-effective option that allows points earned in those 30 days to be counted.
4. Reevaluate the increment- and money-won system.
This topic primarily affects the hunter/jumper discipline, which separates USEF Horse of the Year awards in the professional divisions into two categories based on points accumulated and money won. Points awarded at shows are determined by a combination of competition rating and number of exhibitors in each class, which gives an advantage to certain areas of the country where there's a higher concentration of premier shows.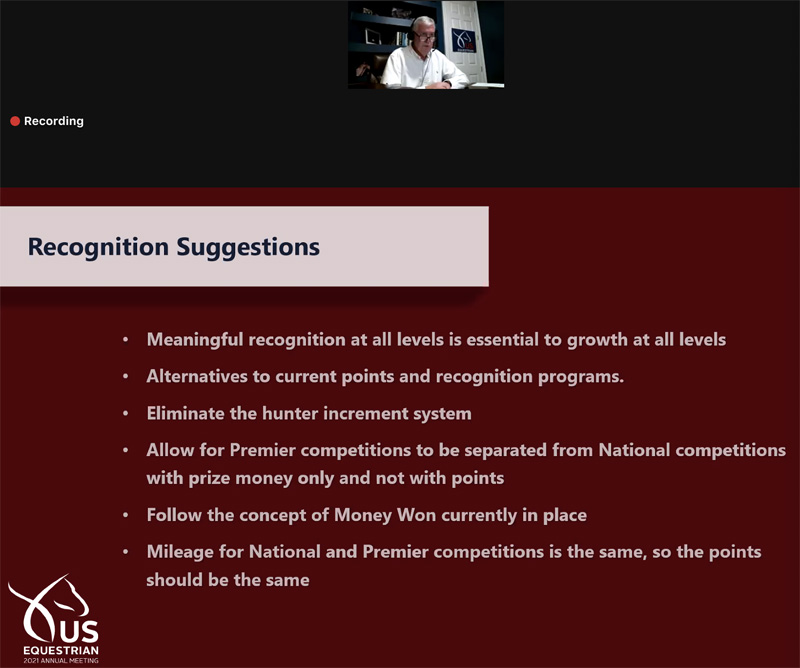 Members also had plenty of suggestions for prize money requirements.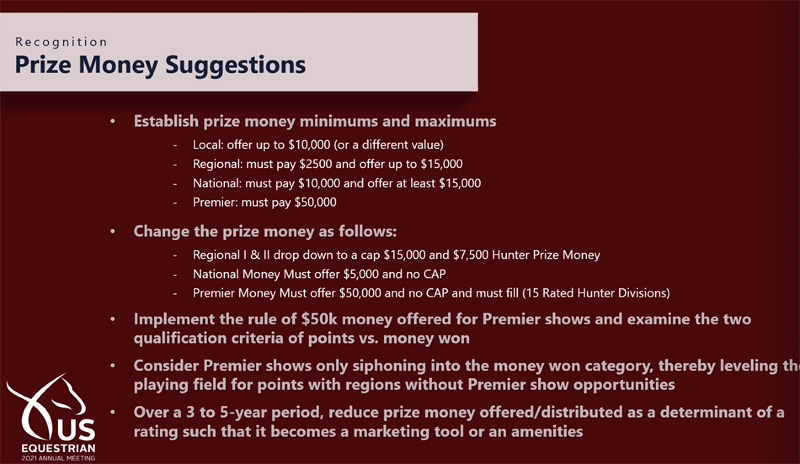 5. Establish a public consumer review system.
Think Yelp, but for horse shows. Currently, members rely on word of mouth to decide whether they should add a show to their schedule. An established system would make those decisions easier. It could also include another suggestion: publishing the average cost per exhibitor for individual shows.
Members want increased transparency, which could lead to improved standards as organizers invest in their facilities to keep their review rating high.
The USEF will have another competition-focused question-and-answer session on Jan. 25, at 3 p.m., with conversations covering opportunities for all levels and costs vs. expectations.
You can register for all of the USEF Annual Meeting presentations for free, and the sessions will also be archived on the USEF Network.