The U.S. Equestrian Federation has named course designer and British Olympic medalist Ian Stark as a temporary cross-country advisor at European events this fall. His first event in this role was the Land Rover Burghley Horse Trials CCI**** (England) held Aug. 31-Sept. 3.
"We're in the search process for the next performance director, so that process is underway," said USEF eventing managing director Joanie Morris, adding that Stark hasn't applied and isn't being considered for the other position. "But in the meantime, we knew we had to continue on. We had riders competing every weekend, and we had identified throughout this process that we needed to put more emphasis on the cross-country, so we are utilizing Ian Stark as the cross-country advisor for the balance of the year at this point."
Stark is unable to fly due to recent major surgery related to a fall, so he will only serve as the advisor at the remaining three major international events Americans will be contesting: the SsangYong Blenheim Palace CCI*** (England), the Boekelo CCI*** (the Netherlands) and the Pau CCI**** (France). Riders on the USEF Eventing High Performance Training List are free to work with Stark as they see fit leading up to the events and then will receive advice while competing.
"We're mostly utilizing him for course walks and just sort of from a philosophical standpoint of cross-country and watching videos of the riders and chatting with them about their plans for the courses—then going around the course and talking about what he sees and how he sees it should be ridden," said Morris. "I think he was very well received, and everybody had a lot of respect for him as a course designer and as a rider. His approach seemed to work quite well, and we're looking forward to Blenheim next week already and seeing him again."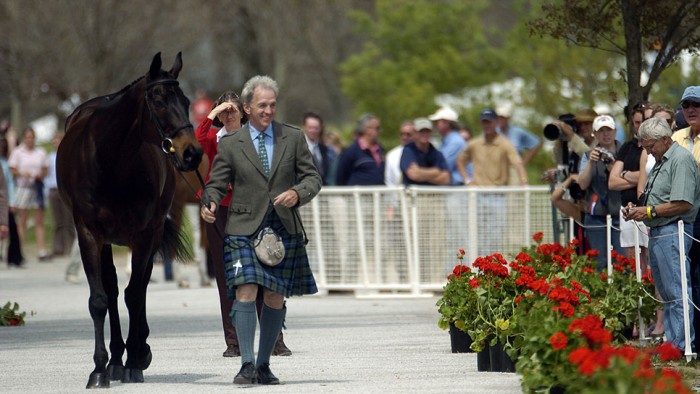 Morris said that Stark is only contracted for the remainder of the year, and the future of the position is dependent on the new performance director and the program established at that point.
"How that role looks for Ian will depend on who comes in, and what they see as a vision for the program, and the people they want to utilize," said Morris. "We certainly didn't feel like we could wait until we had that person in place, because as we know time waits for no one, so we need to make sure in the meantime our guys have every opportunity and every resource they need to maximize their performances especially at some of these major European events where we have athletes that are funded or people who are in Europe that have been working towards them all year."