The U.S. Eventing Association came out with a strong public statement on Oct. 18, noting that "the time is now" to make frangible technologies mandatory for certain fences on cross-country courses worldwide. But at the moment, the Fédération Equestre Internationale seems to be placing the onus on national federations to decide when to enforce the use of such technologies.
The USEA's Oct. 18 release stated: "The time has come to take a stronger stance on the usage of frangible technology in the sport of eventing. We as the leaders of the sport have the moral obligation to say that the time for use of all currently available safety technology is now.
"With that in mind, the USEA Cross Country Safety Sub-Committee strongly recommends that the FEI mandates rather than strongly recommends that all open rail fences, gates, oxers and oxer corners must be built using reverse frangible technology," the release continued.
The FEI has advocated use of the devices, also known as frangible pins, at a course designer's discretion, though evidence has shown that frangible and deformable devices can reduce the risk of rotational falls—the type of falls most likely to result in a fatality. The FEI's discretionary policy has led to varying usage of the pins, ranging from extensive in the United States to much less in other countries, such as Australia.
The FEI has come under fire from industry professionals and on social media to change its mindset recently, following the death of Maxime Debost in a one-star event in France last month, but the USEA has been working toward wider and mandatory pinning for several years now.
"It's been a long road to get to this point," said Jonathan Holling, four-star rider and chair of the USEA's Cross-Country Safety Committee. "We've done a lot of research and watched a lot of horses and seen a lot of fences, and it seemed like right now is past time to do something about it. There are a lot of moving pieces and parts to safety for sure, and the technology is there now that all of these types of fences we listed can have reverse frangible technology, and it can work properly."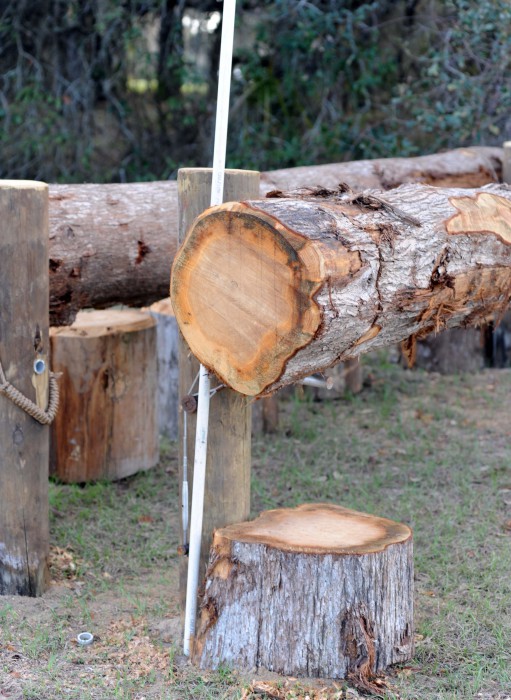 In addition, the organization is nearing the end of its two-year Collapsible Fence Study, which was fully funded at $160,000. Dr. Suzanne Smith of the University of Kentucky hopes to present her findings by next summer.
"We're getting information back from that study, and it influences everything we do, so that's a piece of it," said Holling. "But as well, it's watching trends worldwide; it's seeing devices work first-hand, and it's seeing fences without devices cause falls. It's realizing we as a sport can and need to do better."
Debost, 29, had a rotational fall at an ascending spread that was not pinned, even though it was of a design that has been pinned elsewhere using the MIM clip.
"For me personally that was sort of my breaking point where I thought, 'I can't do it this way anymore,' " said Holling. "He was a young guy; he had a child. I did not know him personally, but he was a very good rider. This is what needs to happen, and that was a tipping point for me."
In addition, representatives from the national federations will meet with FEI officials at the FEI General Assembly in Montevideo, Uruguay, Nov. 18-21, where rule changes effective from Jan. 1, 2018, are decided.
The U.S. Equestrian Federation made a statement Nov. 3 in support of the USEA's position on reverse frangible technology.
"The welfare and safety of our equine and human athletes must always be our highest priority, and we appreciate the efforts being made by the USEA to study this issue and make recommendations that support this priority," stated the USEF's release.
The Canadian eventing program also announced its full support of the USEA's Oct. 18 statement. Equestrian Canada Eventing Committee chair Peter Gray said that "all tools at our disposal" should be used to reduce the risks.
To date, the FEI has rarely publicly discussed its perceived reluctance to enforce frangible technologies. But concerns seem to include a worry over what would happen if cross-country fences could fall down, rider attitudes to personal responsibility for safety, and the cost of implementing frangible and deformable technologies worldwide.
This spring, following a closed seminar at Tattersalls, Ireland, the FEI issued a "very strong recommendation" for widening the scope of fence types to be pinned, though the organization admitted that response to the recommendation "varied from country to country."
However, following the USEA's statement a FEI spokesman said the organization is working towards global use of frangible technology as one of its risk management goals, and that it's coordinating with national federations around the world on the issue.
"Frangible technology is being used extensively in many countries, and there are around 3,500 of these devices currently in use globally at international level, not including those used at national events," stated the FEI spokesperson. "Eventing takes place at [the] international level in around 40 countries worldwide, with many more hosting national level events, and not all of these countries have the immediate resources and knowledge to support the correct implementation of frangible technology.
"It is the FEI's role to provide the necessary educational and logistical support to national federations to enable them to source approved devices, ensure their correct use, and ultimately decide when the time is right to make their use compulsory so that frangible technology is used effectively worldwide," the FEI spokesperson continued. "It is important to note that frangible devices are one element in a wide spectrum of risk management initiatives and, while they are clearly an important component, they will not in themselves eliminate all risk from the sport."
Following nine rider deaths in 1999, five of them in England, Lord Hartington—a senior figure in British racing with personal involvements in eventing—chaired a working group to investigate safety. Former U.S. eventing team coach David O'Connor served on the Hartington group and has been a prime ambassador for safety ever since. O'Connor chairs the FEI's Risk Management Steering Group and curated the 2017 Tattersalls seminar.
Hartington advocated immediate research into frangible technologies, and prototypes were tested at the Mitsubishi Motors Badminton Horse Trials CCI**** in 2002. Most of the technological development took place in Europe, with devices supplied by British Eventing and the independent Swedish manufacturer MIM being the only ones approved by the FEI when its technical tests were introduced in 2013.
However, the active promotion of their use has been led by the USEA, the only national body so far to invite public subscription to fund further safety research.
Andy Griffiths, chairman of the International Eventing Officials Club, and a member of the USEA Cross-Country Safety Committee, welcomed the FEI's apparent softening of its stance this week. He has long sought to correct misunderstandings about affordability, stating that a basic pin costs about $130 plus shipping from Europe. The IEOC has previously proposed—unsuccessfully—that a small levy be applied to rider start fees to cover the provision of devices at events.
"We will continue in our campaign to make the sport safer," said Griffiths. "We want to enable the continuous and current updating of safety measures to all our officials and to support and provide the opportunity to receive education on all aspects of deformable technology from the FEI. Support for this from the FEI is currently sadly lacking."