Greetings from the back seat of a lorry somewhere in France.
While I was hoping to get a post out sooner than now, somehow the show atmosphere took over and I found it difficult to ever get my computer open. I am traveling with Andi Lawrence, super-groom of our winner-winner chicken dinner, Mr. Cooley Cross Border(!!!), and Andrea Baxter to the airport so we can all fly home. As everyone can imagine it is a bit of a party bus as we are all still riding the collective high of all four finishing American horses being within the top 25—and of course Kim Severson's win is the major fuel for this fire.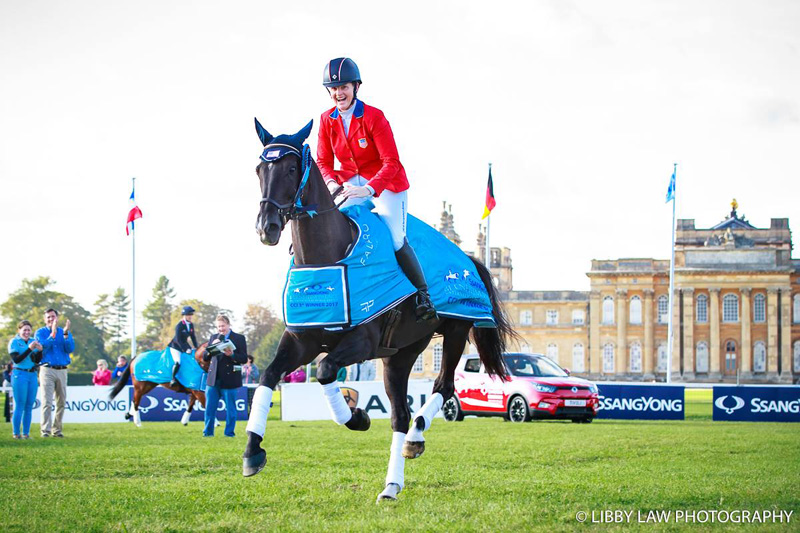 We are extremely gutted for Tiana, Liz, and Lauren who had to withdraw horses for various reasons, but overall it was a great showing for Team USA.
A lot has clearly happened since we moved in a week ago, and I will try and keep it concise as I could talk about this event for weeks, and I probably will be. Everyone will be happy to know that I have not yet damaged any of my remaining rolling luggage and I think we finally figured out the toilet situation (after some clarification about there being both men's and women's restrooms on the trailers ha!). While our heat never really seemed to work quite right, I can also report that Horseware blanket liners are as warm as they say—considering I slept with one for most of the week. I really am not cut out for this cold weather and cannot wait to get back to Aiken.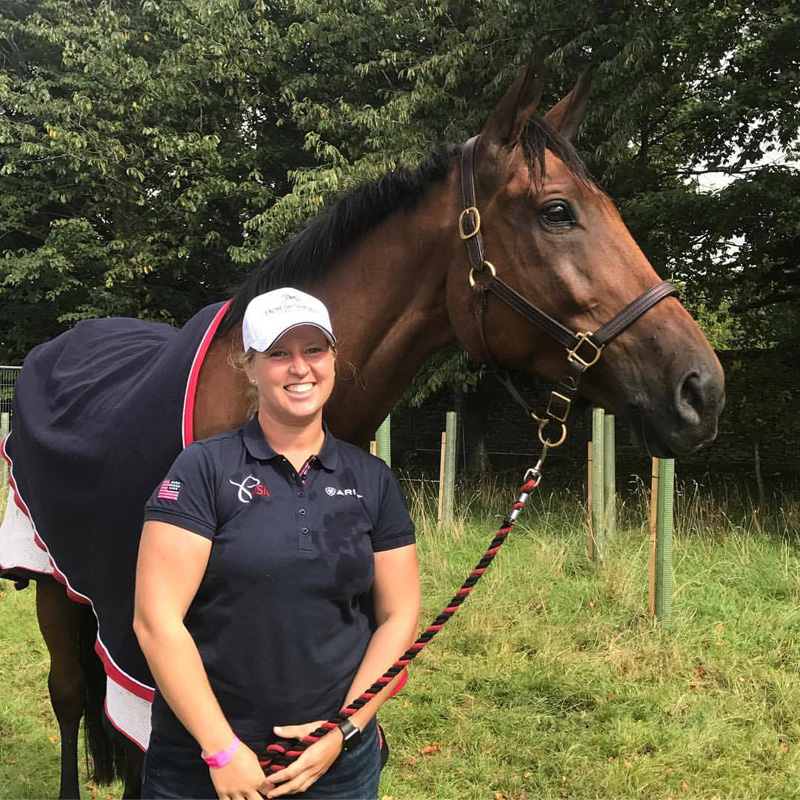 The second day of dressage brought out some strong showings for our remaining riders. You all must have sent up some great thoughts for some fancy circles because we threw down the gauntlet. British-based Tiana Coudray began our morning on Thursday with a great test in the 40s, and things just got better from there.
Quinn looked like a million dollars in the warm-up. Doug has been playing around with the amount of time that he really needs in order to get the best quality of work in the ring, and it is still a work in progress. The first two-thirds of the test were easily some of the best work I have ever seen out of the horse, and he just got a bit tired at the end, which resulted in him becoming curled and struggling in his weaker change.
In spite of the small things he still scored a 46.6, a personal best score for him at the CCI*** level.  It becomes a win in itself when the scores continue to go lower every time the horse competes, and Doug continues to raise the bar with Quinn.
Kim Severson and Hannah Sue Burnett both went in the afternoon sessions of Thursday dressage, and boy did these ladies bring their A game. Kim and "Cross" delivered a beautiful, accurate test that scored a 37.8 to sit in third overnight.
Hannah and RF Demeter followed immediately behind them and showed how quickly their partnership is developing. Hannah and Demi danced their way onto a 39.7 and suddenly we had two Americans sitting in the top 10 following dressage in one of the largest CCI*** fields in the world. Andrea Baxter and the lovely Thoroughbred mare Indy 500 put in a respectable test, and while Andrea was not thrilled with her score she proved that it was not going to be a dressage show.
I spent Friday watching the Event Rider Master's dressage with Marilyn and Jessica Payne. I've watched a lot of dressage (well to me it feels like a lot) over the years, but to watch it with Marilyn is both highly educational and entertaining. It is easy to get caught up in each individual test, scoring the movements ourselves and then comparing to the judges scores. While most of the horses in the ERM class were younger horses for these professionals, the tests were still of good quality and each rider got to pick music to ride to. Our three American riders put in good tests themselves, and then it was on to the jumping.
I did get to take a walk around the cross-country with Doug on Friday afternoon and it is easily the most beautiful course I have seen. I love Kentucky, don't get me wrong, but with the palace backdrop on the South Lawn, galloping across the lake, and the beautiful bridge on top off the intricate fence design and decorations it is hard to be beat. The course was well designed, with forward distances that allowed for adjustable horses to add another stride if needed.
The first trip across the lake was a big brush fence, two forward strides to a triple brush in the water, and looked to be one that would catch riders out. The coffin combination was another tough spot, and actually ended up causing problems for multiple riders including Tiana and Under The Clocks, was a one stride from the A element to the ditch, and then a sharp angle to the triple brush on the way out. There was also an open oxer to open right-handed corner, a set of big angled houses, and a brush table to a left-handed brush corner that riders would have to navigate before coming through the finish flags.
More than enough to do out there and the terrain really didn't let up. Horses had to continue to fight up and down hills all the way until the final fence, but it all looked very doable as long as you stuck to your plan.
Saturday morning brought beautiful weather for England, slightly overcast and not too cold, which was perfect for cross-country morning. I took Quinn out for an hour-long walk and hand-graze before everything got busy, and then let him have a bit of down time in his stall before we geared up for the day.
By 8:45 a.m., the riders' tent was packed full and it was standing room only for those of us wanting to watch the first few riders out on course. Liz Halliday-Sharp and Carpe Diem IV were the first Americans out and they came home clear with just a bit of time. Gemma Tattersall was the first rider to make time, showing that it could be done but you couldn't leave any corner uncut. Lauren Kieffer went out for USA next and, while it looked like she was going slow near the beginning, cruised home clear and just 4 seconds over the optimum. Now it was time for us to go to work.
Tiana went out a few horses before Quinn, and while she had one glance-off at the coffin she still finished quickly.
Quinn looked amazing in warm-up, while I was officially in freak-out mode. I guess the good thing about me freaking out at big events though is that I get silent, I break out in sweat, and I almost become ultra-focused. I sat in warm-up and chewed on my index finger while watching the free-for-all that is an upper level cross-country warm-up.
Thankfully Doug and Quinn appeared to be on their A game and so it was go time. The live stream showed us most of the beginning of the course and Quinn looked to be cruising right along, big ears flopping and his massive stride eating the ground. Doug was 10 seconds or so up on the clock when he got to the combination at the lake, but he didn't push on Quinn because he didn't want to hit the bottom of the tank too early.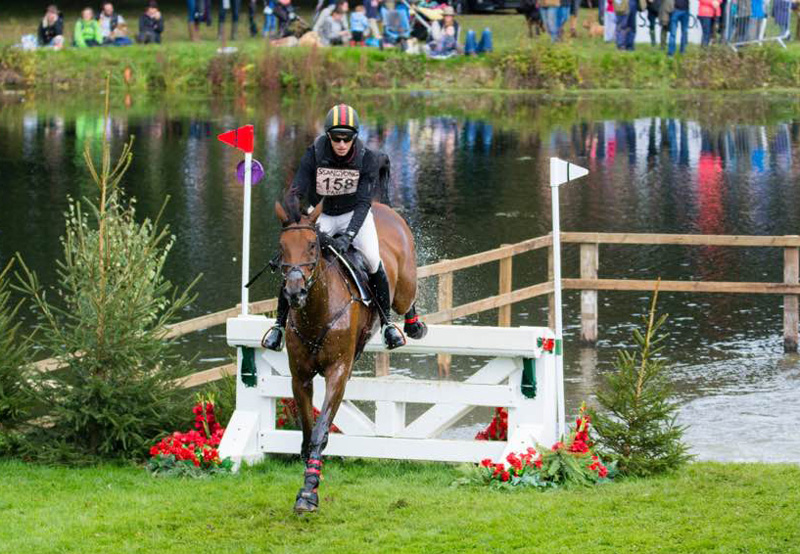 I watched the timer on my phone with Jessica and Marilyn until the very last seconds when we ran out to the finish line. We could see the final combination from where we stood, and where at Kentucky Quinn had looked to be fatigued, he was still full of run here. They cruised through the finish line, having lost some time headed to the top of the big hill, but making it up headed home. Just a few time penalties, but a sound, happy, and fit horse made up for it. It helped that he moved up in the standings and was sitting in 12th overnight.
Following the second round of water and walking, Quinn was beginning to jig sideways when horses would leave the start box, indicating that he was more than ready to run again. The incredible team of vets and bodywork people for Team USA were right there helping and supervising, which helped us get him cooled out and back to the barn quickly and safely.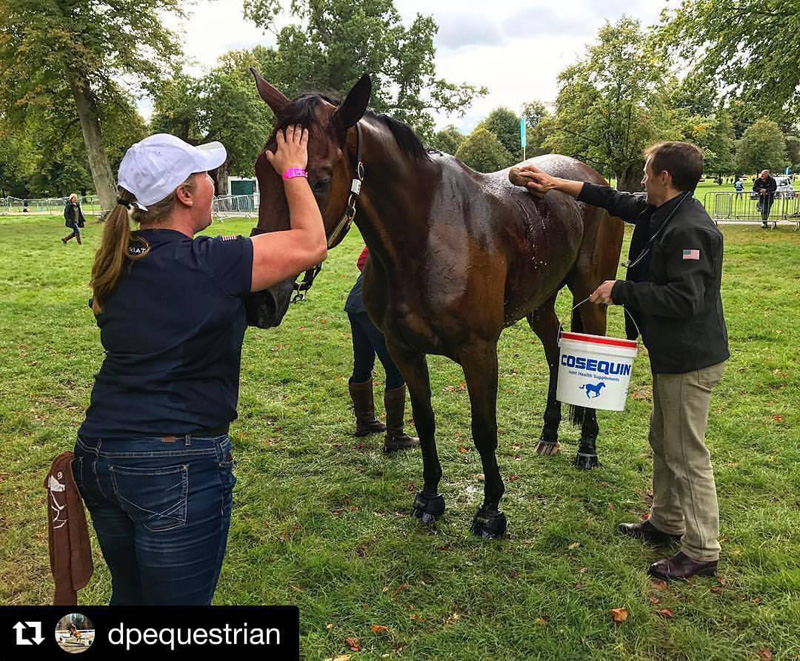 While I missed the remaining riders the three ladies kicked some serious butt. Kim finished double clear to remain in third going into the show jumping, Hannah only added 2.8 time penalties keeping her in sixth, and Andrea stormed around and rocketed up into 31 place from 81st the day prior. It was a very light-hearted evening in the barn aisle as we were waving our flags and cheering due to our successful day. Horses also jogged and then it was back to work for an early morning of jogs come Sunday.
I am not lying when I say I was more nervous for the second jog here than I was for any other part of the week. While there was no reason to be, following poor Quinn pulling a muscle in his butt at Rolex this spring I was suffering from major anxiety. I broke back out the ulcer meds for dinner Saturday night and even for my morning coffee on Sunday. Oh yeah, ulcer meds for myself—Quinn was fine and munching on grass like it was his job.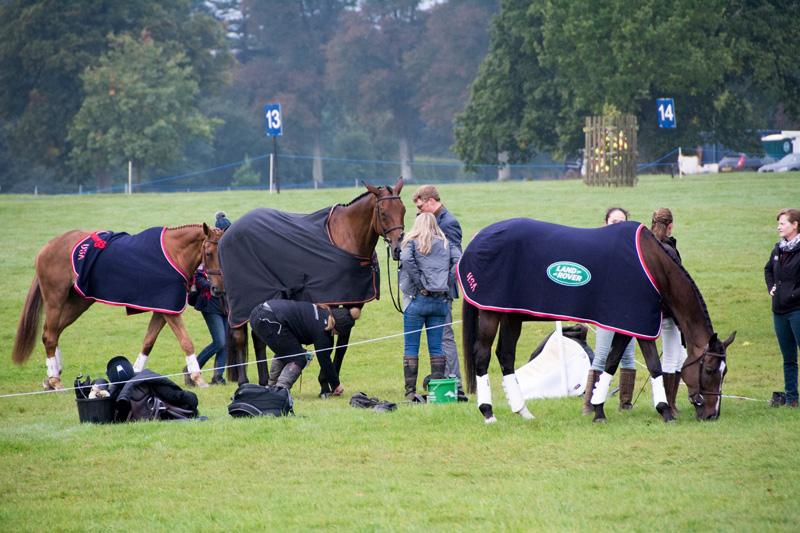 Then the stuff only in my nightmares happens—Doug jogs him and the President of the Ground Jury nods yes for accepted, but Quinn was blocking the announcers view. Even though I have seen the judge nod with my own two eyes, to not hear it announced made my stomach drop out. I would have sworn that I was dreaming and for some insane reason the judge would change his mind. Thankfully I was quickly snapped back to reality and we were announced as passed and onto the show jumping we went!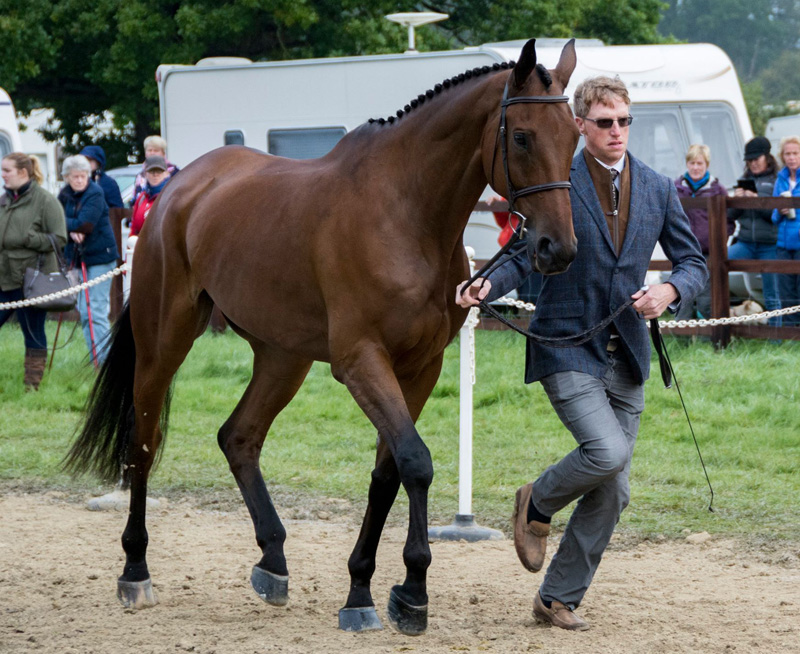 Lauren, Andrea, Kim, and Hannah all also made it through the jog looking lovely with fresh horses, but unfortunately Tiana and Liz did not present their CCI horses. This left five Americans to show jump, and all within the top 40 so they would begin in the afternoon.
We walked down to the show jump arena feeling quite confident. Quinn is statistically and historically a great show jumper, and his last rail with Doug was at the American Eventing Championships in 2016. While you try to not be over-confident, the knot that is usually in my stomach for show jumping was not present during the walk down.
The arena had quickly become a thick, tacky mud that was greasy in the corners. We chose to go with the studs that we had used the day before on cross-country, and while they worked well in the warm-up they proved to not be quite enough in the ring.  While some horses don't seem to mind if their hind end slips a little bit, Quinn can get quite worried and he just managed to brace against Doug through a couple of turns, resulting in three down.
While this is very disappointing in the moment, and you want to be upset, looking at the bigger picture it is quite minuscule. He still finished in the top 15, out of a huge field, and in his first trip across the pond. Doug pointed out that Quinn has not jumped in natural footing that is not sand-based since Richland Park in 2015; that was just his second competition with the horse and only in the CCI**.
I stayed down near the arena and watched the end of the show jumping. Kim and Cross put in a BEAUTIFUL clear round, the video of which is circling the internet. They were guaranteed no worse than third—holy USA! Then Pippa Funnell has a rail and we know Kim is sitting in second place. Julia Krajewski and Chipmunk FRH had just one rail in hand over Kim, so the pressure was on.  I couldn't actually see the ring from where I was standing holding Quinn, but I saw Kim wandering away from Andi and Cross as Julia turned towards the last fence. As the crowd clapped and the announcer came over the loudspeaker everything seemed to slow down.
"Eight jumping and no time penalties for Julia and Chipmunk."
Everything changed as the realization dawned on the Americans that one of our own had just won Blenheim. Kim stopped walking and turned back to look at the warm up arena, and I just started screaming. I could hear Andi screaming behind me, and Janelle was screaming while holding Demi.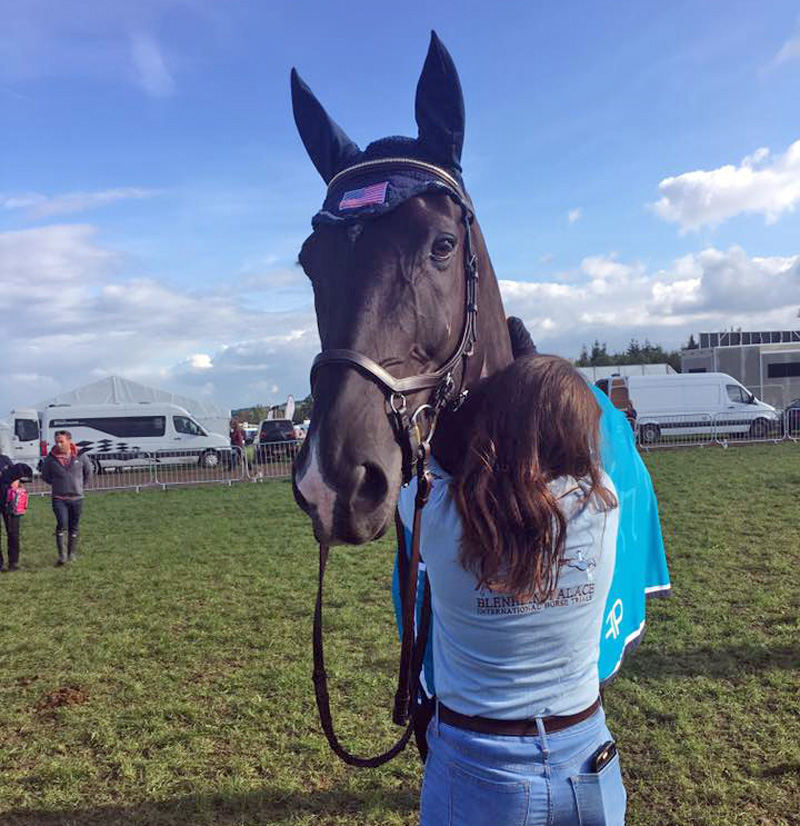 Kim was immediately swarmed with different supporters from our country, hugs and tears were everywhere, and suddenly it didn't really matter that we didn't finish in the top 10 ourselves. Having spent years looking up to Kim as a horseman and a rider it was like watching my childhood sports hero win a Super Bowl in person.
After hugs for Kim and her entire team, hugs for our wonderful owners Debi and Kevin Crowley, and quick goodbyes I made my way back to the barn with Quinn. The need to begin packing hung over us, but all we wanted to do was cheer and celebrate the victories throughout the aisle. Andrea and Indy jumped a super round with just a single pole down to move up into the top 25, a huge accomplishment of the weekend! We got our qualifier for the World Equestrian Games next year and now it is time to form a plan for world domination for next year.
Then there was the joy and overwhelming sense of pride and happiness for Kim, her entire team, the lovely Cross, and the United States.
We did manage to get all packed up and somehow survived a night of celebrations in town. Andi, Andrea, and myself managed to keep it fairly under control, although the entire town of Woodstock may have heard me chanting "U.S.A.!!!" over and over again somewhere around midnight.
We managed to get everything trucked to the lorry and loaded in record time this morning, aided by a slightly stolen golf cart (which we returned!) and some de-assembling of fencing. As of now we have crossed into Belgium and are a little over three hours away from our home for the night.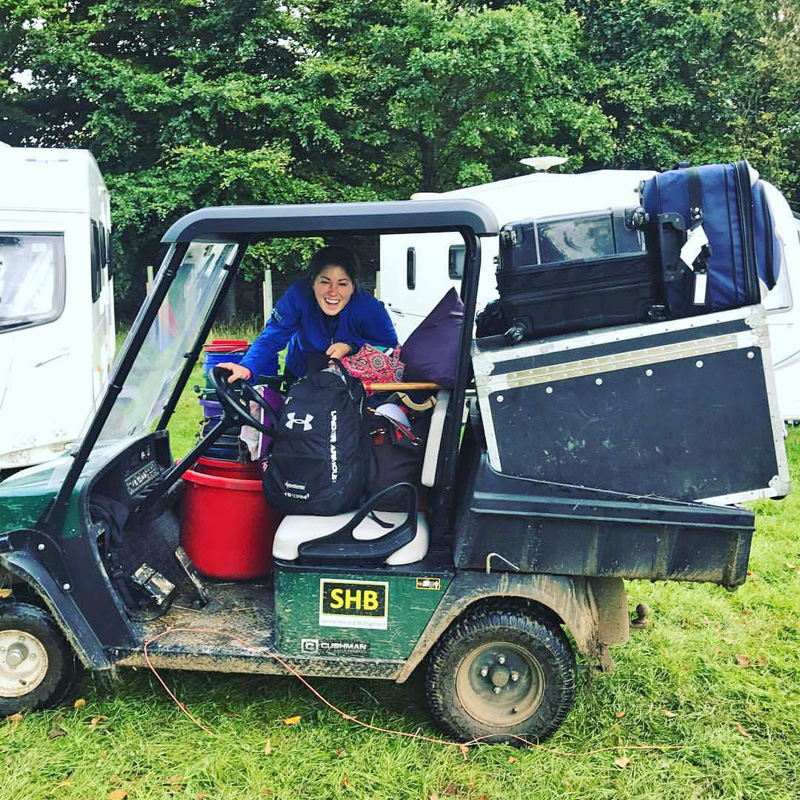 As the gypsy lifestyle continues for us grooms I just have to say thank you to all of our supporters and cheerleaders at home, the sponsors who stand behind our riders, the owners who choose to put these talented horses in our programs, and our riders for sticking it out so we can be a part of these trips. Also thanks to the USEF, those who have provided the grants, and to the vets, farriers, and Joanie Morris for everything and all of the help along the way.
I have *almost* survived my first trip to an international event and I cannot wait for the next one—there is so much from this trip that in unforgettable. Congrats to all of team USA, and now onto Arena Eventing at Central Park this weekend—really no rest for the wicked here.
Thanks everyone for following along! Go Quinn! Go Cross! Go everyone! Go USA!!!
---
Courtney Carson grew up eventing and took her off-the-track Thoroughbred up the ranks to the intermediate level and after graduating from college decided to try grooming as a career. She worked for a grand prix show jumper for a bit before finding her way to Doug and Jessica Payne's farm in North Carolina, where she oversees the show jumpers and event horses in the barn. Read more about Courtney in the COTH Groom Spotlight about her.  And read all of Courtney's COTH blogs.