Compiegne, France—May 22
Team USA were deemed winners of the third leg of the FEI Nations Cup™ Dressage series at CDI5* Compiegne (France) where torrential rain led to the cancellation of the Grand Prix Special.
"To say that I was thrilled with our U.S. riders and horses this week in Compiegne would be an understatement," said Chef d'Equipe Robert Dover. "From Tuny Page's third place in the CDI3* Grand Prix Special, our wonderful Young Riders who showed great potential, as well as grace, when things did not always go their way, to the spectacular win of our Nations Cup Team, I can only state my tremendous pride in them!"
An extraordinarily heavy downpour left the arenas under water for some time, and the Ground Jury made the decision to base the final Nations Cup team result on the Grand Prix alone, in which American riders came out on top by a convincing 11-percent margin.
"Unfortunately, these changes have to be made due to the bad weather circumstances, with the approval of the FEI, the Organizing Committee, the President of the Grand Jury, the Foreign Judge, the President of the Appeal Committee, and the Chefs d'Equipe," the Organizing Committee explained in a press release. Riders were given the option of competing in the freestyle as a separate class.
The American side also won out at the opening leg on home ground in Wellington, Fla., last month, so now hold a significant lead on the FEI Nations Cup™ Dressage leaderboard.
Selection
Compiegne was chosen as the first of three Olympic selection competitions in Europe for American riders, and they really rose to the challenge when dominating the individual rankings in yesterday's Grand Prix in which Kasey Perry-Glass came out on top.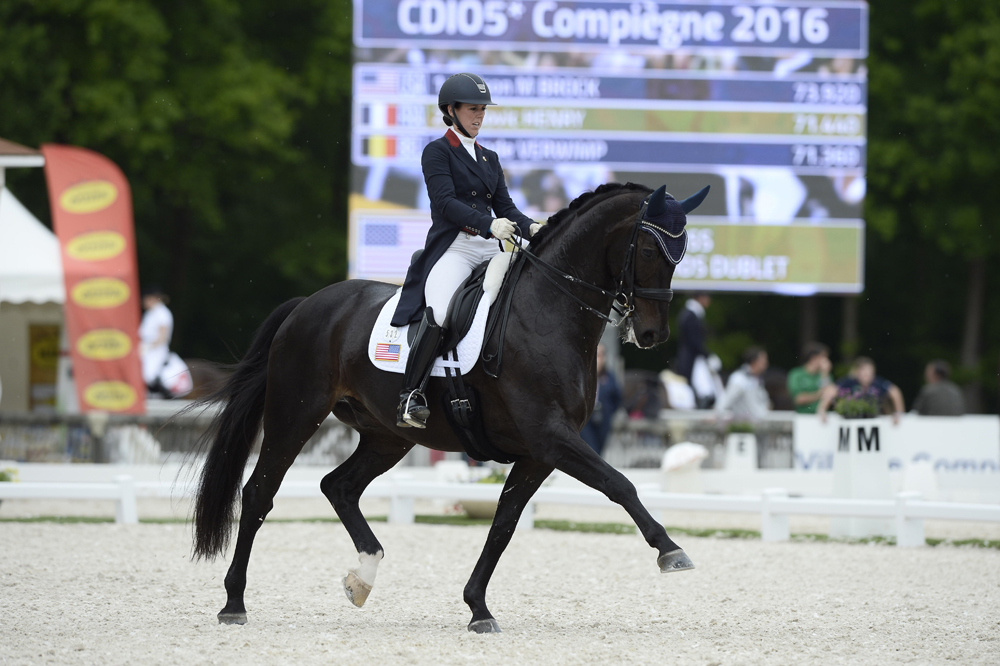 Kasey Perry-Glass on Goerklintgaards Dublet during their winning Grand Prix ride. Photo by Christophe Bricot/FEI
Riding Goerklintgaards Dublet, the 28-year-old rider posted the individual winning score of 77.44 percent to confirm the potential that has been evident through her increasingly impressive performances with the 13-year-old Danish gelding over the winter months.
Having moved up to the Grand Prix level this winter, the pair executed an accurate test that earned 8s and 9s for their one-and-two-tempi changes and final centerline.
Anchoring the U.S. team was Graves and her own Verdades, who produced a score of 75.44 percent. The pair earned high marks for their signature expression in the extended gaits, two-tempi changes, and half-passes, but had an uncharacteristic mistake in the one-tempi changes. Graves placed second behind teammate Perry-Glass.

Laura Graves on Verdades. Photo by Lily Forado
Entering the arena second in the order for the United States, Brock and Claudine and Fritz Kundrun's Rosevelt, performed an expressive and fluid test, scoring 73.92 percent, good for sixth place. Producing a very consistent test, the pair showcased beautiful extension and cadence at the trot and in the half-passes.
The veteran pair of Francis and Patricia Stempel's Doktor were the pathfinders for the U.S. team and set the tone for polished performances from the American contingent. The pair showcased excellent piaffe-passage work to score 71.12 percent, placing them ninth in the Grand Prix.
"The fantastic rides and scores achieved by Kasey, Laura, Allison, and Shelly, out of the eight teams yesterday, clearly showed the strength of our squad, which will be added to as Steffen Peters and Guenter Seidel arrive to our base in Belgium this week," expressed an enthused Dover.
"I am looking forward to our next outings in Roosendaal and Rotterdam. Again thank you to: Hallye Griffin, Dr. Meg Mullin, our riders and horses, Debbie McDonald, Michael Barisone, Arnd Erben, and all the personal trainers, our fantastic grooms, owners, sponsors, and supporters here and around the world! Go Team USA!"
Runner-up spot went to Sweden on a team tally of 215.040, bolstered by a fifth-place individual finish for double-Olympian Patrik Kittel partnering Deja, the horse with whom he won both the Grand Prix and Freestyle at CDI4* Hagen (Germany) last month and at CDI5* Doha (Qatar) in March.
His mark of 74.64 percent was added to the 70.34 percent earned by Mads Hendeliowitz and Jimmie Choo Seq and the 70.05 percent awarded to Emilie Nyrerod and Miata, while Jenny Larsson's 70.02 percent with Zircoon Spring Flower was the discard mark as Team Sweden posted a final scoreline of 215.040.
Charming Test
The host nation's Karen Tebar finished fourth individually after a charming test with Don Luis that put 75.06 percent on the scoreboard. This ensured third place for her French team, as Ludovic Henry (seventh individually) posted 71.44 percent with After You and Pierre Volla (Badinda Altena) posted 67.16 percent to leave Stephanie Brieussel's 66.06 percent with Amorak as the team discard.
Just 1.38 percentage points separated the French, whose final tally was 213.660, from the Swedes, while Germany lined up fourth ahead of Belgium in fifth, Great Britain in sixth, Netherlands in seventh and Switzerland in eighth and last place.
The three-member Dutch side included multiple champions Adelinde Cornelissen and Jerich Parzival who remain consistently competitive. Ground Jury members, Jean-Michel Roudier, Gary Rockwell, Maribel Alonso de Quinzanos, Peter Holler and Susanne Baarup put this pair into third place individually (75.40%).
FEI Nations Cup™ Dressage now moves on to Rotterdam (the Netherlands) next month, but with the announcement last Friday of the cancellation of CDIO3*/CDI2* Hickstead (Great Britain) at the end of July, the series has been reduced to six legs. Dane Rawlins, Dressage at Hickstead Director and founder, announced the decision to cancel "due to a lack of funding to make the fixture viable." In a press release he explained that "Hickstead has been working with British Dressage to explore ways to secure additional sources of revenue for the show but, despite best endeavors by all, the fixture will not run at the West Sussex venue this year; I want to stress that it's only a year off and the intention is that the international will return in 2017."
Falsterbo in Sweden will host the fifth leg of series from 7 to 10 July, and following the cancellation of Hickstead, the last leg will now take place at Aachen (Germany) on July 13-17.
USEF Dressage Young Rider European Tour
The trio of USEF Dressage Young Rider European Tour participants gained valuable experience in their European debuts at Compiegne, competing in the CDI-Y.
Lauren Asher and her own De Noir 3 were the highest placing Americans in both the Team and Individual Tests. In Friday's Team Test, the pair scored 67.06 percent, placing 19th.
Asher went one better in the Individual Test, placing 18th (66.22%) in a test that earned high marks for the medium and collected trot and extended walk. Moving forward to the freestyle on Sunday, Asher rode with remarkable poise under less than ideal weather conditions. The judges were impressed with the choreography and degree of difficulty, awarding the pair a score of 71.95 percent and placing it fourth in the class.
Barbara "Bebe" Davis and Michael Davis' Feivel Mousekewitz scored 63.81 percent in the Team Test, placing 24th, and earned 65.61 percent for 23rd place in the Individual Test.
Rounding out the U.S. representatives, Kerrigan Gluch and Hampton Green Farm's Vaquero HGF placed 27th in the Team Test with a score of 65.00 percent, and placed 31st with a 60.26 percent in the Individual Test.
FEI Nations Cup Result:
1. USA 226.800: Verdades (Laura Graves) 75.440, Doktor Shelly Francis) 71.120, Roosevelt (Allison Brock) 73.920, Goerklintgaards Dublet (Kasey Perry-Glass) 77.440.
2. Sweden 215.040: Miata (Emilie Nyrerod) 70.060, Zircon Spring Flower (Jennie Larsson) 70.020, Deja (Patrik Kittel) 74.640, Jimmie Choo SEQ (Mads Hendeliowitz) 70.340.
3. France 213.660: Amorak (Stephanie Brieussel) 66.060, After You (Ludovic Henry) 71.440, Don Luis (Karen Tebar) 75.060, Badina Altena (Pierre Volla) 67.160.
4. Germany 208.500: Loverly 26 (Jenny Lang-Nobbe) 70.400, Spirit of the Age OLD (Bernadette Brune) 69.360, Cristobal 14 (Annabel Frenzen) 65.600; Daintree 3 (Kathleen Keller) 68.740.
5. Belgium 208.120: Eres DL (Jeroen Devroe) 69.280, Tiamo (Jorinde Verwimp) 71.360, Wilco V (Mario Van Orshaegen) 66.940.
6. Great Britain 207.520: Rubins Nite (Hayley Watson-Greaves) 68.780, Rosalie B (Laura Tomlinson) 69.500; Die Callas (Anna Louise Ross) 68.220, Rubin Al Asad (Lara Griffith) 69.240.
7. Netherlands 206.980: Theodoor (Kim Schmid) 63.320, Catch Me (Margo Timmermans) 68.260, Jerich Parzival (Adelinde Cornelissen) 75.400.
8. Switzerland 206.380: Rigoletto Royal CH (Caroline Hacki) 69.760, Dandy de la Roche CMF C (Antonella Joannou) 69.280 For Compliment (Birgit Wientzek Plage) 67.340.