Albert Zoer and the Germans can't be beaten, but the U.S. contingent looks ready for Hong Kong.
For a moment, it looked as if McLain Ward had the $554,225 Rolex Grand Prix of Aachen won.
Going fourth in an eight-horse jump-off, Ward lit Sapphire on fire as they galloped around, causing breath-
holding gasps from the crowd. But a collective cheer turned into a moan when the last rail fell in seemingly slow motion.
Ward had the fastest time by more than a second, but the 4 faults put him sixth. Dutchman Albert Zoer won the class aboard Sam, while Ward's U.S. teammate Beezie Madden claimed fourth with Authentic in the final event of the Aachen CSIO, July 3-6 in Aachen, Germany.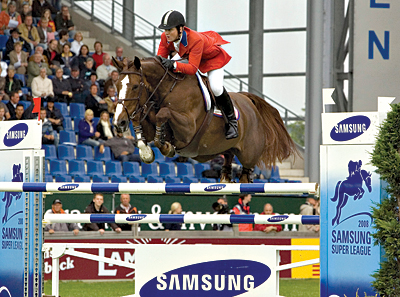 Madden can sympathize with Ward—a rail at the final jump meant the difference between individual gold and silver for her at the 2006 World Equestrian Games at Aachen. "That Rolex fence has cost the Americans a lot," Ward quipped.
"Sapphire was great. She jumped super, but we just needed a little luck at the last. It was a really incredible day of show jumping because eight in the jump-off at Aachen is a lot, and it wasn't that the courses were small. I just think so many people were picking their Olympic team there that people were really on form and really pressing hard. I think it was one of the most incredible days of show jumping I've ever seen.
"I went in the middle of the jump-off and had [Meredith Michaels-Beerbaum's] Shutterfly and Authentic behind me, plus Albert Zoer who's tough to beat on any horse. I thought the jump-off suited Sapphire because it was a big, galloping jump-off across the field. It was one of those rounds where everything came together and felt great. The last jump came up fine, but she just had the lightest rub on it behind. It certainly wasn't a clunk. In hindsight, if I were to do it again, I would do it the same. That's our sport sometimes. That would have been a nice one to win, but we'll get it one day."
But it was Zoer's day as he and Sam went last in the jump-off and nipped around the course clear and fractions faster than Ludger Beerbaum aboard his upcoming Olympic Games mount, All Inclusive NRW.
Zoer could have been crowned king of Aachen, as he had turned in the only double-clear performance in the Samsung Super League Nations Cup two days earlier on his top mount, Oki Doki. He chose his second horse, Sam, for the grand prix. Sam, a 9-year-old gelding, was on a hot streak after winning the Longines Grand Prix of Rotterdam on June 22.
"My horse was feeling really great in all three rounds, so I could take a risk," Zoer said. "There were not many long lines in the jump-off, which is good for me—my horse has really long strides, so in the last two turns to the double and vertical I could really go for it."
Beerbaum has chosen All Inclusive NRW as his ride for the Olympic Games despite his relative inexperience.
"All Inclusive is 9 years old—I'm very pleased with his performance," Beerbaum said. "I lost time at the turn
to the second-to-last fence, and I didn't really go forward to the double. Albert really rode forward, and he rode it better and that's why he won. But I'm really pleased. I had the world's best pairs to go behind me—Beezie, McLain, Albert; one more pull and I could have been fifth or 20th. I'm very pleased."
Madden, who was looking to repeat her thrilling 2007 victory in the Grand Prix of Aachen, settled for fourth after she stopped the timers just .01 seconds faster than Michaels-Beerbaum on Shutterfly.
Making A Good Start
The Mercedes Benz Samsung Super League Nations Cup on July 3 at Aachen shaped up to be a tremendous showdown between nations as the United States and European riders sought to prove themselves for Olympic Games team contention as well as Aachen prizes.
The class confirmed the German team as hot favorites for the team gold at the Olympic Games in Hong Kong, as they won handily. Michaels-Beerbaum, the anchor rider, didn't even have to jump Round 2 because Germany was so far ahead of the field.
But the battle for the rest of the ribbons was heated.
Frank Rothenberger built a big, but fairly straightforward, course. The challenge for most riders was the tight time allowed. There were faults spread evenly over the course, however, some riders had problems at the water, the triple combination at fence 4 with its very forward one-stride distance between the first two elements, then a steadier two-stride distance between the two oxers, and lastly, at the triple-bar-vertical double at 10, with a short one-stride distance.
The U.S. team drew first in the order, so Ward was the first man on the field.
He turned in a cool clear with Sapphire, showing it could be done. Anne Kursinski and Champ also cleared the jumps but were nearly a second slow, picking up 1 time fault.
Aachen Tidbits
• Although he seemingly couldn't put a foot wrong at Aachen, Albert Zoer met disaster two days later. On July 8, he fell while schooling a young horse and broke his leg. He underwent surgery, and his Olympic Games participation is in question.
• Beezie Madden didn't just win money at Aachen—she won a horse! Madden and Abigail Wexner's Danny Boy (Clinton—Alexis Z) dominated the Sparkassen Youngsters Cup, placing first and eighth in two classes then topping the final by more than 3 seconds over second-placed Holger Wulschner with FPG Little Liberty. As the best horse/rider combination over the three classes, Madden won a cute little future contender, the colt Cornetto, who is a Clinton grandson.
Laura Kraut and Cedric pulled the first element of the triple at 4 as their only fault but also picked up a time fault ending up with 5 overall. That was the drop score after Authentic stepped in the water but finished under time for 4 with Madden.
The United States was second after Round 1 with 5 faults; Germany led with 2 after Beerbaum and Michaels-Beerbaum collected 1 time fault each and Christian Ahlmann jumped clear on Cöster.
Things started falling apart for Switzerland and Belgium when Swiss lead-off rider Pius Schwizer was eliminated and Belgian rider Dirk Demeersman retired, leaving every other team member from both countries under pressure of points that couldn't be dropped, and pick them up they did.
The second round continued the bad luck for Switzerland and Belgium when Schwizer added 16 points, Beat Mändli didn't return, and Demeersman retired for a second time. Jos Lansink was also a no-show for Belgium, and the team withdrew from the competition.
Not As Good As They Will Be
The United States had more problems the second time around as well when Ward and Sapphire put a foot in the water, then pulled a rail at the triple bar at fence 10. "I rode the water quite badly. In the second round, Sapphire jumped maybe better than she did in the first, but I made a very bad ride to the water jump," Ward said.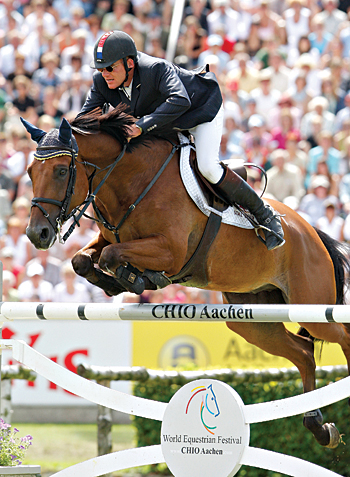 His 8 faults ended up counting when Kursinski and Champ also had 8 faults and added 1 for time, becoming the drop score. One of Kursinski's faults was also at the water, and Kraut and Cedric got their feet wet too and then dropped the plank from the oxer at 9 for another 8 faults.
Madden and Authentic were the only pair to go clear in the second round, leaving the United States tied for third with Great Britain.
"I think that we were not even at 100 percent potential," Ward said. "The first round was great. It was a solid performance, but I would say it was 70 to 75 percent of what our team is capable of at their best. We knew we could do better. But maybe that's not the worst mindset going into Hong Kong."
Madden, Ward and Kraut will be joined in Hong Kong by Will Simpson on Carlsson vom Dach, and Kursinski with Champ will be the reserves.
Zoer's double-clear performance on Oki Doki buoyed the Dutch team to second behind Germany. His teammate, Gerco Schröder, turned in the drop score in both rounds as Eurocommerce Berlin lost both front shoes early in the first round and struggled for his grip, picking up 9 faults. They came back in the second round with only one down and a time fault.
Germany held onto first position thanks to their low first round score and Beerbaum's second round of only 2 time faults. Michaels-Beerbaum said she thought she might not have to ride when she heard loud cheering and guessed Beerbaum had gone clear, but she kept warming up until she saw the team running out yelling, "We won!"
Erin Cowgill