The U.S. team came to these Pan American Games with a mission in two parts. The first was scoring an Olympic qualifying spot for the 2016 Rio Olympic Games, but the way there was a team gold. The four riders—Steffen Peters, Kimberly Herslow, Laura Graves and Sabine Schut-Kery—completed that mission today by winning the team competition on a combined score of 460.50. Canada took silver with 454.93 points, and Brazil earned bronze (414.89).
"I would say I'm feeling equally pleased [about the medal and the qualification]," said U.S. Dressage Chef d'Equipe Robert Dover. "The team came and had personal bests. We showed that not only are our small tour horses wonderful, but our big tour riders and horses who are ranked seventh and eighth in the world showed why they're ranked that. What could be better than to bring a team and have them have personal bests at a very important moment?"
One of those clutch performances was done by Graves on her Verdades, as she rode to her best ever Grand Prix Special score, a 77.17 percent. Herslow and Rosmarin also earned their own personal best in the Intermediaire I (77.15%).
"He was really on," said Graves. "It's really hot, and this test has all those trot extensions, which can be really brilliant, but when the horses do it right, it takes a lot out of them. There's no real break in the test. I was thankful that during the extended walk, he took a big, deep breath, and I thought, 'This is good, because you're gonna need it!' For as hot as it is, he was really on again today. He just loves Toronto."
The performances of those two riders, combined with the 73.55 percent earned by Schut-Kery on Sanceo, meant that the U.S. had secured gold before Peters and Legolas 92 even went down centerline. Peters admitted he didn't have the test he wanted with Legolas 92, earning a 72.66 percent.
"It felt like in the second piaffe, when he stopped a little bit, the entire test he felt like he had to go to the bathroom," he said. "He went before, but he felt very tight. He did some wonderful things, like in the passage in between, but way too many mistakes, and thank God for my teammates who put up a nice lead before I started."
Though the day ended as the U.S. team hoped, Canada was left without their own qualifying slot.
"Thank God for my teammates who did a fantastic job and brought the score along," said Peters. "I was worried yesterday when the Canadians did such an extraordinary job. I sat down and said to myself, 'What if we can't go to the Olympics?' I felt bad for a moment, and then I thought, 'My gosh, that's the situation the Canadian riders are in now.' I'm just hoping in the future that the FEI changes the rules, and that two teams from the Americas get to go to the Olympics. The rules need to change, and I'm hoping we see Canada at the Olympics in 2020."
But despite the lack of qualification slot, the Canadian squad (Brittany Fraser on All In, Christopher Von Martels on Zilverstar, Megan Lane on Caravella and Belinda Trussell on Anton) were still riding high off some of their own personal bests earned these last two days.
"In my very long life being in international dressage sport, this was for me the real highlight," said a visibly emotional Canadian coach Volker Moritz. "I'm very grateful to my riders for all eight performances; they had all clear, personal bests by far. They rode fantastic, and that made me so happy and so proud."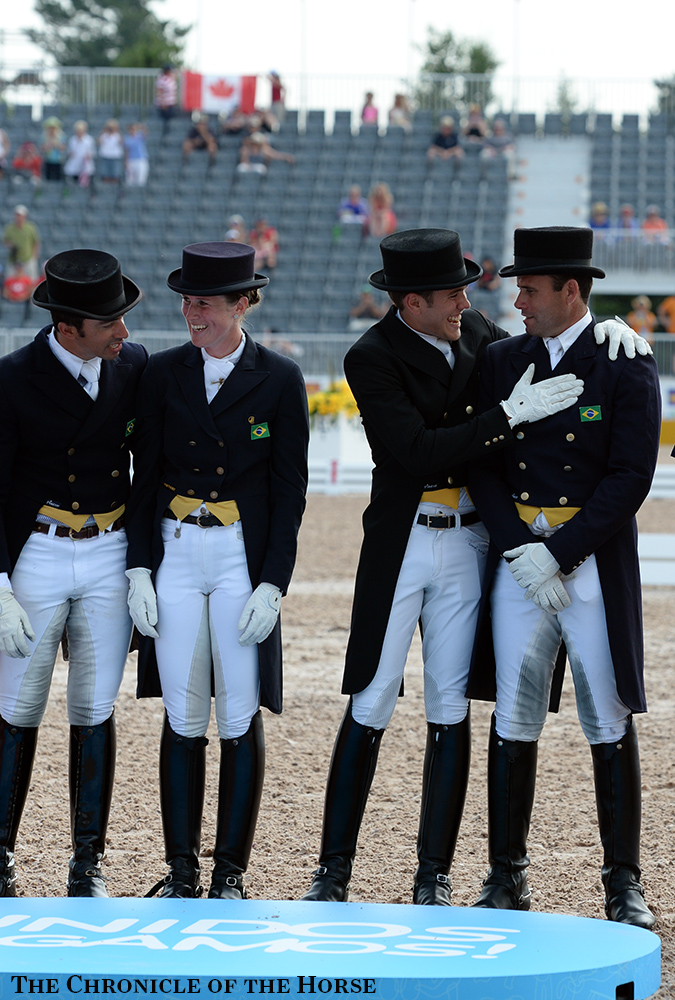 (The happy team from Brazil. Photo by Lisa Slade.)
Of all three teams, Brazil was the most visibly excited on the podium, with Sarah Elizabeth Waddell, who rode Donelly 3, doing a little dance before jumping up. The four riders (Waddell, Leandro Aparecido da Silva on Di Caprio, Joao Victor Marcari Oliva on Xama Dos Pinhais and Joao Paulo dos Santos on Veleiro Do Top) had to fight for their own medal over Mexico, who finished a close fourth with 412.46, and they didn't have the benefit of a big tour score coefficient.
"We didn't have the stress here to have a place on the podium to get an Olympics place, since we're hosting the next games, but Brazil is not the biggest nation in dressage," said Waddell. "Coming here and being with these riders—who are seventh and eighth in the world—to us, that's a big deal. We had a long journey to get here, both from the qualifications and the trip and everything and still succeeded."
Horses and riders enjoy an off day tomorrow, and then the top 50 percent from the large tour and small tour will go to the freestyle on Tuesday.
See the individual and team scores, look at pictures from the day, or catch up on our play-by-play of today's rides.