Calgary, Alberta, Canada—Sept. 11
"She's actually never won a grand prix before. But I guess she picked a good one for her first!" Scott Brash joked.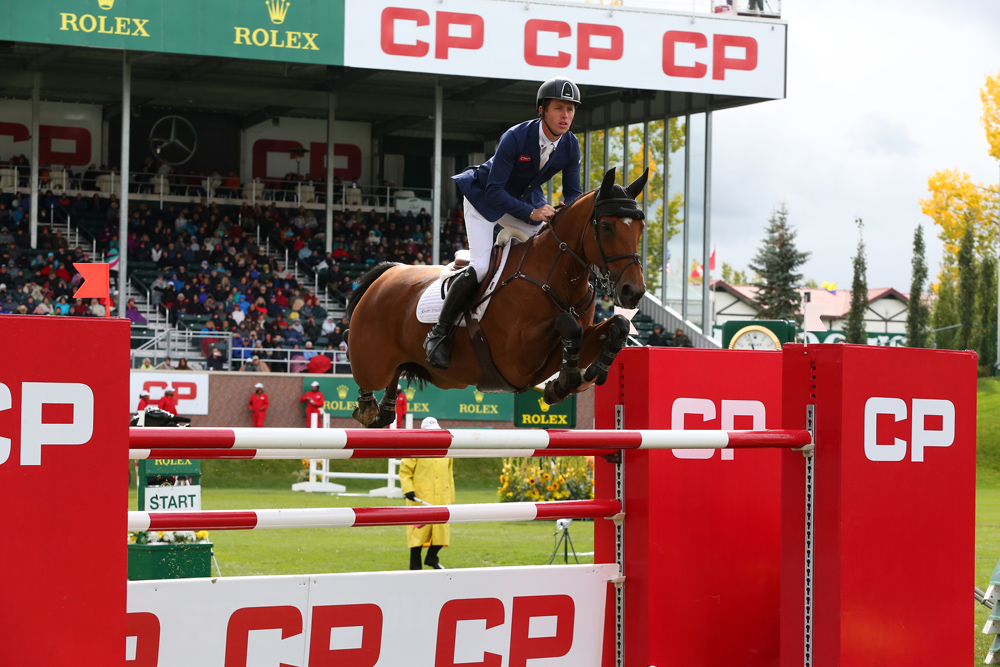 Ursula XII and Scott Brash on their way to a $1 million pay-out in the $3 Million CP International. Photo by Bob Langrish
Ursula XII, a 15-year-old warmblood mare, chose exactly the right moment to earn her first grand prix blue as Brash picked up a check for $1 million for winning the $3 Million CP International Grand Prix, presented by Rolex, as the finale of the Spruce Meadows Masters. The class originally had $2 million of prize money, but an increase made by CP (Canadian Pacific Railway) just before the start of the class boosted the total prize to $3 million.
"I'm actually so happy for Ursula because it's been a long road with her. She's always been an unbelievable horse but has probably never had the recognition she deserves," Brash said. "She's been second so many times—to win the biggest grand prix in the world, I'm absolutely over the moon for the horse, especially."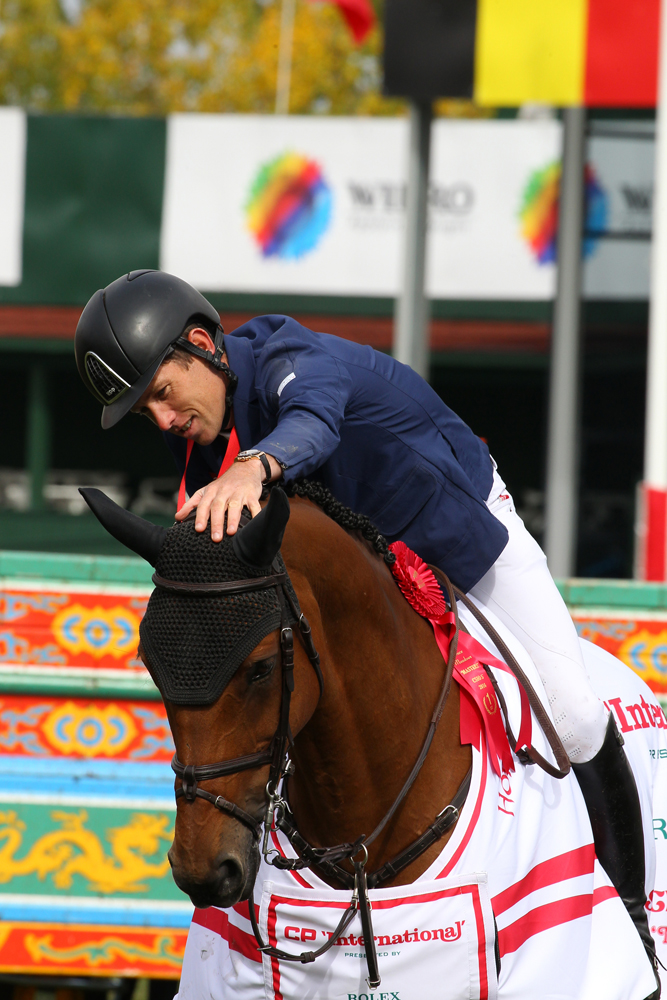 Scott Brash shared a quiet moment with Ursula XII during the awards ceremony. Photo by Bob Langrish
The British Brash's second consecutive win in the class (he topped it last year on Hello Sanctos) came in a head-to-head duel of spectacularly talented mares as he and Ursula joined McLain Ward of the USA on his superstar mare HH Azur. Both mares hadn't put a foot wrong over two extremely tough rounds of jumping on the grass in the rain at Spruce to come back and jump off.
Brash went first and laid down the gauntlet. "I knew McLain and Azur were behind me, so obviously I had to try and keep the poles up, but I knew I had to do more than that to beat him. So, I took a few chances but she jumped amazing," he said. He stopped the timers with a clean round in 41.19 seconds.
Watch Brash's jump-off round…
Ward's hopes of million-dollar glory came to an end with a rail dropping early in his jump-off round, however. His second-place finish still earned Azur's owners a whopping $600,000, though.
"To be second to anybody, to be second to Scott is a good choice. He's brilliant and he's been the most on-form rider over the last several years," Ward said.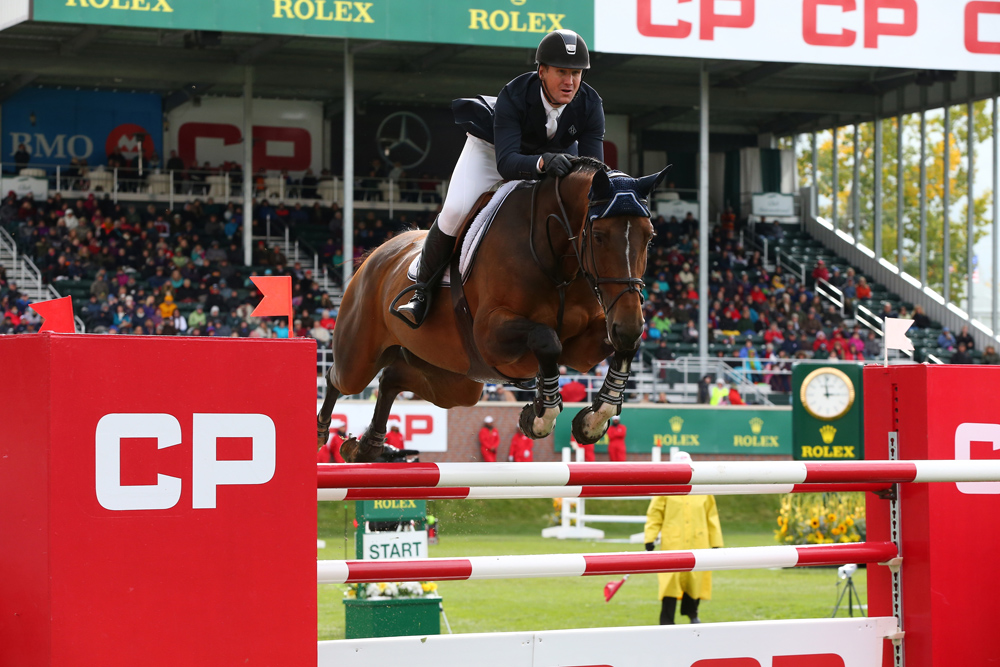 McLain Ward and HH Azur. Photo by Bob Langrish
"I'm not disappointed. The horse was spectacular. It was the only fence she touched all day. I thought she jumped in great form. She's still a bit of a young horse and still learning about going against the clock. To jump three rounds, that gets better with maturity. I do think, as amazing as she is, the future is even brighter for her."
Lorenzo de Luca of Italy emerged as the third-place finisher as he jumped clean in Round 1 then picked up 1 time fault in Round 2 aboard Ensor de Litrange LXII. The only other U.S. rider in the 12-horse second round was Kent Farrington, who claimed fourth with Voyeur as the fastest four-faulter after a rail fell in Round 2 for them.
For show jumping fans, Ursula might have been a bit in the shadows of Hello Sanctos, the horse Brash rode to win the Rolex Grand Slam of Show Jumping in spectacular fashion at Spruce Meadows last year and the team gold medal at the 2012 London Olympic Games. But Brash has always had faith in the mare.
The British-bred bay started jumping the 1.60-meter level with British rider Tina Fletcher in 2012. Brash took over the ride in October of that year and had some top ribbons with her at the end of 2013 and early 2014, including second place in the World Cup qualifiers at Verona (Italy) in November 2013 and at the Winter Equestrian Festival (Fla.) in February 2014. In April of 2014, Ursula achieved the top spot on the World Breeding Federation for Sport Horses world rankings, without having even won a grand prix yet
But then Ursula suffered an injury, and Brash and his partner and groom Hana Coleman spent all of 2015 bringing her back carefully. She didn't show between the end of 2014 and January of 2016. Brash got her back going at the 1.35-meter level on the Sunshine Tour in Valencia, Spain, this winter. The mare returned to the 1.60-meter level in June.
Scott Brash and Ursula XII. Photo by Bob Langrish
Ursula showed she's definitely back on form by claiming second place in the Rolex Grand Prix of Aachen (Germany) in July. (Interesting note—if she'd won there, Brash would be 2/3 of the way to his second consecutive Rolex Grand Slam.)
But winning at Spruce was no easy feat for Ursula. There was lots of buzz about the massive size of the fences course designer Leopoldo Palacios built for the first round of the CP International at Spruce. In total, 13 horse/rider combinations of the 27 starters didn't complete the Round 1 track. There were four clear rounds over the first course, and eight four-faults rounds.
In particular, the triple combination that Palacios built, which incorporated the double of permanent liverpools set by the in-gate as the B and C elements, caused a number of problems. Hometown Canadian favorite Tiffany Foster's day ended there with refusals on Tripple X, as did German rider Christian Ahlmann's with Epleaser van T Heike. In total, 12 horses stopped at the triple combination.
"I had no idea so many people would have problems in that combination; that was not what I expected," said Palacios. "I was expecting that they would jump it well. When the riders were walking the course, nobody came to me and said, 'This is too hard.'
"I use this combination every year, in different ways. I have used this exact combination before without any problem, many years ago. I don't know what happened today; I don't know if it was the rain or the shadows or what. I didn't do it to have the problems that happened. I don't have a good explanation. I want to be clear that I am not happy with what happened. But in the end, I think I had a good grand prix," Palacios continued.
Brash spoke up in defense of Palacios. "When we come to Spruce Meadows, we know what we're in for. It's the richest grand prix in the world and it should be hard; it should be difficult," he said.
"We know that that double of liverpools is going to be in there. So, yes, you do still need a special horse to be able to jump that combination. And maybe that's what happened today. Maybe the conditions didn't help. At the end of the day, it's all very hard but it's expected to be hard. It's like at Aachen this year; the course builder got criticized at Aachen because there were no clear rounds in the first round, but actually, I think it was the riders' fault for not jumping clean in that round. These kinds of grand prixs, they are the hardest grand prixs in the world and they should be difficult, in my opinion," Brash said.
Ward agreed. "Nobody wants to see some spills like we saw in the triple. But also, we're having too many classes with 12, 14, 16 clear and 10 double-clear in the Nations Cups," said Ward.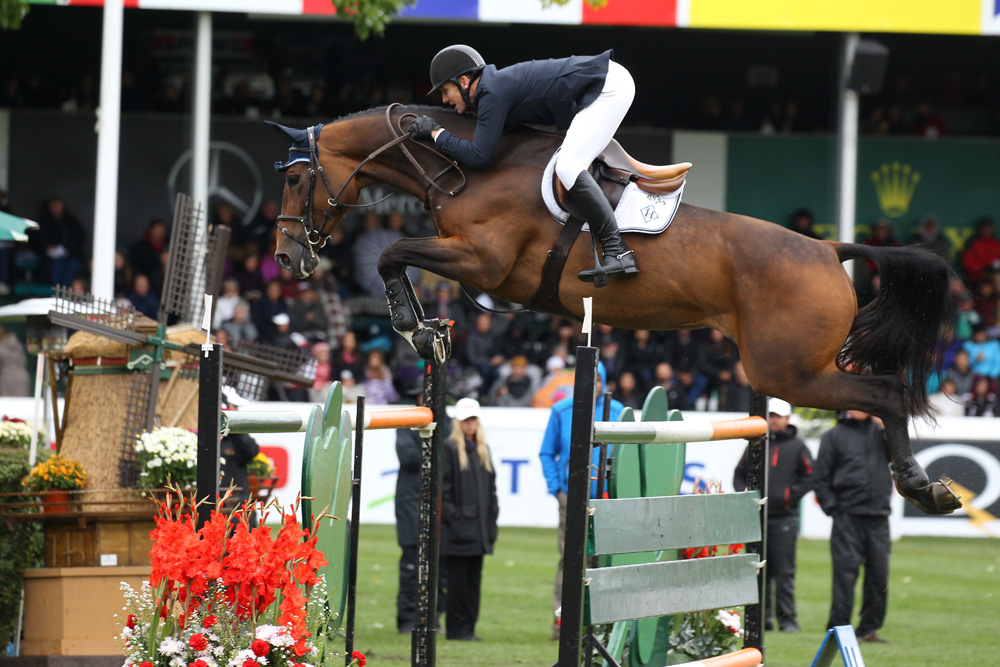 HH Azur puts in a big effort for McLain Ward. Photo by Bob Langrish
"Can you imagine being the three people in the Olympic jump-off who didn't get a medal? That's a lot of jumping. You always want to put horsemanship first, but there has to be enough of a challenge so that there is still a challenge. You can rise to the occasion and your horse can show brilliance. That's always a fine line, and once in a while you might have a situation like that triple, where maybe it crosses the line or maybe it had something to do with the weather. But I think we're having too many competitions when it's a given that 15 or 16 are clear and then the second round is the real competition. That's not this level of sport, in my opinion," Ward continued.
Palacios held firm to his decision to build big on a rainy day in Spruce Meadows. "I think the horses today don't jump such big fences today. This is a problem of the sport. The sport is very far from the root of the sport. I think it is very important to maintain the roots of the sport. In Spruce Meadows, we try to maintain the roots of the sport," he said.
See full results from the $3 Million CP International Grand Prix.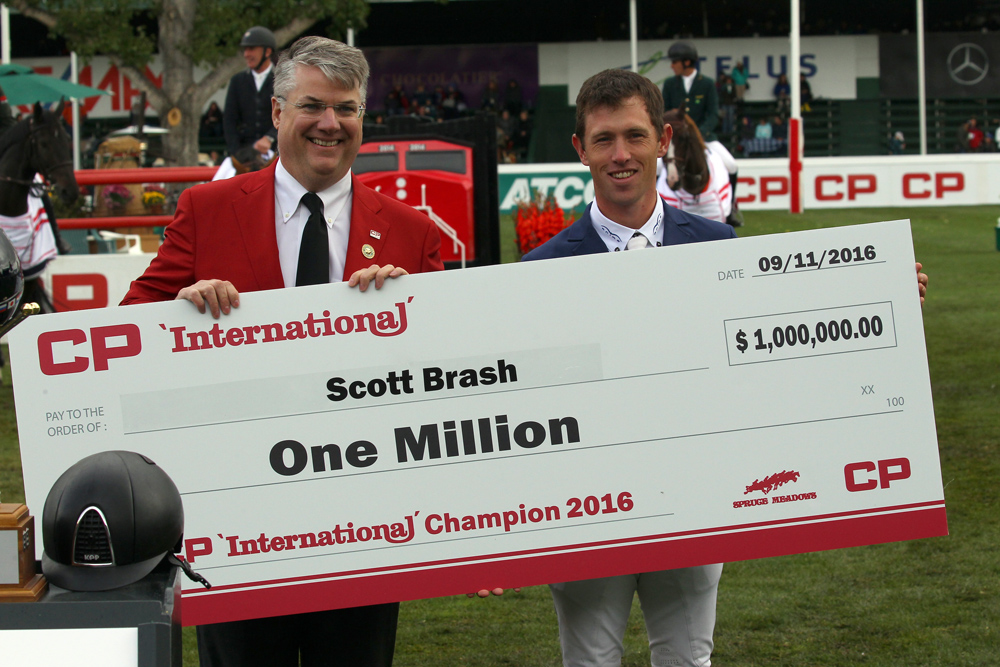 Scott Brash and his million-dollar check. Photo by Bob Langrish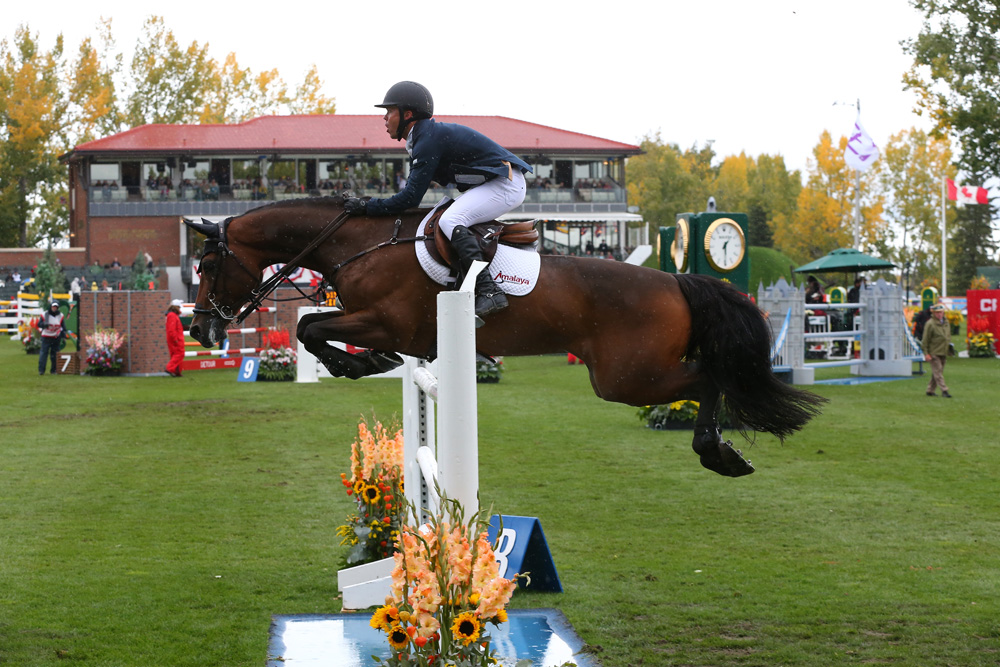 Kent Farrington and Voyeur jumped to fourth place in the $3 Million CP International. Photo by Bob Langrish