*Updated as of Dec. 5 with an additional venue (see bottom)
Currently only six CCI**** competitions take place annually throughout the world, but if one of five event venues has their way, the Fédération Equestre Internationale will soon add a seventh on U.S. soil.
The Rolex Kentucky CCI**** was the first four-star outside of Europe and has occurred every April since 1998 in Lexington. Now four venues have confirmed they are placing bids with the U.S. Equestrian Federation to host a fall four-star: the Tryon International Equestrian Center in Mill Spring, N.C.; the Fair Hill Natural Resources Management Area, a state-owned park in Elkton, Md.; Great Meadow in The Plains, Va., and the privately owned Ocala Jockey Club in Reddick, Fla.
U.S. Equestrian Federation representatives haven't confirmed the total number of bid applications they've received.
"We have received interest from a number of organizers, which is very exciting for the future of eventing in the United States, and we are currently evaluating their bids," said USEF Director of Sport Will Connell. "In the interest of protecting the privacy of those that have submitted bids, we will not be announcing the sites or details surrounding the bids at this time."
The Tryon International Equestrian Center was recently announced as the site of the 2018 FEI World Equestrian Games. To date it's held two eventing competitions, both in 2016: the Nutrena/USEA American Eventing Championships on Aug. 31- Sept. 4 and the U.S. Pony Clubs Championships East, July 27-31. Tryon will also host The Fork International CIC*** in 2017.
However, TIEC has been running FEI show jumping competitions for the past two years and added FEI dressage as well in 2016. Mark Bellissimo, the managing partner of the Tryon Equestrian Partners, presides over an organization that operates more FEI competitions than any other organizer in the world with 38 weeks of CDI and CSI events across four venues (Wellington, Fla., Tryon, Colorado, and Central Park in New York City).
"It's our strength as an organizer that we organize so many events. We do over 38 FEI events already," said Michael Stone, the chief operating officer at TIEC. "We have the Fork; we ran the AECs with almost 700 horses, which was a huge success; we ran the Pony Club [championships], which was a huge success; so you combine that with all these things we have been running in our other disciplines, and that's an advantage."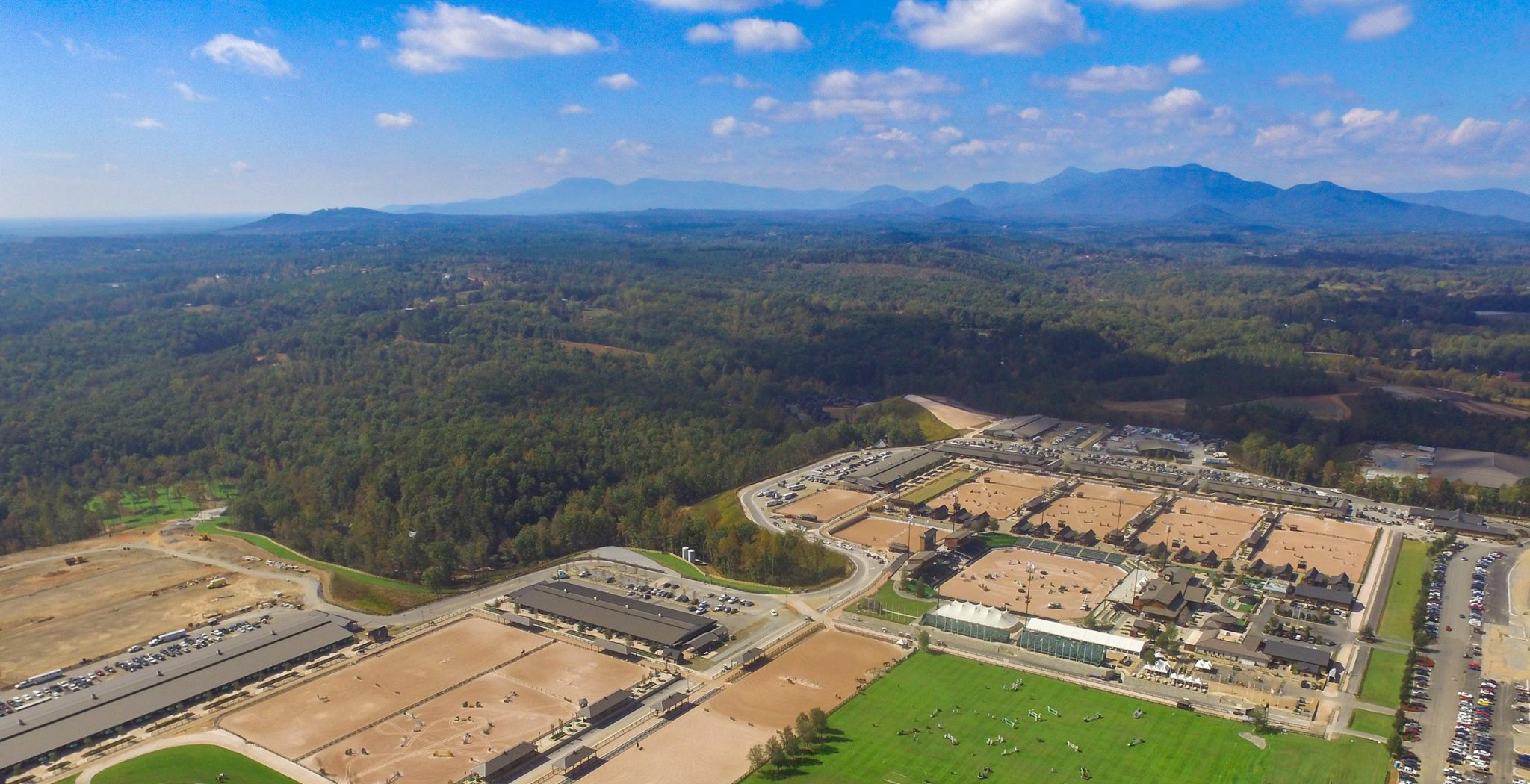 The Tryon International Equestrian Center will host the 2018 FEI World Equestrian Games, and they are also bidding to hold the second North American four-star. Photo courtesy of TIEC.
Stone is also the president of Equestrian Sports Productions, the management company that oversees the Winter Equestrian Festival and the Adequan Global Dressage Festival in Wellington, Fla.
The TIEC boasts 1,400 acres, and the cross-country course was built on what was originally intended to be a golf course.
"The footing is amazing," Stone said. "Being an old golf course, the turf and the footing conditions are as good as anywhere in the world. Probably better. The whole site is laid out with fiber, and we have access roads all throughout the cross-country course, which again is unusual. We're lucky because it was a golf course; we have the golf cart paths everywhere. It's great for spectators to be able to walk, and emergency access vehicles can get all around the course. We also have space for thousands of cars to park.
"If you wanted to pick a location out of the blue to run any major event, ours would probably be the best," Stone continued.
Stone said it's logical that the four-star would land in Tryon, since the TIEC venue is already hosting the World Equestrian Games in 2018, which will feature a three-star level cross-country course.
"If we've already built an Olympic level course, why would they then have it somewhere else?" asked Stone. "It wouldn't really make a lot of sense. Those courses are very expensive to put together, and we're lucky to have the resources to be able to do it because of the WEG, to build a really top level course here."
The management at Great Meadow has hosted eventing competitions for the past three years: in 2014 they ran a World Games preparatory event, and in 2015 they started hosting a CIC***, which served as preparation for the 2015 Pan American Games (Canada). In 2016, the facility hosted the Land Rover Great Meadow CICO***, the first FEI Nations Cup eventing competition held outside Europe. The 374-acre facility has also hosted FEI events in the past in addition to running major steeplechase events every year such as the Virginia Gold Cup and the International Gold Cup, plus polo and show jumping competitions.
"We think we're ideal for [the four-star] because of a couple of things," said Rob Banner, president of the Great Meadow Foundation. "One, we are so well-situated in the center of equestrianism. We're also very near the Washington, D.C. metropolitan market. We have enormous experience bringing large crowds to equestrian venues. We're already running a Nations Cup and could possibly combine the Nations Cup with the four-star event for a big competition, possibly even a grand prix at that level. We've shown a certain amount of attraction with sponsors, and we're hopeful that the signs look good for an equine quarantine center at [the Washington Dulles International Airport].
"We're also a 501c3," Banner continued. "The property will never be sold or used for anything other than this. So many sites are for profit, and we've lost so many competition sites to the fact that business gets it the way—an owner dies, and the heirs want to sell, or the business doesn't make sense anymore. But Great Meadow will always be Great Meadow. Our bylaws prohibit it from ever being sold. The land is in easements and nature conservancy easements, so it will never be developed for anything other than competing nice horses and enjoying the great outdoors."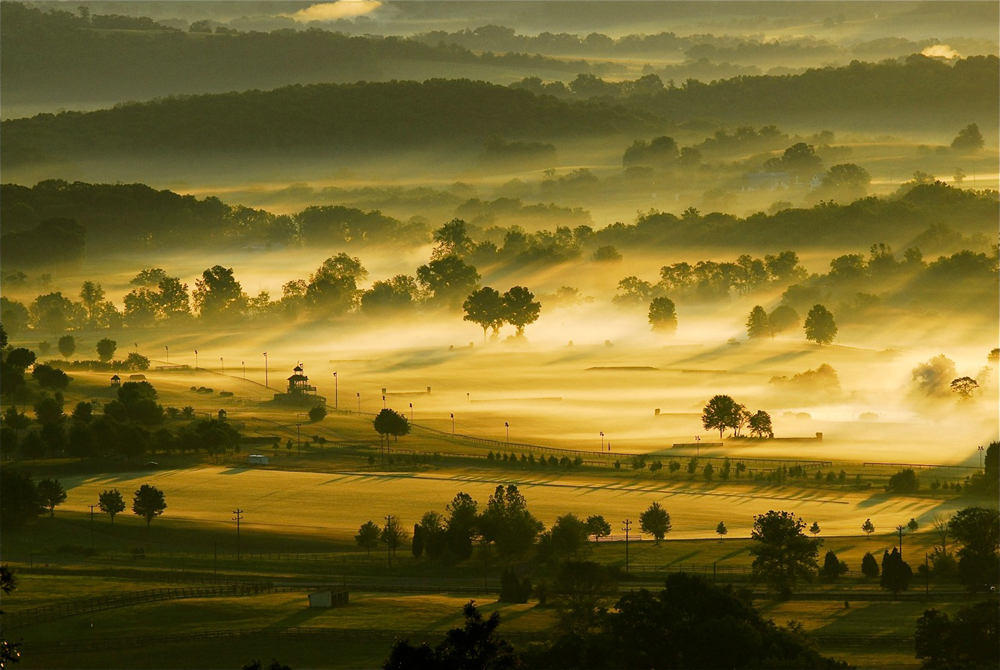 Great Meadow hosted the United States' first FEI Nations Cup in eventing last summer and hopes to be the site of the next four-star. Photo by Rob Banner.
Fair Hill has been home to a three-star eventing competition since 1989, hosting the Dutta Corp. Fair Hill International CCI***, which is the USEF Three-Star Eventing National Championship. The 5,656-acre natural resources management area also hosts horse trials, endurance and driving competitions.
In a press release, Carla Geiersbach, executive director of Fair Hill International, said, "We are excited by the possibility of hosting a [CCI****] event. With only six events in the whole world, it would be quite an honor to be selected. The coalition of groups working together on this project is truly amazing. We created a fantastic proposal."
In the same release, Maryland Secretary of Natural Resources Mark Belton said, "Regardless of the outcome of the [CCI****] proposal, there remains tremendous interest and support to upgrade Fair Hill's infrastructure for a variety of recreational uses. A community-led foundation is now being developed to begin identifying potential funding for critical enhancements and improvements at the racetrack and fairgrounds."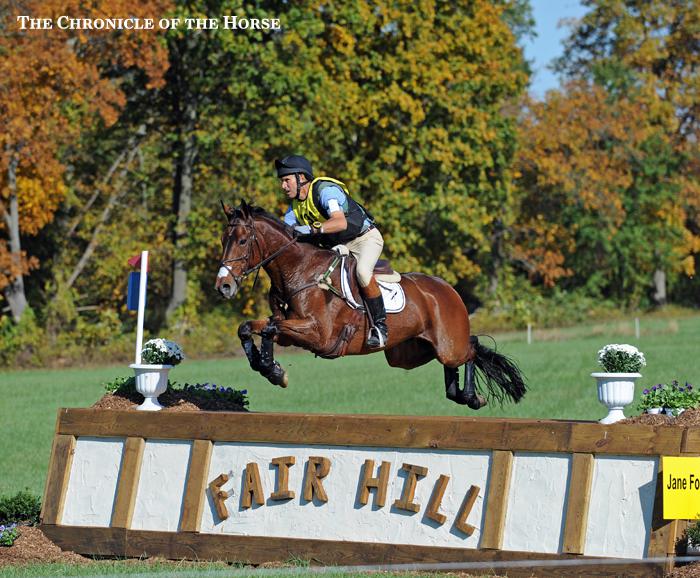 Fair Hill has long been home to the USEF Three-Star Eventing National Championship, and they are bidding to add a four-star to their roster of events. Photo by Lindsay Berreth.
The Ocala Jockey Club is the newest venue vying for the competition—the first eventing competition, a CCI**/* and CIC***, took place over Thanksgiving this year. The 950-acre privately owned property was originally intended as a large Thoroughbred farm before its current owners, Pavla and Erik Nygaard, bought it to develop as a competition venue and equestrian resort destination.
"We're not a generic facility. This is a venue that will be set aside for one thing and one thing only, rather like [the Mitsubishi Motors Badminton CCI**** in England], to run one four-star very, very well once a year," said Richard Trayford, CEO of Equiventures LLC, the management company behind the Ocala Jockey Club event. "Why do I think that gives us an advantage? Our footing and pastures and grass arenas, and we aren't embarrassed to say that, will be as good as you can get anywhere in the world. When you add to that we're between two decent-sized towns, with decent amounts of accommodations, and Florida is a very easy sell with 65 million tourists a year, and then a purpose-built facility—I think that's our strength."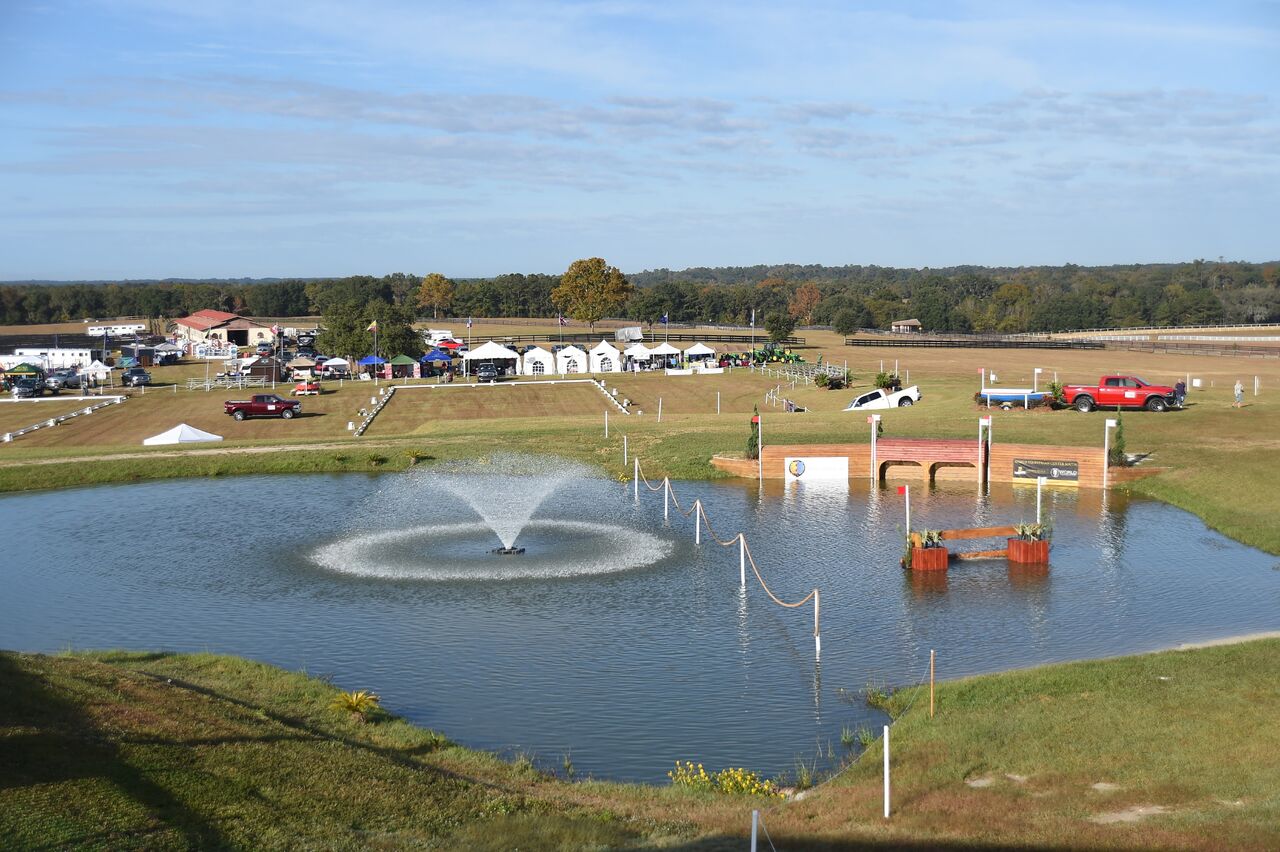 The Ocala Jockey Club hosted its inaugural FEI event over Thanksgiving weekend, but the facility was developed specifically with a future four-star in mind. Photo by Lindsay Berreth.
Trayford also believes the Ocala Jockey Club's location is an advantage.
"The weather in the winter in Florida is better than the summer anywhere else," Trayford said. "We have perfect climate for the sport. That's No. 1. Then following closely on is the audience. I find that selling Florida in the cooler months is not a hard sell. Where does the public want to be? And where will the horses be better off? That's got to be Florida if you're not in the summertime."
USEF will decide which venue will be submitted to the FEI as the proposed location of a second U.S. four-star. Connell hopes to have an answer as to when and where the four-star will take place by mid-January.
"The process is very complete, and we're going through each of the bids in detail now," Connell said.
Along with picking the location, USEF needs to decide on a proposed weekend in the fall and determine whether the inaugural event would take place in 2018 or 2019.
"If it's better to wait till 2019 for the sport then that's what we'll do," Connell said. "You've got the [World Equestrian Games] in 2018 [from Sept. 10-23], which is later than the WEG was originally going to be, so the important thing is to have a four-star that has longevity, not one that's rushed through."
*Since reporting this original story , Morven Park in Leesburg, Va., has confirmed they are also bidding for the four-star, and Joanie Morris, USEF managing director of eventing, has stated that a total of five venues have applied.
Morven Park is a 1,000-acre park that is home to three recognized events, including a CIC*** in the fall. For the past 40 years they have done some level of horse trials according to executive director Stephanie Kenyon.
"There are a lot of reasons Loudoun County is the center of the equestrian universe," said Kenyon. She pointed to a recent survey that showed Loudoun to have more horses, spectators and equine economic impact than any other county in Virginia.
Kenyon also said the thriving business community just outside of Washington, D.C., presents numerous sponsorship opportunities as well as easy access to hotels, restaurants, transportation and other amenities close to the event. Morven Park is also home to the Marion duPont Scott Equine Medical Center, and Inova Loudoun Hospital has a new emergency room a mile away, so horses and riders won't need to travel far in the case of a medical emergency.
"When we started looking at all this, it just kind of clicked that we could make a run for this," said Kenyon. "We're already working on a total renovation of the entire equestrian center. We're pulling all the old footing out of the Davis and Bedford Arenas as well as the warm-up arenas. We're putting in nice new footing and fencing. In the meantime we're building brand new arenas in the infield of the race course and redoing the race course.
"We're hopeful," Kenyon continued. "It's going to take a lot of work, but we're up for the challenge."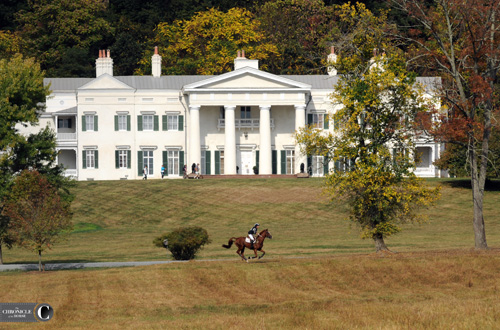 The iconic Westmoreland Davis Mansion makes a picturesque background for the CIC*** at Morven Park. This 1000-acre park has hosted events for the last 40 years, and they are bidding to become the home of the next U.S. four-star. Photo by Lindsay Berreth.