As Skylar Wireman watched the puissance class on Friday night during the 2022 Washington International Horse Show (Maryland) and later walked up to the towering 6'10" wall, the thought that crossed her mind likely wasn't shared by the majority of spectators that night:  "Maybe I'll get to do this next year."
While the fall indoor show is still eight months away, the 18-year-old came one step closer to prepping for a puissance by winning the $15,000 DIHP Six-Bar on Feb. 3 during Desert Circuit IV at the Desert International Horse Park in Thermal, California, with Karen!
"It was a lot of fun. I cannot say I had ever jumped that big before," Wireman said. "I think the biggest I've jumped is I've done a few 1.50-meter classes."
Wireman said she didn't initially intend to enter the 11-year-old Hanoverian (Levistano—Cleopatra, Cassus 2) mare owned by MJ and Todd Kaplan, but given the low entries, she thought it might be worth participating in a round or two.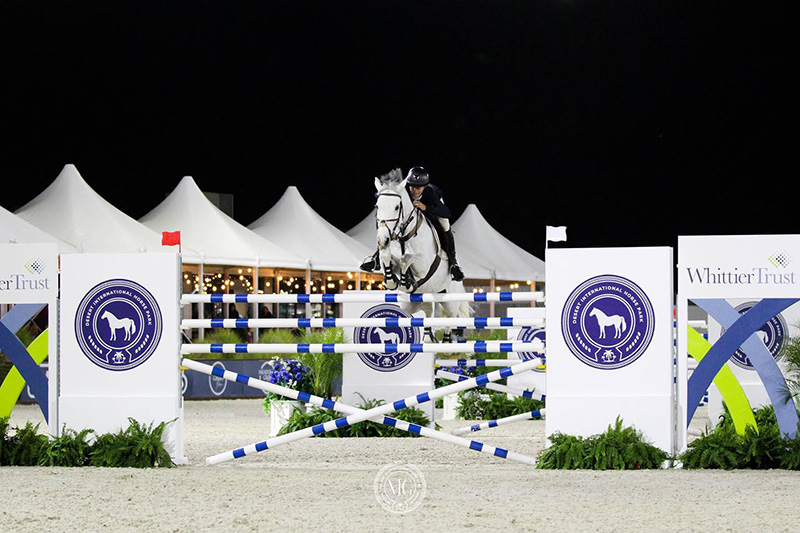 "We weren't planning on doing all of it, but she just kept doing phenomenal," said Wireman. "We were messaging with [Olympic show jumper] Peter Wylde, and he was like, 'Looking amazing. Keep going.' "
The class lasted for four rounds, with the final fence topping out at 1.70 meters. Four combinations made it to the final round, but Karen! and Wireman were the only ones to complete the line of fences without fault.
"I kind of had a sense for how big they can be," she said. "But to actually be doing it, I never imagined I'd be jumping that big already."
The approximately 16.1-hand mare was a good fit for the class, Wireman said.
"She's short coupled and quite a little powerhouse, so I knew she was the horse to do it," she said. "A lot of times, people are like, 'Make sure you sit up to the last element of it because it gets really tight at the end.' As you know, two strides—as the jumps get bigger—it's going to get tighter.
"But that mare, she compresses so well she just, like, loads and springs," Wireman continued. "She's really good at getting that short little stride and just kind of exploding off the ground."
Watch their winning 1.70-meter round, courtesy of ShowGroundsLive.com:
While Karen! proved up for the challenge, it wasn't long ago that she would've been considered a strange entry for class of that height.
Since coming to the U.S., she'd mostly competed at 1.20 meters with various riders. Wireman catch-rode the mare a couple times in the low junior jumpers in 2021, and when Karen! arrived in Wireman's barn as a sales horse that November, many believed that height was where she topped out.
"The trainer didn't really think she had more scope than the 1.25 meters," said Wireman, "but once we got her we did a little more at home, and she easily jumped around 1.30, 1.35 meters"
The pair started the 2022 season by jumping clear with ease in the medium juniors in three shows at the height. After the EHV-1 outbreak shut down California shows last year, Wireman took Karen! to the World Equestrian Center-Ohio to gain valuable prize money to qualify for the FEI North American Youth Championships (Michigan). There, they showed in the high junior jumpers, where they won the division championship their first week at that height.
"There was just so much more talent in there," Wireman said. "I never thought of jumping her in a class that big, but she really rose to the occasion."
The pair competed in the Young Rider division at NAYC, then earned team silver in the Neue Schule/USEF Junior Jumper Prix Des States at the Pennsylvania National. They also took the medium junior/amateur jumper championship at Washington International.
These days, Wireman enters the mare in open 1.35- and 1.40-meter classes.
"She's really fast in the speed classes, so if there's a speed special, a 1.35- or 1.40-meter speed special, she'll do those," she said. "We kind of pick the special classes that we know she can really dominate in and do those with her."
The name Karen! may immediately bring to mind the pop-culture stereotype of woman who is entitled and unreasonably demanding, but Wireman said that connotation doesn't fit the mare at all.
"She's super cuddly and in your pockets," she said. "Her name does not suit her because she's very sweet and gentle."