In a Paralympic competition that came down to mere hundredths of a point, the United States earned team bronze today in Tokyo—its first team Paralympic medal.
Great Britain, which has won every Paralympic team competition since equestrian was introduced to the Games in 1996, took gold again, holding off a strong effort by the Netherlands, which finished in silver by less than half a point.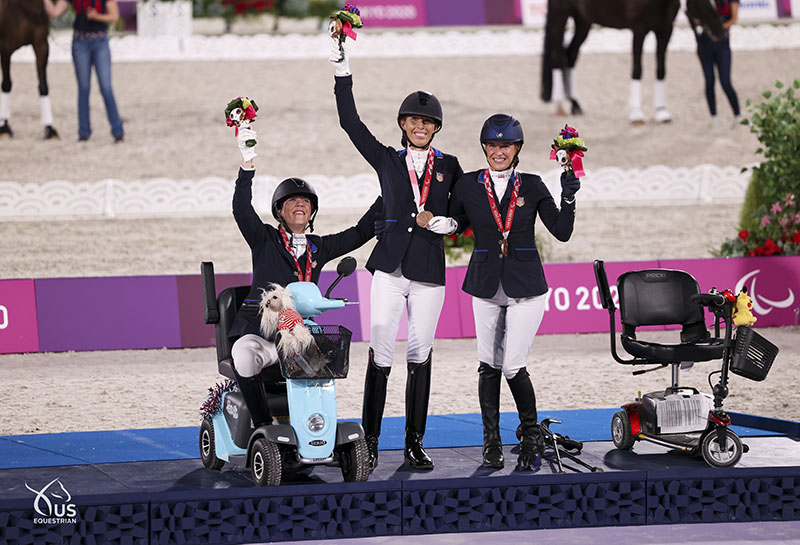 Riding in the last round of the competition, Grade IV, after all the British riders had gone, Dutch individual gold medalist Sanne Voets very nearly put her team on top of the podium by turning in one of the highest-scoring tests of the entire team competition. Her test aboard Demantur scored 78.20 percent—the highest score of the day and a personal best for the pair—and boosted the Netherlands to 229.24, just a hair shy of surpassing Britain's 229.90 cumulative score.
And, while the fight for gold was decided by less than a half-point, the fight for bronze was even closer, coming down to less than three-hundredths of a point between the U.S. (224.352) and Denmark (224.324). And the way that fight played out—in the last round of competitors—made it all the more exciting.
"I don't have words right now. It was such an amazing competition, it was so close it—oh my gosh it  was an absolute nail-biter 'til the absolute end," said U.S. Para Dressage team member Rebecca Hart, who has represented the U.S. in every Paralympics since 2008. "I'm so incredibly blessed and happy to be standing here with these two amazing riders. It was a complete and total team effort. For all the people and all of our supporters and grooms and everyone behind the scenes that make all of this happen, to be able to finally, after so many years, get to stand on that podium as a country, it's so fulfilling. It's a lifelong dream that has just come true."
Teammate Kate Shoemaker, who secured the bronze with her ride aboard her own Solitaer 40 in the Grade IV competition today, echoed that sentiment:
"I can't say how much I am thankful for these two and how incredibly deserving they both are of this medal," she said. "I'm so proud to stand next to them up there today. It was a life-changing experience."
With each team fielding three riders across varying combinations of five different grades (paraequestrians are graded by severity of impairment from Grade I, most impaired, to Grade V, least impaired) the 15 teams competing did not all finish in the same rotation. Riders in Grades I, II and III competed Saturday, while Grades IV and V competed Sunday. That meant some teams saw all of their riders go Saturday while others, including the Netherlands, had just one rider go Saturday and two on Sunday.
That also meant the tight competition between the U.S. and Denmark was drawn out over two days. Both teams fielded two riders on Saturday to finish the first day on nearly identical cumulative scores, separated by just 0.46 points.
Both teams' finals riders were in Grade IV, the very last group to go in the team competition.
Up first for the U.S. was Shoemaker, currently No. 3 in the FEI's Grade IV para dressage world rankings, who had finished seventh in the Grade IV individual competition with 70.85 percent. Riding a fluid test with "Soli" on Sunday in the FEI Grade IV Team Test to Music, they improved upon their earlier score, earning a 71.82 percent and lifting the U.S. to podium position.
"I think it might have been the best test he's ever done. I'm so, so happy with it," Shoemaker said. "Little bobbles here and there, but the overall way of going, I was so, so happy with. So I was, of course, a little bit disappointed in the score that it didn't come higher, but I'm super pleased."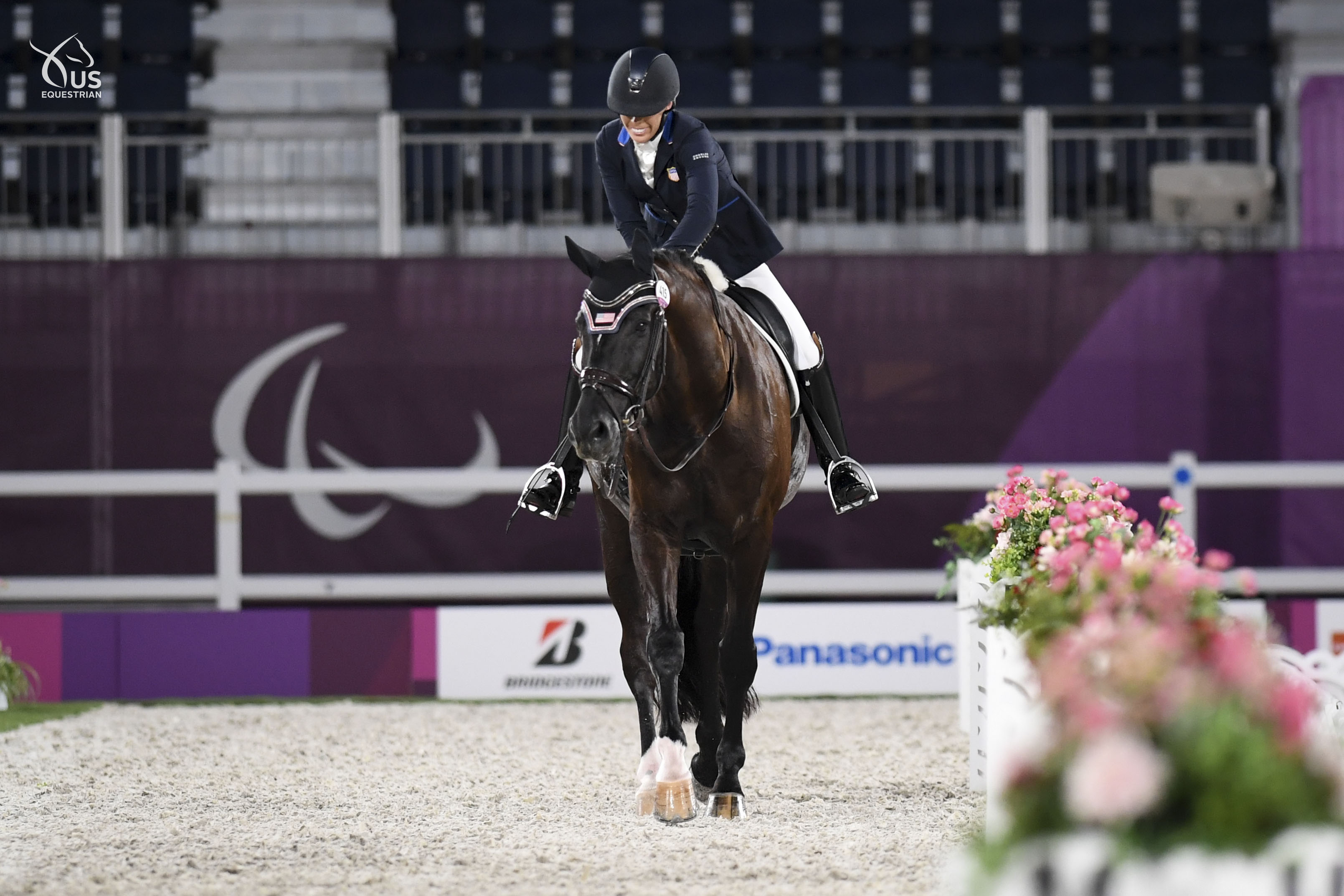 The test reflected advice they had taken from the judges' cards after their individual test, she said.
"It was a night-and-day difference between the first night. We tried for a more elastic, forward-moving way the first night and the judges said, 'No, please don't do that,' so we went for collection, balance and correctness today, and I think we really showed the potential that we have," she said. "It's a little bit of a tough spot going in first in the class with many great riders still to come."
Going several rides later, Denmark's Susanne Jensby Sunesen and Leeds, owned by Stutteri Thy, who had finished higher than Shoemaker in the individual round with a 71.97 percent, needed to score better than about 72.5 percent to lift her country to a medal. Although Sunesen, too, improved upon her score from the individual round, her 72.25 percent fell just short of putting Denmark in the medals. The U.S. maintained its bronze-medal position.
Even then, a podium was not certain as Belgium, another country hotly favored to medal, had its Grade IV individual bronze medalist, Manon Claeys, yet to go. However, a few bobbles in her test—the final one of the two days of team competition—aboard San Dior 2 left her several points shy of the mark.
"Only having three of us and knowing there wasn't a drop score meant every single movement counted," Shoemaker said. "Today, coming in as the last rider for my team—and these two I already knew deserved and earned the medal—I just needed to go in there and get it for them."
Sunday's tense finish was set up by Saturday's neck-and-neck first day of competition.
There, individual Grade I gold medalist Roxanne Trunnell and Dolton, owned by Flintewood Farms LLC and Karin Flint, got the U.S. off to a strong start by scoring 80.32 percent—the single highest score across all grades and both days of team competition—putting her country in position for a much-anticipated medal run.
Teammate Hart and Rowan O'Riley's El Corona Texel rebounded from a mistake the individual test to produce a test more true to form for their FEI World No. 2 individual ranking in Grade III para-dressage, scoring 72.20 percent.
"We all want to go out there and do our absolute best," Hart said of the pressure of riding with Trunnell, who also is the FEI's world No. 1 ranked paraequestrian across all grades, and the expectations for the U.S. to win a historic first team medal coming into these Games. "To have such a solid anchor on our team is a phenomenal benefit for us, but we had to go and do our parts as well."
Trunnell, it seemed, was the only U.S. rider not biting her nails as Sunday's competition unfolded.
"For me, there wasn't pressure because what happens, happens," she said.
For Denmark, Grade III individual gold medalist (and the FEI's world No. 1 ranked Grade III rider) Tobias Thorning Jorgensen and Jolene Hill scored 79.55 percent. Teammate Katrine Kristensen, who had placed sixth individually in the Grade II, improved upon her individual test score by three points to score 72.25 percent in the FEI Grade II Team Test to Music.
For Hart, a veteran of four Paralympics who, like her teammates, came to Tokyo knowing the U.S. was in its best position ever to medal, the win felt like a goal a long time coming.
"I think whenever you're talking medals, there's always pressure there, regardless of past histories or not," she said. "Of course, everyone wants that—we want to be able to give back to our countries—so it's great to finally get there."
See full team test results here.
Paralympic competition concludes Monday with the freestyle for all grades. After a second horse inspection in the morning, the top eight riders in each grade from the individual test will compete. Representing the U.S. will be Trunnell, Shoemaker and, in Grade II, Beatrice de Lavalette and Clarc. That can be viewed live on the NBC Paralympic livestream beginning at 3 a.m. Eastern Daylight Time.