Mill Spring, N.C.—Sept. 22
With all three Dutch drivers at the FEI World Equestrian Games sitting in the top five of the World Ranking list, it'd be a fair guess to assume the Netherlands would be nearly impossible to beat. But in an upset in the marathon phase of the Polaris Ranger World Driving Championships, father and son Ijsbrand and Bram Chardon ran into difficulties on course and both accrued 20 penalties, which was a heavy hit to their team score.
That left the U.S. team in the lead, 16.13 points ahead of the Belgian team that now occupies the silver medal position on 353.80 penalties. The Netherlands dropped to third with a 357.67.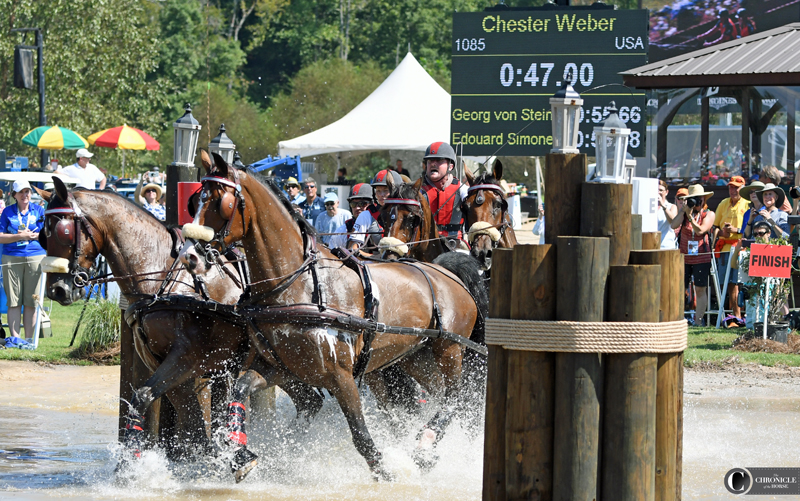 "It was a hot, challenging course," said Chester Weber, who turned in the best score for the U.S. and is currently second individually. "The key was to keep as much horse in the bag as you could for the end of the track. It would have been easy to light them up and have a blistering fast time through the first few, but we sort of went at it today [with] a plan a little bit like a turtle race to make sure that we had enough gas pedal at the end."
U.S. team veteran James Fairclough was the pathfinder out on course.
"I'm pleased," he said. "I would have liked to have been a little later and known a little more because then I would know where I could go faster and go slower, so hopefully I can help them with that. Going first is always very difficult; you don't know what the pace is going to be, you don't know how they'll recover, how they're coming in and all those factors."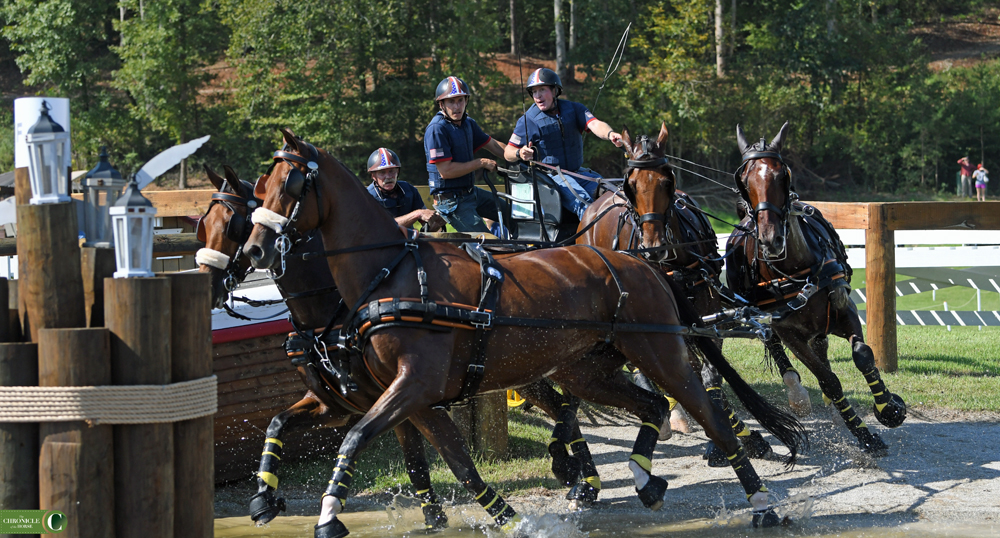 The final U.S. driver, Misdee Wrigley-Miller, ran into an interesting situation in the sixth hazard, which was the second water on course. Her carriage ran over the timing cable, and she drug it behind her vehicle throughout the obstacle.
"It's very distracting when you're driving to have people yelling in the crowd to stop, and I looked down because the most important thing is that all your traces are still connected because that's the only reason why you would stop," she said. "So I'm looking down, and I have my traces; I'm good. But that distraction really caused my circle because I was so distracted, and I didn't pull enough."
Despite the extra time taken there, Wrigley-Miller was pleased with her performance.
"It went really well for me," she said. "My job today for Team USA was not to make any mistakes, not to get eliminated, just a clear round, so I wasn't pushing for the time," she said. "I was definitely not pushing for the marathon. I just wanted to give my horses a good ride and make them happy and keep my dressage score in place, so I did my job, and it was a real confidence builder for me as well."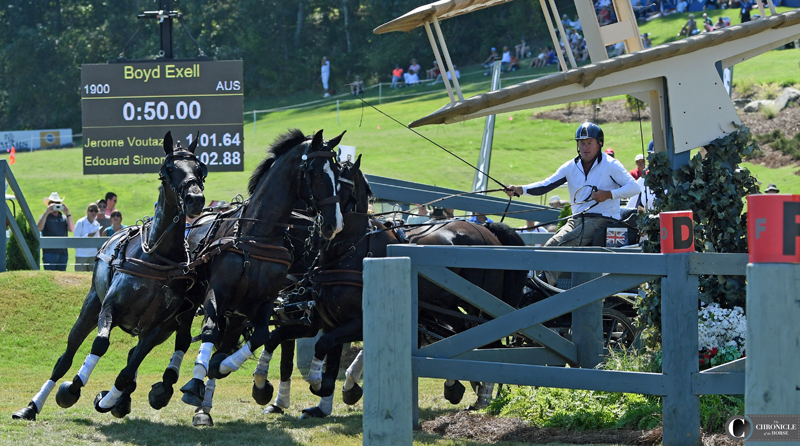 World No. 1 Boyd Exell of Australia still leads the individual competition after taking third in the marathon phase despite an equipment malfunction. His brakes failed in the section A, which led to a mistake at the first hazard.
"Unfortunately, one of my brakes failed, so when I started on the section A we tried to bleed the brakes at the halt, but it didn't work, so we ran the marathon with no brakes," said Exell. "It caused a problem in hazard 1. We came in hot because it was a big, long gallop into gate A and came in too wide, and they sort of drifted to the left rather than sort of squared up the turn, and the horses couldn't see where I wanted to go; we just ran on a big curve, so that sort of was disappointing: hazard 1, gate A, first mistake."
It was a disappointing day for the German team after their second driver Christoph Sandmann had to retire after his left wheeler fell on course.
"Wanita, the horse driven by Christoph Sandmann (GER) that fell on today's marathon course, was winded but uninjured in the fall," said the statement released. "The 15-year-old mare was cooled down at the site of the incident and recovered prior to being transported back to her barn. She is back in her own stable and is apparently happily eating hay!"
For full results from the FEI World Equestrian Games, click here.
For everything you need to know, including broadcast schedules, click here.
For all WEG coverage, click here.
We'll be onsite for the full two weeks of WEG to bring you all the news you need to know plus gorgeous photos and insight into the competition. Be sure to check out the Oct. 8 issue of the Chronicle for detailed analysis.