The Land Rover U.S. Eventing Team sits third after a competitive day of two phases at CHIO Aachen (Germany) in the SAP Cup CCIO4*-S. Buck Davidson and Carlevo also stand sixth individually, while Will Coleman and Chin Tonic HS are seventh.
The riders  contested dressage Friday morning, with the stadium phase taking place Friday evening in the main stadium.
Coleman (Gordonsville, Virginia) turned in two stellar dressage tests that placed in the top 10. He was second on Chin Tonic HS, a 10-year-old Holsteiner gelding owned by Hyperion Stud LLC, scoring a 25.8 to slot in behind leader Michael Jung and Fischerchipmunk FRH. And Coleman earned a 28.5 on last year's winner of the SAP Cup CCIO4*-S, Off The Record, a 13-year-old Irish Sport Horse gelding owned by Off The Record Syndicate, to stand ninth.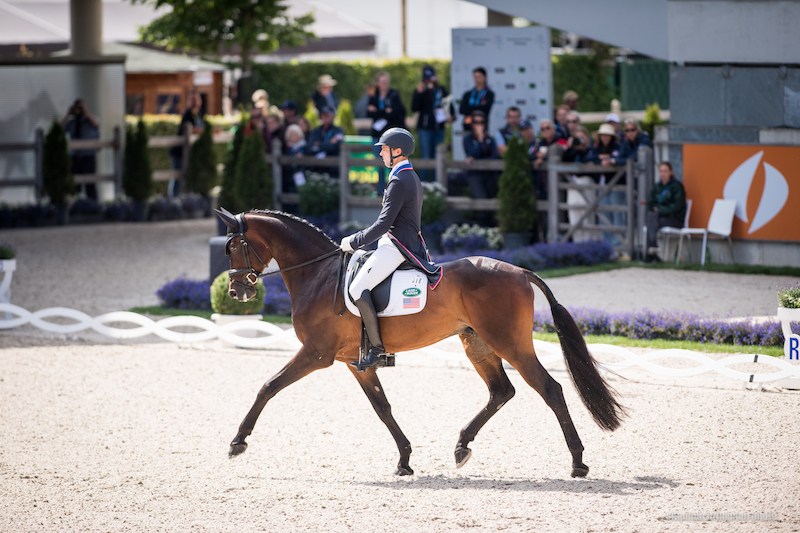 Davidson (Unionville, Pennsylvania) and Carlevo, a 15-year-old Holsteiner gelding owned by Katherine O'Brien, also broke the 70% mark, and finished their first phase on a score of 29.9 for 15th place overall after dressage.
In their first appearance for the Land Rover U.S. Eventing Team, Meghan O'Donoghue (Round Hill, Virginia) and Palm Crescent, her own 16-year-old Thoroughbred gelding, executed one of best tests of their partnership together at the CCI4* level, earning a 31.6 to place 26th.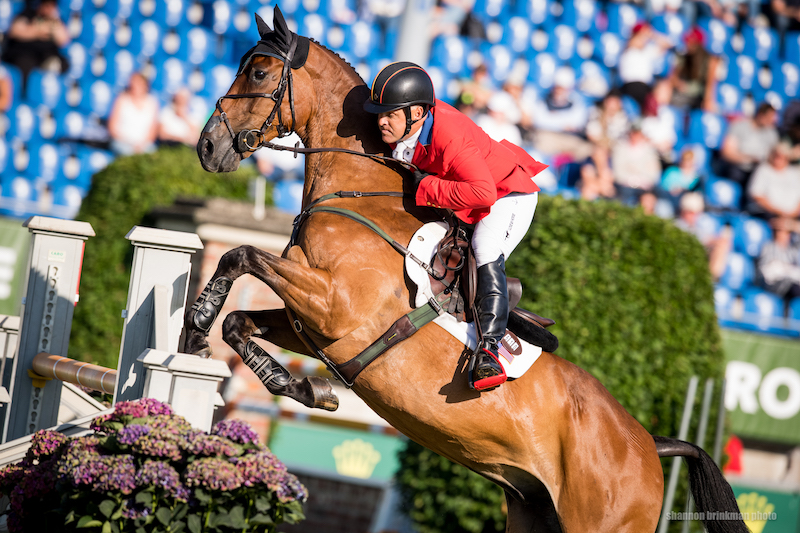 Sydney Elliott (Bossier City, Louisiana) and QC Diamantaire scored 32.4, producing a solid test with just a few bobbles to finish in 28th place at the conclusion of the first phase. This is the second Aachen appearance for Elliott and QC Diamantaire, a 12-year-old Oldenburg gelding owned by Carol Stephens, after being named to the team in 2021.
In the show jumping, Coleman unfortunately dropped a rail with Chin Tonic HS and fell to sixth place. Another rail on Off The Record dropped that pair to 13th.
Davidson and Carlevo made a significant jump up the leaderboard after securing the only double clear effort of the day for the team. The pair made easy work of the course, designed by Frank Rothenberger of Germany, and head into Saturday's cross-country in seventh.
O'Donoghue guided Palm Crescent to an excellently executed round in their first time competing in the iconic main stadium. The pair finished with just 1.2 time  penalties and moved up to 15th overall heading into their strongest phase of cross-country tomorrow.
Elliott and QC Diamantaire were the trailblazers for the team in the main arena, dropping two rails and adding 1.2 in time. They stand 34th.
Cross-country starts at 9:30 a.m. local time (3:30 a.m. EDT) on Saturday.
Ward Isn't Done Winning
McLain Ward (Brewster, New York) started the week at Aachen by winning the Turkish Airlines—Prize of Europe on Wednesday aboard Contagious, besting Martin Fuchs of Switzerland and Conner Jei in the jump-off by just .07 seconds.
On Friday in the RWE Prize of North-Rhine Westphalia, Ward again piloted Contagious to a win with a blistering jump-off pace, stopping the timers in 41.70 and surpassing leader Steve Guerdat of Switzerland by .68 seconds.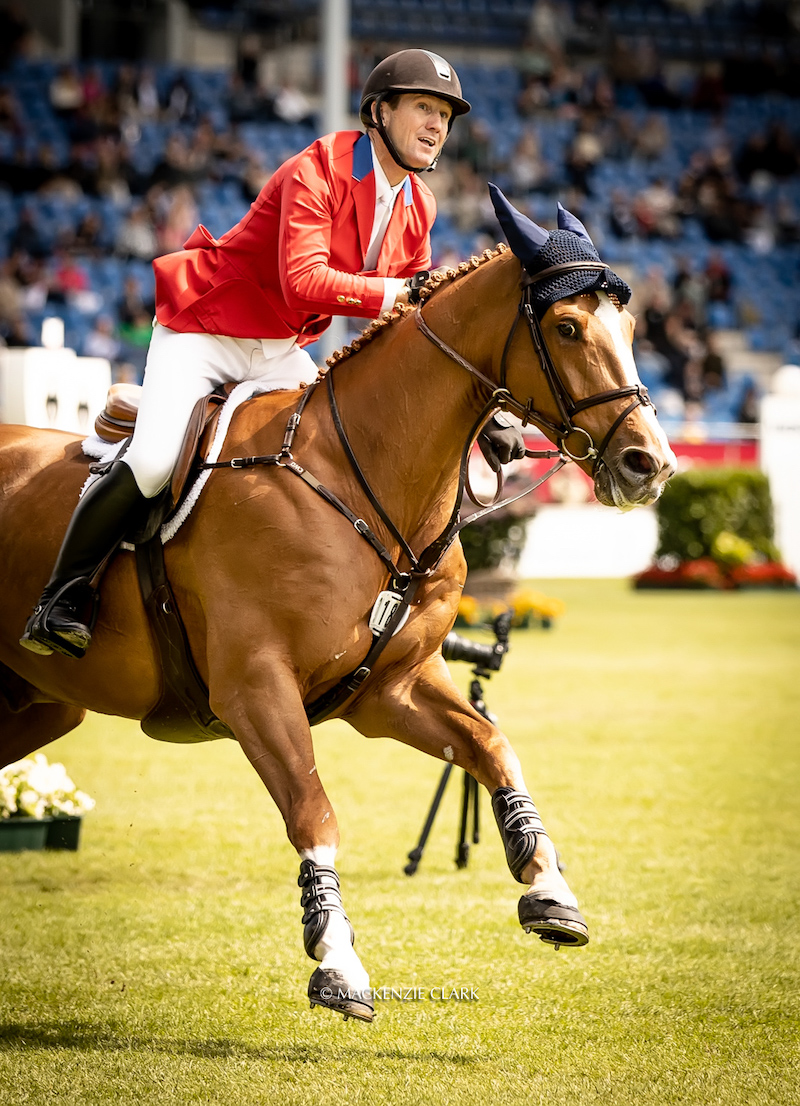 Ward's recipe for success? "I know the exact numbers of my strides and I know my horse inside out," he said. Even in the tight turns, he and the 13-year-old Zweibrücker gelding (Contagio—For Mary, For Keeps), the last to go in a jump-off field of 16, managed to find the perfect take-off at the obstacles.
Guerdat and his 11-year-old Swedish-bred team European Champion, Albführen's Maddox, had been in the lead on a time of 42.38 seconds after an impressive round in which both horse and rider went flat out. Guerdat reported later that this was the first big class for the gelding after a two-month break and Maddox had been slightly nervous.
"I had to fight a little bit, but he fought with me. It was a real pleasure for me today!" Guerdat said. "I could perhaps have done one stride less at the third jump, but it wouldn't have changed anything. We had a bit of bad luck today because we had to compete against McLain and he is the guy to beat in such classes. I was happy with my ride and horse."
Jur Vrieling from the Netherlands was third with the 11-year-old Plot Blue son, Fiumicino van de Kalevallai, with a clear round in 42.79 seconds. The pair have already been together for a long time, but "coming under the top three in a class of this magnitude is one of his best achievements to date, Vrieling said.
In spite of the fact that Contagious won both the Turkish Airlines—Prize of Europa and the RWE Prize of North Rhine-Westphalia, Ward will be saddling a different horse for the Rolex Grand Prix of Aachen on Sunday: His long-time top partner, HH Azur.
"She is like an old friend," Ward said. "We know what to do. We will just try to focus and do our best on the day."
Watch Ward's winning jump-off round:
For full results, visit the CHIO Aachen website. 
For all of the Chronicle's CHIO Aachen coverage, click here.