It was a dramatic, and tragic, day in the SAP Cup CCIO4*-S at CHIO Aachen (Germany) today, as overnight leaders Michael Jung and Fischerchipmunk FRH were belatedly assessed cross-country penalties and dropped to eighth, allowing fellow German Sandra Auffarth to move up and claim the win with Viamant du Matz.
Unfortunately the day also saw Allstar B, ridden by Great Britain's Ros Canter, sustain an "irreparable injury" on cross-country. The stallion, individual gold medalist at the 2018 FEI World Equestrian Games (North Carolina) and alternate horse of Great Britain's gold medal-winning 2021 Tokyo Olympic team, was later euthanized at a nearby veterinary hospital.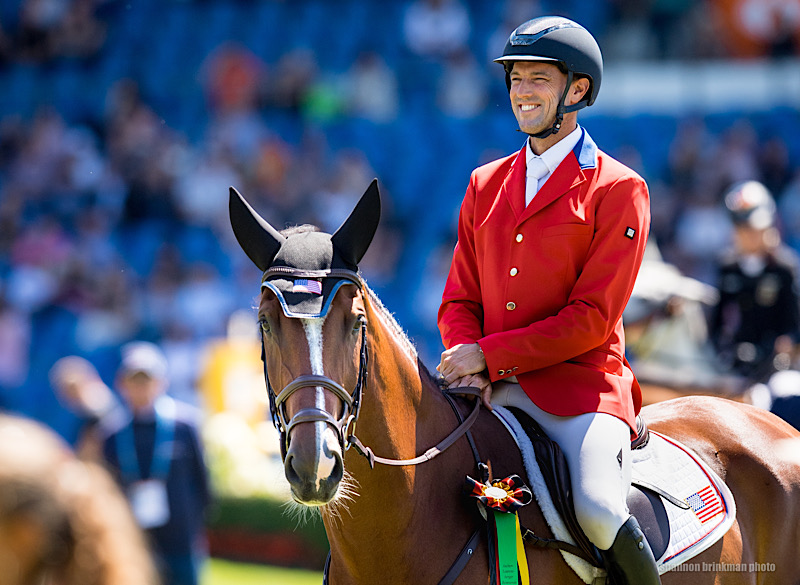 And it was a disappointing day for the Land Rover U.S. Eventing Team, which had been in third after dressage and show jumping, but dropped to fifth in the final standings. Will Coleman, however, finished both his horses in the top 10—last year's winner, Off The Record, was sixth, and Chin Tonic HS was 10th.
Rüdiger Schwarz's cross-country course proved influential, with no combinations finishing inside the time. Jung turned in one of the fastest efforts, with just 1.2 time penalties, and looked to have maintained the comfortable winning margin he'd earned with the top dressage score and a clean show jumping effort yesterday. But after initially being scored with no jumping penalties, he was assessed 15 penalties for a missed flag at fence 14, a corner.
That allowed Auffarth, who had matched Jung's time on cross-country, to move up to the win on Viamant du Matz, a 13-year-old Selle Français gelding (Diamant De Semilly—Heralina, Voltigeur le Malin). The pair also won the Pratoni del Vivaro CCI4*-L (Italy) last fall.
Australia's Andrew Hoy leapt from 16th after dressage to finish second on Vassily de Lassos with the fastest cross-country of the day, adding just .4 time penalties to his dressage score. Great Britain's Tom McEwen was third on Toledo de Kerser, his Tokyo Olympic silver-medal partner.
Great Britain led the team competition wire-to-wire, and finished on 109.3 penalties, comfortably ahead of Germany (138.2) and France (147.9). Joining McEwen on the gold-medal team were Canter, William Fox-Pitt (on Little Fire, who was seventh individually) and Yasmin Ingham (Rehy DJ).
Mixed Results For The U.S.
Although Coleman had clear rounds on both his mounts, Buck Davidson, who'd been seventh after show jumping with Carlevo, had a run-out at 18d on cross-country and finished 27th.
Sydney Elliott and QC Diamantaire had a clear round with 7.6 time penalties to finish 17th, an improvement over their 26th-placed finish at Aachen last year.
Meghan O'Donoghue, making her first appearance for the Land Rover U.S. Eventing Team, had a disappointing day with Palm Crescent, accruing two stops.
A Tragic Loss For Great Britain
Here's the full statement from British Equestrian about the loss of Allstar B:
"It is with tremendous sadness that we announce that Allstar B, ridden by Ros Canter, has been put down due to an irreparable injury sustained as part of the cross-country phase today, Saturday 02 July. The duo was competing as part of the British team at CHIO Aachen in Germany.
"They had a run out at the final element of fence 16, after which Allstar B was immediately attended to by the veterinary team on course when he pulled up lame. The vets on the showground made the horse comfortable to travel to a nearby veterinary clinic for further investigation. It was then decided that, due to the nature of the injury, euthanasia was the only action for Allstar B's welfare.
"Owned by Ros and Caroline Moore, 'Alby' was a much-loved horse on the eventing circuit and a stalwart of the British eventing squad, having been a part of three gold medal-winning teams and taking the individual title at the World Equestrian Games in Tryon 2018.
"Ros said; 'There are no words for the love and respect that I have for Alby. Time after time, he has shown his generosity, kindness and love of our sport. He has been such a huge part in building my career, and he will be missed by many.'
"Caroline added; 'For me, he's been the horse of a lifetime The most generous and brave horse that I've ever had the pleasure to work with. He will be deeply missed.'
"British Equestrian Eventing Performance Manager Richard Waygood paid tribute to Alby also; 'He was a special horse with a huge heart, and the partnership Ros and he shared is one of the greatest the sport has enjoyed. Together, they have given so much to eventing and British teams, and to see them win the individual World Championship title at Tryon was a very proud moment. Alby will be missed, but will hold a place among the legends of our sport. I would like to thank the veterinary and organising teams at Aachen for their swift actions and professional treatment'. "
For full results, visit the CHIO Aachen website. 
For all of the Chronicle's CHIO Aachen coverage, click here.