Dublin, Ireland—Aug. 11  
Team USA secured a definitive victory in the eighth and last leg of the FEI Nations Cup™ Jumping Europe Division 1 League in Dublin today when producing the only 0 score in a hard-fought competition.
On level pegging with the Irish at the halfway stage they stood firm while their hosts lost their grip to drop to fifth behind Spain.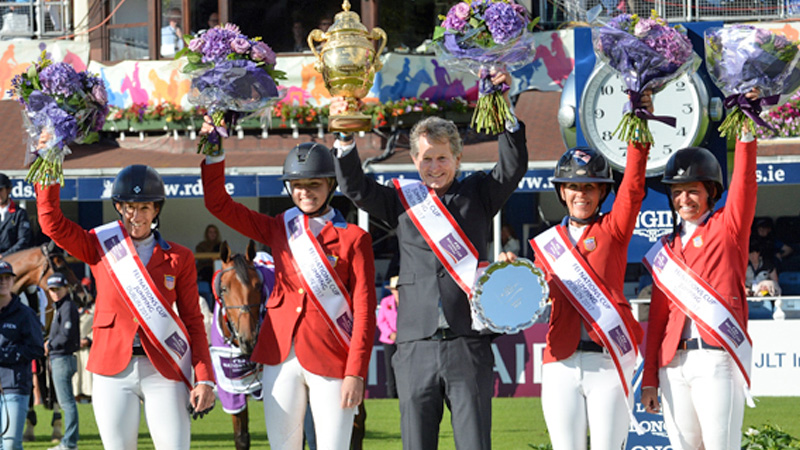 In the closing stages the Netherlands and France threw down a challenge, and American anchor Laura Kraut was under pressure when last to go with Confu. But the double Olympian didn't crumble, posting the second U.S. double clear of the competition to seal it ahead of the runners-up from France, while the Dutch slotted into third place.
Watch Kraut's crucial second round on Confu:
This was the first all-female team triumph in the 91-year history of Nations Cup Jumping for the world-famous Aga Khan Cup in Dublin.
"We said at the beginning of the year this was one of the shows we are bringing our "A" team to. It's our view that the Aga Khan is the greatest trophy in our sport," said U.S. chef d'equipe Robert Ridland. "And more than that there are many ways to win a Nations Cup, sometimes you get lucky, but today in my view there was no luck. These four riders did an unbelievable job!"
The timeallowed of 80 seconds proved difficult for many over Irish course-builder Tom Holden's track, and a speedy turn to the final oxer was often costly. Beezie Madden's mistake here with her new ride Darry Lou was the American drop score in Round 1, but the pair got it absolutely right in Round 2 after pathfinders Lauren Hough and the brilliant mare Ohlala produced their second clear of the day and rising talent Lillie Keenan made her only mistake at the first element of the penultimate double with Super Sox.
"He's a new horse," said Madden of Darry Lou. "He came from Mexico and the highest he jumped there was 1.55-meter or so. I got him in May and this was only his third 1.60-meter course today. It was my mistake in the first round. He's like a Cadillac to ride!"
Kraut clinched it with a crisp, clear run to leave a 5-fault margin between the winning U.S. side and the French in second while the points earned by the third-placed Dutch, whose final tally was just 7 faults, saw them overtake Italy at the top of the Europe Division 1 leaderboard at the end of the eight-leg series.
Reporters asked Kraut if Confu reminded her of her 2008 gold-medal Olympic mount Cedric, who retired earlier this year.  "Oddly enough I found out when we were in Aachen that they share the same grandmother or something. I had no idea that they were remotely related so that's very exciting," Kraut said. "[Confu] is as much of a cheeky monkey as Cedric, so for me he's wonderful. I love him, he's a trier. He's a pet and he's fun to ride and be around. But Cedric can't be replaced."
See full results of the Dublin FEI Nations Cup.