Tokyo—Aug. 7 
Show jumping fans might have felt a sense of déjà vu as they watched the night unfold in the Olympic team final in Tokyo. Just like at the 2018 FEI World Equestrian Games (North Carolina), it came down to a nail-biting jump-off between the U.S. and Swedish teams for silver and gold.
But though it went the United States' way in 2018, tonight Sweden came out ahead. All six jump-off riders went clear, so the gold medal was decided on time, with Sweden finishing on 122.9 seconds and the United States with 124.20. Belgium won bronze after earning a total of 12 penalties in the first round, with no jump-off required for the team.
It was a fitting end for the Swedish squad, which had a nearly perfect week between the three team riders of Peder Fredricson (on All In), Malin Baryard-Johnsson (Indiana) and Henrik von Eckermann (King Edward). Fredricson also earned individual silver earlier in the week, and all three Swedish riders qualified for that jump-off.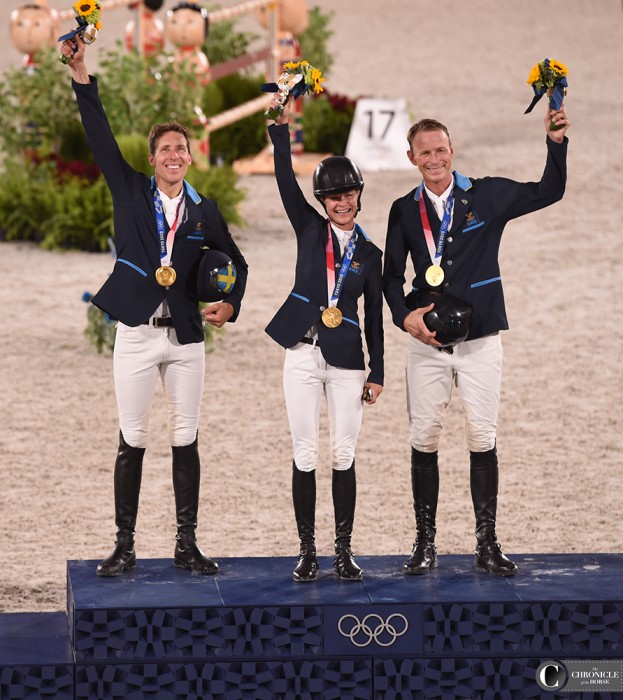 "I think we have three really good riders and three outstanding horses," said Eckermann of their hot streak. "We believed from the beginning, and we all know how small things [can make it so] that it doesn't happen, but we really believed in it. We had one goal, and it's fantastic that it happened."
In Tryon, the U.S. team had the benefit of sending its riders in the second draw position, after the Swedish ones went, but here the U.S. riders went first. That meant Ward, riding Contagious, did the team's last jump-off round before the last Swedish round, so he didn't have an exact time to aim for.
Since Fredricson was the Swedish team's anchor rider tonight, he knew heading in just how fast he'd have to go. He took every available tight turn with All In and flew down the final stretch to the last oxer.
"I saw McLain's round, and I also didn't have so much time between my first round and the jump-off, so I wanted to stay calm as long as possible," said Fredricson. "I did one small oxer then watched McLain's round, and then I made sure not to be in a rush, to take time for All In and to collect my thoughts. Since I got silver in the individual, I was quite determined to get the time, and luckily the poles stayed up today."
Ward noted that the U.S. battle with Sweden actually goes back even further than 2018, to the 2004 Athens Olympics when the same scenario occurred.
"I didn't like the order as much here [as in Tryon]," he said with a laugh. "There, luck of the draw I went last, and I was able to see Peder, and now it's the reserve situation. But what an incredible battle here. What great sport and what a great battle. I'm proud to be part of that, and I take my hat off to them. They were unbelievable."
"I think the best team won tonight," added Kraut.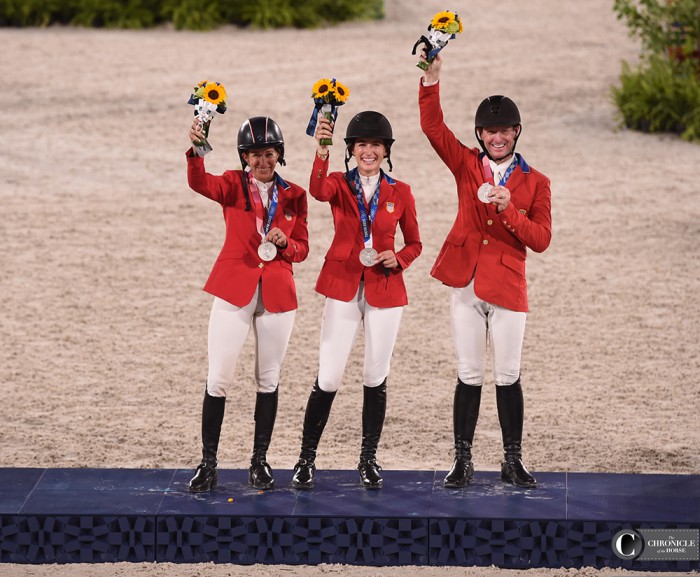 In the first round, Team USA trailblazer Laura Kraut had a clear on Baloutinue, and McLain Ward and Jessica Springsteen (on Don Juan Van De Donkhoeve) had one rail down each.
"He was magnificent," said Kraut after her first round. "I think today he's in the game. He was relaxed and focused and just did everything I asked of him."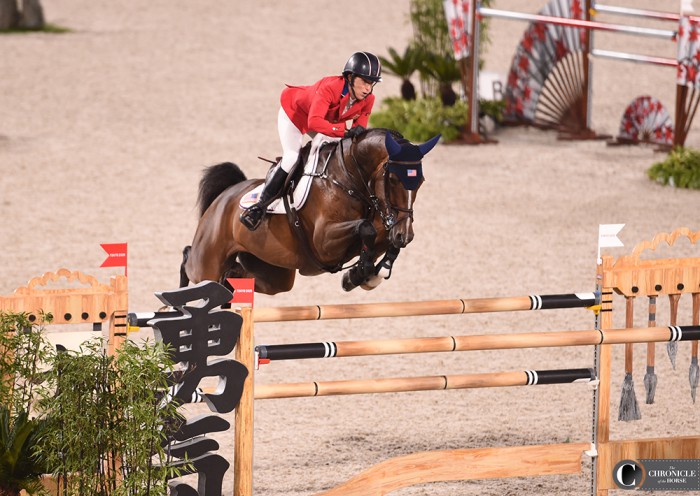 Kraut said tonight's course was more difficult than last night's team qualifying round. There were eight clears out of the 29 starters, and a few of those earned time penalties to make for only four double-clear rounds. One of those was Kraut's.
"I haven't seen anything on paper, but definitely the jumps were bigger," she said. "The distances were hard, and it's the stamina—it's long. We had two doubles and a triple and the water, several planks that all you have to do is breathe on them, and then the last vertical is gigantic. [Santiago Varella] is an amazing course builder, and he knew he had the 10 best teams, and he needed to build."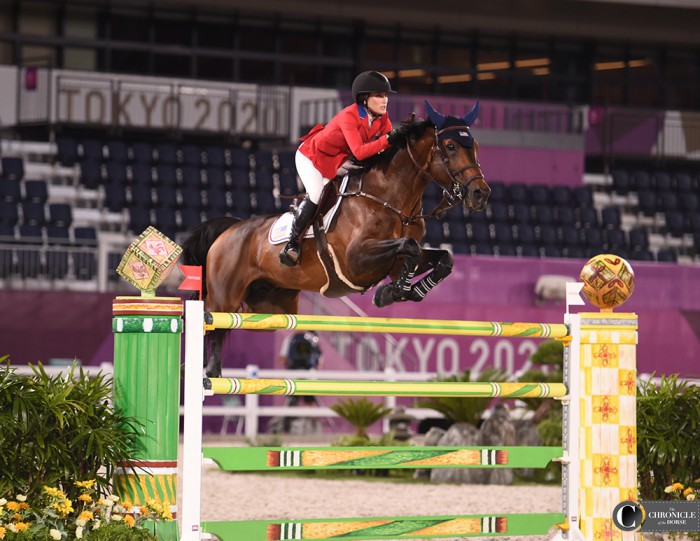 Springsteen, competing in her first Olympics, expressed disappointment with her own rail down, but she was all smiles on the medal podium, laughing with her teammates.
"I thought all three of our horses jumped great yesterday, so I had really high hopes coming into today, especially with Laura and McLain on the team," she said. "It gave me confidence to have big dreams riding with them. It was an unfortunate rail tonight—didn't really expect that—but I was happy we were able to pull it together and help out Team USA."
Fredricson and Baryard-Johnsson tipped one pole each in the first round, and the country entered the final rotation of riders tied with the U.S. and Belgium on 8 penalties.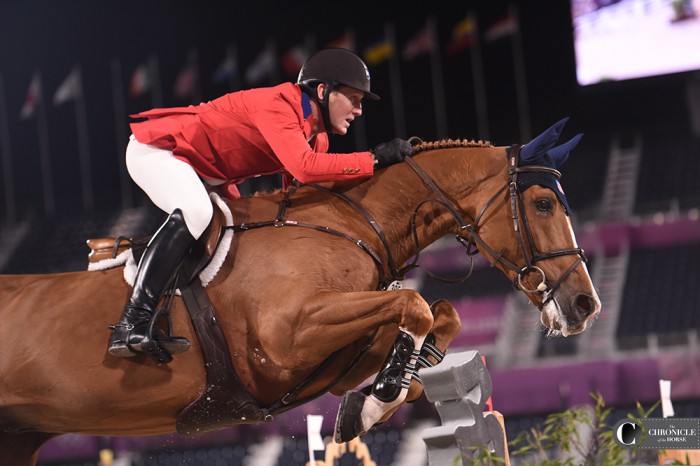 France was in gold medal-position with 2 penalties after their first two riders, but their final competitor, Penelope Leprevost, was eliminated when Vancouver De Lanlore had two refusals on course.
The British team, sitting on 24 penalties before the final rotation of riders, elected to withdrawn instead of sending Ben Maher on Explosion W out to jump. Germany's team finished in 12th after Daniel Deusser had a refusal with Killer Queen and retired.
See full results online. Watch the action on demand.