Barcelona—Sept. 28  
The Hermès U.S. Show Jumping Team rode determinedly in Thursday's preliminary round to advance to the final competition of the Longines FEI Nations Cup Final against the top eight teams on Saturday, Sept. 30.
Lauren Hough and McLain Ward both delivered clear rounds, allowing the U.S. team to finish on 4 faults. The Canadian team was the only one to finish on 0 faults during the qualifying round; the U.S., French, Dutch and German teams all finished on a score of 4.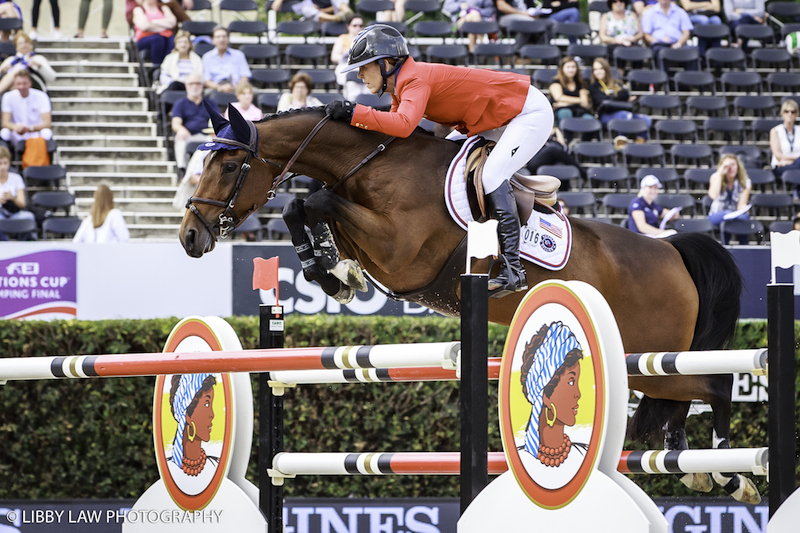 The top eight teams from Round 1 head into Round 2 in the final on Saturday with a clean slate. Switzerland, Belgium and Sweden will also jump in the final.
Drawing eighth in the order, U.S. team Chef d'Equipe Robert Ridland selected Hough and Ohlala as the lead-off rider for the team. Hough and The Ohlala Group's 13-year-old Swedish Warmblood mare set the tone early with a clean round. "[Ohlala] gave an amazing effort today. She made my job really easy and I enjoyed it," said Hough. "I actually really enjoyed starting off. I had a plan, so I didn't even watch anyone go. I walked the course and just stuck with my plan, and she was fantastic. This is a fantastic course builder. That triple at the end is quite fearsome, but I think it is very jumpable."
Laura Kraut and St. Bride's Farm's 10-year-old Holsteiner gelding, Confu, and Beezie Madden with Abigail Wexner's 9-year-old Dutch Warmblood stallion, Darry Lou, each dropped one rail. Kraut and Confu added a time fault, which made for the team's drop score of 5.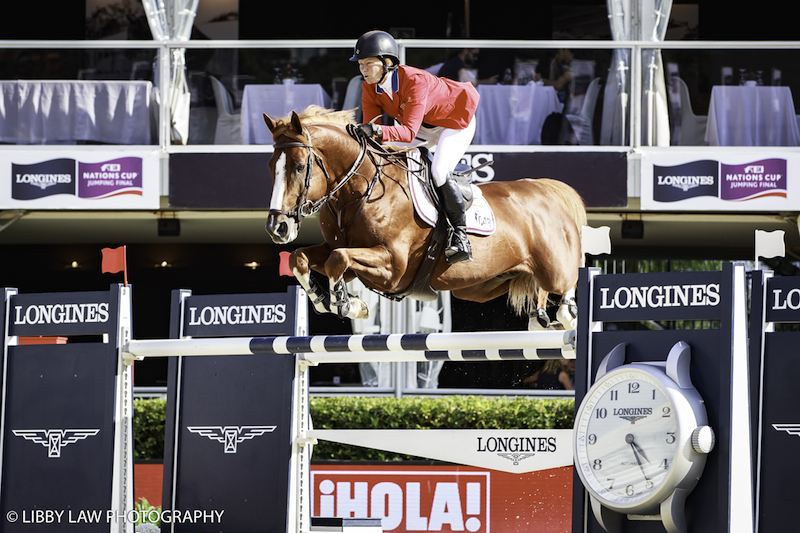 Headed into the fourth round, the United States sat in the fifth position on a four-fault total tied with the Netherlands, Sweden, and Germany, while Italy, France, and Canada were in the lead.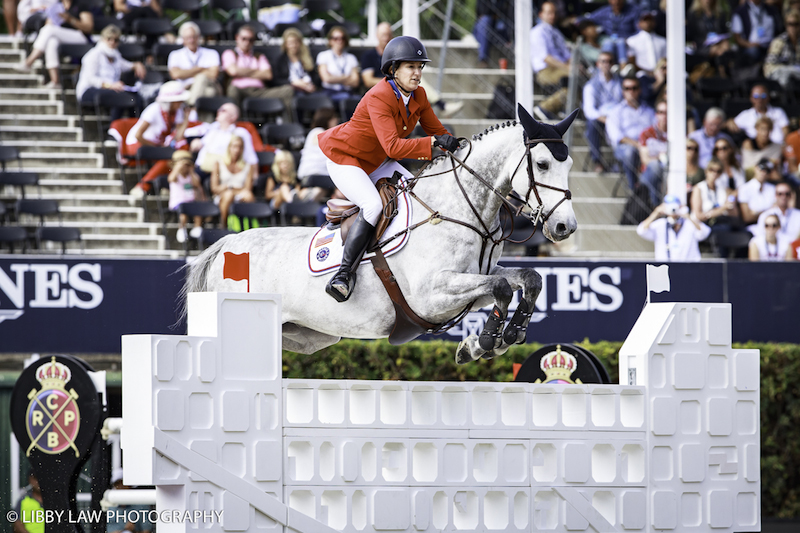 Ward and Double H Farm and Francois Mathy's 11-year-old Belgium Warmblood mare HH Azur anchored the team, producing a flawless ride and a clear round to seal the U.S team's qualification for Saturday's final.
Watch Ward's round on HH Azur:
"It was looking like there for a moment that we weren't even going to have to send the fourth [rider]," said Ward. "But then when you get down to the third and fourth riders you are going to get the more experienced and sometimes stronger combinations. They started to look for clear rounds, so the situation evolved. I knew Azur felt in good form, but I thought she performed beautifully and the main aim was to help the team qualify for Saturday."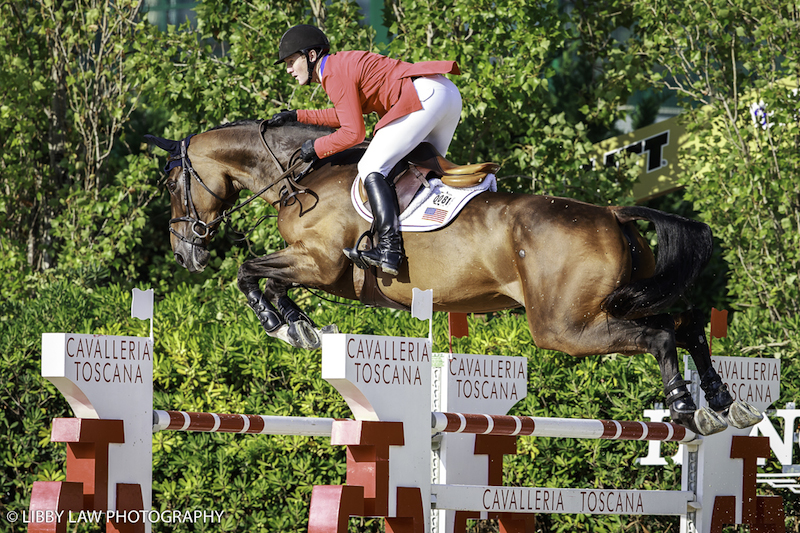 When Eric Lamaze, Tiffany Foster and Yann Candele all jumped clean, the Canadian team was able to drop Chris Pratt's eight-fault score and finish on a score of 0.
Candele not only had the pressure of riding first for his country; he was also riding Theodore Manciais, recently purchased by Lamaze's Torrey Pines Stable and Ken and Emily Smith's Ashland Farms, for the first time in competition. Renowned for his catch riding capabilities, Candele produced a masterful clear with the 10-year-old Selle Francais to get Canada off to a strong start.
Foster followed suit with her veteran partner, Tripple X III, owned by Artisan Farms and Torrey Pines Stable. Foster and the 15-year-old Anglo European stallion used their major games experience to deliver for Team Canada, adding nothing to the scorecard.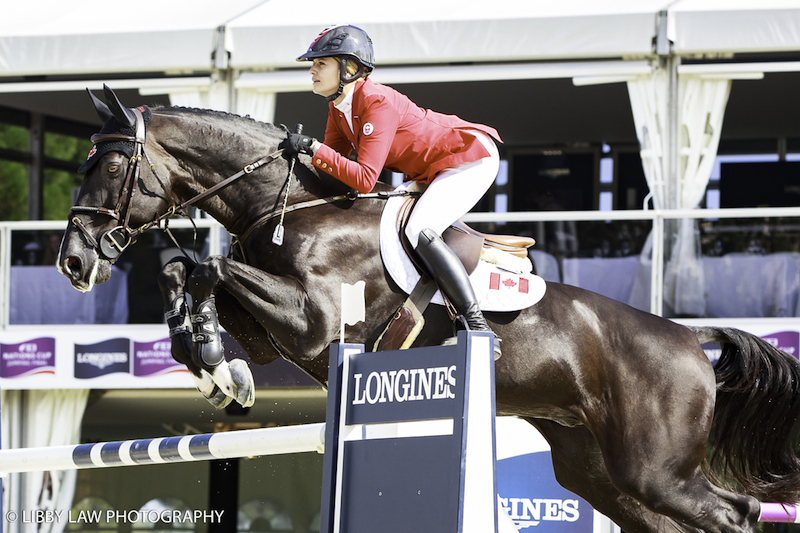 Riding third in the rotation, Pratt had rails down at the oxer at Fence 3 as well as the penultimate fence for 8 faults riding Concorde, a 10-year-old chestnut Dutch Warmblood gelding owned by The Epic Group LLC.
With the luxury of competing last among the 15 countries battling for supremacy, the Canadian team knew exactly what it had to do to qualify for Saturday's final by the time Lamaze entered the stadium. A score of 0 or 4 faults would see it through to the final, while an eight-fault effort would require a fast time to make the cut.
Never one to shy away from pressure, Lamaze realized the best-case scenario by jumping clear with Coco Bongo, a 12-year-old Rheinlander gelding owned by Andy and Carlene Ziegler's Artisan Farms and his own Torrey Pines Stable.
When the class first ended, the French team was in the results as being tied with Canada on a 0 score, but stewards disqualified French rider Roger Yves-Bost for an equipment violation. Since Bost had jumped clean on Sydney Une Prince, his disqualification meant Penelope Leprovost's 4 faults counted in the team total, dropping France to a tie for second.
Bost had modified the hind ankle boots that Sydney Une Prince wore, and while the Fédération Equestre Internationale stewards had allowed him to jump, upon inspection after his round they disqualified Bost from that round. FEI rules do not allow for modification of boots. But Bost will be able to jump for France in the final. "Despite a superb performance from Sydney Une Prince, without fault, we are disqualified because of the boots that are considered non-regulatory after the journey," said Bost on his Facebook page. "The main thing is that the team of France is qualified for the final. We will focus on this goal!"
See full results from Round 1 of the Longines FEI Nations Cup Final.
IMPORTANT LINKS: All results/live results  |  Live streaming