Mill Spring, N.C.—Sept. 22
Heading into this FEI World Equestrian Games, the U.S. Deloitte Para-Dressage Team's riders hadn't ever medaled at a WEG. But U.S. riders are now going home with quite a haul of medals from the Adequan Para-Dressage World Championship.
It started with Rebecca Hart's bronze in the individual Grade III test earlier this week, and today three riders earned top placings in the freestyle competitions.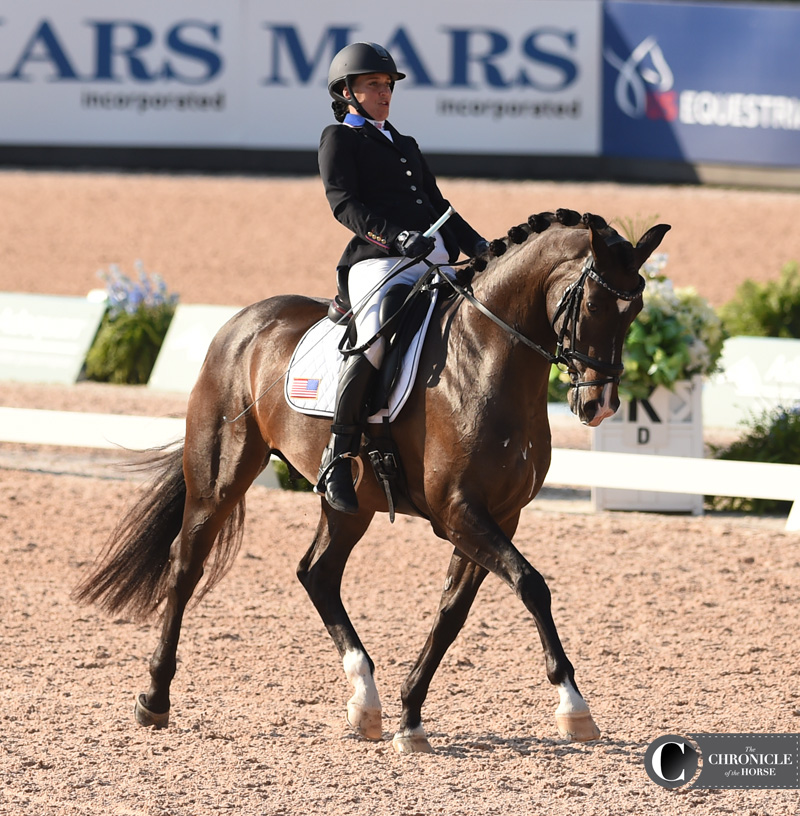 Hart and El Corona Texel added a Grade III freestyle silver to her bronze after her test, set to ethereal and lighthearted music arranged by Marlene Whitaker.
"I expect nothing with horses because it's not like another sport where it's just yourself," said the 33-year-old. "Here you have to rely on another breathing creature. But I know he's so talented, and he's incredibly kind and willing, and the partnership that I've gotten with him in the last six months is just phenomenal, so I was hoping [for a medal]."
Rixt Van Der Horst (Findsley) won gold in the Grade III freestyle for the Netherlands, and Germany's Angelika Trabert on Diamonds Shine took bronze.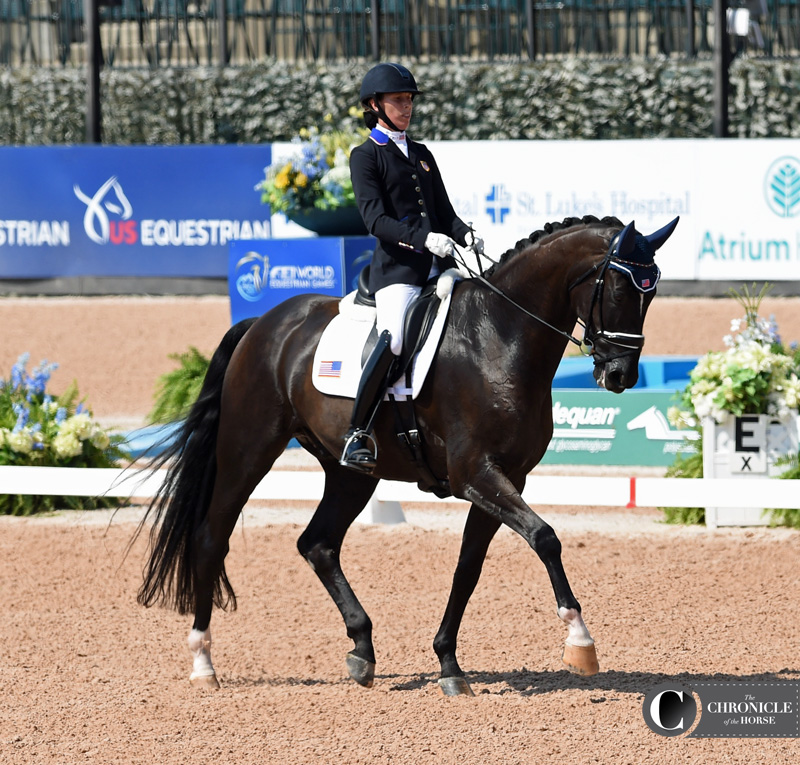 Kate Shoemaker had her eyes on a medal before she got to the Tryon International Equestrian Center and was thrilled to make it happen.
"I really wanted to medal, but I don't think anybody else expected me to," she said. "To be able to do that, coming in as the long shot and never giving up and continuing to keep going and get it done was just amazing."
Sanne Voets (Demantur N.O.P.) of the Netherlands took Grade IV freestyle gold and Rodolpho Riskalla (Don Henrico) of Brazil took silver.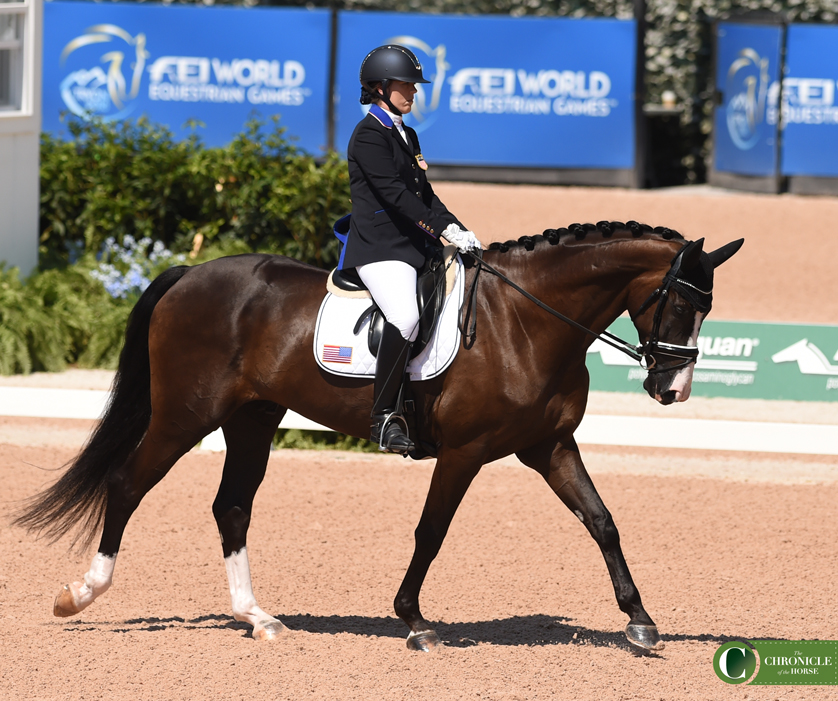 Roxanne Trunnell rode a harmonious Grade I freestyle test aboard Dolton, marking her highest score ever in Fédération Equestre Internationale competition (75.48%) to take the bronze.
"I thought it went awesome, really with the music," said Trunnell. "The music fit him perfectly. It's all from that movie 'Forrest Gump.' I've only had the music about a year now. I liked the halt, how dramatic it was."
Sara Morganti (Royal Delight) of Italy claimed Grade 1 gold and Rihards Snikus (King Of The Dance) of Latvia took silver.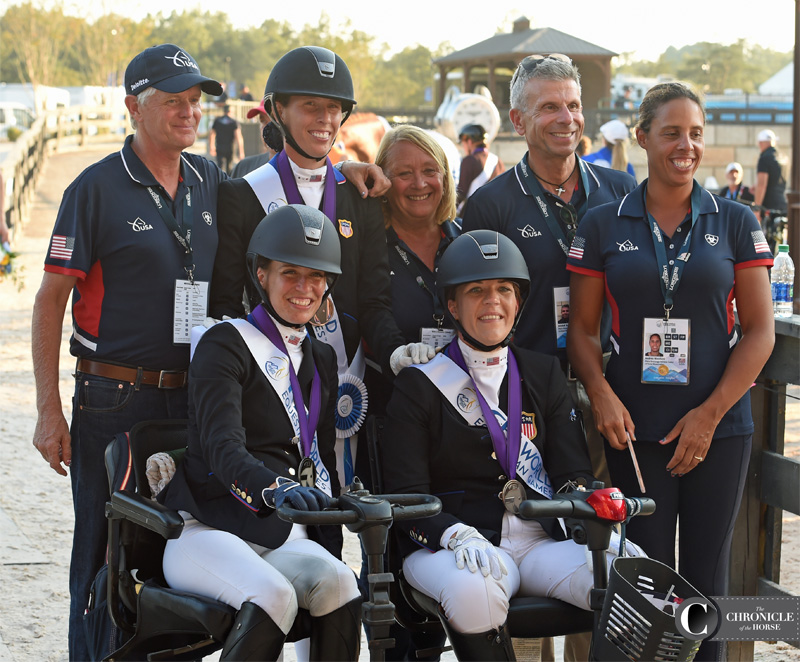 The whole U.S. squad was ecstatic at today's triple medal haul.
"I'm loving this team; it's absolutely fantastic to finally see the growth and development and hard work behind the scenes in the competition and on the field of play," said Hart. "So it's absolutely fantastic to see that growth happening."
For full results from the FEI World Equestrian Games, click here.
For everything you need to know, including broadcast schedules, click here.
For all WEG coverage, click here.
We'll be onsite for the full two weeks of WEG to bring you all the news you need to know plus gorgeous photos and insight into the competition. Be sure to check out the Oct. 8 issue of the Chronicle for detailed analysis.