Sanne Voets of the Netherlands successfully defended her world title in the Orifarm Healthcare FEI Para Dressage World Championship in Herning, Denmark, Wednesday morning. Meanwhile, Adequan U.S. Para Dressage Team riders came heartbreakingly close to earning individual medals, with riders Kate Shoemaker and Beatrice de Lavalette placing fourth in their respective grades.
Riding Demantur RS2 N.O.P., double Tokyo Paralympic gold medalist Voets scored 76.75% to take the Grade IV title just ahead of her teammate Demi Haerkens, who made an impressive world championships debut on EHL Daula, scoring 76.00%.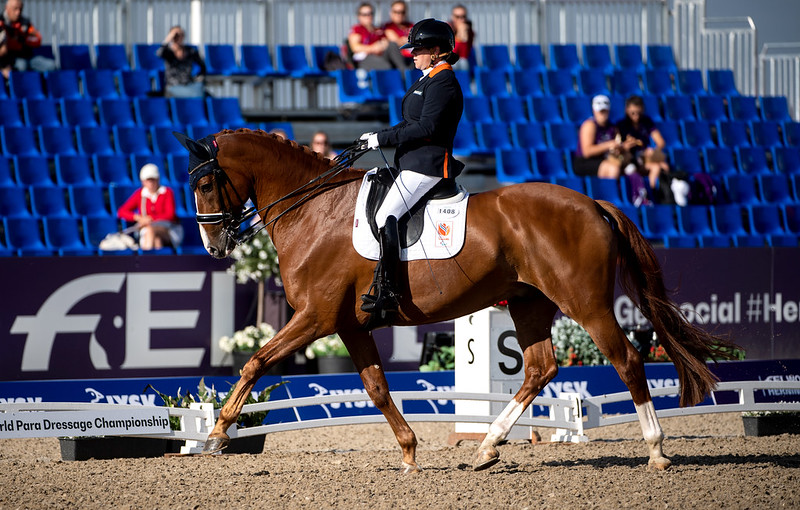 Brazil's Tokyo Paralympic silver medallist Rodolpho Riskalla took the bronze medal on Don Henrico (74.92%).
Speaking after her ride, Voets said: "I'm just really pleased with how he felt. He was really so soft and so focused. He always tries to give me the feeling of, 'Hey, we got this. We're a team. We did this before; we can do this again.'
"When I got out of the arena, I didn't see any cheering like in Tokyo, and I didn't know they couldn't see the live scoring, so I was like, 'OK, I might be happier than the scores are, but if that's the case then that's the case.' And then the scores came up, and I was like, 'Oh no, never mind.' "
Along with their Tokyo medals, Demantur RS2 N.O.P., a 14-year-old chestnut Dutch Warmblood gelding (Vivaldi—Kaylee, Elcaro), and Voets won two individual and a team gold at the 2018 FEI World Equestrian Games in Tryon (North Carolina), and they also won an individual gold at the 2016 London Paralympics.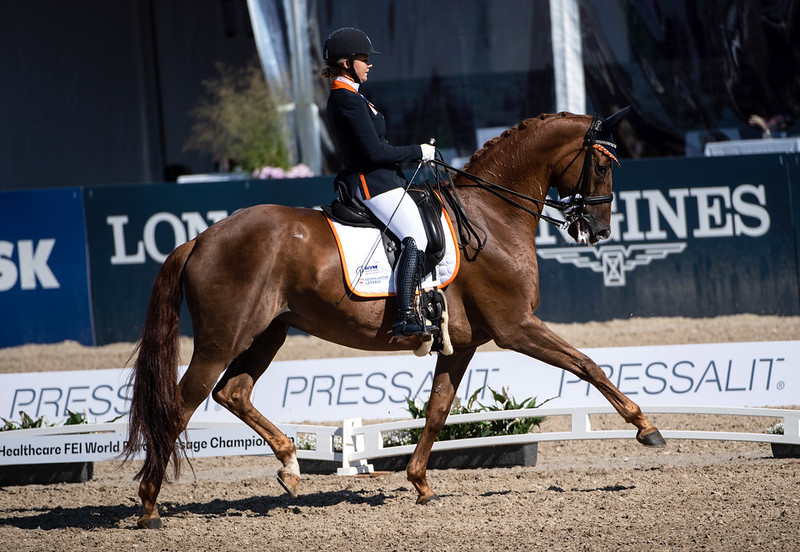 Haerkens was pleased with her performance on a new ride. EHL Daula is a 14-year-old Dutch Warmblood mare she's been on since April.
"I have improved a lot with training and physiotherapy; my balance is better, and then I do better overall, but my horse is to thank for everything," she said.
Riskalla gave all credit for his bronze medal to his longtime partner Don Henrico, a 19-year-old Hanoverian stallion.
"My horse was amazing today. He has kept on taking me to the next level again and again for the last five years; I owe him so much," Riskalla said. "He is such an amazing horse, and it makes me very emotional—this is our last championship. … He is my comrade for life."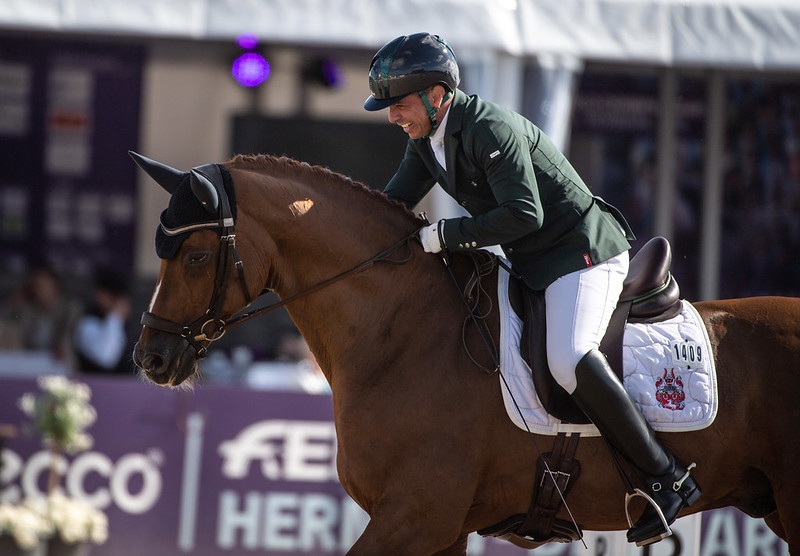 U.S. Just Off The Podium
Shoemaker, the first member of the Adequan U.S. Para Dressage Team to ride in the championships, was one of two Americans to finish just off the podium. She took fourth today in Grade IV, but she was thrilled with her mare Quiana's performance.
"I was smiling the whole second half [of the test], because I was just like, 'I'm here. She's here. I love her.' So amazing; I'm gonna cry. So I don't know if there can be a favorite [part of the test]. I just all of a sudden—just feelings of joy and peace going around in the arena and just awesome," Shoemaker said.
Shoemaker found the 8-year-old mare (Quaterstern—Rubina, Rubinstern Noir) in Europe after a long and exasperating shopping trip. Just as she was about to give up and go home, she got a call about Quiana and went to try her the next day.
"I just got a spark," Shoemaker said. "She just felt so special underneath me and listening, and she was forgiving. Of all the things that bother some horses, when I first get on, my right side's a little spastic, and they just want to be, you know, a little bit tense. And she was just like, 'I'm OK with this.' So since December, we started our journey and competed together for the first time internationally in Doha [Qatar] in February."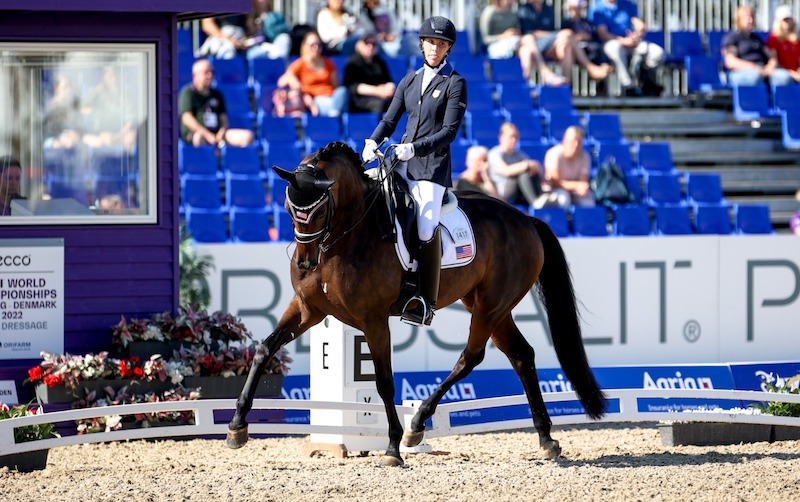 De Lavalette Fourth In Grade II
Denmark's Katrine Kristensen added to the home country's medal haul by winning gold in the Grade II competition Wednesday afternoon.
Riding Goerklintgaards Quater at her very first world championship, the Danish rider scored 75.78% to best two highly experienced and decorated riders, Pepo Puch of Austria and Lee Pearson of Great Britain. Riding Sailor's Blue, Pepo took home the silver medal with 75.33%, closely followed by Pearson and Breezer, with 75.09%.
Speaking after her ride, an overwhelmed Kristensen said: "I was dreaming about it and knew I had a good horse, so I believed it. When I entered the arena today, I really believed it could be possible. I think it's necessary to do that to win a medal."
Watch Kristensen's winning ride, courtesy of FEI.tv:

She also appreciated riding in front a home crowd, especially after last year's Paralympic Games were held without audience. "In Tokyo there was no audience at all. I could see my Danish fans here, so it was fantastic," she said.
Puch, who also won silver in Tokyo, noted that the atmosphere in the BB Arena was unsettling for some horses, who haven't seen such crowds before due to the pandemic.
"It went really well today. I am very content but also pleased that the level in my grade is so high. This is what we want: real, fierce competition," he said. "I could really feel that we have gone two years without spectators; it was not so normal for my horse. I hope we will compete in the big arena at the next [world championships]."
Pearson, a double individual gold medalist in Tokyo, couldn't quite catch the leaders and settled for bronze this time.
"We had a good test—just a little mishap in a leg yield," he said. "My horse is really sensitive, and I could definitely feel that he has not seen an audience that much."
Like her U.S. teammate Shoemaker, de Lavalette finished just off the podium in fourth with a 71.78%.
"We had a few small things today that we are going to fix throughout the week, but overall it was good," de Lavalette said.
"My horse is a bit quirky. We have a fairly new partnership but have come together nicely," she added of Sixth Sense, a 12-year-old Oldenburg gelding.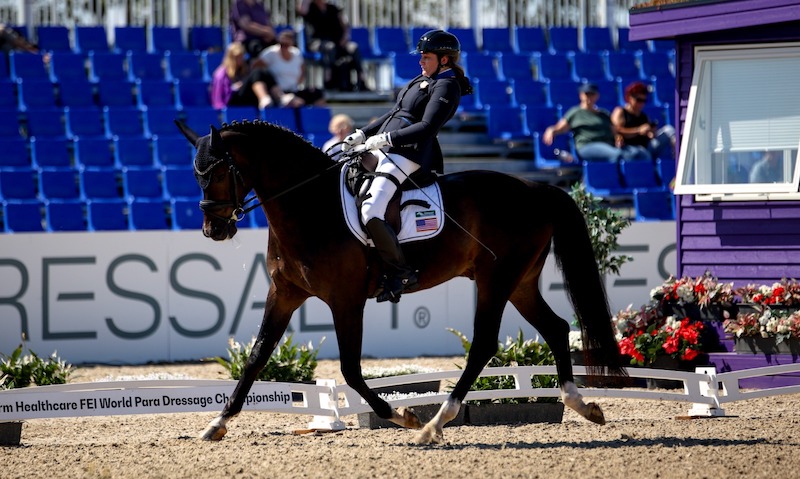 Latvian Rihards Snikus Wins Grade I, Trunnell Sixth For U.S.
After many podium finishes at championships with his longtime partner, King Of The Dance, Rihards Snikus of Latvia claimed the top spot in Herning, winning individual gold in the Grade I with a 78.53%, narrowly edging Sara Morganti of Italy, who scored 78.39% with Royal Delight. Michael Murphy of Ireland took the bronze on Cleverboy with 74.14.
It was Latvia's first ever equestrian gold medal at a European, World, Olympic or Paralympic competition.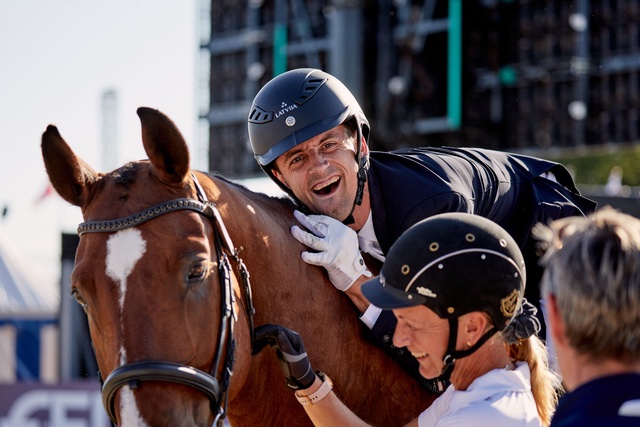 "This is just, wow, no words. It is a historical win for Latvia," Snikus said. "It felt great in the arena, but in the warm-up, it was so and so." 
The part-time DJ ended his comments aptly, by playing a verse from the Black-Eyed Peas' song "I Gotta Feeling," with the lyrics "I've got a feeling, today's gonna be a good, good day."
Morganti, individual bronze medalist at Tokyo, was pleased to move up a step on the podium.
"I am really happy with our result. My horse coped well with the atmosphere, and we did really good," she said. "I have had a difficult year health-wise with operations and COVID, so I feel very lucky to be here with such a good result."
Murphy, like many of the riders, acknowledged that the atmosphere in the arena tested many of the horses.
"It felt nothing short of amazing in the arena. I was most pleased with how he coped with the arena as he has not that much experience. I am happy this ride went so well. My horse is very sensitive, so it is a main achievement to keep it together," he said.
His bronze was another historic moment, as it's Ireland first-ever World Championship para-dressage medal.
Roxanne Trunnell, the defending gold medalist from Tokyo, scored 72.57% to place sixth on her brand-new mount, Fortunato H2O, a 6-year-old Oldenburg stallion (Floriscount— Raleska WF, Rascalino).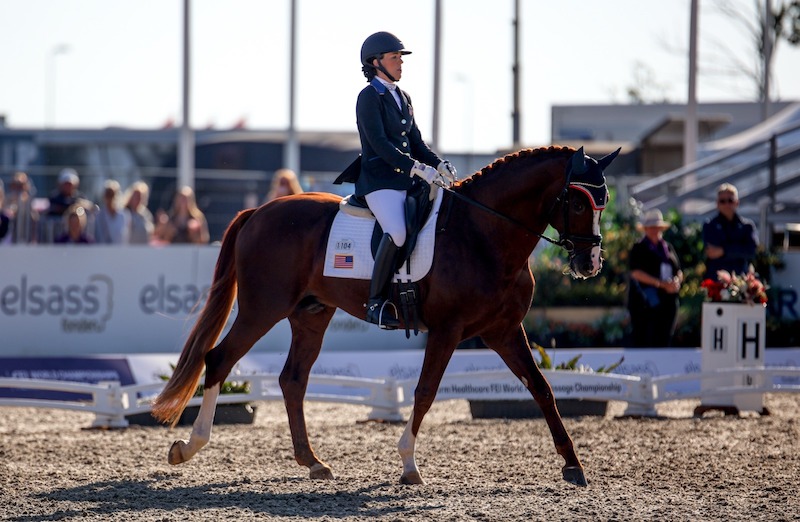 "He was really brave wasn't he?" she said. "I have been riding him two months, and he is a stallion. I was not really nervous; I trusted him to behave. Katie Shoemaker thought he was a good match for me. He is fabulous. He is very much a baby; he wants to play."
The final member of the U.S. team, Rebecca Hart, rides at 3:04 p.m. Thursday, Aug. 11, local time (9:04 a.m. Eastern Time) in Grade III. The championships will continue with the team competition, Friday and Saturday, Aug. 12-13, and it will conclude with the freestyle on Sunday, Aug. 14.
Click the links for results from Grade IV, Grade II and Grade I. Want more from the ECCO FEI World Championships? Click here. Check out the Sept. 5 issue of The Chronicle of the Horse magazine for analysis from the competition.