Lee McKeever, who has served as Olympic gold medal show jumper McLain Ward's groom and barn manager for more than 30 years, has been nominated for the Fédération Equestre Internationale's Best Groom Award, part of the FEI's annual awards program.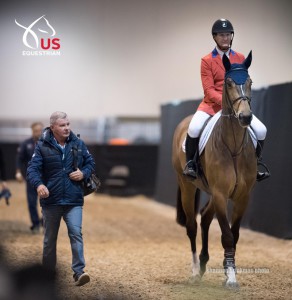 "Most know that without Lee by my side for the last 30 years I could not have accomplished very much," said Ward in a Facebook post. "For those who don't know, he is man who makes it all happen. The horses I have had the privilege to ride all have Lee to thank for the wonderful and healthy lives they have. He also has mentored and helped countless other grooms, riders and trainers along the way. Please vote and pass this nomination along so that Lee can win the award he so much deserves."
McKeever joins a group of international grooms in the nominations, including Alan Davies, who works for Carl Hester and Charlotte Dujardin and takes care of Valegro; Steffi Wiegard, German dressage star Isabell Werth's longtime groom; and British groom Imogen Mercer, who cares for eventer Sam Griffiths' horses.
The public voting is now open for the FEI awards—you can find out about all the nominees and vote here.
Public voting is open until Oct. 1 and the awards will be decided 50 percent by public vote and 50 percent by an expert panel. The winner of each of the five categories will be announced at the FEI Awards gala presented by Longines in Montevideo (Uruguay) on Nov. 21.
Other awards in the FEI programs are:
Best Athlete, for the athlete that, over the past year, has demonstrated exceptional skill in the arena and taken the sport to a new level – Swedish show jumper Peder Fredricson; German eventer Ingrid Klimke; German dressage rider Isabell Werth; and Austrian para-dressage rider Pepo Puch.
Longines Rising Star, for a young person aged 14 to 21 who demonstrates outstanding sporting talent and commitment – young show jumper Harry Allen of Ireland; Colombian vaulter Juan Martin Calvijo; German dressage star Hannah Erbe; and Uruguayan endurance rider Pilar Saravia.
Against All Odds, for someone who has pursued their equestrian ambitions despite a physical handicap or extremely difficult personal circumstances – Chilean show jumper Manuel Franke Bertolotto; Australian para-equestrian Emma Booth; Swedish para-dressage rider Felicia Grimmenhag; Dutch trainer Eddo Hoekstra.
FEI Solidarity, for an equestrian development project, an individual or organisation that has demonstrated skill, dedication and energy in expanding the sport – the Meadow Creek Vaulting Club of Canada; Liam Moggan of Ireland; Retraining Of Racehorses in India; and Wilberry Wonder Pony Organisation.
CLICK for more information and to vote.