Pratoni del Vivaro, Italy—Sept. 18
With every team rider who tackled Italian course designer Uliano Vezzani's show jumping track at the 2022 FEI Eventing World Championship, the medal positions shifted between Germany, the United States, New Zealand and Great Britain. Spectators were kept on the edge of their seats through the final phase as riders tried to keep the rails up. Described as a proper show jumping track, the course caused heartbreak for even the most reliable show jumping combinations.
The U.S. saw all five riders finish in the top 25 after cross-country—the only country to do so—helping the team secure a silver medal, their first podium finish since winning gold in Jerez, Spain, in 2002. Germany took the gold, while New Zealand earned bronze.
Team member Lauren Nicholson perhaps said it best: "About darn time."
"We are all very very lucky to be here," said teammate Will Coleman. "I too just couldn't be prouder to be part of this group, couldn't be prouder for U.S. eventing, and I think this is another great step forward for us as a country, and hopefully we can continue to build on it. It was magic to be part of it this week."
After a standout cross-country day with no jump penalties and very few on the clock, the U.S. team struggled to repeat that form in the final phase. Coleman and Off The Record were the only pair riding for the team to manage a double-clear performance. But solid dressage scores and clean cross-country runs helped keep them on the podium.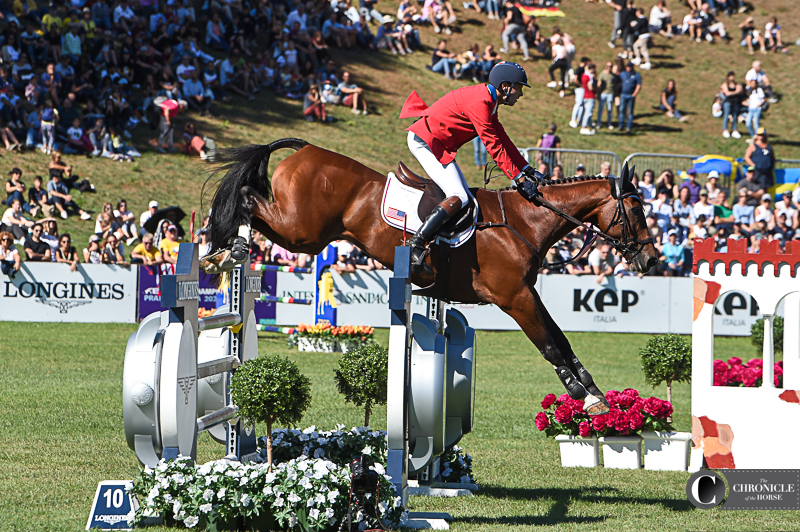 Coleman's performance on "Timmy" put them on a 27.2 and boosted them to seventh individually.
"I'm obviously thrilled with my horse," he said. "It's kind of par for the course for this whole weekend honestly; I think he's punched above his weight since Day 1. I'm so tickled with him. And you know, it's exciting to now just see kind of what unfolds, but couldn't be more pleased with my horse and my team and everybody involved with U.S. eventing right now."
Veteran team member Boyd Martin had a tough day with Tsetserleg TSF. "Thomas" has struggled in the show jumping, and the pair lowered four fences to drop them from overnight sixth to 20th overall. Regardless, the Australia native said he was "proud to be an American" and was pleased that the team shined on the world stage.
"To have five clear rounds in the cross-country yesterday was awesome, and just looking at the results here I think any three of the five of us would've got a team medal," he said. "I've been on many, many of these championship teams, and we've been so freaking close over and over again, and man it's just this massive sigh of relief, and I can't be prouder than now of this group. It's just awesome, and I'm very, very thankful for the team of America, and I'm grateful to be here."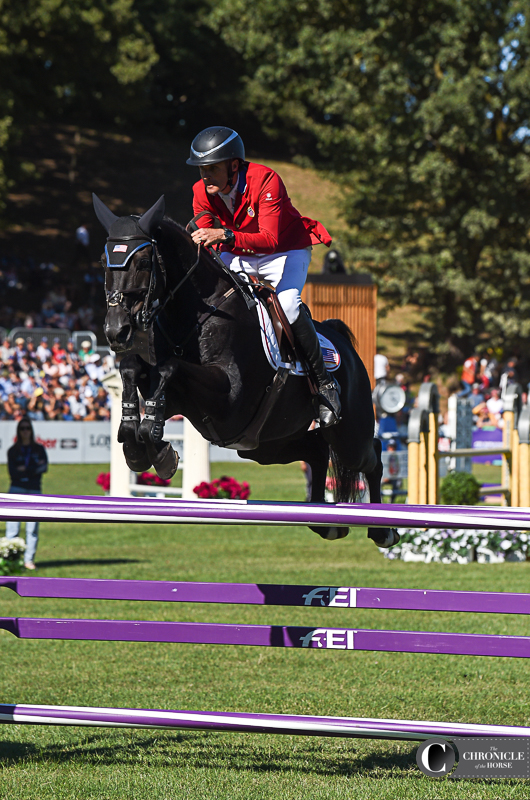 Tamie Smith and Mai Baum sat in third heading into show jumping, but a pair of rails proved costly, dropping them to ninth.
"It just wasn't to be," she said. "I am on a very good jumper. I am very proud of him. He jumped out of his skin. I feel like it just wasn't to be. We're here, and we just got the silver medal, and that's what we're here for, so I have to just push that aside. This isn't about my individual performance; this is about a team performance, and I'm ecstatic, and I couldn't be more prouder of my horse."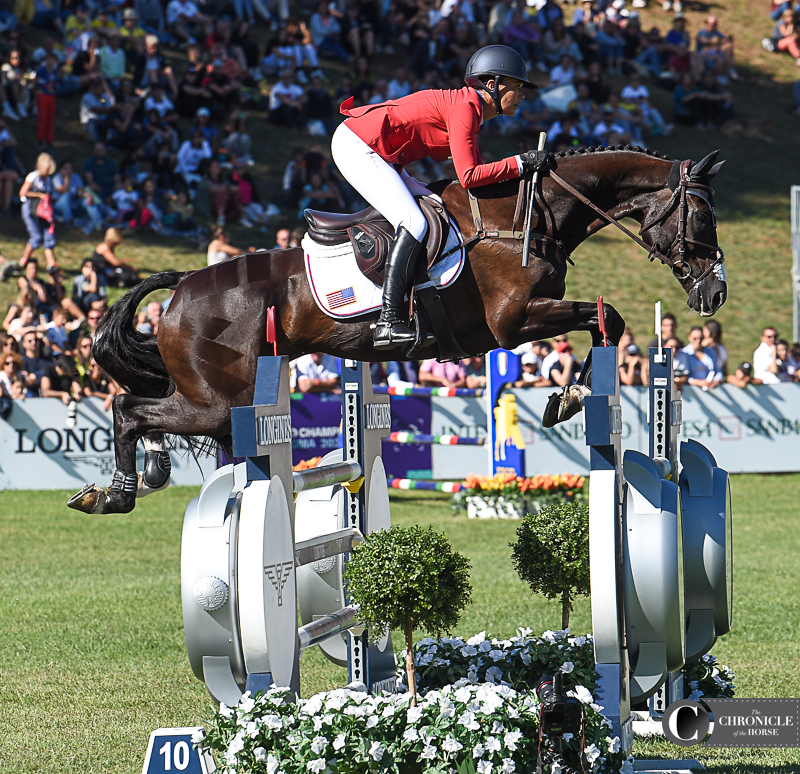 While Nicholson had 8 jump faults and .4 time faults with Vermiculus to finish 19th, she wasn't disappointed in "Bug's" effort over a track that only saw 12 clear rounds out of 68.
"Obviously everybody wants a clean round, but I think it's a little bit like grading on a curve," she said. "Today, they've been few and far between. He really tries, gets out in there, and he just kind of tipped those two that have caused loads of people problems at the end, and you know, he's come out of it good."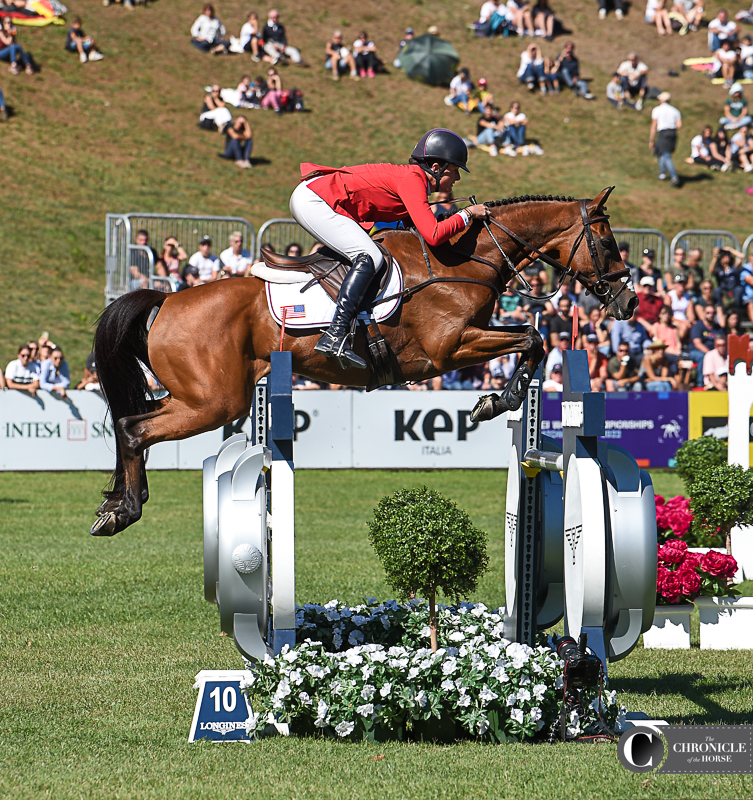 Chef d' equipe Bobby Costello was pleased with how his team kept their focus throughout the week.
"Well, the first three days kind of went as planned, but today, I think for every team, was just nuts," he said. "I don't think I've ever seen as difficult a show jumping track. I don't think any of our riders certainly, and probably most riders, have ever ridden this Italian [course designer's] courses."
He was right: When Italy was awarded these world championships, the country tapped its best homegrown talent to bring them to life, including  Giuseppe Della Chiesa as show director and show director, and five-star designer Vezzani for show jumping. Vezzani hails from the pure show jumping world, where he's well known as the designer of competitions including the Roma Piazza di Siena CSIO5*, but these championships and the test event that preceded them in the spring were his first foray into designing for an eventing competition.
"It's a mixed course between show jumping and eventing as far as distances are concerned," Vezzani said in a Sunday morning interview about the track. "I've tried to provide a balanced mix between slightly closer to show jumping, however. After a cross-country test like yesterday's, the horses have 'opened up' and today they have to show that they are back in balance, well in hands. Which is exactly what you want from an eventing horse…
"Today's course is more technical and more challenging comparing with the test event. It's something else. After all, we have a different purpose."
Costello agreed the track was especially challenging.
"It was big, it was technical," he said. "I had a feeling when I walked it, it was going to be a day, you know, an epic day. So, I'm just so happy that our guys just kept fighting and didn't give up. They were looking around seeing that everybody else wasn't having the best day either. So we just had to keep concentrating. And we were also happy to stick it out, and then have a good result at the end."
The individual pair for the Unites States, Ariel Grald and Leamore Master Plan, proved they are a forced to be reckoned with, jumping double clear to be one of just five pairs to finish on their dressage score. Throughout the weekend they jumped from 50th after dressage to 11th.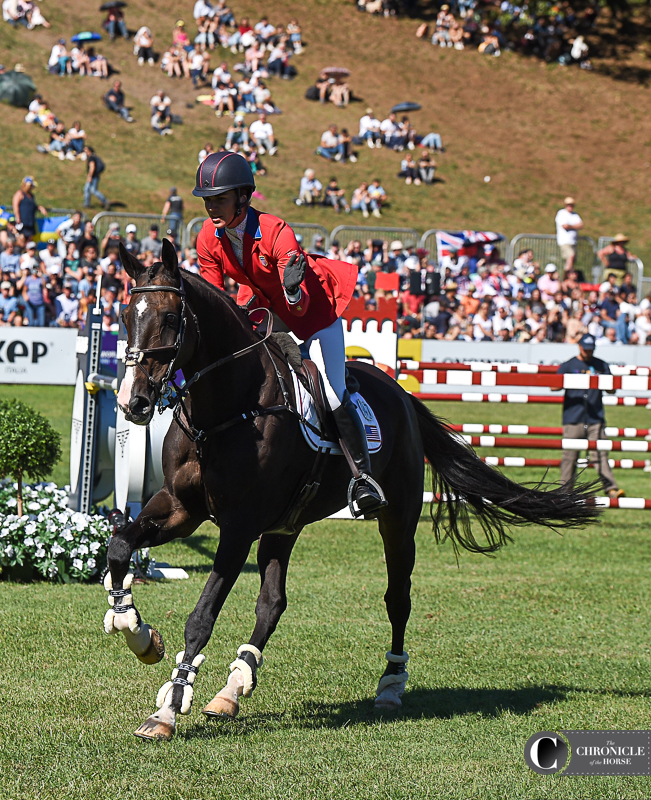 "That was the plan!" she said of finishing on her dressage score. "That's exactly what I wanted to do. He did get a personal best for his five-star score [a 32.5]. There is a 20-something in there, and we'll get that next year. But I couldn't be happier with him to have finished on his dressage score. And that's really all you can ask for. Right?"
Young British Phenom Steals Top Prize
In a replay of the Land Rover Kentucky CCI5*-L in April, the top two spots came down to Germany's Michael Jung and Great Britain's Yasmin Ingham. One has Olympic and world championship titles and holds the honor of winning the Eventing Grand Slam. The other was making her senior championship debut.
Tensions were high as Ingham entered the ring in second place with Banzai Du Loir. The 25-year-old was foot perfect, adding nothing to her score to finish on a 23.2. That put the pressure on Jung. He could afford one rail with fischerChipmunk FRH, who sat on an 18.8, but no more.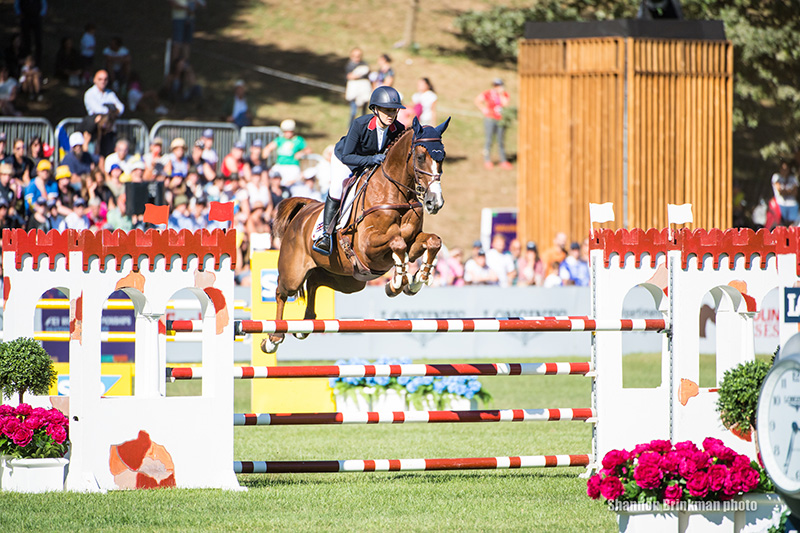 The electricity rose as the first element of the final combination clattered to the turf. As Jung tackled the final fence, the crowd swelled, preparing to celebrate, but the sound of jubilation quickly morphed into groans of agony as the rail toppled. With that second rail, Jung not only lost a second world title, but a spot on the podium at all, and a new face had joined the world-champion ranks of some of Great Britain's greatest riders, including reigning champion Ros Canter.
"Words can't even describe how I'm feeling right now," Ingham said. "I went in there and tried to block everything else out. Because I was under a heap of pressure, and going in in silver medal position with only Michael Jung to go, and I didn't think he would make any mistakes. But everyone's normal, and he's obviously not a robot. I'm just delighted that my horse today tried his absolute best. He probably jumped the best round he's ever jumped."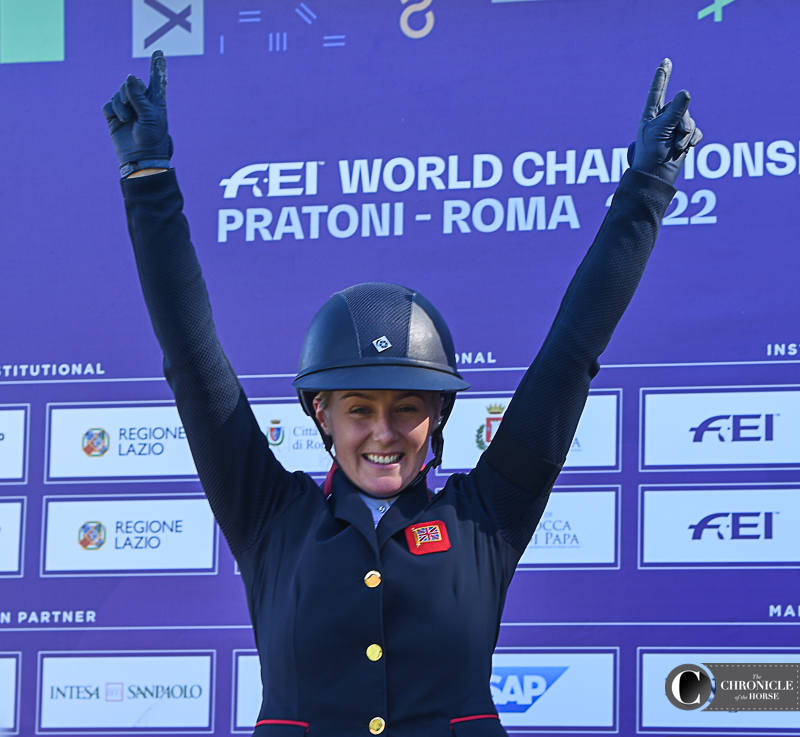 Ingham's had a run of good luck in Italy, having won double gold at the 2013 Pony European Championships in Arezzo, Italy.
"It seems that Italy is a lucky place for me, so I'm just delighted to be on top of the podium today," she said. "It does give me flashbacks to 2013 and Arezzo."
Her partner for the week, Sue Davies and Janette Chinn's Banzai Du Loir, came to her in 2019, and they hit the ground running with a win at the 8- and 9-year-old championships at Burnham Market (England) in 2020.
"He is the best horse I've ever sat on, and I don't think I'll ever sit on a horse like him ever again," she said. "He is the ultimate event horse. Incredible in the dressage—he has so much potential; he has so much presence. And he's fast on the cross-country; he's agile; he's brave. And then coming into the show jumping today he just showed everybody that he was jumping a clear round, and there was no two ways about it. He just tried; he listened. He took everything in his stride, and I wouldn't want to be sat on any other horse, so very grateful."
Watch their winning show jumping round, courtesy of FEI TV:
And in another repeat of the past, while all eyes were on her compatriot Jung, as they were at the Tokyo Olympics, it was Germany's Julia Krajewski who sealed the deal for her country. Just as she won individual gold in Tokyo with Amanda De B'Néville after frangible-pin penalties knocked Jung down the ranks, in Pratoni she jumped double clear to win silver, finishing on her dressage score of 26.0 with "Mandy."
"Obviously I'm super, super happy and delighted with my horse," she said. "Again super proud in how she just delivers when it really matters. And there's a super feeling that she knows. For me, this week it felt like a real team effort. We really thought, 'OK, let's make it a good team thing; let's win a team medal,' and I think everyone did his bit and went a little bit up and down, but in the end we really got it together, won the team gold, and then to win individual silver as well, it's the icing on the cake, and I'm so proud of the horse."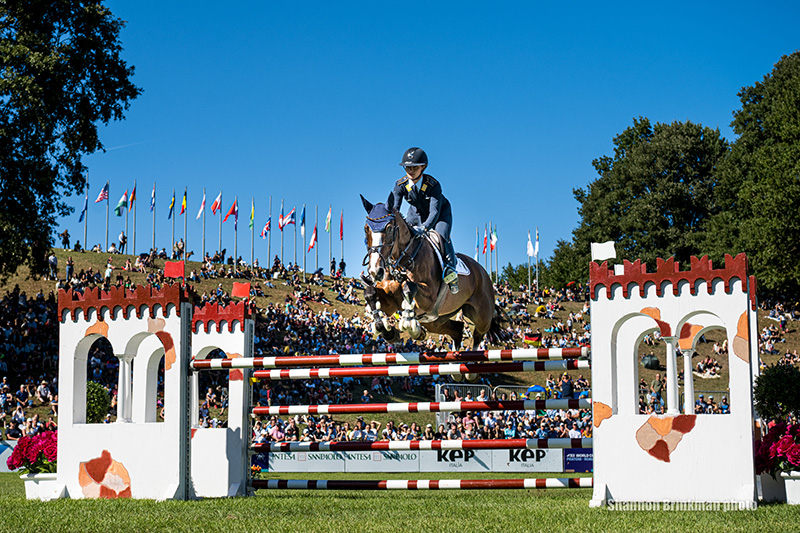 New Zealand's Tim Price also finished on his dressage score of 26.2 with Falco to earn himself an individual bronze to go alongside the bronze earned by the New Zealand team, comprised of Jonelle Price (McClaren), Monica Spencer (Artist) and Clarke Johnstone (Menlo Park).
"He's been a bit of a slow burner," Tim said of Falco. "He's got all the talent and has always had all the talent in the world, but just to learn his craft cross-country, to know what to do, to flatten his body, to understand all the various questions for such a capable horse. He's really taken it on in the last couple of years, and he feels very established with that. And to get to the show jumping with a horse like him was a really nice situation because he's just such a capable jumper, and he makes my job easy. But there's still pressure, but it's a nice situation to be in."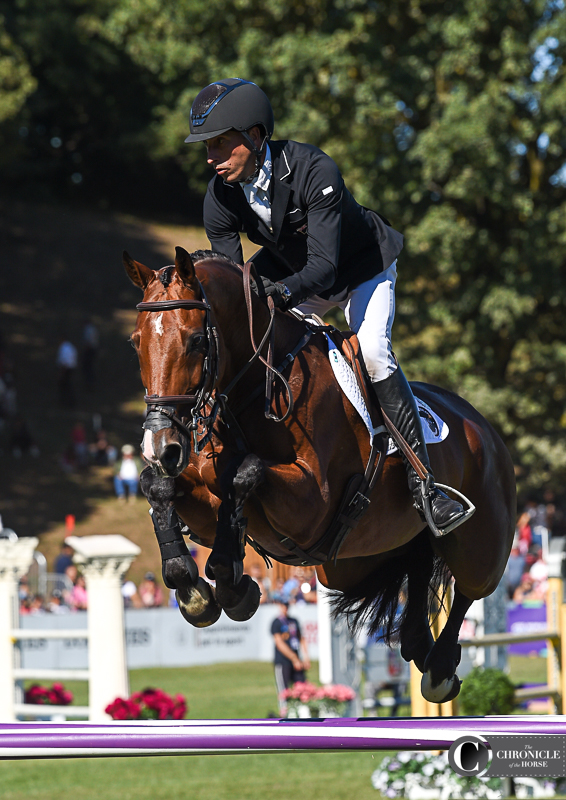 Germany Claims Its Third Title
After a slow start on the first day of dressage, the Germans climbed their way back up into medal contention, claiming the top spot on cross-country day. And while they too slid up and down the podium throughout the day, the team comprised of Krajewski, Jung, Christoph Wahler (Carjatan S) and Sandra Auffarth (Viamant Du Matz) prevailed in the end.
Wahler, who is competing in his first championship, jumped clear today.
"If it always goes like that, then I'll try and do another one," he joked.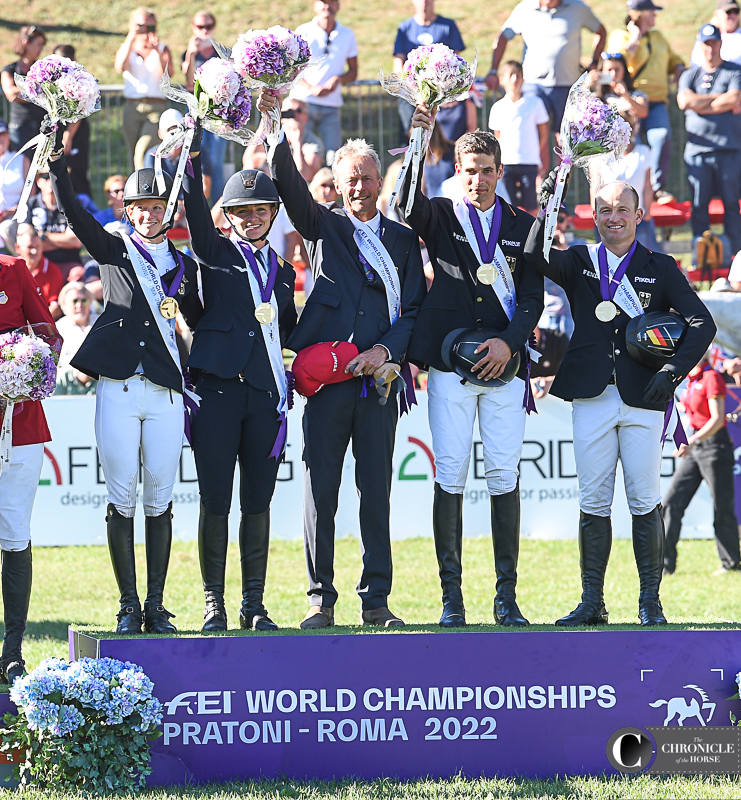 Jung was disappointed in his individual performance but was quick to point out that sometimes things don't go quite to plan.
"To [lose] and win at the same time is a strange feeling to be honest, but I'm very happy," he said. "It was a great day. My horse jumped amazing. He was in super form like I said. All of us were in a good form. We had a very good preparation, and I just can't say thank you to the big team we have around us, behind us. They help us to come here, to have good performance the whole week and to win the gold medal with the whole team on the world championship, it's amazing."
Auffarth likewise had a disappointing round, knocking down three fences.
"It was a really exciting day I must say," she said. "It was cool for everybody to watch the show jumping because it was up and down for the teams. Of course I had not the best round. I have a really good show jumper, but today he was a bit unconcentrated and a little bit impressed with the atmosphere. So after that we were all quite tense, and it was exciting and then yeah we were very, very  happy to the end that we made it."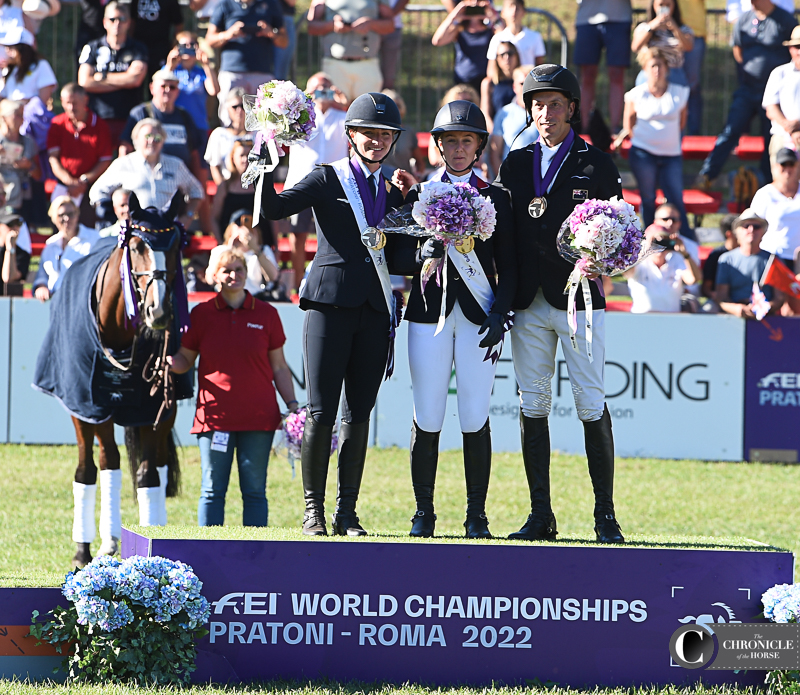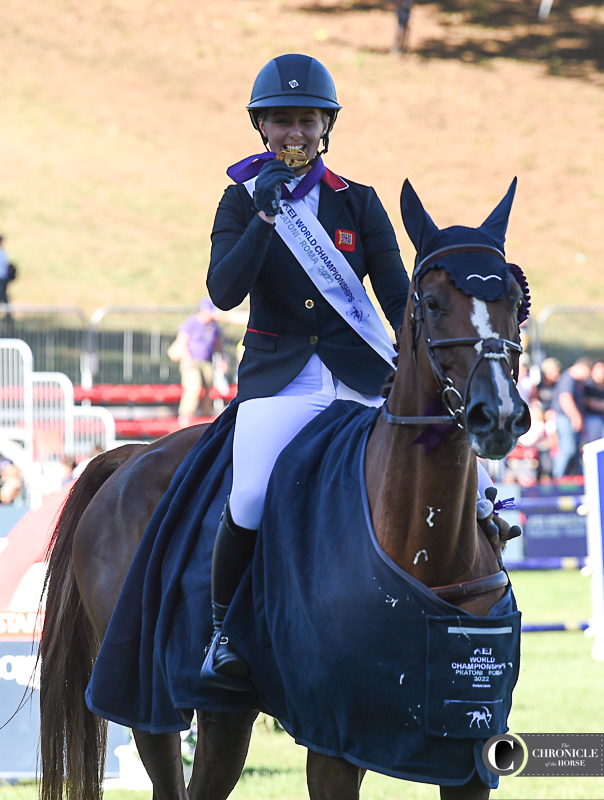 The Chronicle is on site to bring you interviews, photos and stories daily, so follow along at coth.com. We'll have full analysis from the competition in the Oct. 10 issue of The Chronicle of the Horse magazine.
Results and order of go can be found here.
Tags:
2022 FEI Eventing World Championship
,
Amande De B'Néville
,
Ariel Grald
,
Banzai du Loir
,
Boyd Martin
,
Carjatan S
,
Christoph Wahler
,
fischerChipmunk FRH
,
Julia Krajewski
,
Lauren Nicholson
,
Leamore Master Plan
,
Mai Baum
,
Michael Jung
,
Off The Record
,
Sandra Auffarth
,
Tamie Smith
,
Tsetserleg TSF
,
Vermiculus