The Plains, Va.—July 2
The dressage tests have been scrutinized, the cross-country skills confirmed, and this morning the U.S. Eventing Team finished its mandatory outing at Great Meadow with show jumping over Chris Barnard's course, a final test before leaving for the Tokyo Olympic Games.
Peter Wylde, 2004 Olympic show jumping team gold medalist (Athens) and 2002 FEI World Equestrian Games bronze medalist (Spain), has been helping the team members with their show jumping this year.
Traveling alternate Doug Payne, who rode Vandiver to a double-clear round today and has competed in the jumper ring through grand prix, said he's found Wylde's input helpful.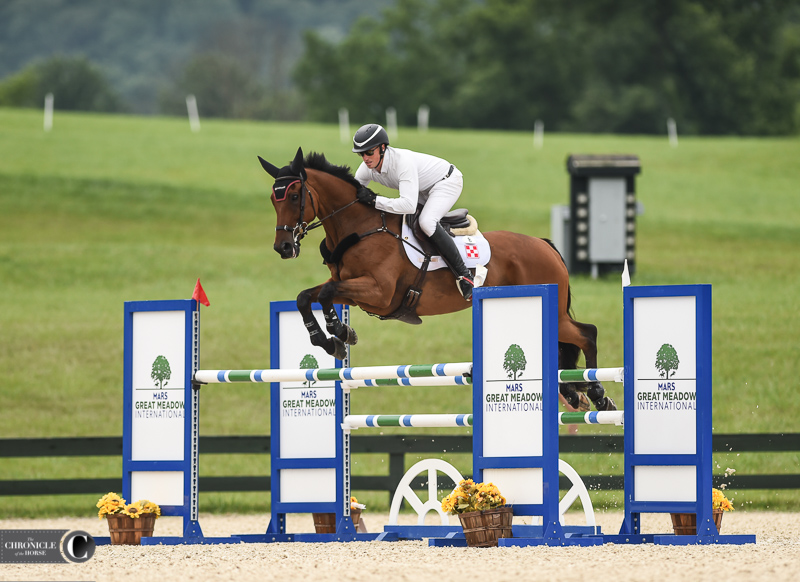 "I do think the great thing that Peter brings to the table is that he has a broad base of experience with a variety of different horses," Payne said. "Each preparation he brings to the different horses is completely separate and individual. I think he's got a great feel for it, and it's been a huge help."
Team rider Liz Halliday-Sharp has also enjoyed working with Wylde.
"I think he has such a quiet way and a nice way with the horses, and it's given me a lot of confidence," she said. "I relax more into my own riding riding with someone who has that much knowledge. He's really put effort into each horse and finding the best out of each horse."
Team riders Boyd Martin and Phillip Dutton have been working closely with Wylde at home in Pennsylvania, and he's ridden and competed their horses in the jumper ring.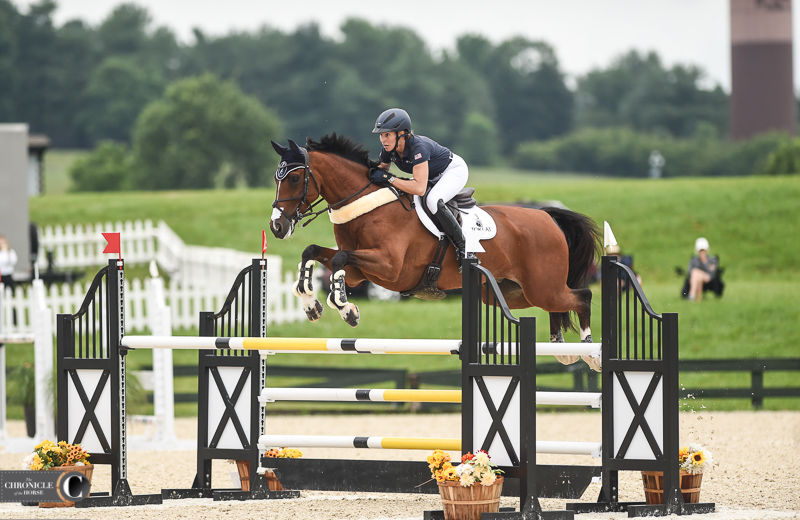 "It's hard to get the highest caliber people devoted to you, and I think Peter Wylde is one of the best riders and trainers in the world, and for him to help out this team is a huge sacrifice for him," said Martin. "I feel like he's enjoyed himself. I had him out cross-country schooling the other day. I was a bit nervous when I first met him because I looked up to him and idolized him when I was a younger rider. I was a bit intimidated, but when you get to know him he's actually a really nice guy, too."
Martin jumped both his team horses, Tsetserleg TSF and his direct reserve On Cue, today. He was double-clear with "Thomas" and had two down with On Cue.
"I try to get Thomas to jump well at the important ones. I know it sounds silly, but he's been a work in progress. This would be his harder phase. Today I decided to see if we could get a good round out of him, and he jumped unreal," he said.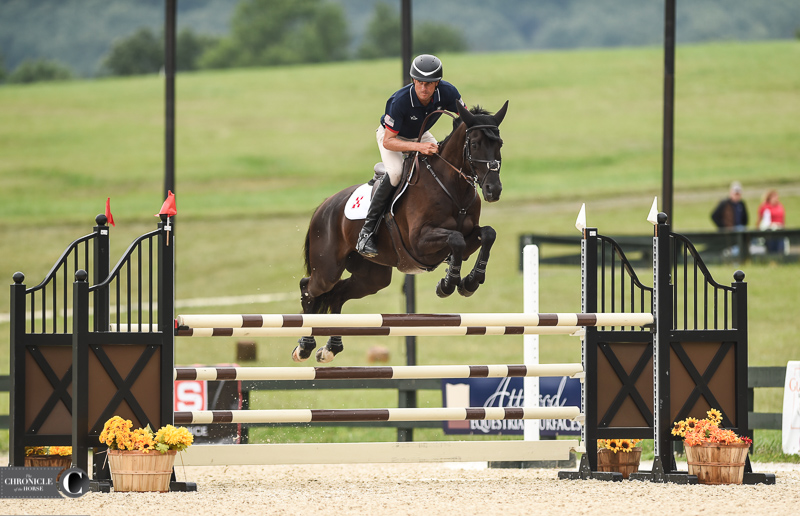 "I'm thrilled with my two horses," he continued. "It was heartbreaking to have Luke [140, his original team horse] out a couple of weeks ago. It was very sad, but he picked up a small injury. I was very fortunate to have two top-class backup horses. I feel like Tsetserleg's in the best form of his life. We tumbled at [Land Rover] Kentucky this year, but I think it's made him better. He was brilliant out on the cross-country; he was eager to jump every jump. Today he came out and jumped like a buck.
"I feel like we've gone hard. Erik [Duvander] has sacrificed a lot. Peter Wylde's also been incredible how he's just put everything in his life aside to improve us in the jumping. For me, my groom Steph [Simpson] works around the clock, and my wife Silva [Martin], and the guys that work for me are incredible. I feel good, I'm mentally stable, and I'm physically ready to roll, and here we come Tokyo."
For Halliday-Sharp, one rail on Deniro Z didn't detract from a great week.
"This has been a really great opportunity for us to get our horses back out," she said. "They needed a real competition. Most of our horses haven't run since Kentucky, which was nine weeks ago. I think the preparation was great, and they put a lot of effort into making this super for the horses—great ground, great courses, just enough pressure on the cross-country to set them up.
"We didn't want it too easy, so luckily the course was short, and the questions came up fast. I think that was great to set them up and get them thinking. Deniro Z is feeling fantastic, and he's in great form and really fought for me yesterday. Our goal was to put him in a really good, confident place; it wasn't about running him around super fast or anything like that. I can trust that on the day."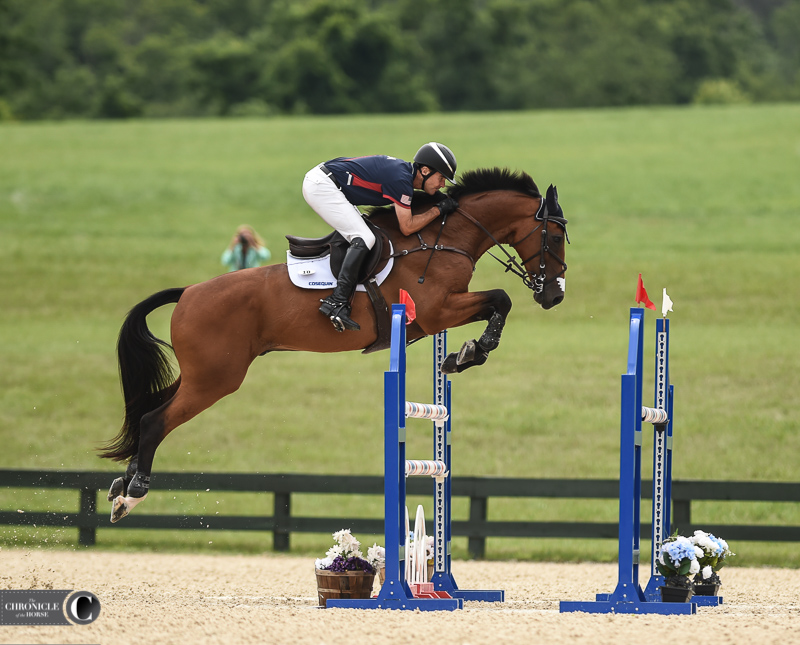 Dutton, who's heading to his seventh Olympic Games, also rode a double-clear with Z.
"It's been a great couple of days here at Great Meadow," he said. "It's been humbling watching all the riders here. Unfortunately, only three get to ride and represent the country, but any one of these riders you'd be proud to be on a team with. We feel very lucky to be part of this and the trip and what's ahead of us. I don't think any of us are taking for granted the enormity of what's ahead in Tokyo, and the competition's going to be very stiff with the new format of three on a team."
The four team horses plus two traveling alternates, Tamie Smith (Mai Baum) and Will Faudree (Mama's Magic Way), will head to Gladstone, New Jersey, next in preparation to ship out on July 8 to Germany, where they'll do pre-export quarantine in Aachen. While in Aachen, they'll get a chance to ride in front of a dressage judge and show jump practice under the lights before flying to Tokyo on July 20. Eventing at the Olympics runs from July 30-Aug. 2.