Like many of his fellow competitors in the Platinum Performance USHJA International Hunter Derby Championship, Michigan ODF has a ground-covering gallop and a jaw-dropping jump, but he stands out from the field in a different way: He was bred in the United States, and his rider, Haylie Rolfe (née Jayne), competed his dam in the junior hunters in the mid-2000s.
Rolfe's dad, Alex Jayne, purchased Michigan's dam, Cabriola Z (Calvin Z—Fontine S, Zeus), from Laura Kraut, and Rolfe showed the Zangersheide mare in 2005 and 2006 under the name Matilda. Leslie Coolidge purchased Matilda in 2006, and she took over the reins the following year.
"She was a beautiful mover. She won every under saddle you went in; [you] never had to pull her shoes or anything," said Rolfe. "She had his big stride for sure and beautiful jump. But she was really flashy, and she was very fancy. But she is a chestnut mare through and through. In the barn, she'd bite; she'd kick. She hated the dogs. She still does."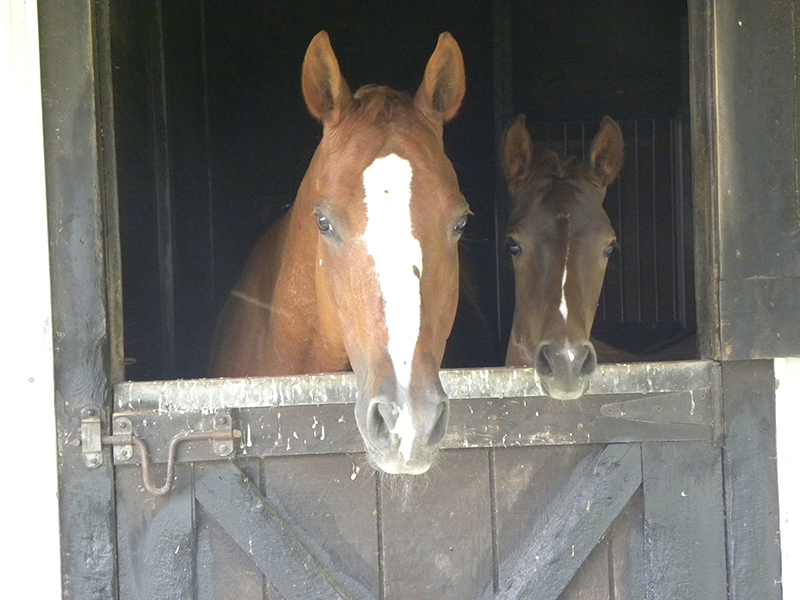 Matilda retired in 2010 and has four foals. Three, including Michigan, are by the Selle Français stallion Klotaire Du Moulin (Voltaire—Qualite De Lisle, Nankin), who showed in the amateur-owner jumpers with Kelsey Cruciotti (née Thatcher). The fourth, born on July 4, is by another of the Jaynes' homebreds, Arizona ODF.
"The stallion [Klotaire Du Moulin] had a very classical way of going, went in a beautiful frame," said Rolfe. "He jumped every jump the same and in a beautiful, classic hunter way. I was actually his flat rider for many years, and he's very light. He's slender—almost looks more Thoroughbred-y—and beautiful."
Rolfe, 34, Elgin, Illinois, was the first to show Michigan and has campaigned him for most of his career, but she handed the reins over to her sister, Maggie Jayne, twice while she was pregnant. In addition to hunter derbies, he competes in the high performance hunter and high performance conformation divisions.
"Michigan is really fun to ride because he's so scopey," she said. "Typically the 4′ hunter jumps look big; they're solid. But on him, he does it so easy. When we were in Kentucky a few weeks ago, that derby had some quite big high options, and when you're cantering up to them on him, they don't look big. He does it really easily. He has a massive stride."
While Michigan, 9, inherited his parents' copper coat and is small like his dam—Rolfe estimates he's under 16 hands—Rolfe said he's much simpler to get to the ring than Matilda, but in the barn he's "kind of the devil."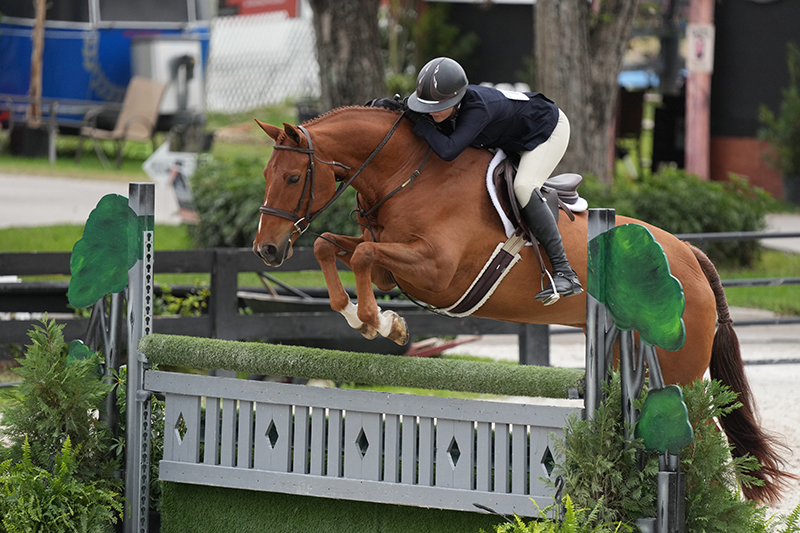 "He loves to chew anything he can. He has bit every one of my show coats," she said. "In the models I have to do everything I can just so that he doesn't try to chew on the judges. He's never mean, but he wants to chew on everything. Normally if I'm waiting for a model, I'll let him just hold my stick in his mouth, and he'll swing it around in circles, or I'll give him a towel, and he'll swing that around in circles. Anything to entertain him so that he's not chewing on his reins. He's been that way forever; he's just kind of like a jokester."
For the Platinum Performance USHJA International Hunter Derby Championship, held Aug. 18-20 in Lexington, Kentucky, Rolfe hopes to make it to the handy round, where Michigan really shines. Regardless, she's thrilled to have this opportunity as it's a first for both of them.
"This has been a long-term goal, and we're just excited that we're finally doing it," she said. "I think a lot of dreams are coming true. I've always wanted to do derby finals. Leslie's always wanted to have a horse do derby finals, and I think my dad's excited to have one that he personally bred going to derby finals. It's kind of a big moment for a lot of people."
---
This article ran in The Chronicle of the Horse in our August 2022 issue. Subscribers may choose online access to a digital version or a print subscription or both, and they will also receive our lifestyle publication, Untacked. 
If you're just following COTH online, you're missing so much great unique content. Each print issue of the Chronicle is full of in-depth competition news, fascinating features, probing looks at issues within the sports of hunter/jumper, eventing and dressage, and stunning photography.