Devon, Pa.—May 26
When it's your first year riding horses at Devon, you don't head into the Dixon Oval expecting you'll steal the show. But that's exactly what Chloe White did, winning the large junior hunter, 16-17, and grand junior hunter titles with Steve Schaefer's Tztargazer, and picking up Best Child Rider on a Horse honors along the way. Cartello Z and Ava Stearns earned the reserve large junior hunter, 16-17, championship.
Tztargazer and White earned blue over fences yesterday and a red ribbon in the under saddle, and today they were fourth in the stakes and clinched their championship with a winning handy round on a mark of 91.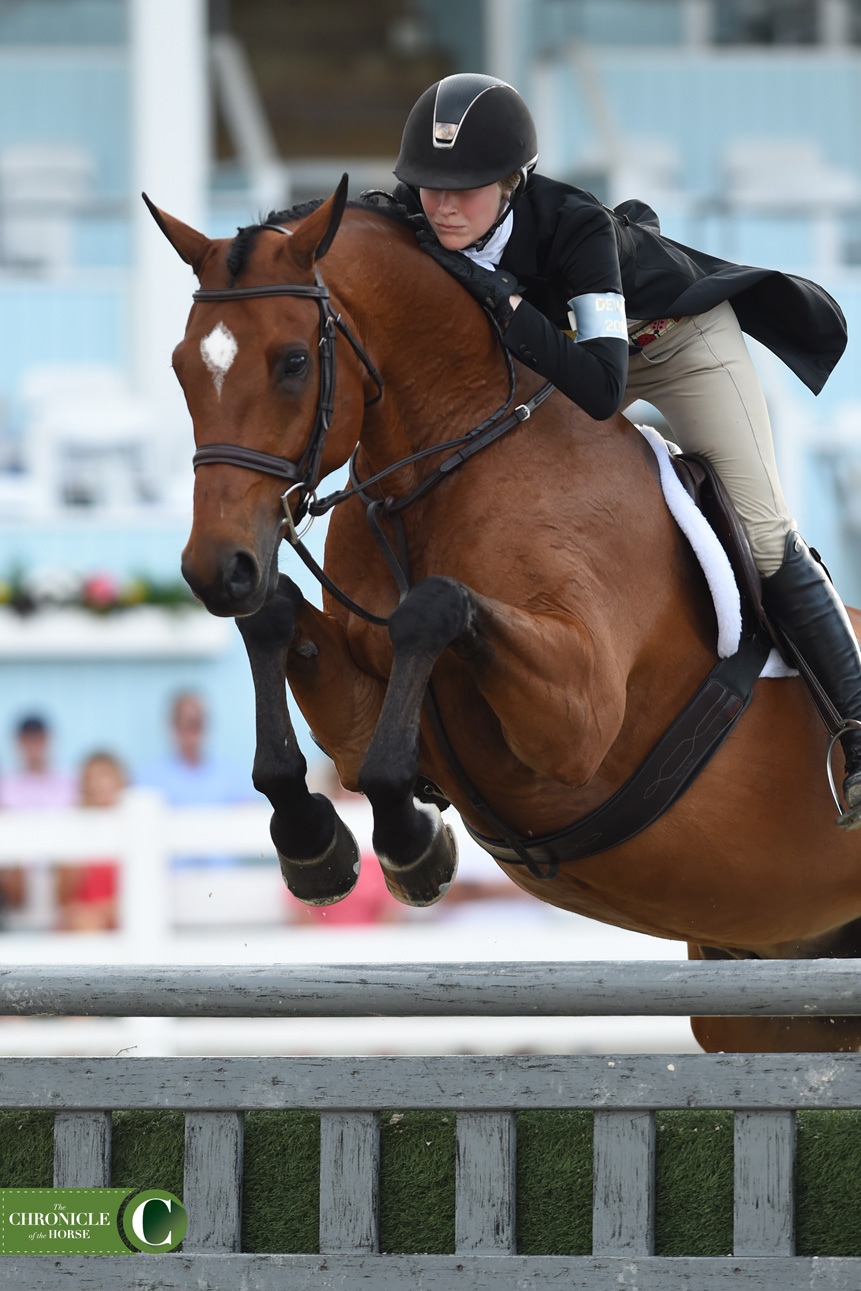 "I can't believe it happened," said White, 17. "I've never gotten a 90 before, and it happened yesterday. Then this morning in the handy as I was heading to the trot jump I was thinking, 'I'm horrible at trot jumps—it's been a nice round this far, but we can kiss this one goodbye.' But it went perfectly!
"He is a little sensitive," she continued. "He likes a light feel right in front of the jumps—drop the reins, and he's perfect. You need a little leg going around, and then you get a nice pace going up to the jump."
Tztargazer, a 12-year-old Swedish Warmblood (Alcatraz—Tzigana, Robin Z), is a transplant from the jumper ring, having shown through the 1.50-meter level with Irishman Declan Egan. "Utah" does have a handicap; he's blind in one eye. But White said that hasn't affected his performance or behavior since they paired up in March of last year.
After the class White's first hugs went to barnmates Emma Kurtz and Emma Seving, and her trainer Amanda Lyerly of Madison Hills Farm. White said she felt extra excited to have her name engraved as the Best Child Rider right below that of her best friend Kurtz, last year's winner.
This was an especially emotional win for the Madison Hills Farm team as Lyerly's fiancé and co-trainer, Mike Rheinheimer, died unexpectedly in December. White, who commutes from nearby Berwyn, Pennsylvania, to Madison Hills Farm in Gates Mills, Ohio, to train, credited Lyerly and Rheinheimer for helping her win today.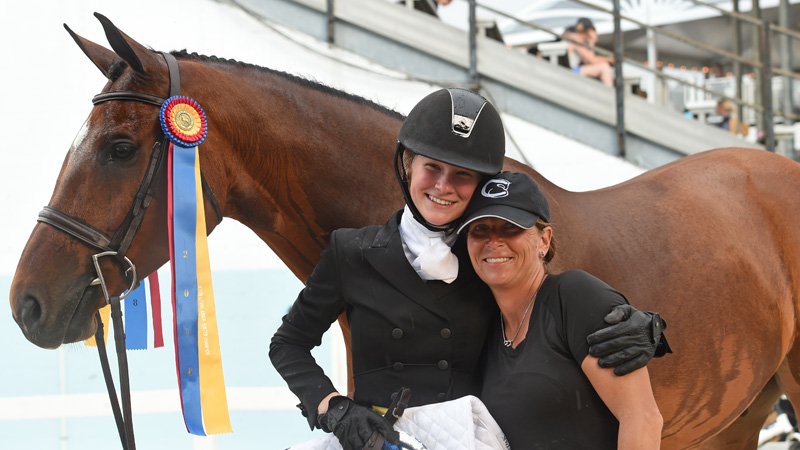 "I believe hard work pays off, and I always try to listen to everything Amanda says, and I remember everything Mike would say to me especially before I'd go in the ring," said White. "I watch my rounds to see how I can improve—I try to work hard."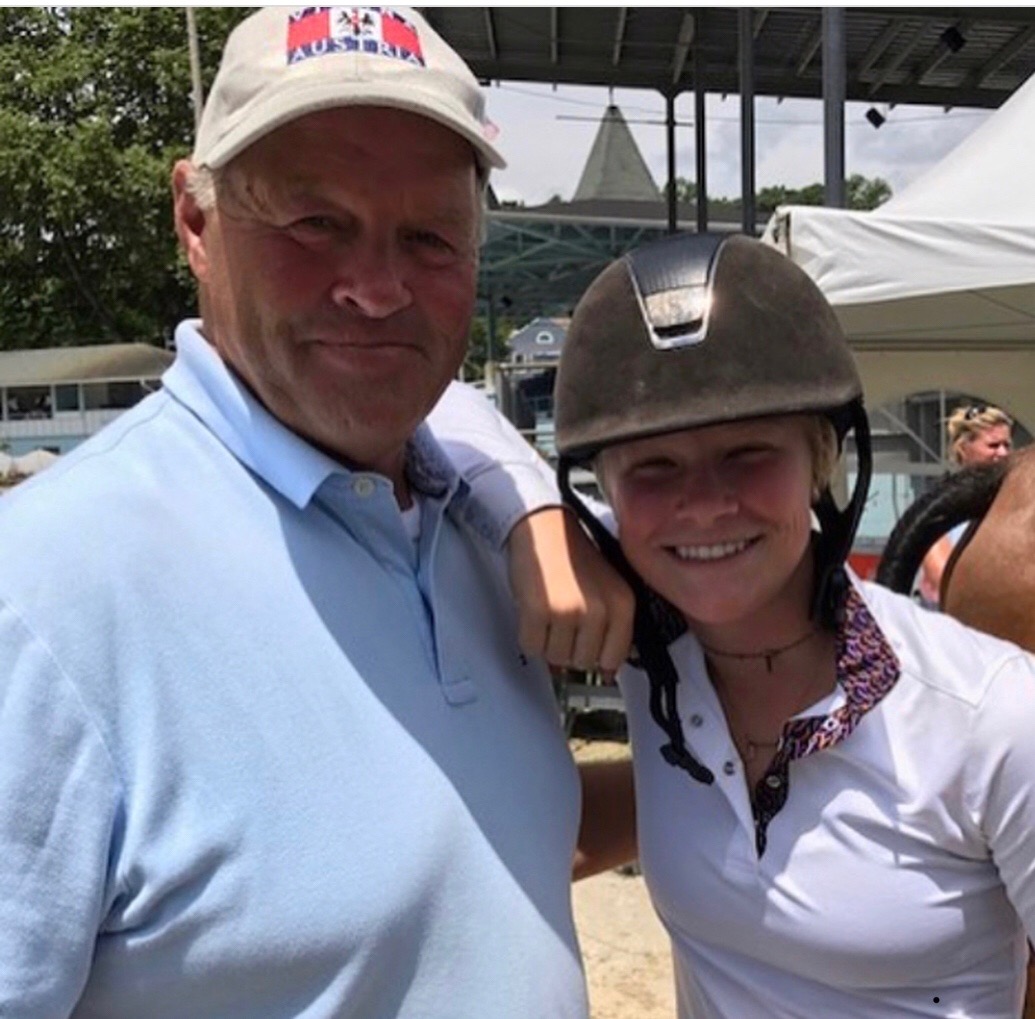 And that's on top of being a full-time student. On Thursday she walked her course for the Washington International Equitation Classic then drove to school, changed in the car, and put in a few hours of schoolwork before returning to ride.
Watch her winning handy hunter round, courtesy of USEF Network.
First Time's A Charm For Calou
Grace Boston just sat on Calou, her partner for the small junior hunter, 16-17, championship, for the first time earlier this week. But she knew right away it would be a fit.
"He's honestly one of the best horses I've ever sat on," said Boston, Owings Mills, Maryland. "He's so sweet, so honest—just the best."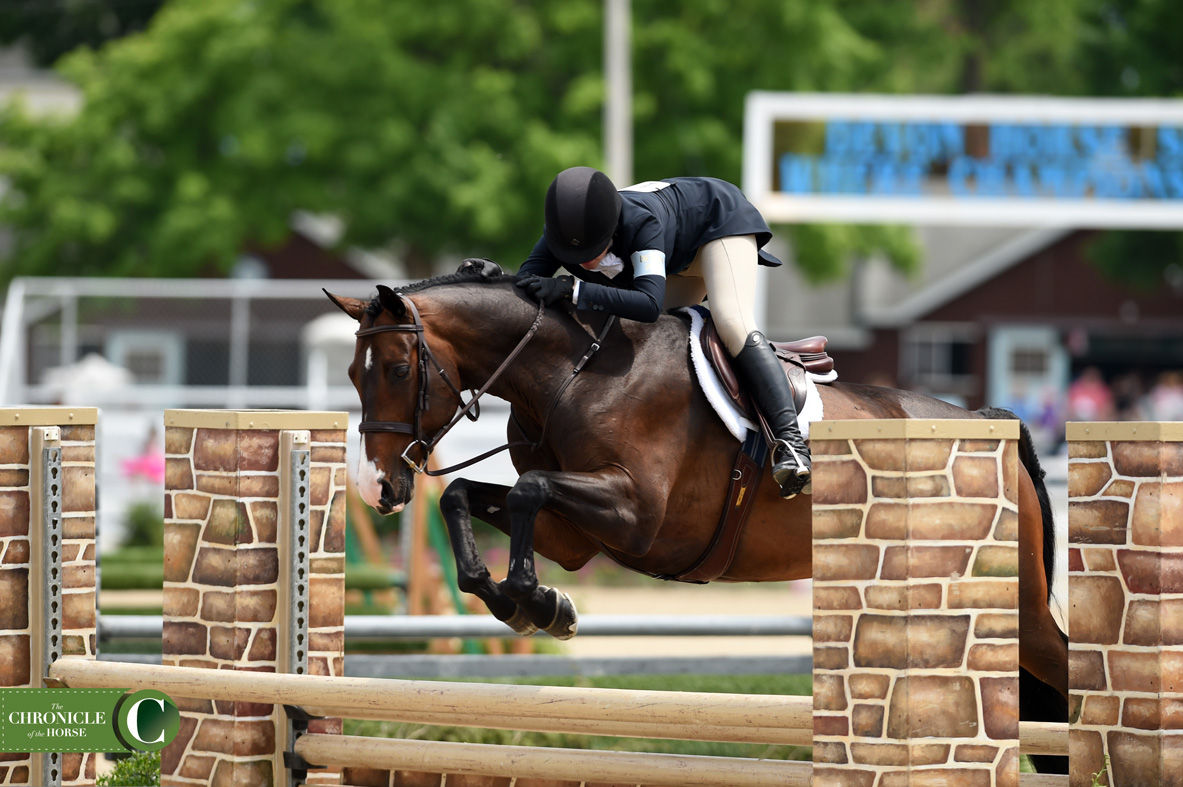 Boston got the ride on Calou (Contendro—Cantida) thanks to a friendship with Berry Porter. One of Porter's clients shows the horse, owned by breeders Mr. and Mrs. Bertram Firestone, in the children's hunters, but he'd earned an invitation to Devon after a great year in the juniors with another rider last year.
"I went to ride him at Berry's layover farm," said Boston, 17. "He trained me on this horse, and he said, 'Just ride your ride.' We just got along really well. We understood each other right away."
On top of the tricolor she earned over Elly Ficca and Cleopatra's Smile, Boston also took home reserve Best Child Rider on a Horse honors.
"That was amazing," said Boston, who trains with Streett and Amy Moore at home and meets up with Don Stewart at shows. "I didn't expect such an honor. He was my only hunter."
Next up for Boston? Focusing on college. She's off to ride for Texas A&M in the fall, and Calou will go back to his normal rider, Eleanor Rudnicki.
A Devon Debut Gives Hill Blue
Most people don't go from their first hunter/jumper lesson to Devon champion in less than three years. But Maggie Hill did just that, riding Cassanto to the large junior hunter, 15 and under, title during her first trip to the show. The reserve ribbon went to Hannah Hoch and Clear Sailing.
Hill stumbled into the horse show world, having started out riding western—the most common discipline near her hometown of Jackson Hole, Wyoming—then evented through novice and rode dressage through first level, competing at the Great American/USDF Region 6 Dressage Championships. When she decided to give hunters and jumpers a try, her dressage trainer, Margie Boyd, suggested her sister-in-law, Liza Boyd, and the Finally Farm team headed up by Jack Towell.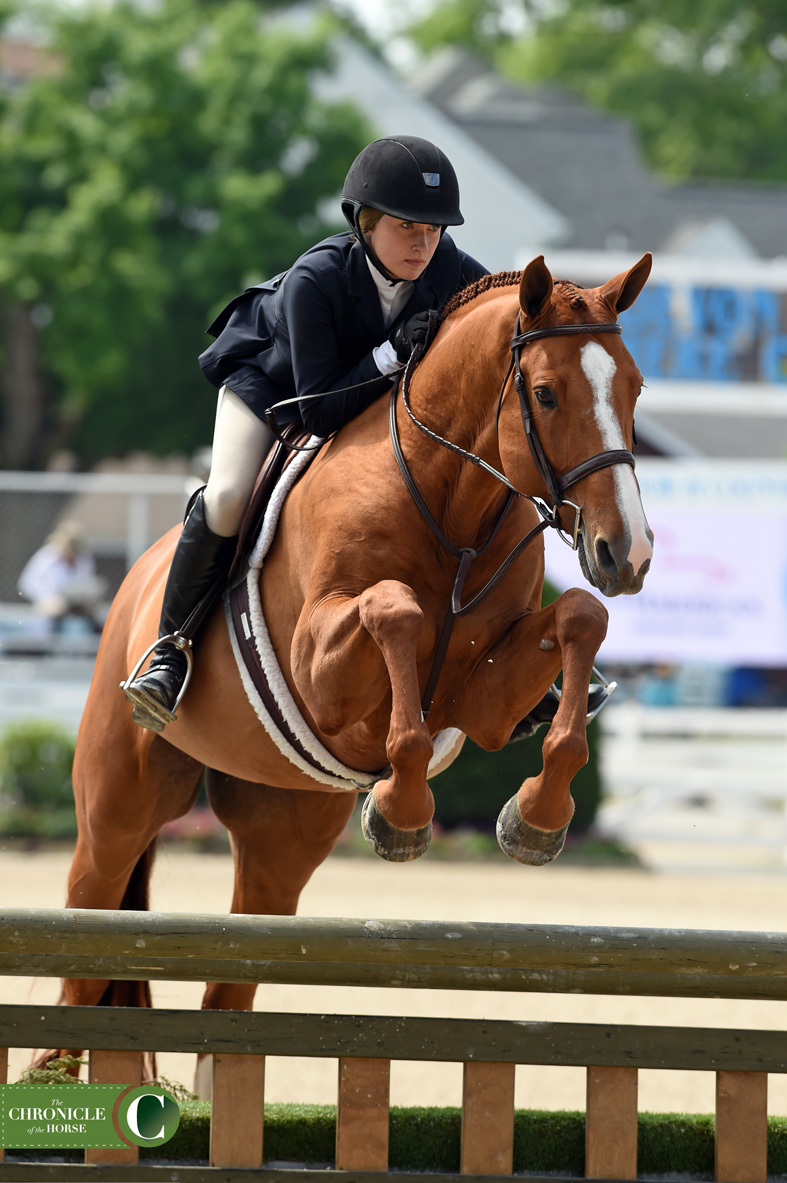 Hill was a serious student, stepping up to the low junior hunters last year and debuting in the 3'6″ division and partnering with Cassanto this year. She was in awe of her big award at Devon, but even more so of her horse.
"Cassanto is the best horse I've ever ridden," said Hill, 15. "He's kind of a funny horse because he's got a lot of self confidence, and he needs to get a little bit of that out. This morning, [Finally Farm assistant trainer] Katie Wood rode him, which made a big difference.
"Everyone at the farm is fantastic," she continued. "I try my hardest to ride like Liza, and Jack is such a determined, enthusiastic trainer. My parents don't know much about horses, but when my dad called my mom he told her that I got a really loud whoop, and they know that means I did well."
One Day's Enough For Custom Made
It's one thing to win a tricolor at Devon. It's another to do it when you only show one day.
Custom Made started out his weekend in the small junior hunter, 15 and under, division with owner Hallie Grimes by winning both the opening class and the under saddle on Day 1. But when he showed colic symptoms overnight, Grimes and her trainers put his health first.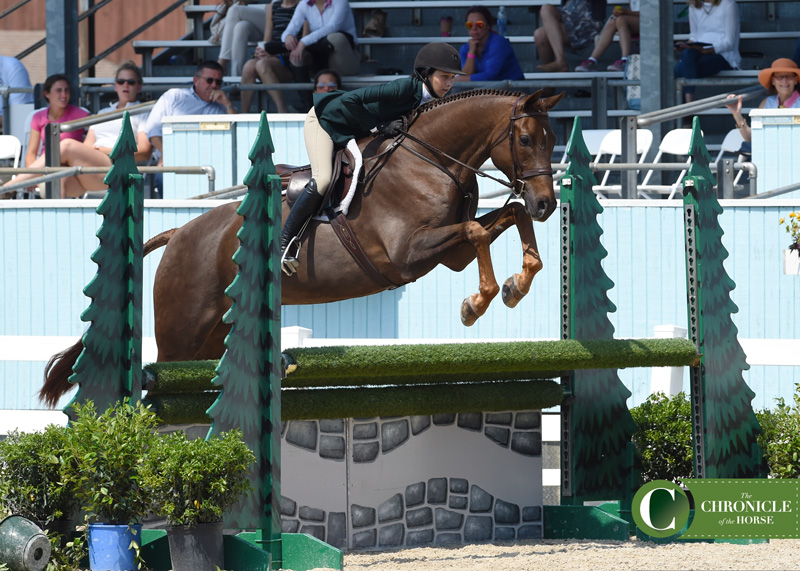 "He had tummy issues last night, so I figured let's give him the day off," said Grimes, 16. "That horse doesn't owe anyone anything, and I don't want to do that to him. It was a little it of a bummer, but it worked out for the best."
Grace Debney and Wisdom came closest to catching Custom Made, settling for the reserve title.
Grimes, who hails from Houston, trains with both Berry Porter and Andre Dignelli, splitting her time between their home bases near Houston and Katonah, New York, respectively. She paired up with Custom Made about 18 months ago, after he'd already amassed a reputation in the hunter ring with Havens Schatt.
"It was terrifying getting him," she admitted. "A lot of my other horses were completely unproven. I rode that horse for the first time, and I was completely inexperienced. It was a really awesome horse to show me the ropes. He's so seasoned and so good at his job. He's been awesome."
Looking for information on where you can watch and when your favorite riders or classes go? We've got it all in one place for you. 
Find all our coverage from the show here, and check here for full results.
Make sure you're following us on Facebook, Twitter and Instagram as well.
Want more Devon? Check out the June 18 issue of the print magazine. What are you missing if you don't subscribe?


2018 Devon Junior Hunter Winners

Mollie Bailey / May 27, 2018 9:06 pm
Tags:
2018 Devon Horse Show
,
Amanda Lyerly
,
Amy Moore
,
Andre Dignelli
,
Ava Stearns
,
Barry Porter
,
Calou
,
Cartello Z
,
Cassanto
,
Chloe White
,
Clear Sailing
,
Cleopatra's Smile
,
Custom Made
,
Devon Horse Show
,
Don Stewart
,
Emily Ficca
,
Grace Boston
,
Grace Debney
,
Hallie Grimes
,
Hannah Hoch
,
Jack Towell
,
Liza Boyd
,
Maggie Hill
,
Margie Boyd
,
Streett Moore
,
Tztargazer
,
Wisdom