Del Mar, Calif.—Aug. 6  
Mavis Spencer wrapped up the Showpark Festival Series with two grand prix victories in one week. Coming off of a win in Friday's $25,000 Markel Insurance Grand Prix, Spencer and Neil Jones Equestrian's Chacco delivered the only clear round in Sunday's $25,000 August Festival Grand Prix, designed by Mauricio Garcia of Puerto Rico.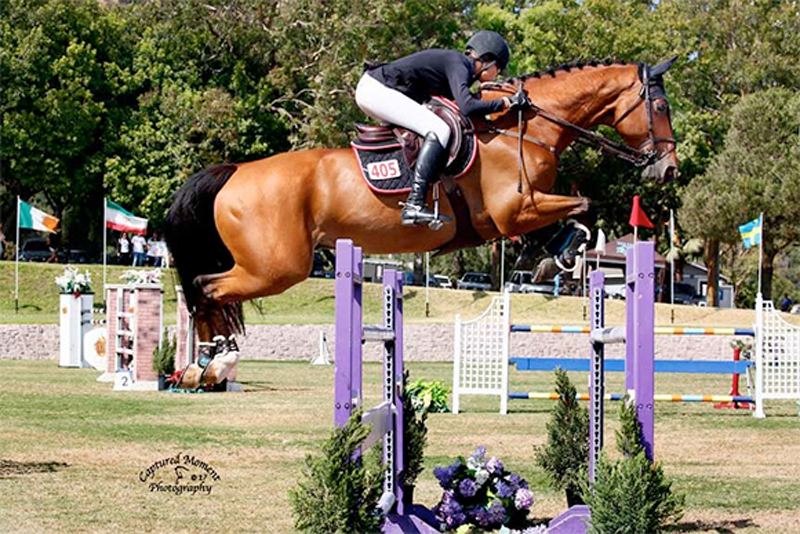 "He's so careful with so much scope that he really helped me out down some of the lines and over the back rails of some of the oxers," Spencer explained. "Friday was my first grand prix win since getting back in the saddle after grooming, so to win two in one week is really exciting. And to do it on two different horses in the same week just goes to show how fortunate I am in the group of horses that I have right now and the people supporting me."
Want to read more about Mavis Spencer's transition from grooming to grand prix winner? Read COTH's "Mavis Spencer Has Gone From Grooming To Grand Prix" and check out Mavis' blogs on COTH.
Spencer and Chacco were the final duo to go, but second- and third-place finishers Tina Yates and Francie Nilforushan were prepared to jump off prior to her clear finish. Yates rode Highpoint Farm, LLC's Campitello 5 to a four-fault finish, and Nilforushan rode Ali Nilforushan's Adoro to the same score but finished just a few seconds behind Yates.
In the $25,000 Markel Insurance Grand Prix on Friday, Spencer was first to go clear, first to jump-off, and first to strike off in the victory gallop riding Neil Jones Equestrian, Inc.'s Clochard. She topped the field of 26 entries with an unbeatable jump-off time of 41.40 seconds.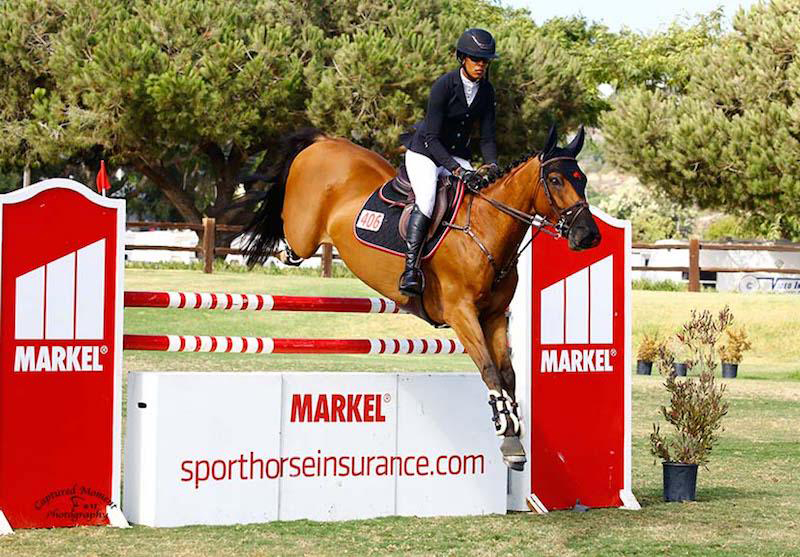 Her swift turns and bold gallops were nearly matched by second-place finisher Tina Yates, who jumped off on three horses but emerged second aboard Highpoint Farm, LLC's Zelote VDL. They finished less than 0.4 seconds behind Spencer. Hillary Ridland delivered the only other double-clear trip, riding Carole Looke's Cambria M Z and stopping the clock in 42.21 seconds.
Eight horse and rider combinations successfully navigated the 1.40m track built by course designer Mauricio Ortega of Puerto Rico. In the jump-off, though, none could catch Spencer and Clochard.
"He's so quick and he's so careful, I knew I had a shot and it was just a matter of going as fast as I felt comfortable going," Spencer explained. "This is only my fourth show with him, but even though we were a little slow rolling back to the combination, I guess everyone else was just a bit slower today!"
Although a new pairing, Spencer and the 9-year-old Kashmir van Schuttershof gelding have showcased their talents several times this season, earning top ribbons in 1.35-meter and 1.40-meter classics throughout the summer.
$25,000 August Festival Grand Prix 
Place – Entry Number – Horse – Rider – Owner – Faults/Time
405 – Chacco – Mavis Spencer – Neil Jones Equestrian, Inc. – 0/76.099
276 – Campitello 5 – Tina Yates – Highpoint Farm, LLC – 4/75.782
237 – Adoro – Francie Nilforushan – Ali Nilforushan – 4/81.330
406 – Clochard – Mavis Spencer – Neil Jones Equestrian, Inc. – 8/72.924
408 – Olivia Pope – Mavis Spencer – SCNC Investments – 8/73.150
244 – Chello Z – Josephina Nor Lantzman – Josephina Nor Stables, LLC – 8/73.654
304 – Zelote VDL – Tina Yates – Hi ghpoint Farm, LLC – 8/73.755
115 – Little Gancho – Marc Grock – Moonlite Beach, LLC – 8/75.976
404 – Joviale du Patriote – Jacobo Saaib – Jorge Valenzuela – 16/73.374
456 – Ircos IV – Everardo Hegewisch – Everardo Hegewisch – 20/73.533
422 – SIG Silver Surfer – Shota Ogomori – SIG International – 20/75.920
$25,000 Markel Insurance Grand Prix 
Place – Entry Number – Horse – Rider – Owner – Faults/Time
406 – Clochard – Mavis Spencer – Neil Jones Equestrian, Inc. – 0/0/41.403
304 – Zelote VDL – Tina Yates – Highpoint Farm, LLC – 0/0/41.765
148 – Cambria M Z – Hillary Ridland – Carole Looke – 0/0/42.207
252 – SIG Iron Man – Shota Ogomori – SIG International – 0/4/40.825
278 – Cicomein VDL – Tina Yates – HKC Collection, LLC – 0/4/41.572
405 – Chacco – Mavis Spencer – Neil Jones Equestrian, Inc. – 0/4/42.198
254 – SIG Storm – Krystalle Glosser – SIG International – 0/8/41.381
286 – Durango VDL – Tina Yates – ACE Equestrian – 0/27/68.614
115 – Little Gancho – Marc Grock – Moonlite Beach, LLC – 2/83.091
408 – Olivia Pope – Mavis Spencer – SCNC Investments – 4/74.103
244 – Chello Z – Josephina Nor Lantzman – Josephina Nor Stables, LLC – 4/79.475
404 – Joviale du Patriote – Jacobo Saaib – Jorge Valenzuela – 4/79.581