Harrisburg, Pa.—May 4
The second day of the Intercollegiate Horse Shows Association National Championships began with the IHSA's most experienced competitors and concluded with the least experienced riders.
The morning featured the Cacchione Cup competition, where the three highest-ranked riders from each zone compete for a title previously won by Peter Wylde and Beezie Madden, among others. All 24 riders completed the over fences phase and were then split into two groups to compete on the flat. The top 10 will return on Saturday to compete in the final work-off. No. 2 on that list is Halle Kutsche, who is only 1 point behind leader Mollie Kowalchik from Mount Holyoke College (Massachusetts).
Kutsche sat in the stands on Thursday wearing a purple Kansas State University hat and frowning as she tried to work on an engineering assignment and watch her potential draws at the same time. The 21-year-old is attending Nationals without a coach or teammates and contesting the Cacchione Cup.
"It's definitely a lot," Kutsche said, "but when I qualified I wanted to come even though my team can't. I couldn't pass it up; it's such a great opportunity. I make friends pretty easily, so I wasn't too worried about that aspect."
Texas West A&M coach Amanda Love has informally adopted Kutsche and helped her with final preparations before her ride on Gunner, provided by the U.S. Military Academy.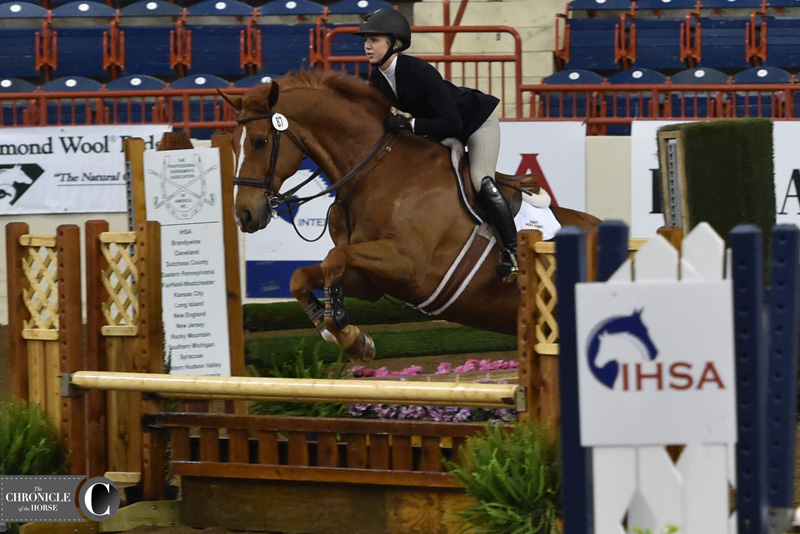 Kutsche is from The Woodlands, Texas. She chose to attend Kansas State for the NCAA equestrian team and joined the IHSA team once the NCAA program was disbanded in 2014. She then took a break to complete an internship and returned just in time to take on the role of student coach for about 20 team members.
"I really enjoy it. I might actually enjoy putting other people in the ring more than I like going in myself," Kutsche said. "I feel like I have so many strategies I want to share! It was a little bit of a transition to coaching; it's hard telling your peers what to do, but I think we've figured it out."
The afternoon featured the walk-trot and walk-trot-canter classes. The atmosphere of a big arena can be intimidating to some of the IHSA's less experienced riders, but Jillian Rogers thrives on pressure. The self-described adrenaline junkie and first-time Nationals contender took home the Collegiate Cup walk-trot win for Stanford University (California).
"This is why pony camp is the best thing of all time," coach Vanessa Bartsch declared after congratulating her rider. "[Jillian had] no lessons [before college], just pony camp every summer. She didn't know her diagonals or how to pick up a canter but she would jump anything and gallop around the trails with us."
Rogers, a sophomore at Stanford, has been riding since she was 9 years  old, but she was new to showing and being part of a team when she joined the Big Red barn.
"I grew up in New York City, but we moved to Santa Barbara during high school," Rogers said. "I'm studying bioengineering at Stanford, and I played club lacrosse this year too. I'm really comfortable around horses, but being on the team has really helped me refine my equitation."
Rogers was all smiles during the awards ceremony, but Bartsch had to turn and quietly wipe a tear away when speaking about Rogers' riding.
"It's been an emotional year," she admitted. "[Jillian's] family was in the fire zone in Santa Barbara, and she missed some practice because she was going back and forth to be with them—she ended up having some issues with her lungs. She works so hard, and I'm just so proud. She points out of walk-trot this year, so walk-trot-canter better watch out."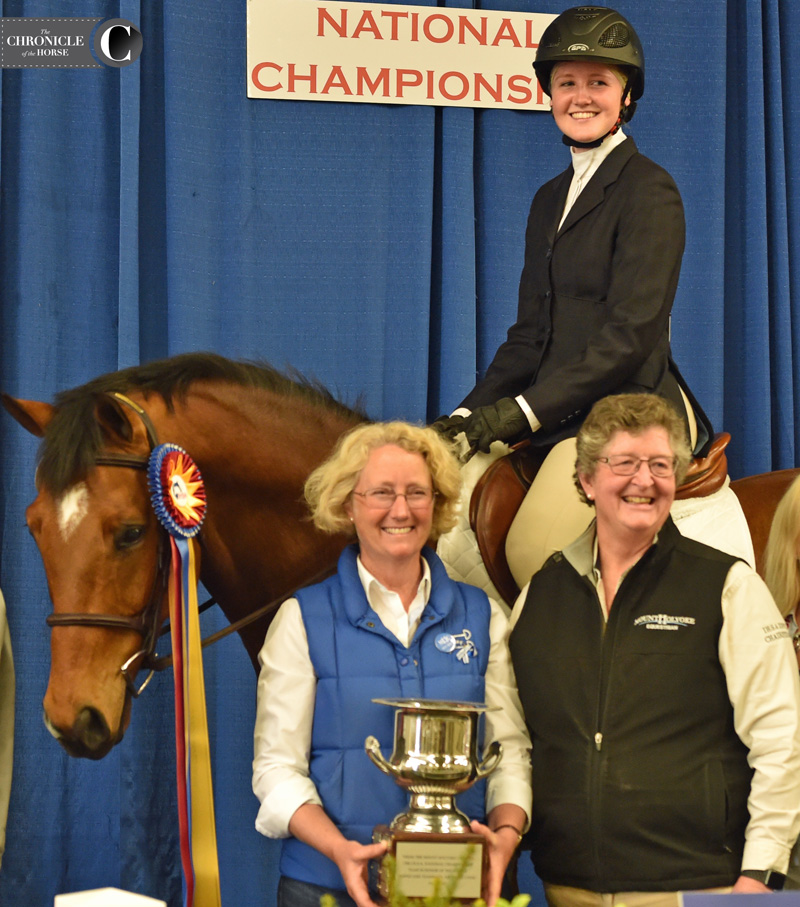 Skidmore College (New York) finished up the day's Collegiate Cup competition by widening their lead to 30 points after Alison Santucci won the Collegiate Cup walk-trot-canter class. Stanford follows with 17 points, and the Savannah College of Art and Design (Georgia) rounds out the top three with 16 points.
Santucci hails from Northville, Michigan, and studies neuroscience at Skidmore. She came into the program lacking solid basics after only riding at a western camp for a few weeks out of every summer.
"I didn't know how to do a canter transition," Santucci admitted. "Every practice was just a bit of a mess. I tried out for the team as a freshman, and I called my mom after my evaluation ride convinced I wasn't going to make it. Things really fell into place as a sophomore. I finally figured out how to ride instead of just sitting pretty. I rode for the team [at Nationals] last year and came in second, so it was great to come back and win this year."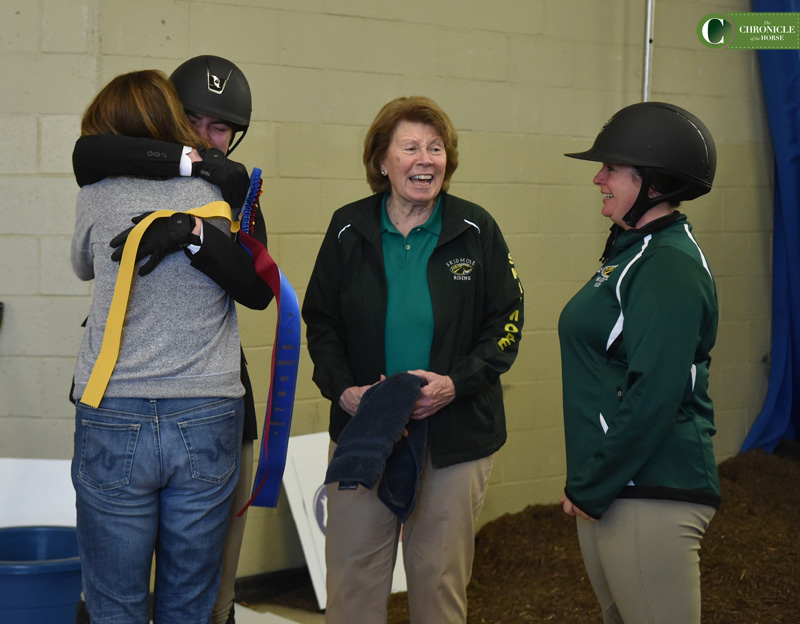 "[Alison] is a beautiful rider; she so underestimates her riding," said head coach Cindy Ford. "As hard as we work to teach her, she works three times as hard to learn it. She drew  Timmy [a Skidmore horse], but she hadn't ridden him in months. She did a lovely job and stayed patient with him."
Ford's team might have a 15-point lead with only two Collegiate Cup classes to be decided tomorrow, but they're staying humble.
"We're cautiously optimistic," Ford said. "We're not the clear winner; someone could jump up there, but we'll see."
Friday Results: 
Individual Walk-Trot Equitation – Alessandro Lorenzoni, Wesleyan University (Connecticut)
Collegiate Cup Intermediate Equitation Over Fences – Sara Hearn, Mount Holyoke College (Massachusetts)
Collegiate Cup Walk-Trot Equitation – Jillian Rogers, Stanford University (California)
Collegiate Cup Walk-Trot-Canter Equitation – Alison Santucci, Skidmore College (New York)
Top 3 Team Standings: 
Skidmore College – 30
Stanford University – 17
Savannah College of Art and Design – 16
Read more from day 1 of IHSA National Championships and check back here for results from the final day.