On a stormy day in March 2020, I found myself trotting around an arena at the Murieta Equestrian Center in Rancho Murieta, California, getting ready to start my dressage test. A tablecloth flapped dramatically in the wind, triggering my horse's fight or flight response. On that day, "Ben" chose flight. I heard the judge's whistle and wondered if I could regain enough composure to earn a qualifying score for my USDF bronze medal. Ultimately, the answer was no. The tablecloth did not yield, looming over us like a specter every time we neared the top of the dressage court, but we lived to fight another day.
Ben and I have been partners since 2004. When we first crossed paths, he was a 10-year-old Irish Sport Horse, and I was an ambitious junior with dreams of upper level eventing. Registered as McTwist, he was imported to the United States by Teresa Korol, and—despite his aversion to noisy fabrics—he was as brave to the jumps as he was fast. While the pair had success at the upper levels, Ben was never an easy horse. He had a keen sense of self-preservation and no qualms about applying the brakes when put in a bad spot. He was nervous on the ground and extremely head-shy. Catching him from turnout was a gamble. Clipping required heavy sedation. Even spray bottles set him off.
Also, Ben did not exactly shine on the flat. (A friend affectionately nicknamed him "Pony Gaits.") He could be accurate but never excelled in submission, movement or relaxation. This failed to dissuade me. I was 16 years old, and dressage seemed like a speed bump on the way to the excitement of cross-country. More importantly, the first time I sat on Ben, I felt an undeniable connection.
The next several years were a whirlwind. In 2005, I was fortunate enough to represent Area VI at the FEI North American Youth Championships on Ben and my other horse, Hero. We quickly moved up to intermediate, then to advanced. We made it to what is now the CCI4*-S level primarily due to Ben's talent over fences, and in spite of our collective indifference to dressage. I was named Area VI Advanced Young Rider of the Year, long-listed for the Olympics, and invited to represent the USA at the 2006 Eventing World Cup Final in Malmo, Sweden.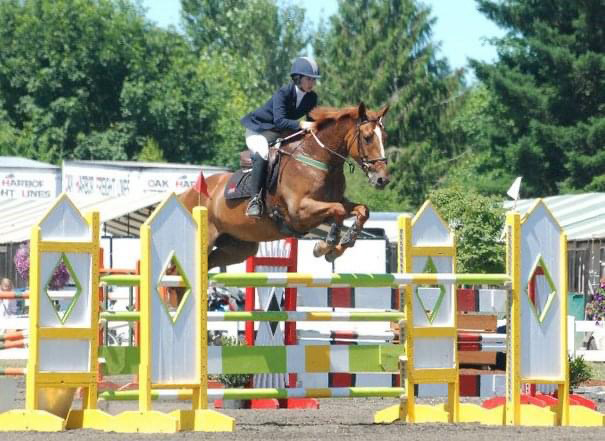 When I declined the World Cup invitation, I did not realize the shift it set in motion. I figured we could try again later when we were better prepared. However, as any equestrian knows, making plans is difficult when horses are involved. I brought Hero to a hunter/jumper barn near my college in Oregon, planning to ride him to stay fit while Ben stayed in California with my eventing trainer, Beth Temkin. I flew out to meet Ben at shows, and this worked—until it didn't. It turned out that our competitive edge came from the trust we placed in one another. The longer we were apart, the more frayed that bond became. This culminated in me retiring on cross-country at Galway Downs (California) in March 2007 because, despite jumping clean, I did not feel I had enough control to finish the course safely. Something had to change.
I brought Ben up to Oregon and dabbled in the jumpers for a change of scenery. However, I was not ready to give up eventing. I took time off college to be a working student for Dayna Lynd-Pugh at Flying Tail Farms in Gilroy, California. This was a formative experience that taught me about horsemanship, the mechanics of running a show barn, and how to ride different types of horses. Of all the things I learned, the most valuable was that I wanted to pursue horses as a hobby, not as a career. I was so focused on my competitive goals, I had lost sight of the joy I used to find in riding.
I returned to college in the fall of 2008 with a new outlook. I came to terms with the fact that I missed my World Cup window. I also knew I had to take school more seriously. There were still many directions my partnership with Ben could go, and I was keen to explore them. With the stakes lowered, I actually enjoyed going to horse shows again. We competed successfully in the 1.30-meter jumpers, supported by the team at Triple Rise Equestrian in Eugene, Oregon, for several seasons and had a blast.
Life marched on—law school, a masters, a stint living abroad, and returning to California to start my career in earnest—and Ben transitioned into more of a supporting role. He was leased out at a hunter/jumper barn for several years, and while I visited him regularly, I lacked the time and money to ride consistently.
In 2018, Ben was ready for a step down. He always liked having a job, and I believed that would be true even if it no longer involved consistent jumping, so I moved him closer to home and started riding again. My plan was to keep him comfortable in moderate work until he told me he was ready to retire. We hacked, hit the trails, and popped over some small jumps once a week.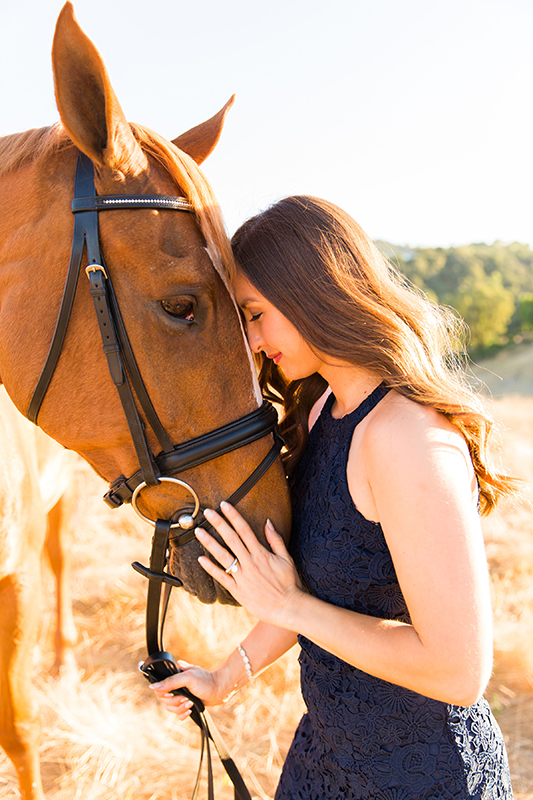 A 2019 move to a more affordable area allowed me to put Ben in full training. We landed at a dressage barn in Sacramento run by Giovonna Scott. When she asked about my goals with Ben, my response was modest: I was an adult amateur returning to riding after a years-long break with an older horse, and neither Ben nor I were particularly skilled at dressage. Feeling self-conscious, I followed up that if we could practice "the basics," that would probably benefit us both. Giovonna smiled and said she could work with that.
I bought a custom-fitted dressage saddle, and off we strode into this brave, new, rhinestone-encrusted world. What followed was, essentially, re-learning to ride the horse I had owned since high school. My instincts were still there, but now in my 30s, my body did not always cooperate. My shoulders were stiff. My hands were not as steady as I remembered. My core strength was not up to the task. Ben was building back strength and stamina, too.
Getting back into shape did wonders for us both. As months passed, we gained an appreciation for the precision and nuance of dressage. Ben was looking better than he had in years. Giovonna off-handedly suggested I should try for a USDF bronze medal, an award for riders who earn qualifying scores at first, second and third level dressage. I thought it was a longshot—third level was roughly equivalent to the advanced-level eventing dressage we had done over a decade earlier—but decided it could be fun to try. It was exciting to have a tangible goal in my sights, especially after feeling so aimless just a year beforehand. I was excited to be back in the competition ring with my best friend.
Knowing we had limited time, we made the unorthodox decision to try for the third level scores first, then work our way down. Our first dressage show was in April 2019, when Ben was 25 years old. I rode two tests I thought were pretty respectable, but unfortunately the judges did not agree.
I realized this goal was going to be even harder than I thought. We set to work, and my next two shows went considerably better. Going into 2020, I had two qualifying scores down and four to go. I was feeling more optimistic that a bronze medal was within reach. What I did not anticipate was: the COVID-19 pandemic, persistent wildfire smoke for months on end, and nearly half a year spent riding in a hackamore due to a persistent summer sore on the corner of Ben's mouth.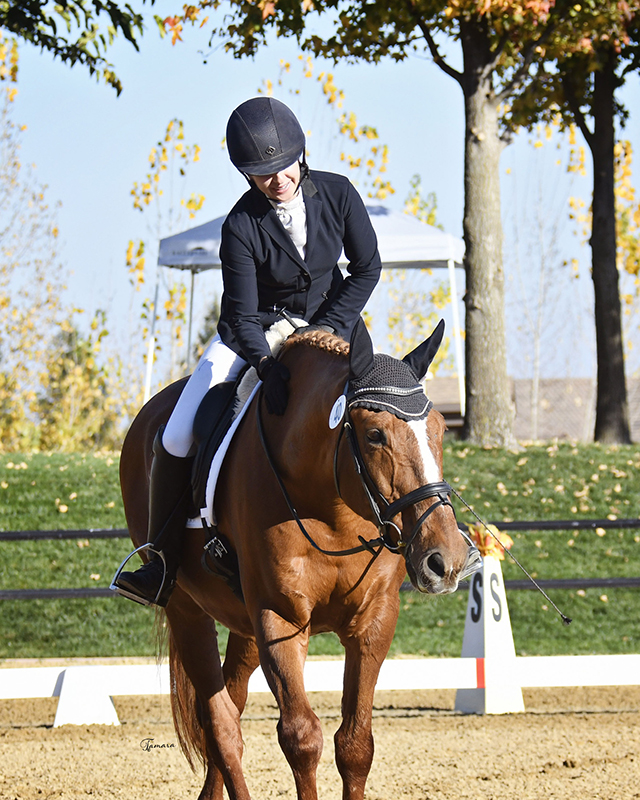 With so many obstacles and delays, I felt my optimism waning. I could tell it was getting harder for Ben to do higher level dressage movements, and I never wanted to push him too far. If we were going to do this, it had to be on his terms.
We took things day by day and eventually made it to several more shows. Some were better than others. In February 2021, the stars aligned, and we received our final two qualifying scores, both at first level. Ben was 27 years old, looking dapper in a satiny black saddle pad with rich gold trim and a matching bonnet. Friends and family came out to watch, and we celebrated with champagne on the show grounds after the score sheets came in. Ben got as many treats as he could stomach.
I cannot emphasize enough how hard we had to fight for every single qualifying score. It never got easier, even as we went down the levels. In some ways, it got harder. I placed last, or close to it, in every single class. At every show, I watched elegant riders on flashy young warmbloods sashay by us in the warm-up ring. But comparison is the thief of joy, and we had nothing to prove to anyone else. They were having their moment in the sun, just as we had a decade before. Our goals were different now, and we were only there to impress ourselves.
I recently received my bronze medal in the mail. It was a bittersweet moment, holding a physical manifestation of our last competitive milestone. Yet our journey is far from over. Ben is now semi-retired at a friend's dreamy horse property in the countryside. Trail rides have replaced half-passes, and we do more stretchy trots than extensions. But he is happy, and seeing him gallop around the pasture and graze beneath the willow tree brings joy to my heart like nothing else in this world.
Ben has set the bar so high that I am not sure I will ever develop a similar bond with another horse. But I know whatever happens in the future, I will remember the lessons he taught me and cherish the experiences he made possible. I have realized that it never really mattered which ring we were in, as long as we were there together. Life takes unexpected turns, and sometimes you just have to sit back and enjoy the ride.