Two months before the Twin Rivers Winter Horse Trials were supposed to take place last weekend in Paso Robles, California, there was a better chance of the venue hosting canoeing than eventing.
"They call it a flash flood, and I suppose everyone is supposed to know the definition of that, but I think it's hard to truly understand until that actually applies to you," said five-star eventer Andrea Baxter, whose family has owned and operated the 500-acre facility since 2001.
On Jan. 9, Baxter and Bec Braitling, another five-star eventer also based at Twin Rivers, spent the morning in town doing ordinary things, like grocery shopping and visiting a farm where their retired event horses live. Then then rain began to fall—hard.
"All of our emergency alerts on our phone were going off," Baxter said. "As we got home, I could see that it looked like River Road [where the ranch is located] was under water."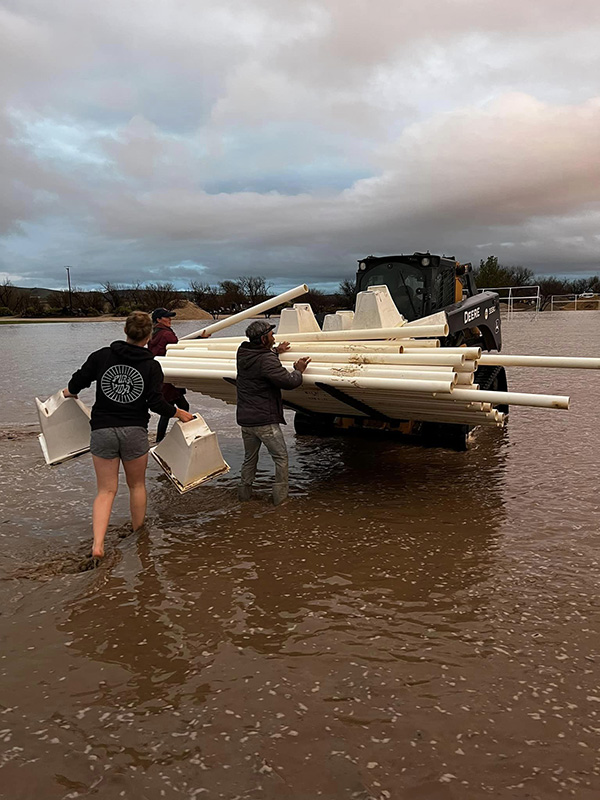 Paso Robles Municipal Airport recorded 2.02 inches, shattering the previous record of 1.18 inches set in 1995. Twin Rivers Ranch gets its name from the neighboring Estrella and Salinas rivers, and during the flooding the latter rose above a levy and overflowed into the facility's bottom field.
"The water was going up and up and up so quickly that the dressage arenas were just floating down the river," Baxter said. "By the time we got everything picked up, the water was probably four and a half feet deep."
The rushing water also relocated cross-country jumps and spread debris around the property—logs, trees, telephone poles and more. Rapids on once-dry land swept away the footing in the dressage arenas.
The Paso Robles Public Works Department recorded a total of 10.46 inches of rain in January 2023, more than in any single month since January 1995. With the Twin Rivers Winter Horse Trials scheduled for March 3-5, the horse trials team had seven weeks to clean up and put the pieces back together. On Jan. 16, Baxter set up a GoFundMe page to assist with flood recovery. The list of donors who helped raise more than $18,000 for the venue included many members of the West Coast eventing community, past and present.
"We've been through a lot these past few years, but we remain committed to growing our sport," said Connie Baxter, who organizes the events at Twin Rivers, referring not just to the flooding but also of the events cancelled by COVID-19 in 2020 and EHV-1 in 2022. "To see how the community stepped up to help was incredibly motivating."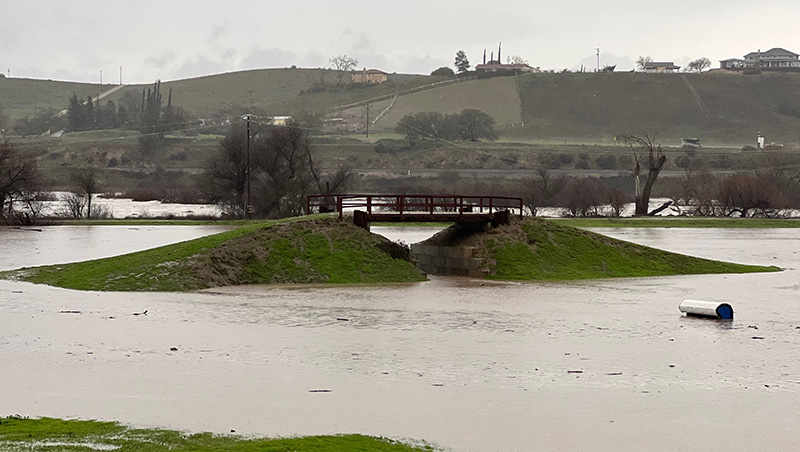 Twin Rivers also received a significant private donation from the Duda family, who live several hours from the venue and use it regularly.
"Twin is just such special venue, and we love Bec and Andrea," said Molly Duda, who won the first-ever modified level held at Twin Rivers with her 11-year-old Irish Sport Horse gelding Carlingfords Hes a Clover. "We get out there as much as we can for schooling, clinics and the shows, and we love it. So we wanted to support them."
Cross-country course builder Adri Doyal arrived Feb. 6, two weeks before she was originally scheduled, to evaluate the footing and jumps after the water receded.
"They had already done a substantial clean up on the debris that was down there," she said. "We were also tickled and thrilled to know that not very many of the jumps had suffered damage, and because they had been staked, they hadn't shifted around on us very much."
The water jumps, which overflowed during the flooding, had to be pumped out to clear away debris. The footing for the dressage arenas had to be replaced. The cross-country tracks had to be groomed. And as that work was underway, rain fell again during the last week of February, forcing the team to come up with contingencies for modifying the cross-country if there was too much moisture on the event days in the bottom field that had flooded a month prior.
"It's a lot of flying by the seat of your pants, and the plan changes every time the forecast shifts," Doyal said. "But we've got a really good team, and that's one of the things we're good at at Twin is keeping the team communication and everybody getting to have a voice and opinion."
"It was a weekend to really be proud to be part of the team," she added. "The Baxters, they're rock stars, man. They're game to make it happen one way or another."
Finally, after causing so much chaos for organizers in the months leading up to the spring event, the weather gave them a break for the show itself.
"We had this miracle little of window time on that weekend when we were able to run the show Friday, Saturday, Sunday, and then it started raining again Monday," Connie said.
Tamie Smith Wins Advanced With 'Breakout' Elliot V
Once the competition got underway, it was California's own U.S. eventing team rider Tamie Smith who stole the show, winning both the advanced and intermediate divisions handily.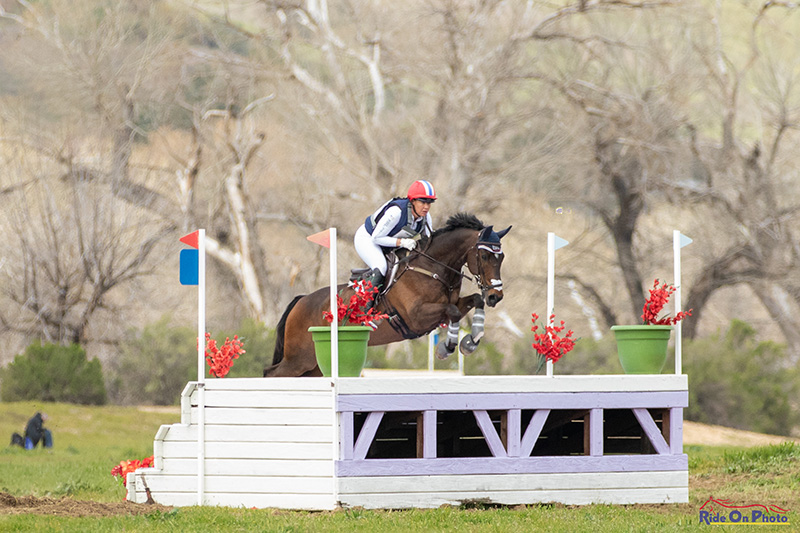 Smith has high hopes for Elliot V to become her next five-star standout. The 14-year-old Dutch Warmblood (Zavall VDL—Vera R, Nassau) gelding owned by the Elliot V Partnership ran away with the advanced division, their winning score of 36.4 nearly 15 points better than their closest competition, Smith's daughter Kaylawna Smith-Cook on Passepartout (51.0).
"2023 is going to be his breakout year," Smith predicted, "and he's really come out fantastic."
Following what she described as a challenging 2022 for the gelding, Smith plans to step him up to the top level at the Land Rover Kentucky Three-Day Event in April, where he will join her longtime partner Mai Baum as her rides in the CCI5*-L.
"He's kind of been a little bit in the background, and I've been trudging along developing him," Smith said about Elliot V. "Although he didn't have the best year last year, it was more bad-luck-type stuff, and it always felt like he couldn't catch a break."
Smith also won the open intermediate division with Kynan in the 8-year-old gelding's debut at the level. The Dutch Warmblood (Envoy—Danieta) owned by the Kynan Syndicate has progressed quickly since his making his recognized eventing debut at training level with Smith last June, also at Twin Rivers. The pair finished 2022 by winning the CCI2*-S at Morven Park (Virginia) and taking third in the Galway Downs CCI2*-L (California).
"I took my time last year just trying to get to know him, and over the winter, I felt like I solidified a partnership," Smith said. "He's a real all-around super horse. He's really good in all three phases and has an intelligent mind and is game."
Smith also said that she was relieved the event was able to recover and run at all.
"We've gotten quite a bit of weather here in California, more so than ever, and the river flooded out the lower part of the cross-country," she said. "So, it was a little nerve-wracking knowing whether they were going to be prepared, but they did a great job."
For complete results click here.