Bridgehampton, N.Y.—Sept. 3
The start list for the $50,000 Longines Cup at the Hampton Classic was 46 horses long. It included veterans like Beezie Madden and McLain Ward. The jumps are 1.60-meter high. It's Saturday in the Hamptons, and the crowd is huge.
And who rode away with the win? The 21-year-old young professional Mattias Tromp, on a horse he's only ridden since April, to boot.
Tromp couldn't believe it either. After blazing over the jump-off track and landing clear over the final fence, Tromp grinned ear to ear, petting his horse Avon and keeping that smile in place all the way out of the ring.
"I would say this is my biggest win to date, for sure," said Tromp, who rides out of Beyaert Farm in North Salem, N.Y.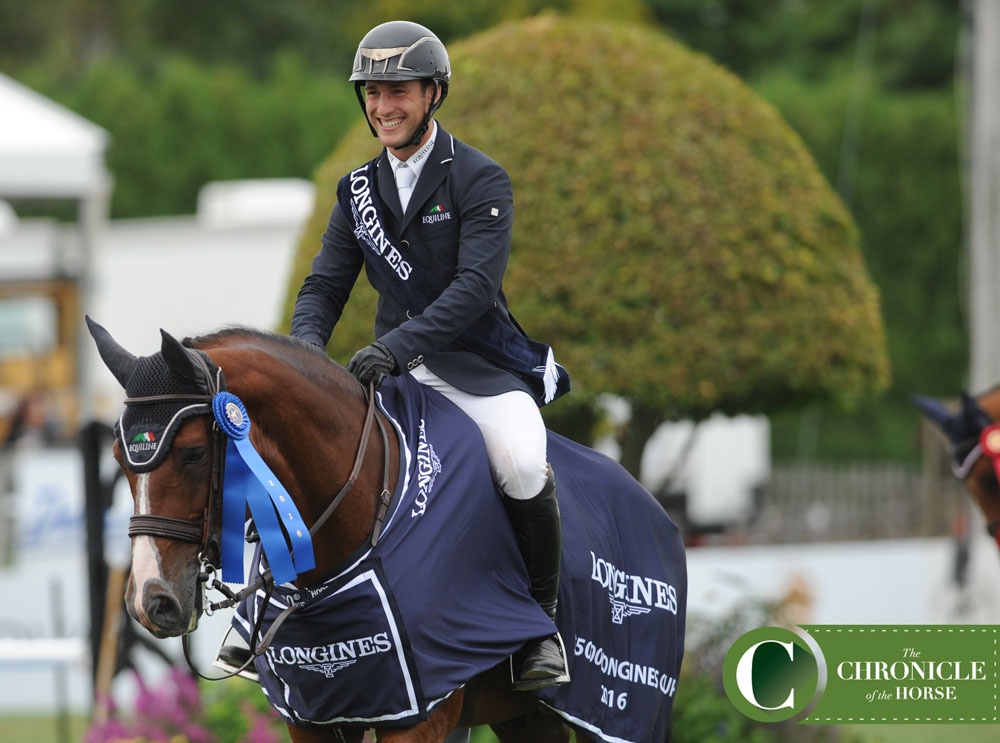 Mattias Tromp grinning ear to ear as he rides Avon into the prize giving ceremony. Photo by Ann Glavan.
Tromp was a member of the gold medal winning team at the North American Junior and Young Rider Championship in 2012 and 2013 (Ky.), and rode on the Young Rider Nations Cup team at the Winter Equestrian Festival in 2013 (Fla.), but this win marks his first major triumph in the big leagues, the open divisions.
"I was just hoping I would jump clear!" Tromp said at the press conference following his victory, the wide grin he wore in the ring now replaced with a shy smile at the small crowd gathered around him.
The pomp and circumstance that goes into a press conference at the Hampton Classic horse show had him wide-eyed. Photographers and cameramen from a number of news outlets jockeyed for shots of him. A man directed him to raise his baseball cap, so he could get a better shot of his eyes. Longines presented him a watch laid across velvet in a gleaming wooden case. A woman handed him a flute filled with champagne he was barely old enough to legally consume for a toast to his win.
Tromp smiled through it all. The young pro gets help from McLain Ward, who advised him to try and go for a particularly tight inside turn, which helped secure the win.
"It never feels as fast as it is on that horse, so you look up at the scoreboard and realize what the time is, and you're surprised," Tromp said of his jump-off.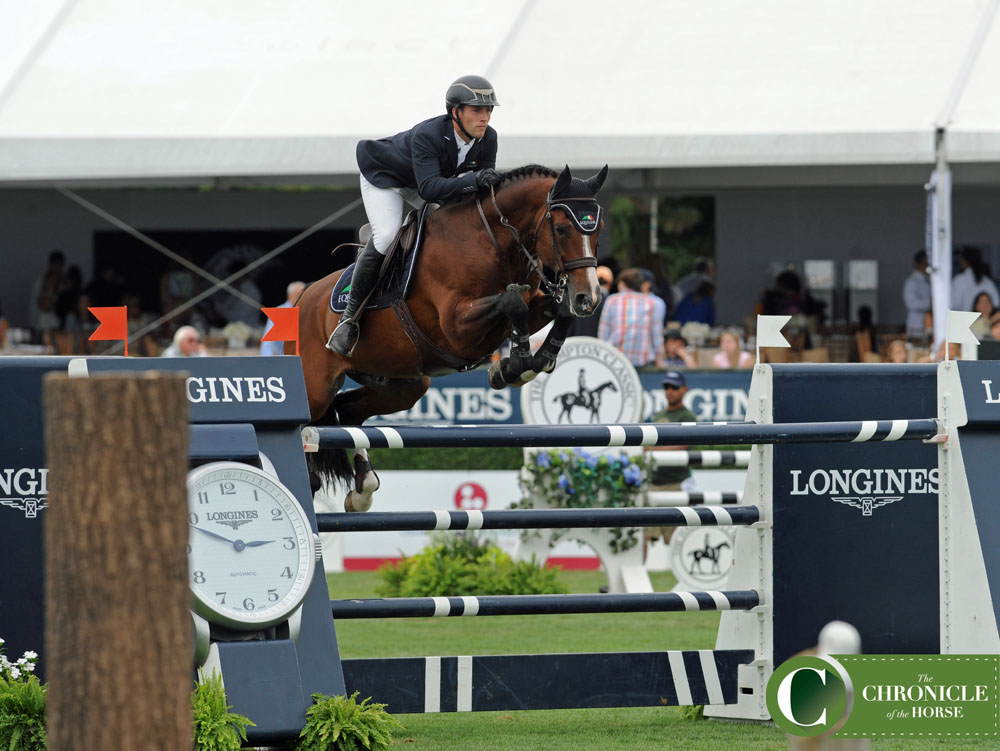 Mattias Tromp and Avon. Photo by Ann Glavan.
His winning mount in the class, Avon, is a 12-year-old Swedish Warmblood stallion owned by Beyaert Farm.
"He's a very rideable, rangy horse; you don't have to ride him with a lot of pressure," Tromp said. "You can just gallop him across the ground and hunt the fences a little bit."
Taking second to Tromp was Colombian rider Pablo Mejia Villa aboard Reglisse Top, an 11-year-old Selle Francais mare.
"Well obviously I am very happy today. Today is one of the biggest classes the mare and I have done," Villa, 36, said. "We won a grand prix at the beginning of the summer, but definitely this was the biggest test for the mare, and myself as well, and I'm very happy."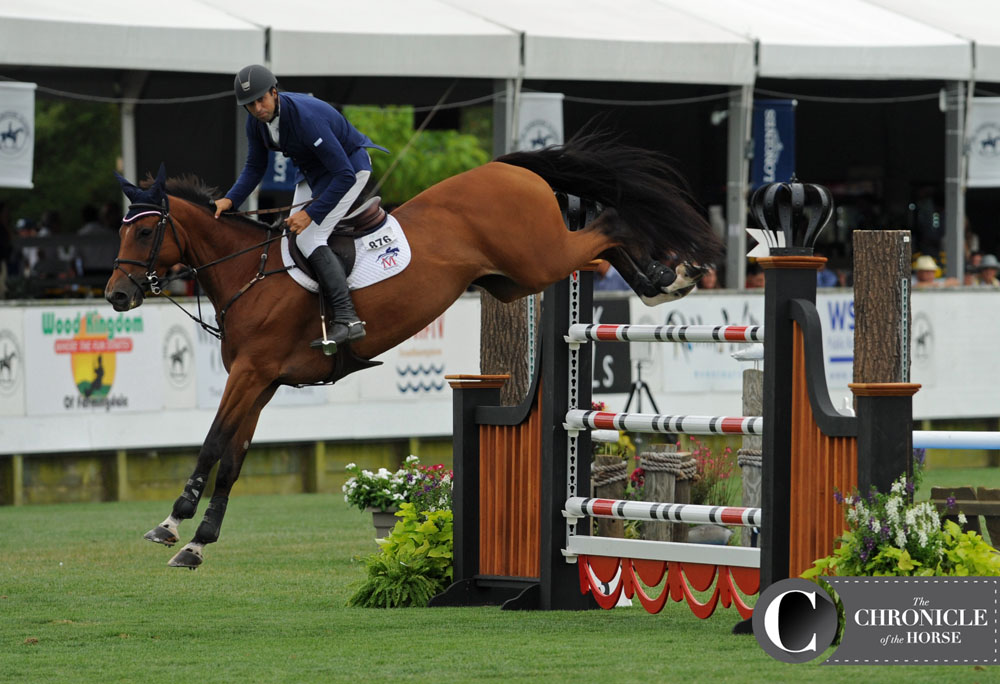 Pablo Meijia Villa and Reglisse Top. Photo by Ann Glavan.
Third went to Catherine Tyree and Enjoy Louis, a 12-year-old Belgian Warmblood gelding. The top three finish pushed Tyree to the top of the leader board for the Longines Leading Rider Bonus that will be handed out following the $300,000 Hampton Classic Grand Prix on Sunday (which has been moved from 2:00 pm to 12:30 pm to avoid storms in the afternoon).
"It's a really great feeling, and I'm very excited and very honored to be wearing the [Longines Leading Rider] armband tomorrow," Tyree said.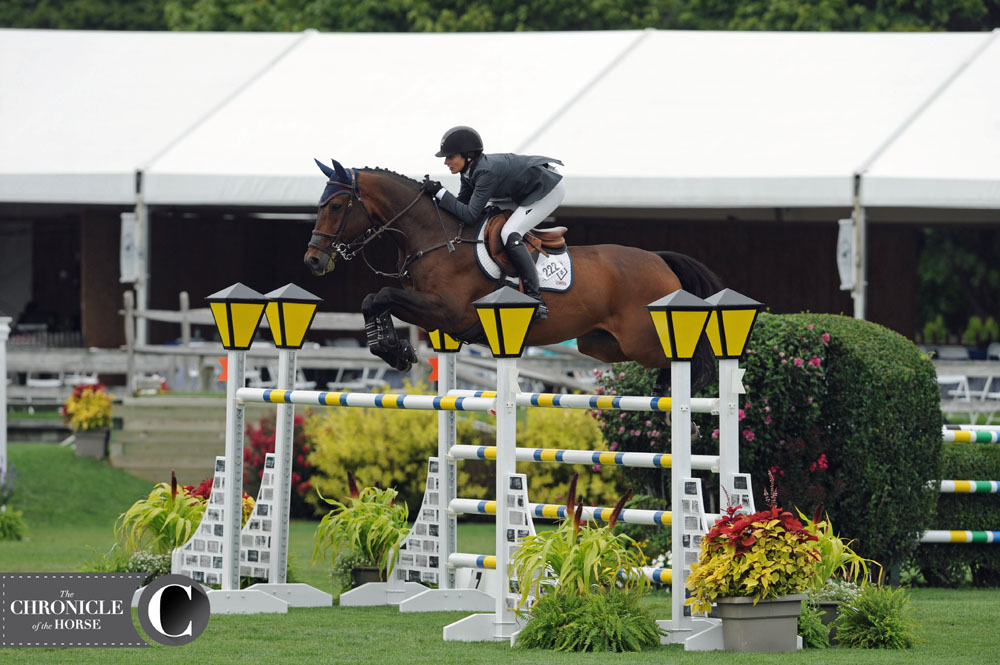 Catherine Tyree and Enjoy Louis. Photo by Ann Glavan.
Click here for full results from the class.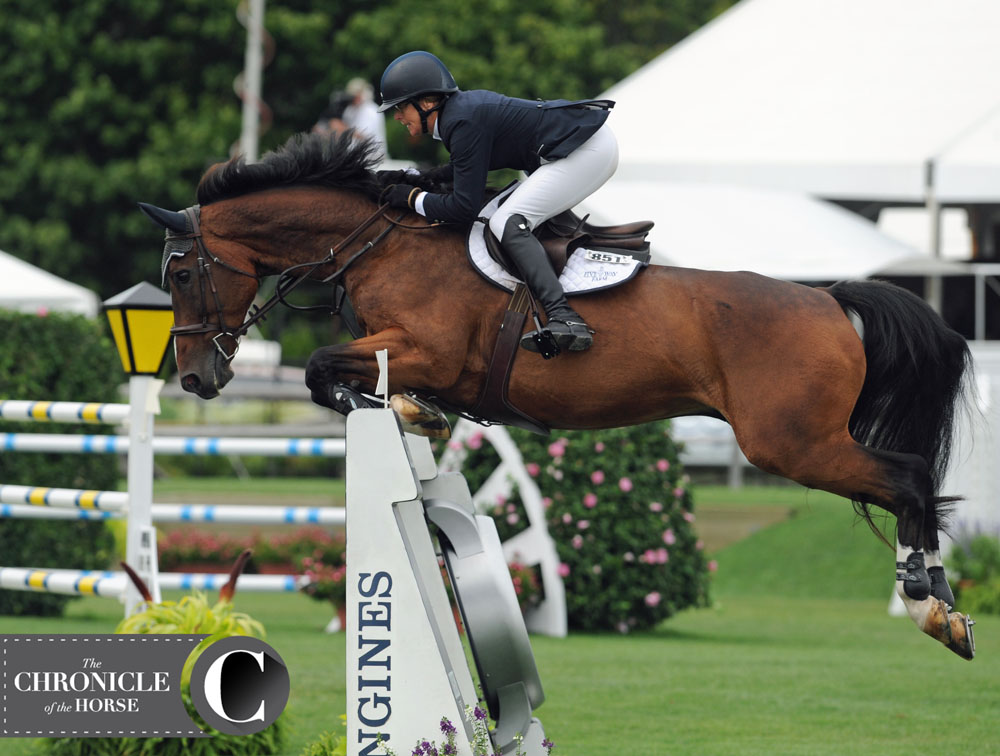 Eliza Lehrman and Fenom Van Klapscheut took fourth. Photo by Ann Glavan.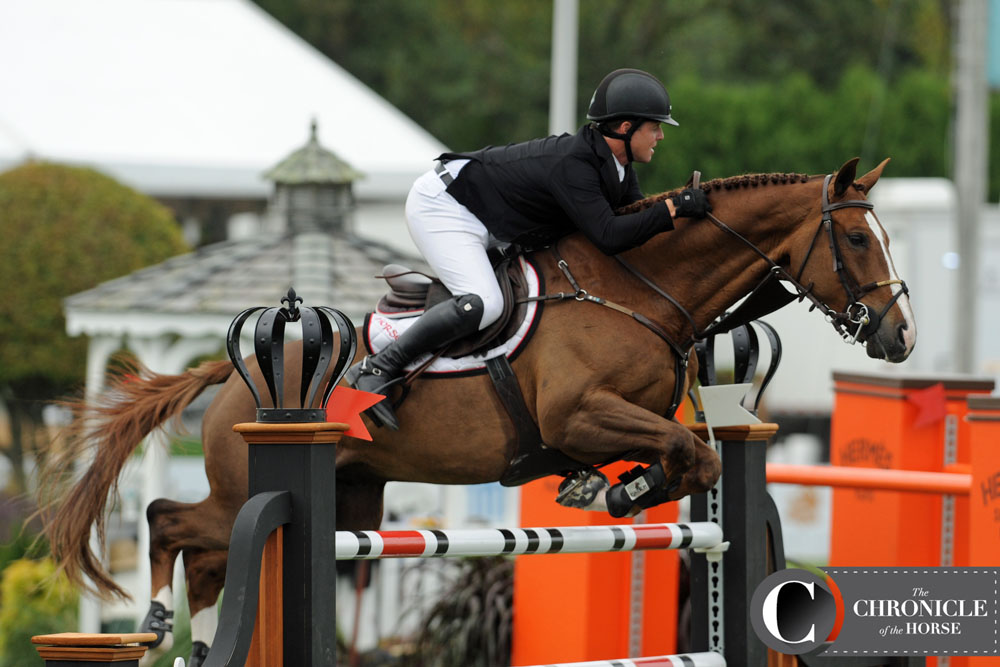 Shane Sweetnam and Main Road took fifth. Photo by Ann Glavan.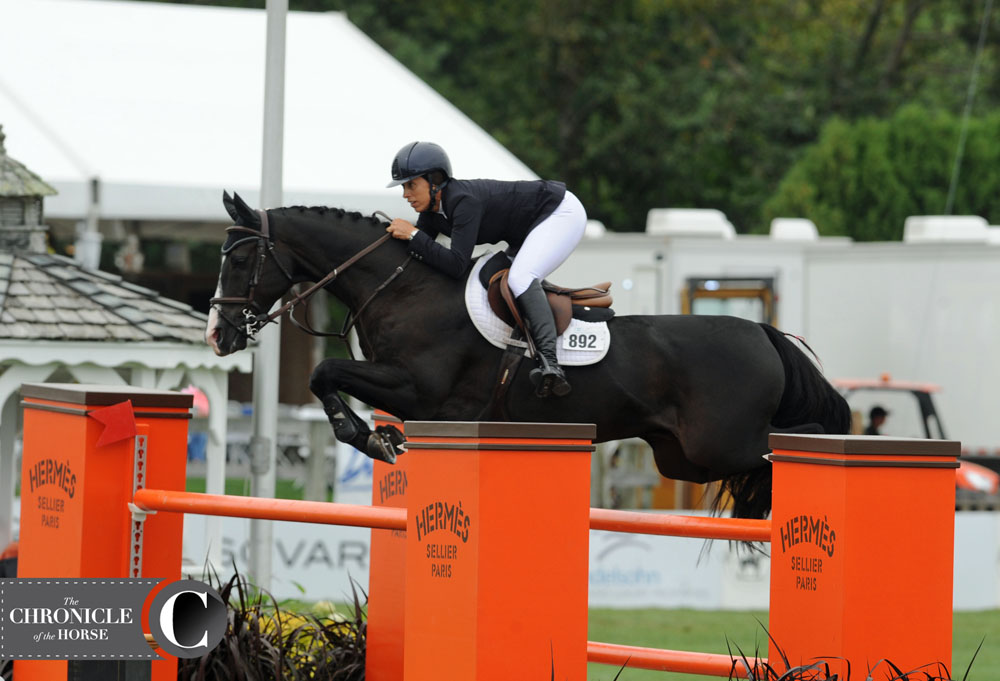 Mary Manfredi and Magnus Orfeo took sixth. Photo by Ann Glavan.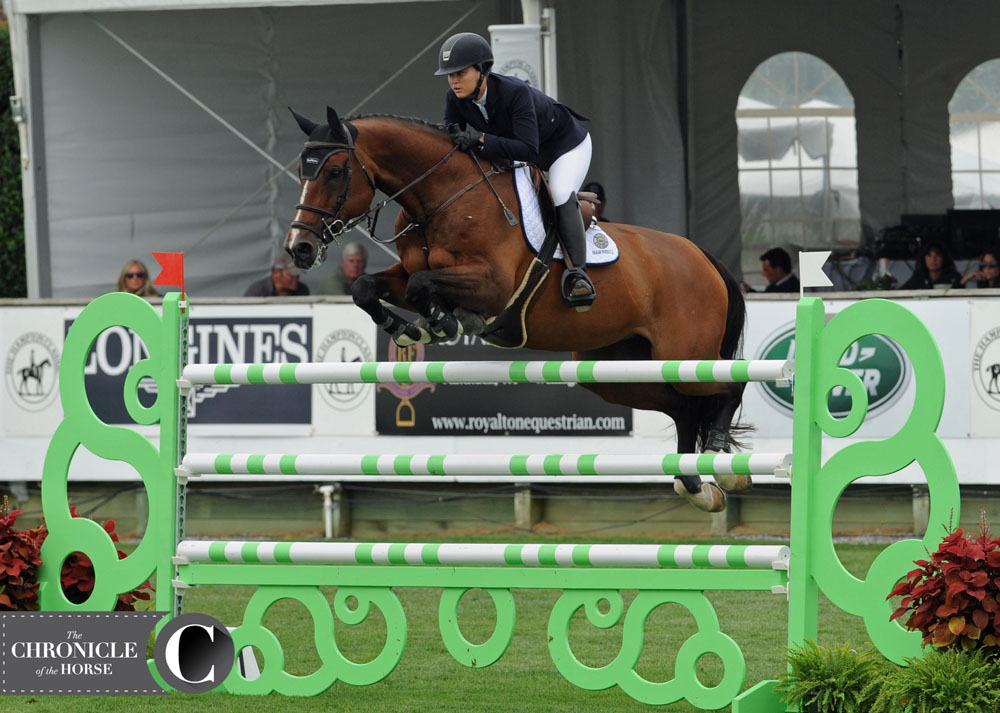 Hayley Barnhill and Zephire took seventh. Photo by Ann Glavan.